Ah, how I miss working in downtown and having effortless access to a plethora of mouthwatering food. Fortunately, there are occasional days where I get to work in downtown so I take advantage of those days! This time around, I wanted to try something new for the sake of my blog yet close to our building.
Casual Japanese restaurants in downtown doesn't really catch my eye since I find it a bit overpriced in that area, but we drove by Momo Sushi in the morning and my coworker heard good things about it. Plus, I really wanted a warm bowl of udon as it was really chilly that day. After a busy day of work, it was pretty much early evening and we decided to stop searching for places and go there as we were both hungry.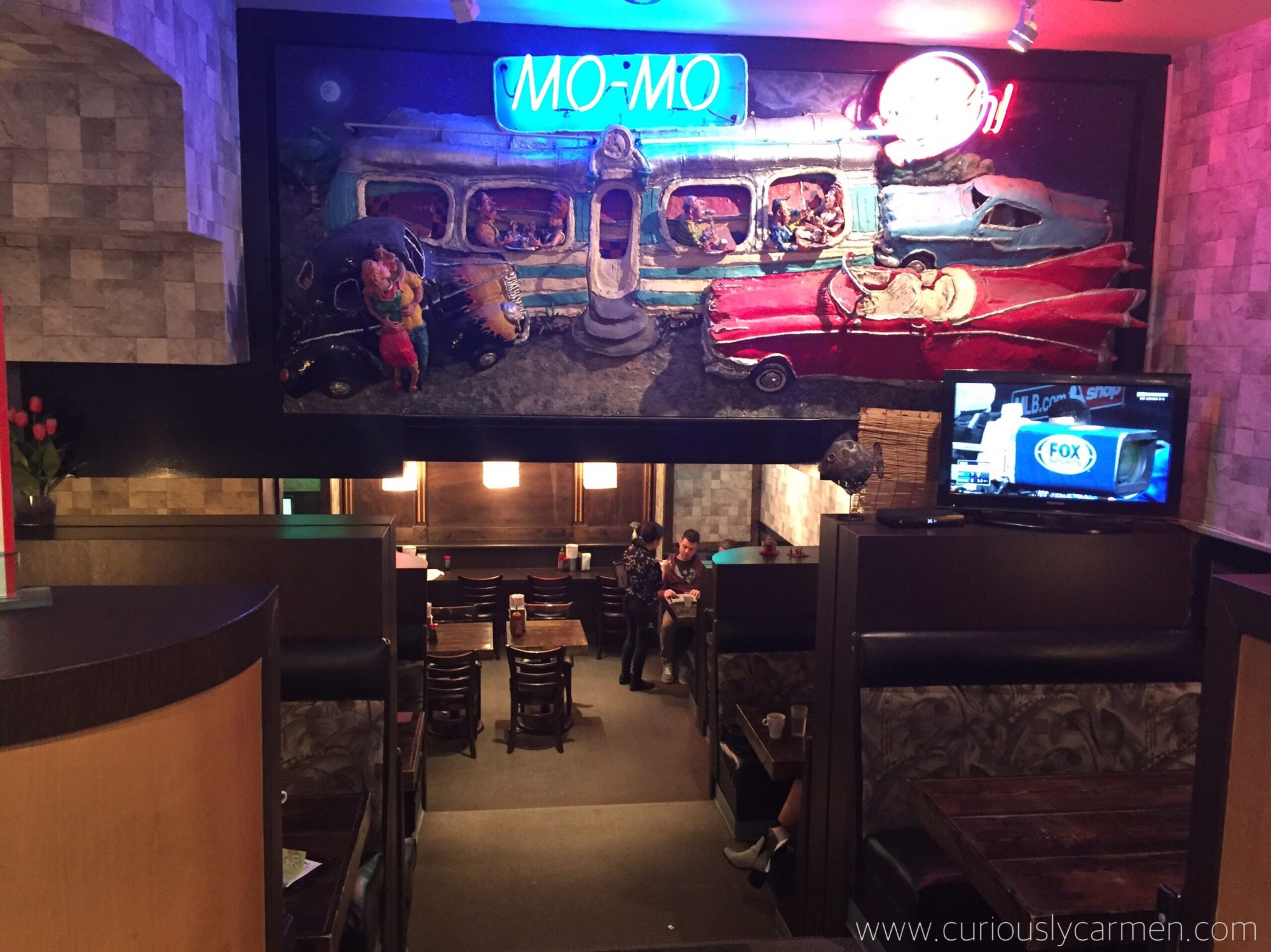 Momo Sushi is located right on the border of downtown and Gastown. Walking in, I actually had no idea how big the restaurant was because they have an entire lower level that you can't see from the outside of the restaurant. The steps are pretty wide, with a booth on either side of the stairs, which was where we were seated.
The neon signage looked like a throwback to the 80s, but I thought that the 3D installation they had was pretty cute.  The carpet, booths, and supplies looked pretty worn out and have probably seen better years, but they still served their purpose. The restaurant also had an old musky wooden building smell to it, but that's because it is located in a historic building.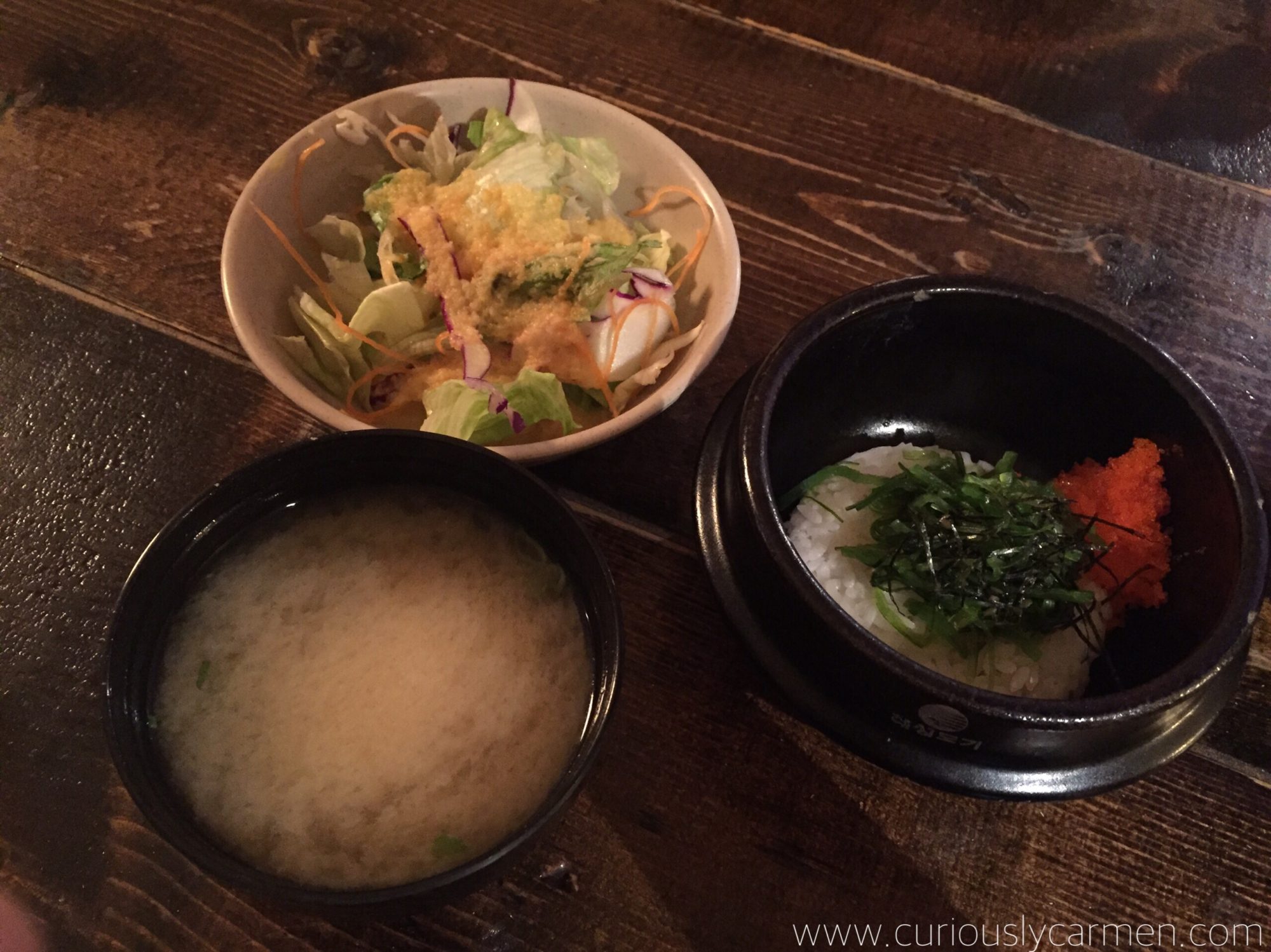 Salad, miso soup, complimentary rice bowl: Since my coworker ordered a bento box, it came with the standard salad and miso soup. The miso soup was your average miso soup, but didn't have much seaweed in it. It was also served nice and warm.
I didn't know that our order came with a complimentary rice bowl, topped with seaweed and tobiko. Since I was already having a bowl of carbs, I didn't eat much of the rice but I enjoyed the seaweed and tobiko. It was a nice & small snack to munch on while waiting for the main dishes. Both seaweed and tobiko tasted fresh and had a good crunch to it.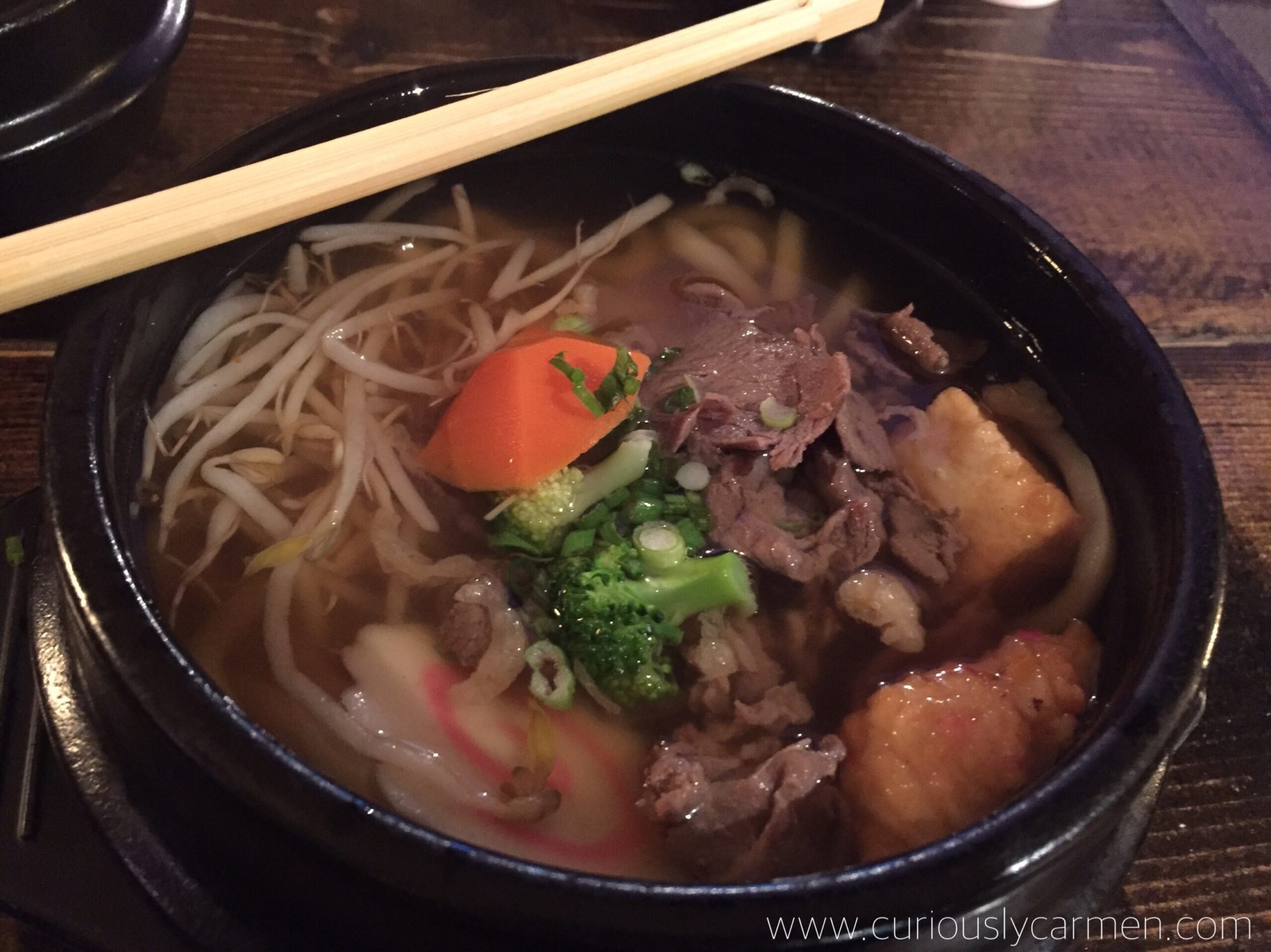 Beef udon, $7.50: I was craving a nice bowl of warm noodles since it was cold and my throat was a bit sore. The beef udon satisfied my craving but I found it to be very salty! I poured some hot water to dilute the soup and also found myself asking for multiple refills of water to quench my thirst.
The udon was cooked perfectly, while the beef was thinly sliced and there was an average amount. It also came with a couple pieces of fish ball. Can't complain for the price, especially in the downtown area!


Bento box C, $10.25: When my coworker's bento box arrived, we both admitted that the presentation didn't look too appetizing. The box was too big for the food, making the portion look smaller than it actually is – the wasabi in the middle of an empty section just looks awkward.
Presentation aside, the tempura was fried in old oil judging from the colour of the batter. My coworker thought her dish was a bit disappointing but still ended up finishing it anyways.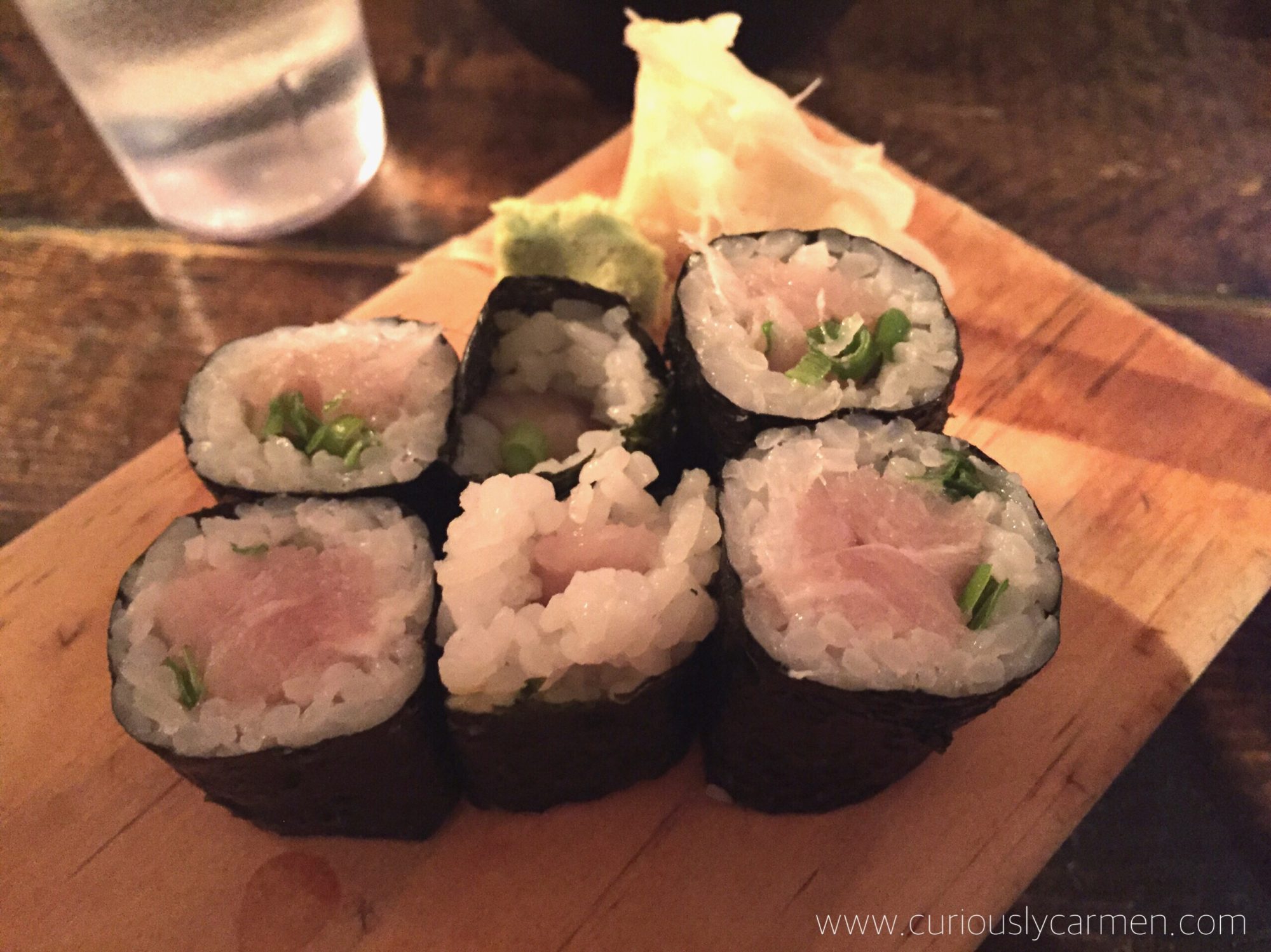 Negitoro roll, $2.95: Again, the presentation of this was not the best but the taste itself was not bad! The tuna and onions tasted pretty fresh.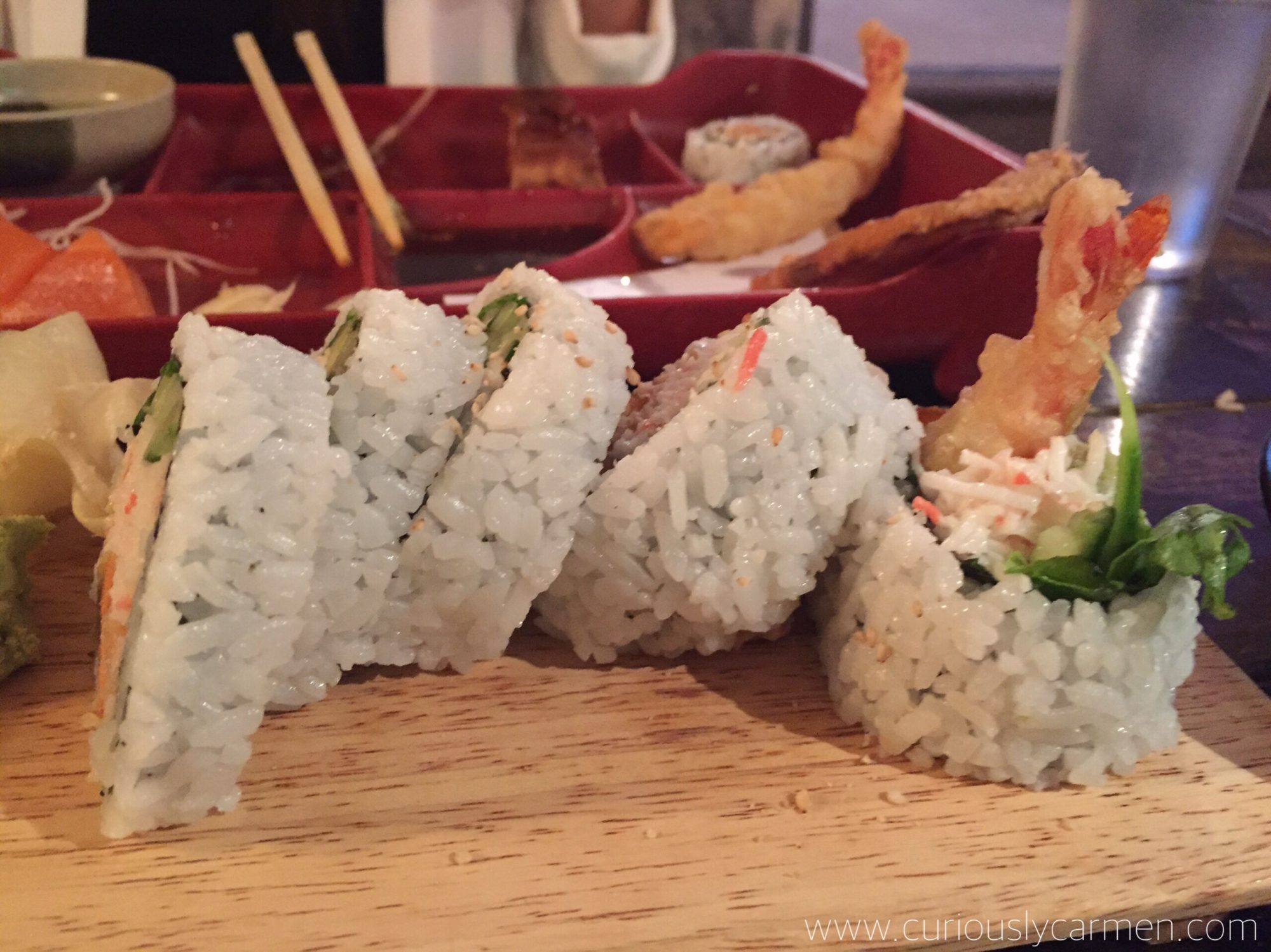 Dynamite roll, $4.50: Clearly, presentation is not their strong suit LOL, that uneven cutting doe. Although the prawn looked very fat at the end piece, there was none in the last two pieces.
While my coworker was eating this, I told her that I thought she ordered a dynamite roll instead of a california roll? She said she did order a dynamite roll, but the prawn was just very small. It ended up looking just like a california roll without the tempura.
—-
Their prices are pretty decent for the downtown area, I find that a lot of Japanese places in downtown are overpriced. The service was also very attentive and friendly. It's not the best here, but it's not the worst either. It's a good place for a quick bite to eat, and I would come back if I was craving some quick Japanese food.