I feel as if I haven't blogged for awhile, although it's only been a week! As some of you may know already, the past two months were absolutely crazy for me. I finally have the tail end of summer to relax, and I've been really trying to savour the sunny days before fall rolls in.
Another year has gone by, and it is time to share with you all the upcoming products from ACI Beauty. ACI is a Canadian beauty distributor, or in super simple terms, they bring products to the shelves of our favourite beauty stores.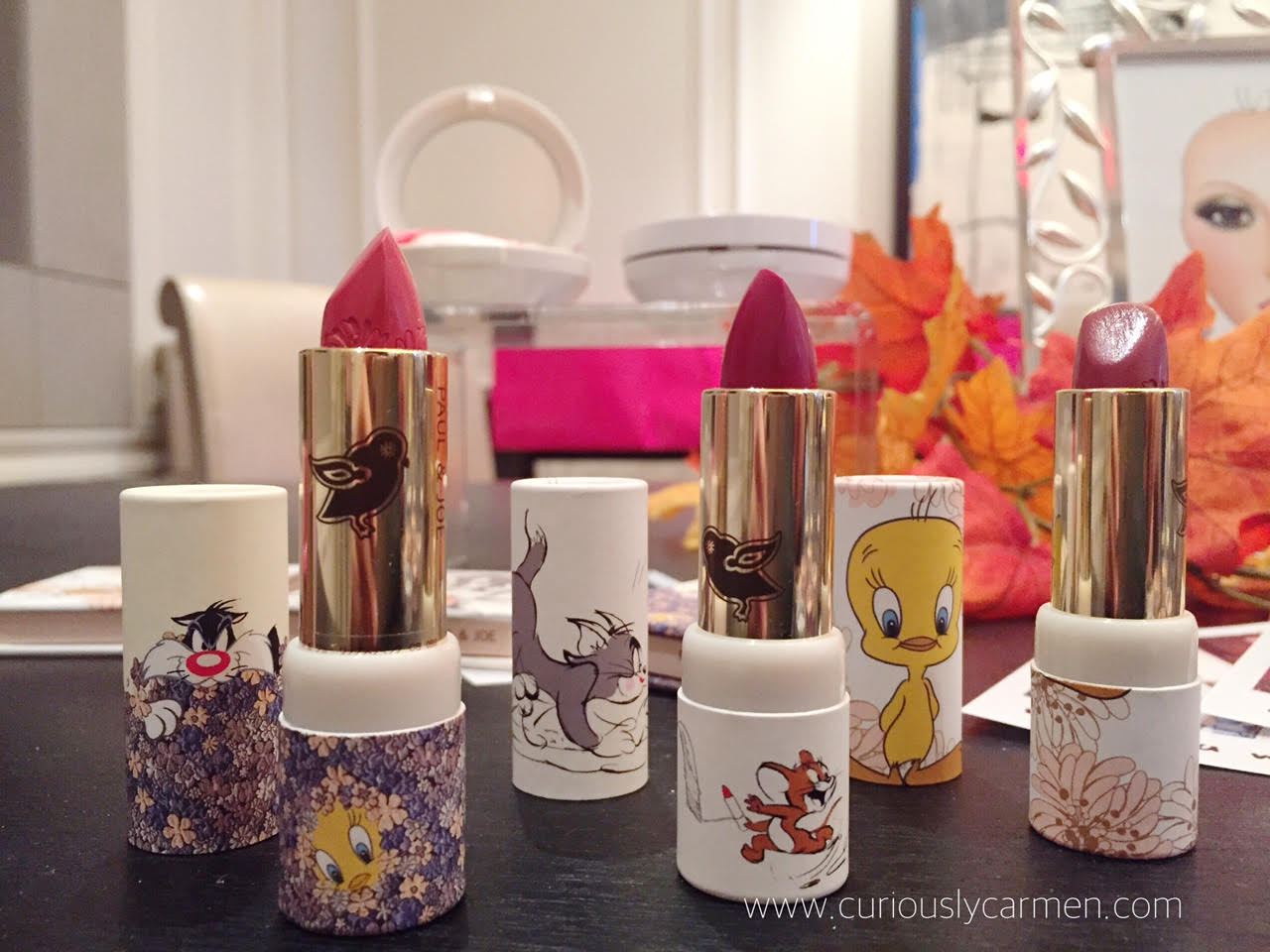 Paul & Joe never fails to impress me with their product designs. Like seriously, who designs their packaging because it is seriously amazing. This season, Paul & Joe have partnered up with Looney Tunes to launch a limited collection set of themed products!
Last fall, the boyfriend and I watched Bugs Bunny at the Symphony, presented by the Vancouver Symphony Orchestra. I am really loving how companies are coming out with modern ways to invoke nostalgia. (Side note, I really recommend going to the Bugs Bunny at the Symphony if the VSO brings it back! Not sponsored btw)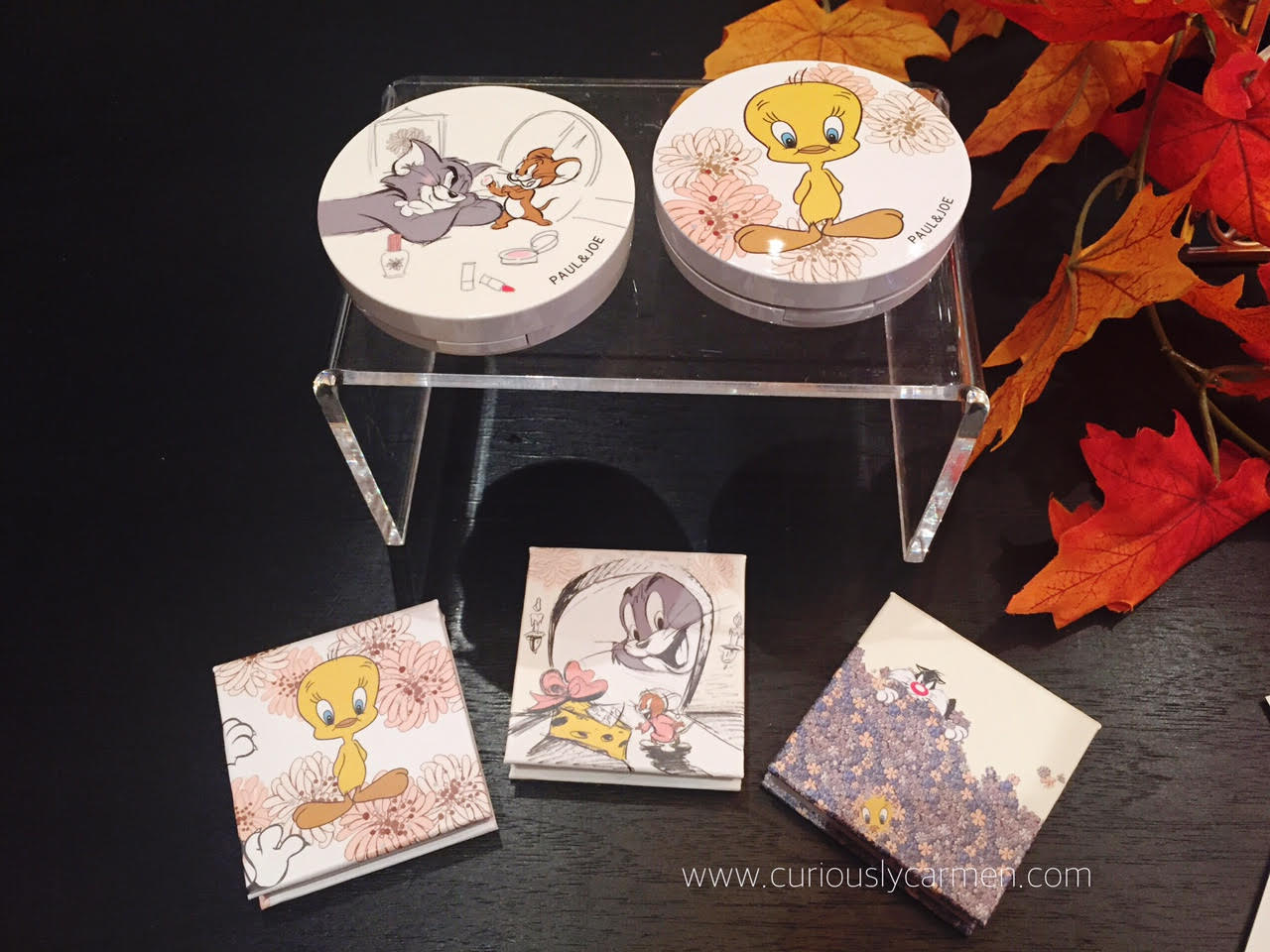 These were too cute not to include. Apart from the lipsticks, they also have blush and shadow compacts with the limited edition Looney Tunes sets. Which one is your favourite design?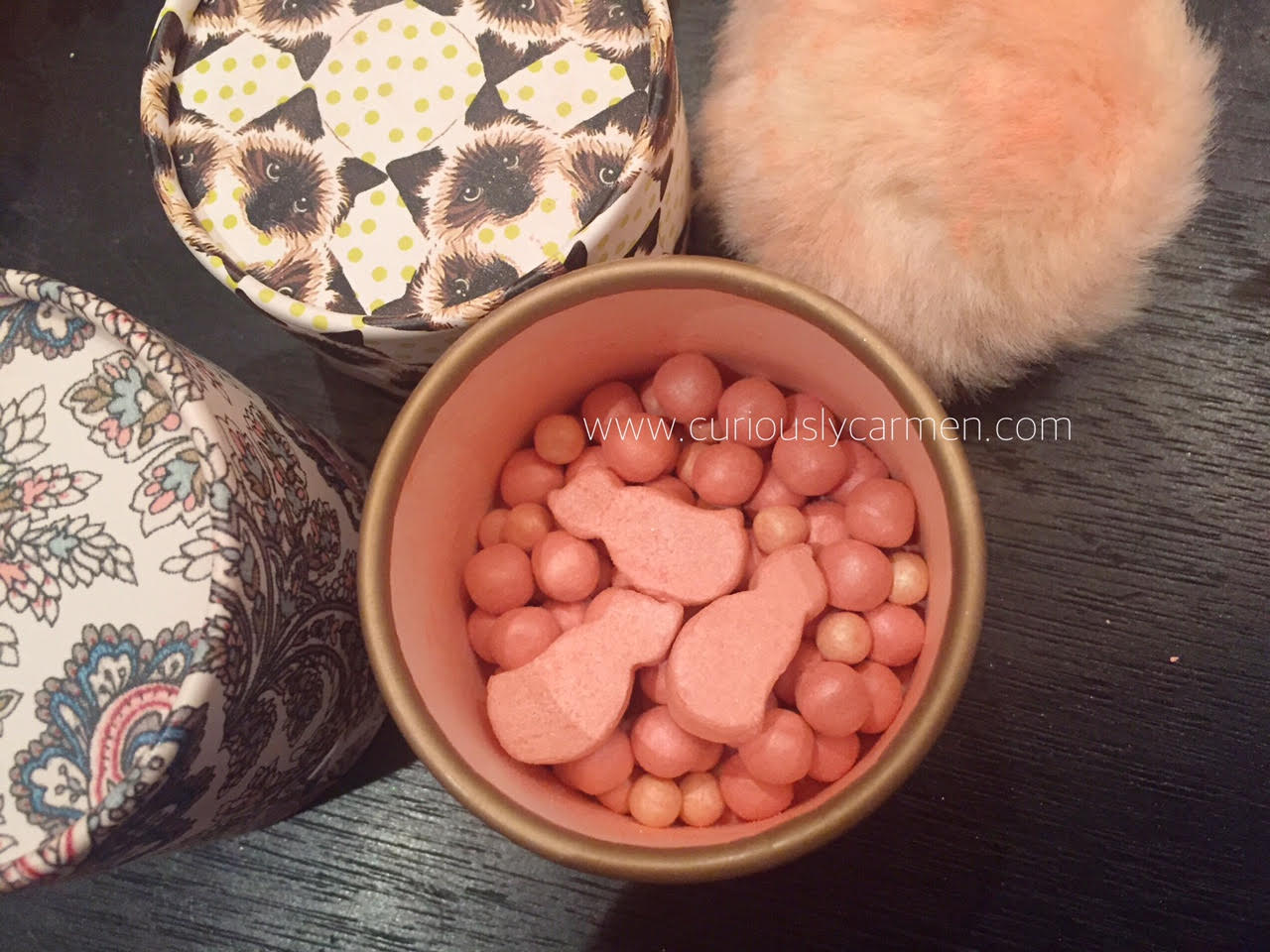 Remember the cat lipsticks I talked about last year? Well, Paul & Joe has launched a new cat blush this season. The cats here are also blush beads. But with a product so cute, I would be really reluctant to use it up.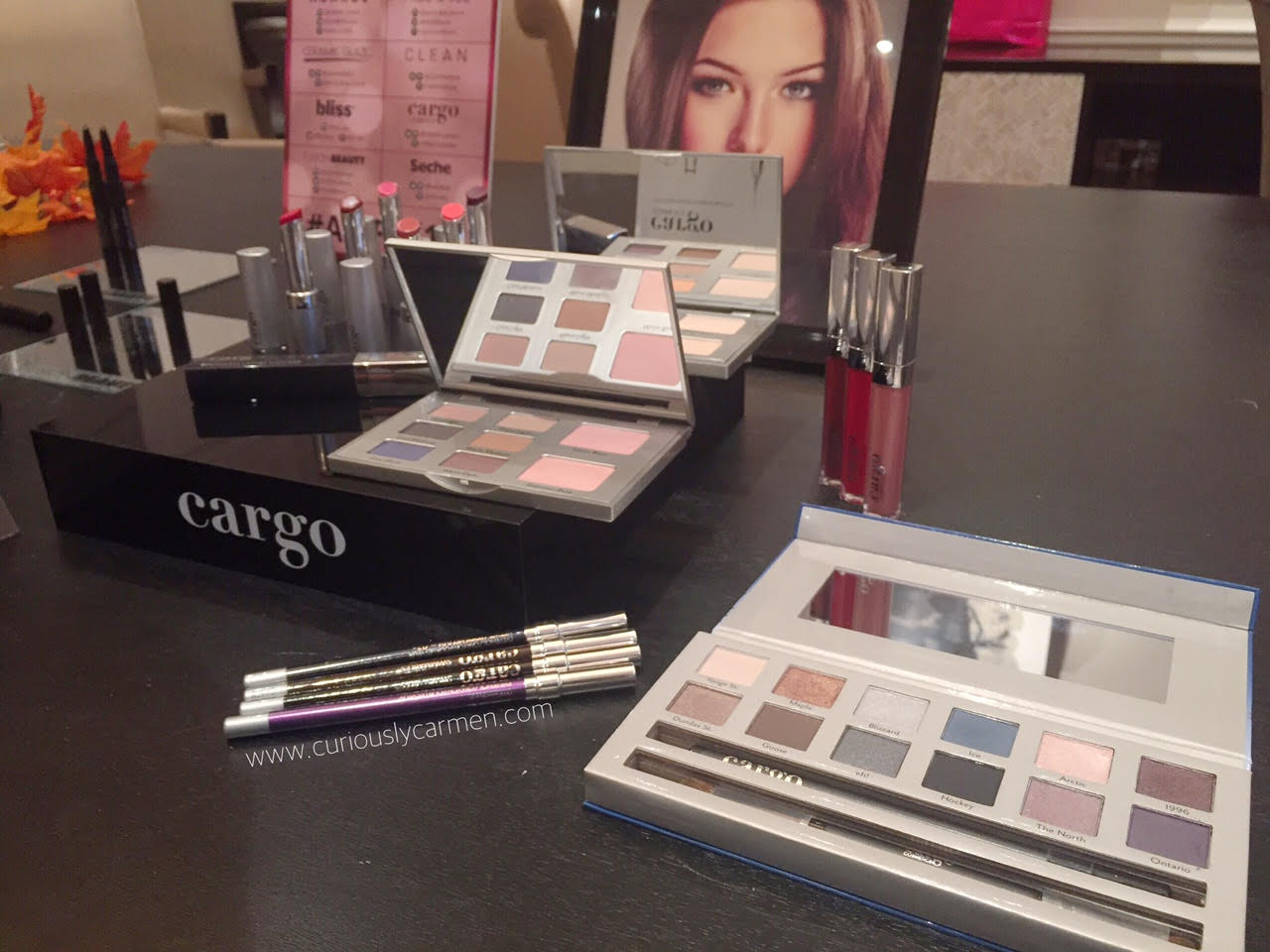 Cargo is a brand that I've seen here and there, but I was able to learn more about it at the event. I am a big fan of palettes, so I am pretty excited to try and test their palettes out!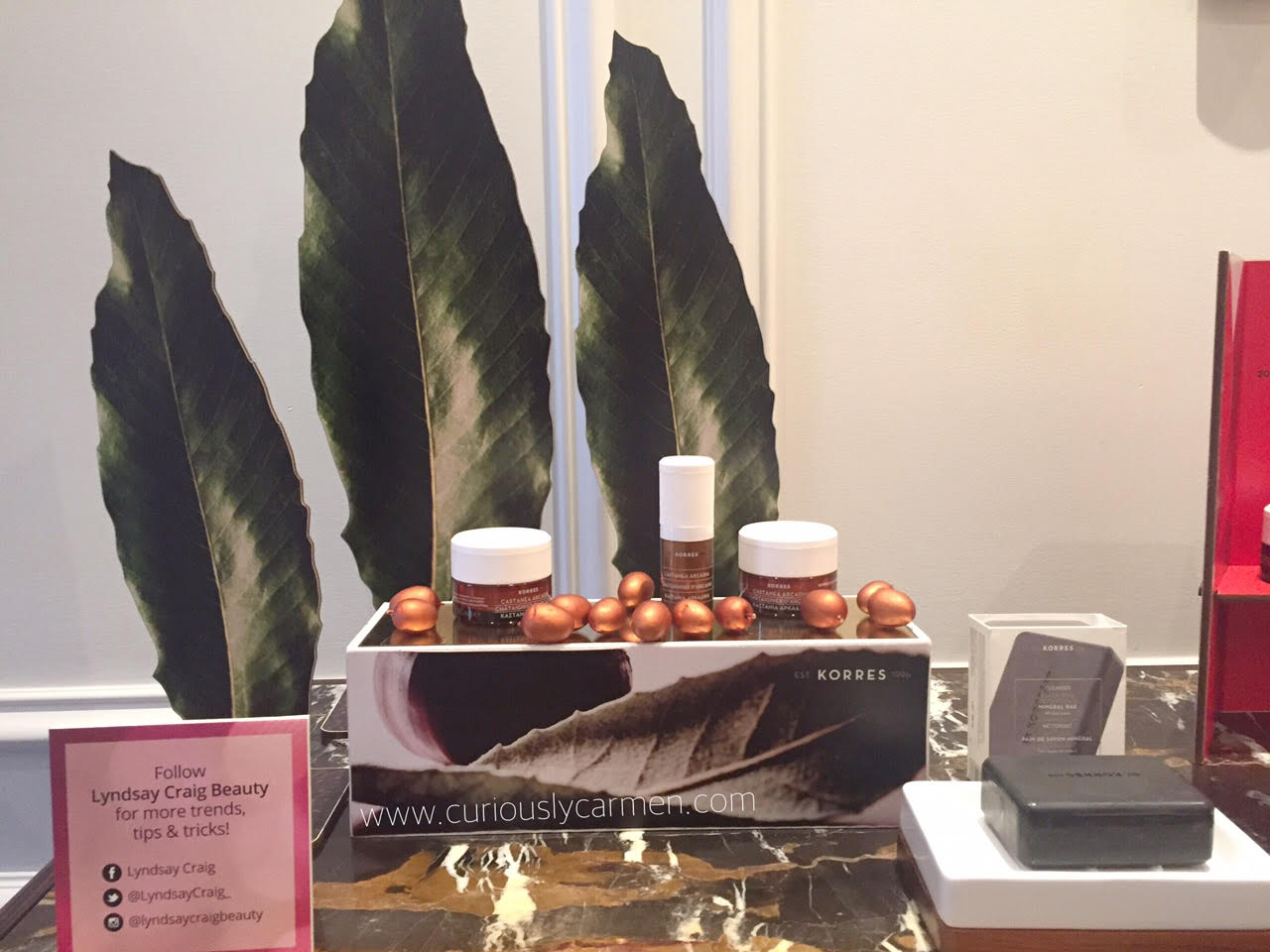 I raved about my Korres wild rose oil back in May, and have really started to take a liking to this Greek brand. This Fall, they are releasing a few skincare products and a soap bar.
I've been using the wild rose day cream & night mask for the past week, the two on the left and right pictured above. So far, it's been working really well with my skin and leaves it hydrated and plump. I'm going to use it a bit longer before I write the review, but I've been really loving it!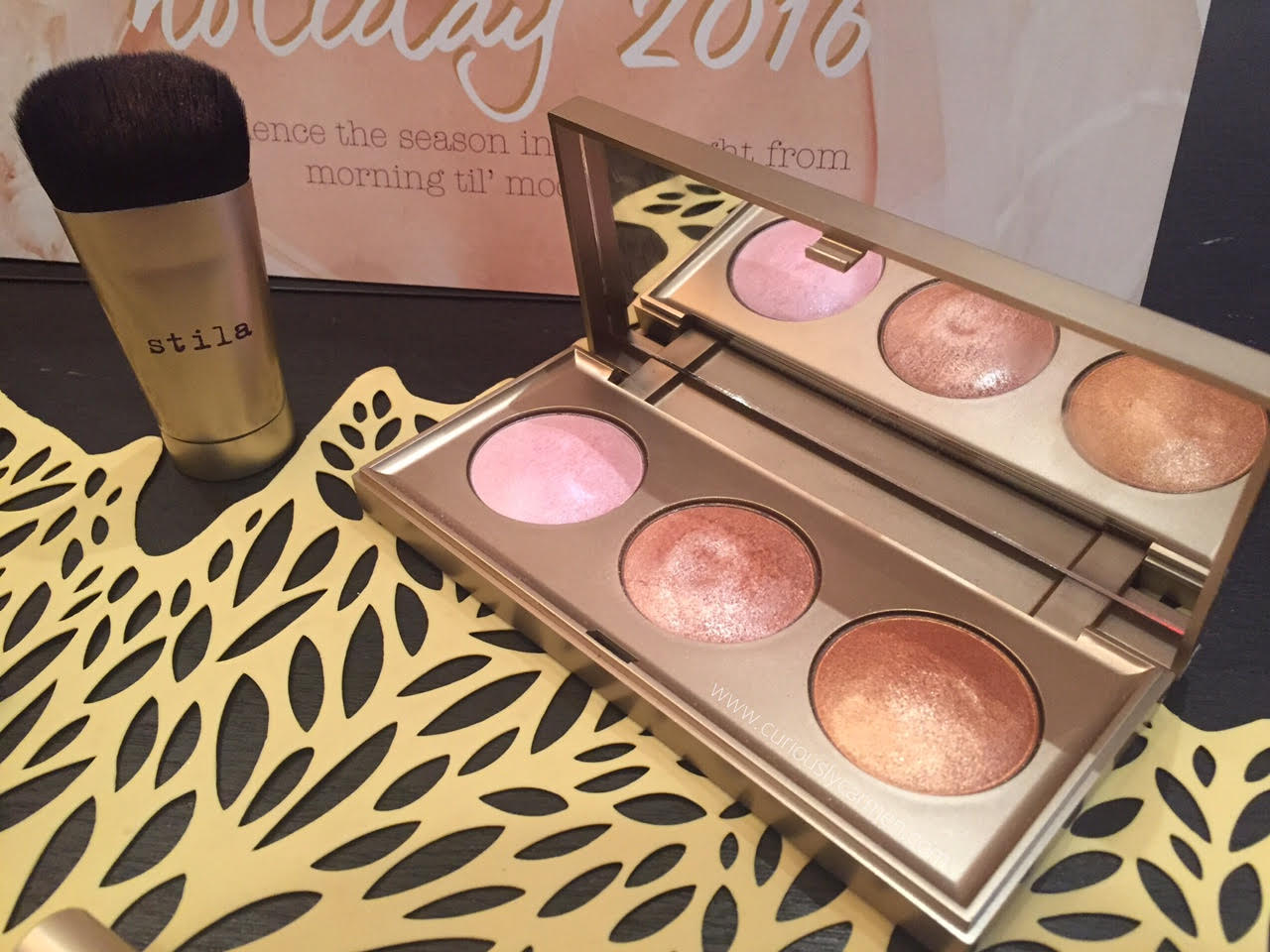 This star light, star bright highlighting trio is part of Stila's holiday collection. Just like their putty foundation that I reviewed last year, the highlighters also have a nice bounce to it.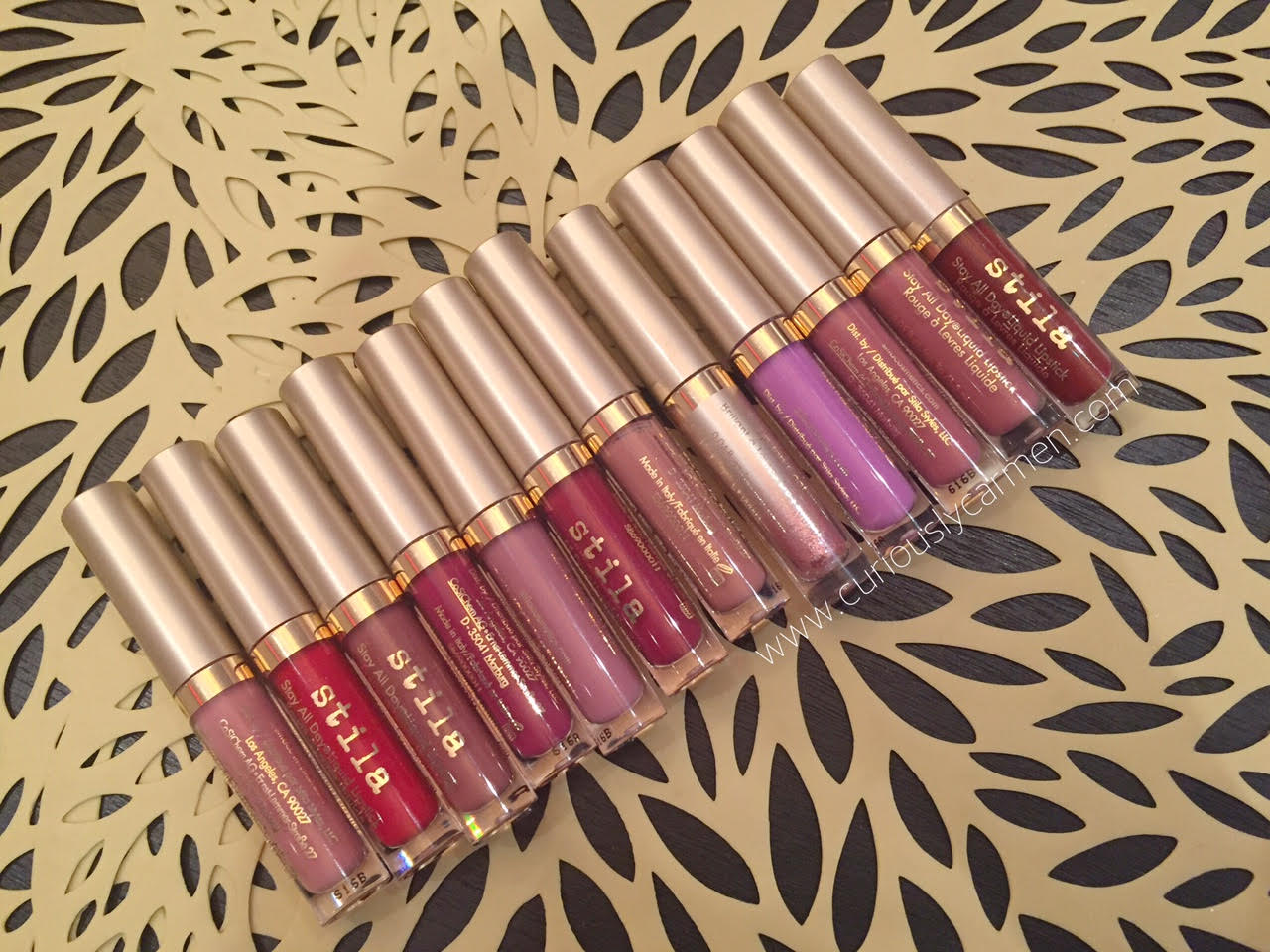 Some liquid lipsticks from Stila! These come in sets of three, but I just put them all together so you can see what colours they offer.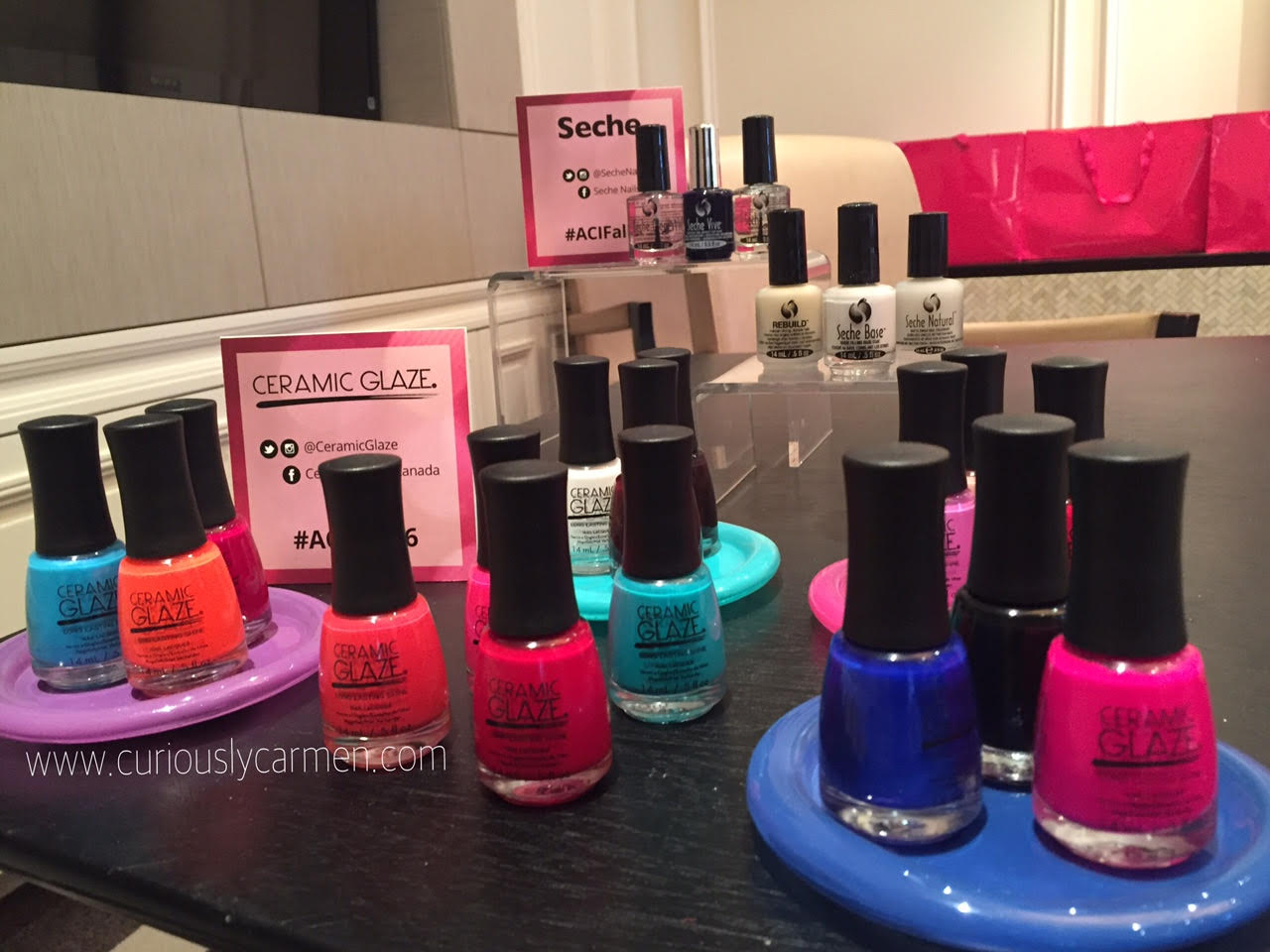 Nail polishes from Seche & Ceramic Glaze. Both are companies that I can vouch for. Once I discovered the Seche Vite top coat, there was no going back. Seriously, it's a phenomenal top coat and I recommend that you try it for yourself if you haven't already.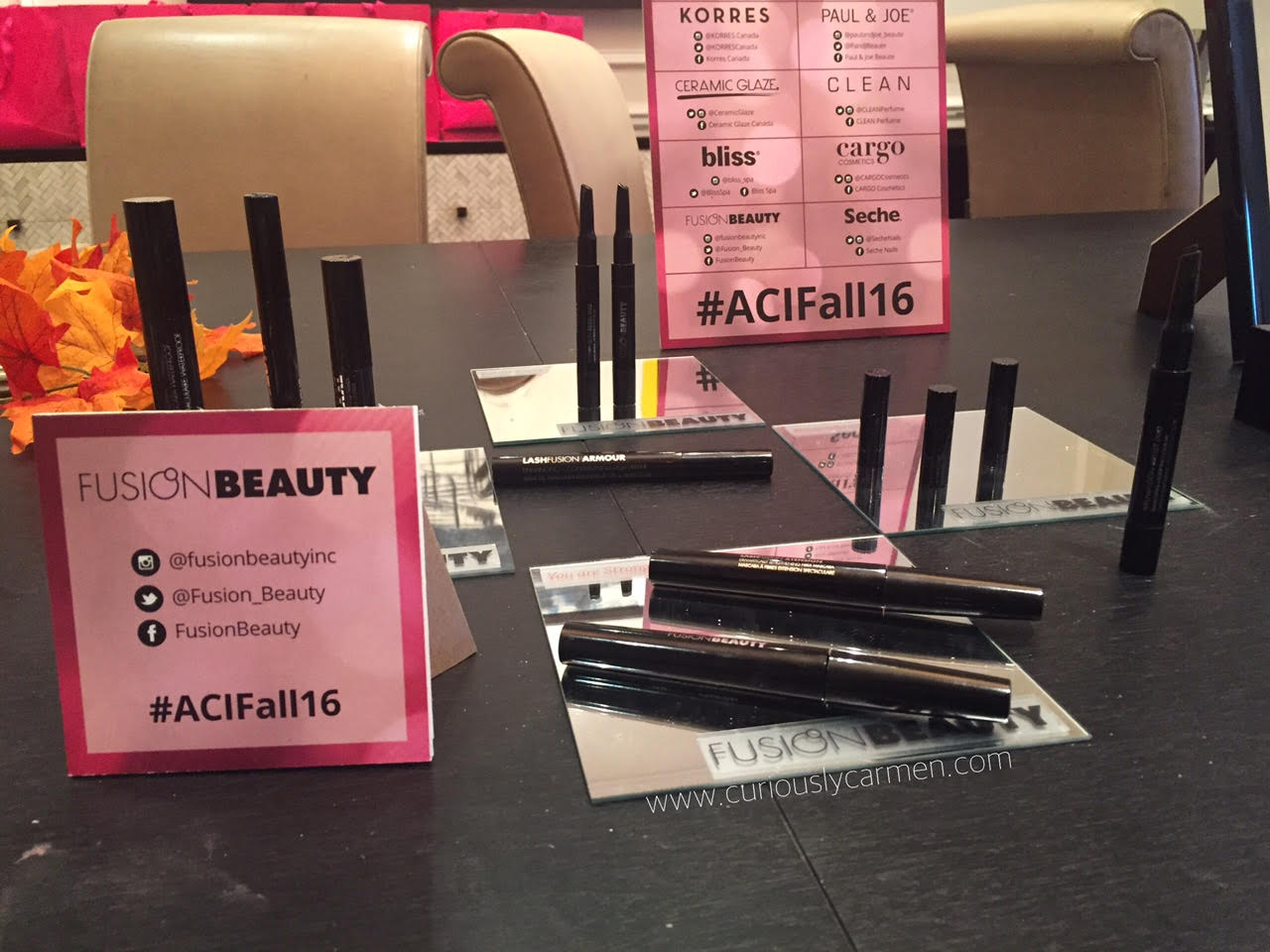 Fusion is a smaller brand that I haven't tried that much of yet, but so far, I've been really liking the browfusion. It is a double ended brow pencil and gel. I love how angled the pencil is, and how easy it is to get a nice shape!
Apart from the browfusion, they seem to specialize in mascaras. Pictured above are their new mascara launches, which I need to try!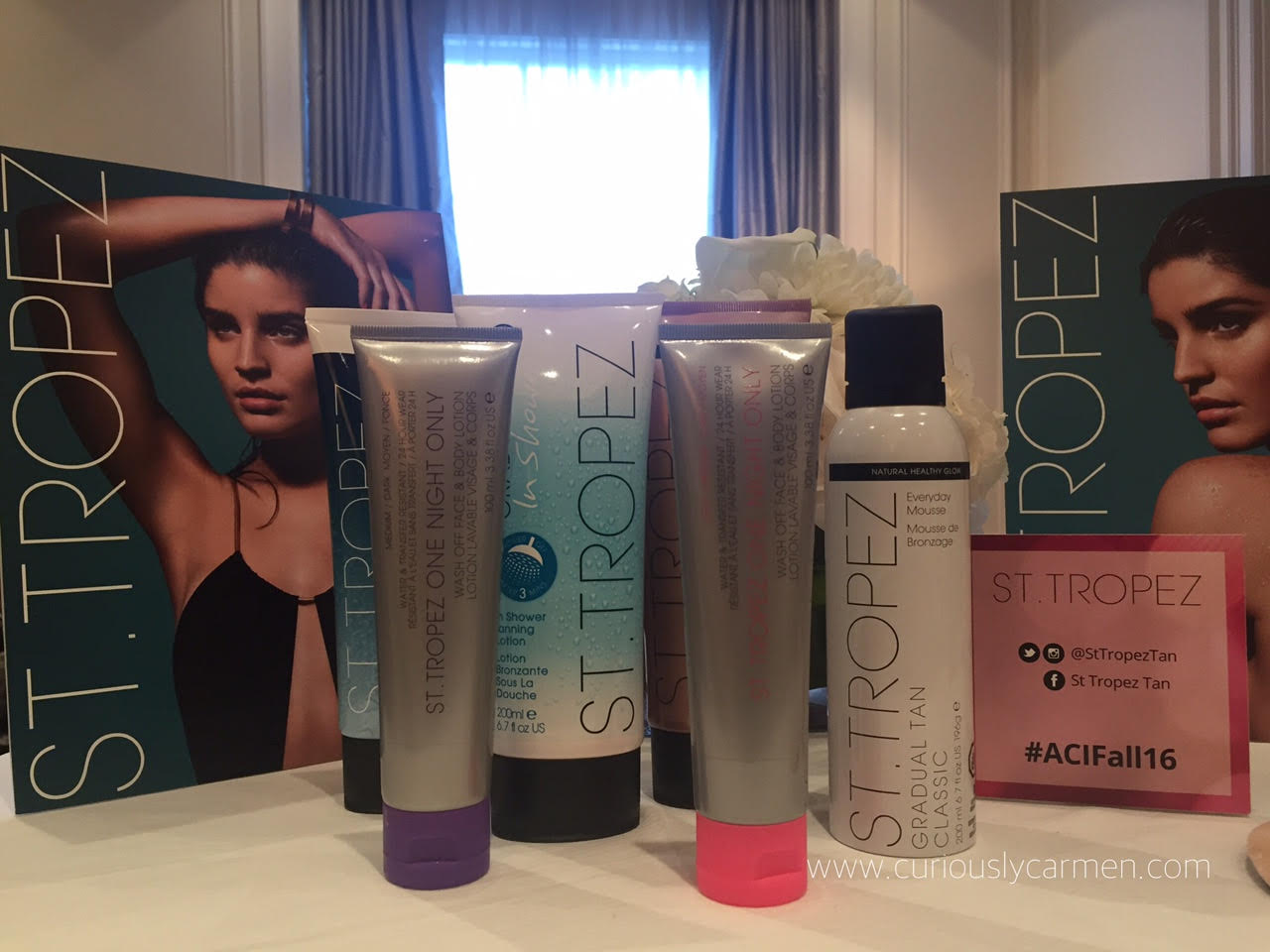 Last but not least, new products from St. Tropez. Self tanning seems pretty intimidating to me, I've heard many horror stories of people trying this at home and coming out looking like an orange. Perhaps one day I'll give it a shot!
However, we were told that the gradual tan mousse (pictured on the right, the white can) is perfect for beginners because the tan builds up slowly!
Press event. Opinions are own.