I did it, guys. I did it. I finally, finally, FINALLY, went to Cafe Medina. I know that I say this for many restaurants I visit, but Cafe Medina has been one of my top picks in terms of restaurants that I have been wanting to try. But waiting in line for a hour or more didn't really entice me, which is why it took me so long to try this place out.
Originally, I had made plans to go to Yolk's for a weekend brunch with my cousin. However, since she lives in downtown, I asked if she would want to have a sleepover and we could walk over to Cafe Medina afterwards. She agreed but said we would have to go right when they open at 9am or else the line up would be crazy.
We arrived right at 9am, and there was already a line forming. This restaurant is crazy busy at all times, but the worst would probably have to be between 11-1pm – I don't even want to imagine the wait line. Shudder.
But I did hear that they allow you to put your name down and walk around for a hour or so to kill time, then go back to the restaurant so that's good. Something to think about for next time because trust me, there will definitely be a next time with this heavenly place.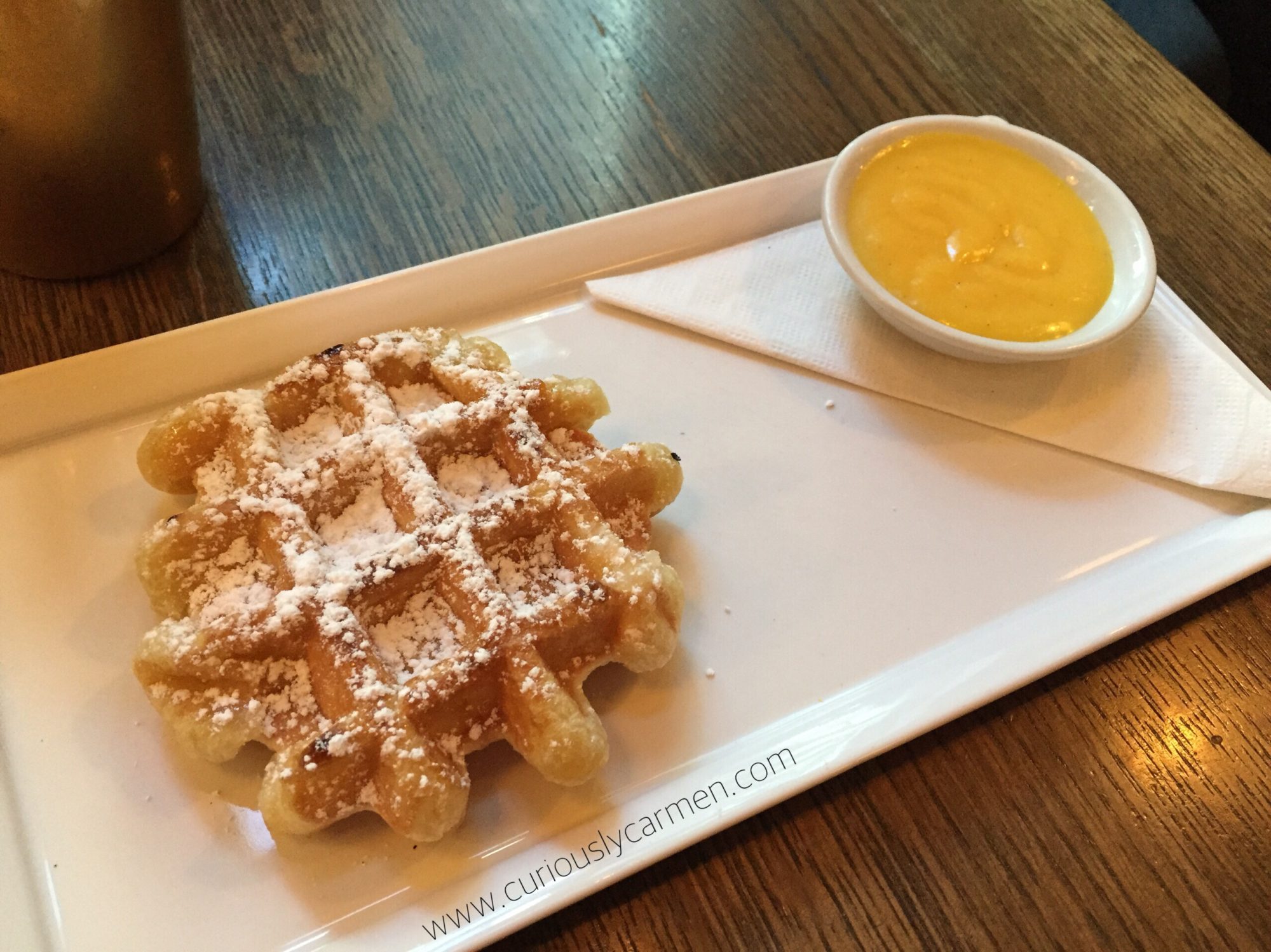 I have been told that their waffles are a must-try when coming here. I was actually able to try some of their waffles at an event last month. Since it was outdoor and in the evening, the waffles were cold but still really good. I couldn't imagine how delicious they would be if it was fresh and warm, and finally got that chance!
Liege-style waffle with passionfruit, $4.15: I actually didn't know that the toppings were an extra $1, I was obviously too blinded by all the delicious flavours and missed that part. I was torn between the white chocolate or passionfruit, but am a huge fan of passionfruit desserts and thought it was more unique so I ended up going with it.
The waffle was warm, fluffy, and incredibly soft. Additionally, the passionfruit topping was slightly more on the tart side, which I preferred because I don't have much of a sweet tooth. 10/10 would recommend the waffle. I was thinking of packing one home for the boyfriend, but decided that it's a lot better trying it fresh in the store and this also gives me an excuse to come back here 🙂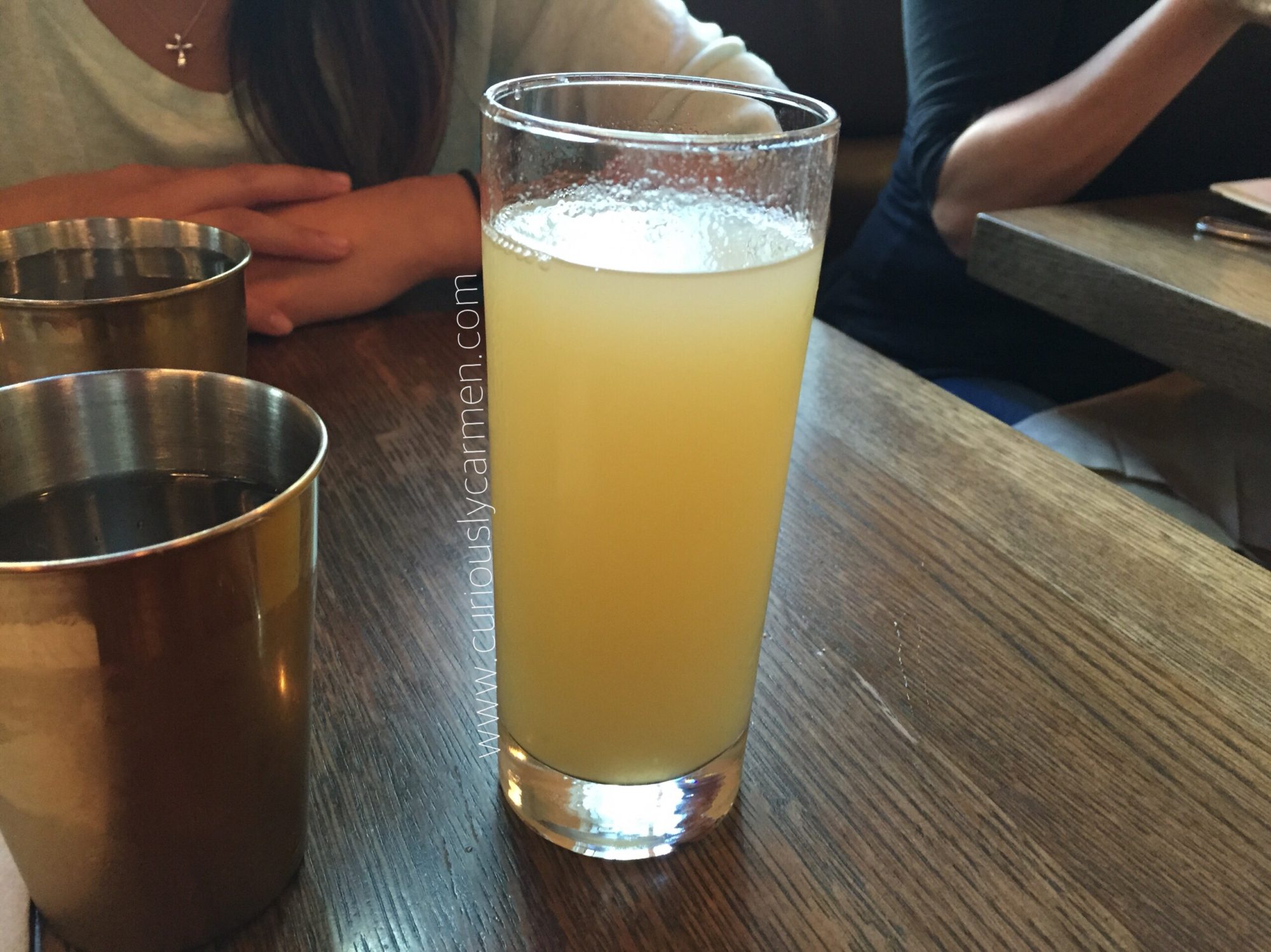 Cyoni organic freshly squeezed apple juice, $5: This was unlike any apple juice that I've had before, but I enjoyed it as well. I don't think I've had freshly squeezed apple juice before, the flavour was definitely a lot softer and purer than the bottled apple juice I'm used to. There was also a bit of pulp in it too.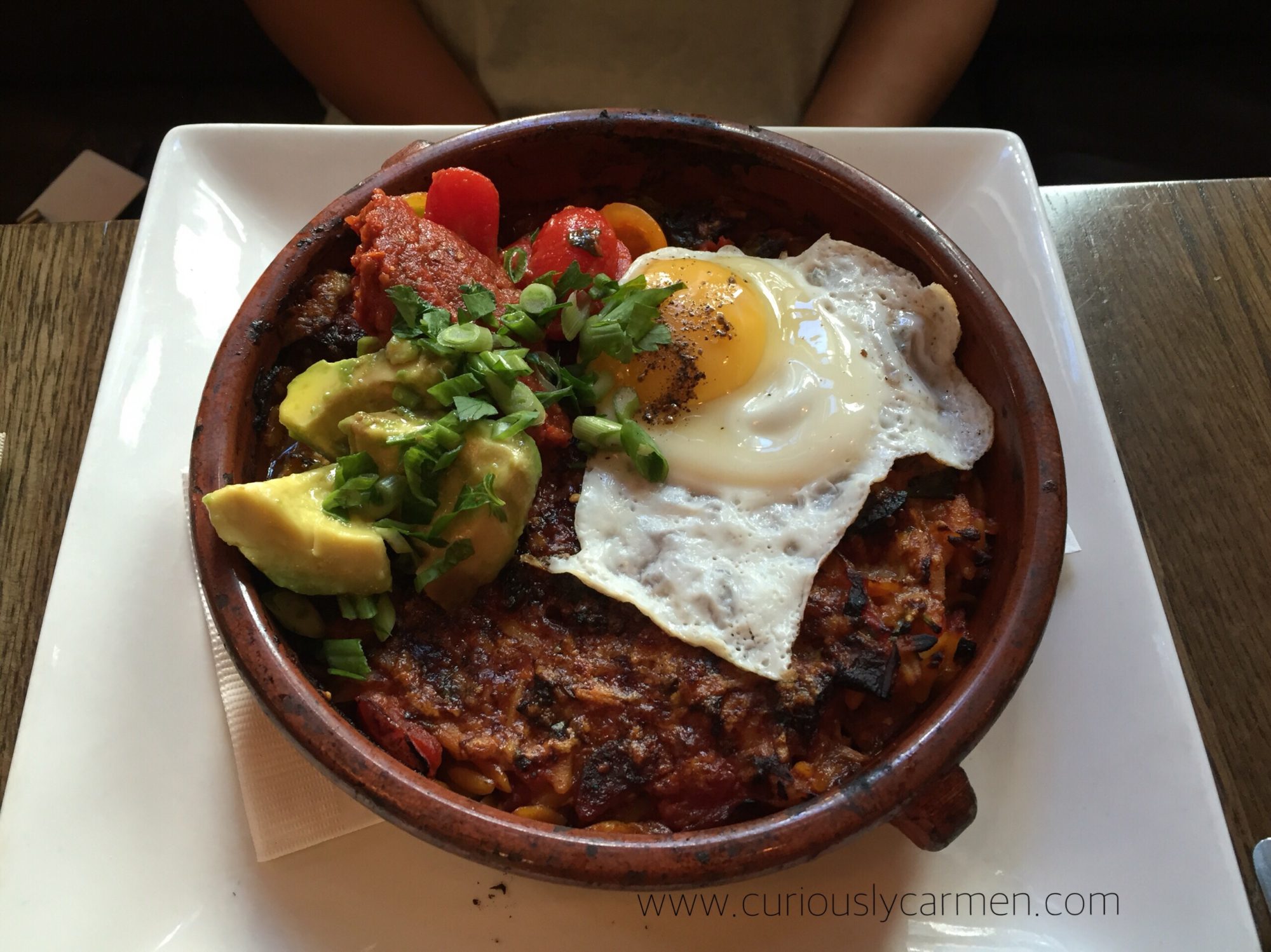 Paella, $15:  This is one of their most popular dishes, and comes with a fried egg, avocado, spicy chorizo sausage, and spicy tomato salsa. Everything in this dish balanced perfectly to a top-notch, hearty goodness dish.
I had a few bites and I really loved the spicy chorizo sausage mixed with the spicy tomato salsa. Very well done dish, I was in love at first bite!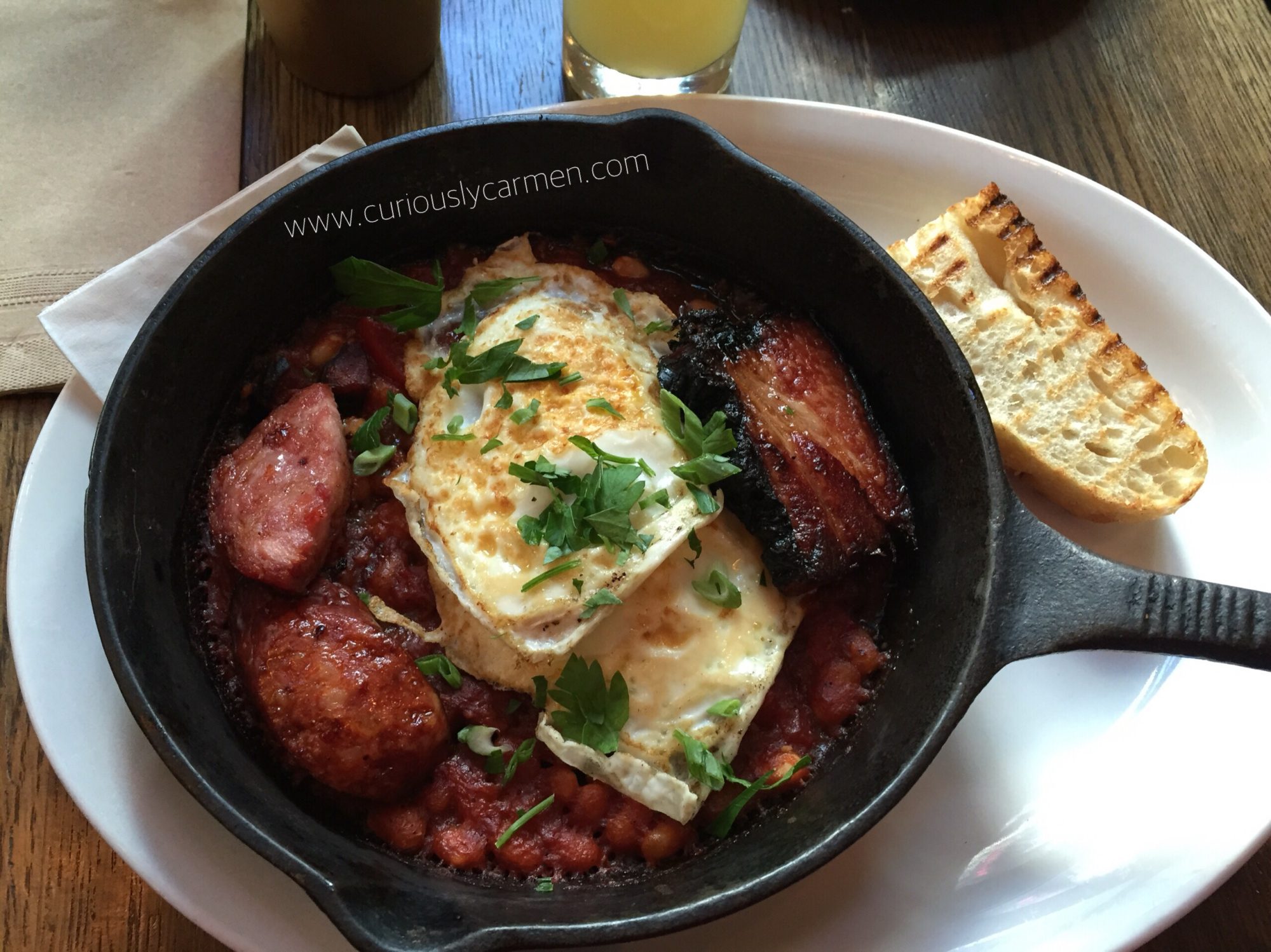 Cassoulet, $17: I had a hard time picking what to eat, but my cousin assured me that everything on the menu is delicious as she's been here a couple times before. I finally decided to try this dish because of the smoked bacon and andouille sausage.
My goodness, did I ever enjoy this dish. Everything was bursting with flavour, I don't even know where to begin. I loved the andouille sauce and smoked bacon.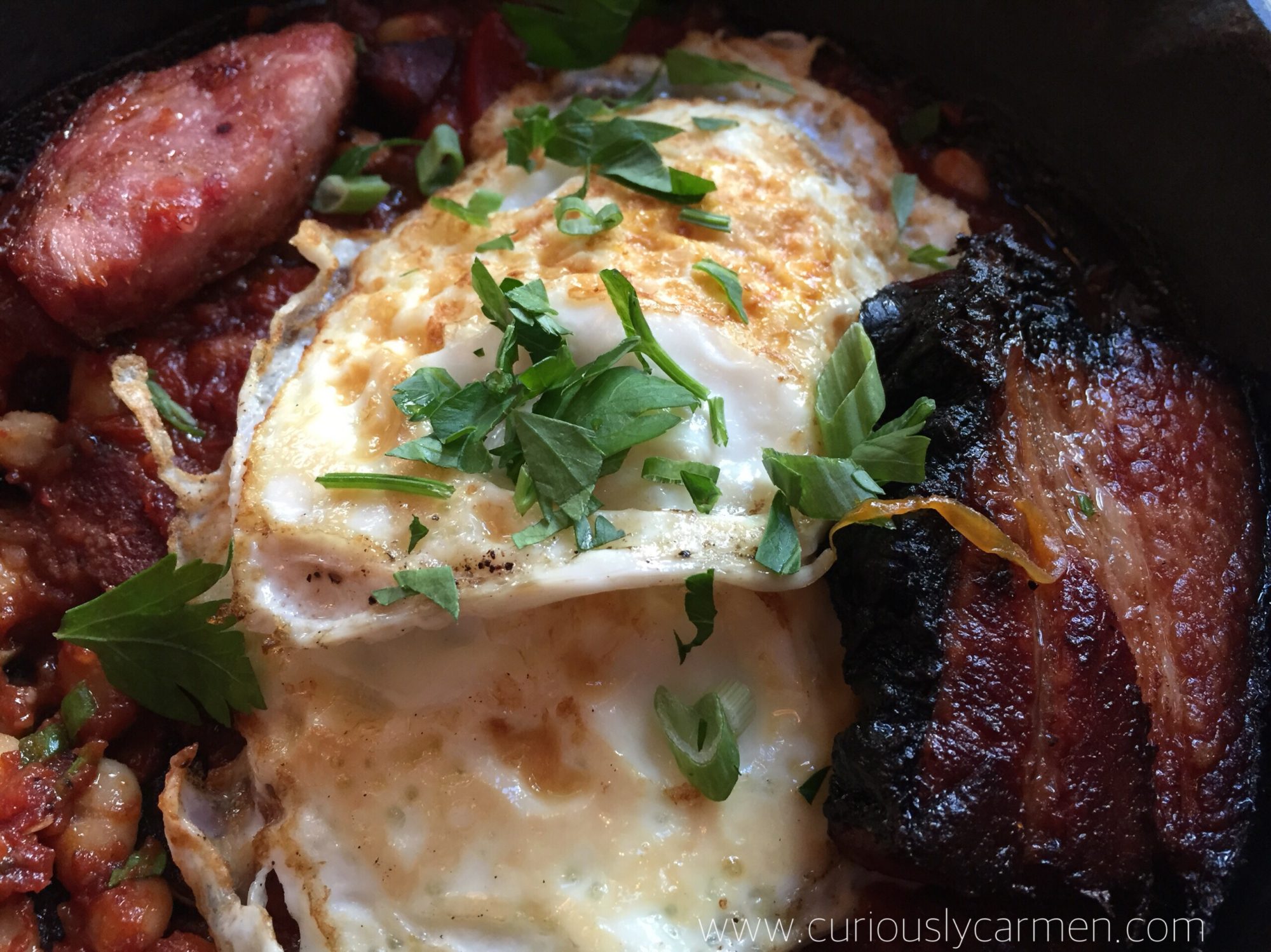 Here is a beautiful closeup of the cassoulet. I sent this picture to my boyfriend to show him what their bacon looked like but it turned out to be a really nice and crisp photo!
I was just expecting regular bacon strips, but obviously Cafe Medina took it to a whole 'nother level. It was pretty thick and full of smoky and amazing flavour. The meat was extremely tender and flaked off perfectly.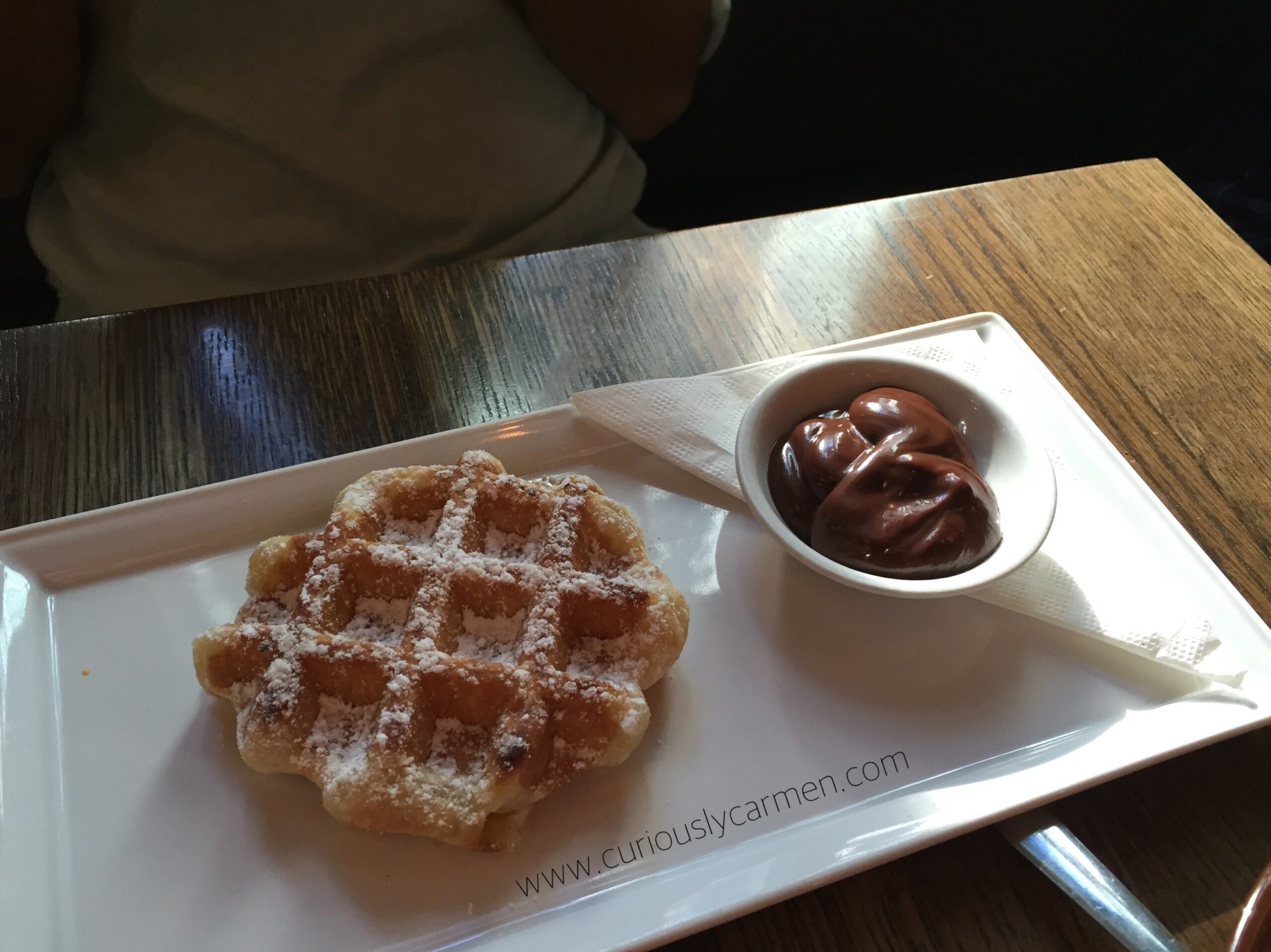 Liege-style waffle with chocolate, $4.15: Both of us were really full and suffering from food coma after the meal as the dishes were really comforting, hearty, and filling. But since it was so good, we didn't want to stop eating. After much consideration, my cousin decided to order a chocolate waffle for dessert but had much difficulty finishing it. I was too full to even attempt to have a bite, but she said the chocolate tasted like nutella!
There has been so much hype around Cafe Medina, and is it worth the hype? Yes, I definitely think so! Now, I understand why the lines are so long and why this place is popular. I'm already looking forward to my next visit, although I'm not sure when that would be!
As a side note, this place also reminded me of Toulouse in Seattle, which my boyfriend and I wandered across last year. Toulouse is one of Trip Advisor's top 5 restaurants in America. We use Toulouse as a standard of rating because the food there was also top notch (and a 45 minute wait, haha). When asking me if the food was as good as Toulouse, I agreed that it was definitely on par, which shocked the boyfriend because Toulouse was probably one of the best brunch places we've been to thus far!
Thanks for reading!
-Carmen