Hi everybody!
Back in March, some of my coworkers and I had lunch at Catch 122, as per my suggestion. I've heard so many great things about this place and decided that it was finally time that I check it out!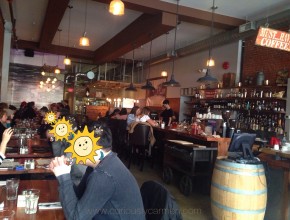 I made reservations for the five of us, and am I glad I did – the restaurant was full when we arrived, with a short line forming. I wouldn't mind waiting, but didn't want to waste our lunch break waiting in line and having to rush the eating part.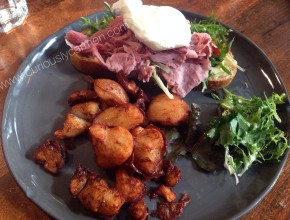 After much indecisiveness, I decided to get the croque madame. It came with a poached egg, house smoked ham, Yukon nugget potatoes, and salad. The poached egg and ham came on top of a piece of toast and fresh veggies. I really liked the savoury potatoes, as well as the ham due to its smoky flavour.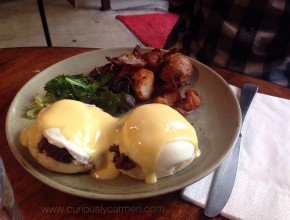 Coworker's braised short rib benedict – I didn't try it, but he said the short rib was really, really, really good.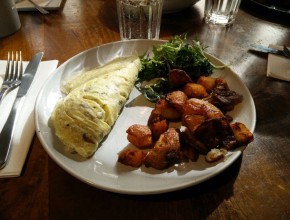 Coworker's truffle-scented mushroom omelette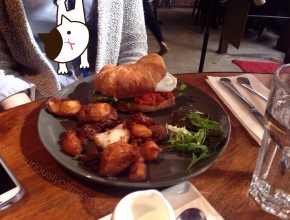 Coworker's catch 122! This looked really good, it came with house smoked and cured wild salmon, poached eggs, arugula, and the same side of potatoes as well.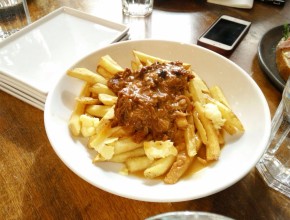 We also split a pulled pork poutine as well. The fries were pretty standard, but the pulled pork was delicious. It was tender and was full of flavour, there was also a generous amount of pork and cheese too. We were pretty stuffed by the time we ended our meal.
I'm glad that I finally got a change to try Catch 122! Service was very slow though, not sure if they were extra busy that day or if it is always like that? I would have liked this place a lot more if service was more friendly. I'm not dying to come back, but it's a good brunch option if you're ever in the neighbourhood.
Do you like Catch 122?
Thanks for reading!
-Carmen