I wrote a post earlier this year on the De Dutch location in Olympic Village when we visited for my birthday.  If you sign up as a De Dutch member (for free), they email you a voucher for a pannekoek during your birthday month. Unfortunately, the fiance had his birthday during the beginning of the pandemic so some restaurants were closed, including De Dutch.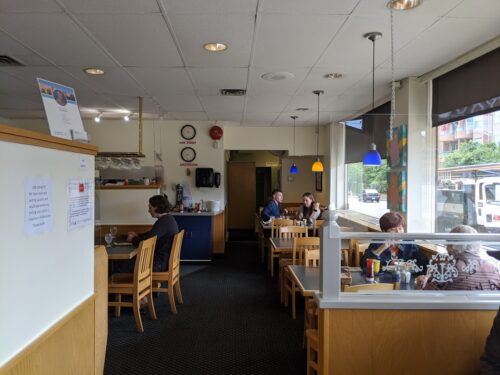 They finally opened up a few select locations in June and emailed the fiance a late birthday voucher. This gave us the chance to try the Oak Street location because we likely would have just gone back to the Olympic Village location (which would have been a better choice as you'll soon find out).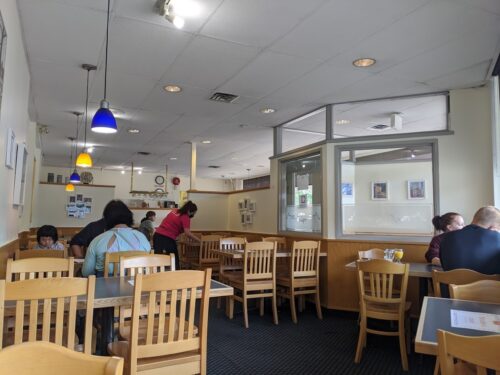 The Oak Street location is pretty inconspicuous, like most of their locations. It was clean inside and half the tables were closed for social distancing. I can't remember if they did contact tracing or not… This is why you don't wait 4 weeks later to write the review. Oops!
I was wanting to try De Dutch's chicken strips, but was sad to hear that this location doesn't have a deep fryer! That knocked off some points for this location already.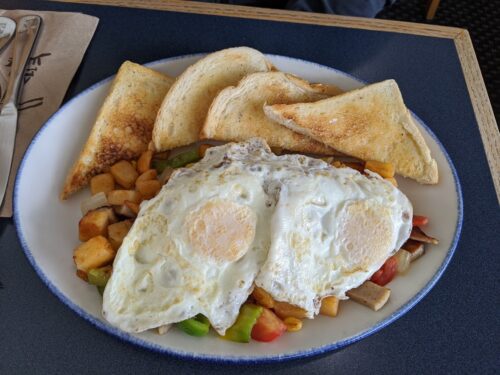 Sausage hash n eggs: The fiance picked this for us to share. It was your usual breakfast plate with toast, eggs, hash, and sausage. Personally, I don't like going for brunch because I find you can easily cook the same thing at home! Such was the case for this dish, so I found it average.
As mentioned above, this location doesn't have a deep fryer. The hash here was not as good because they were pan fried instead of being crispy. We were expecting crispy hash so it was a bit disappointing.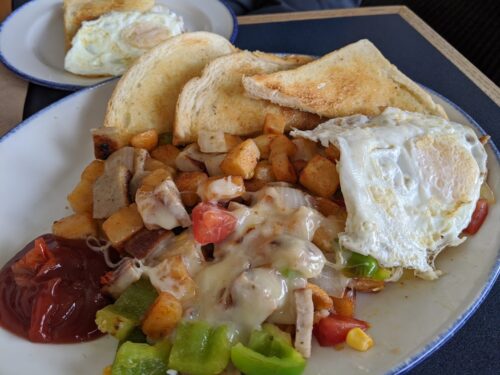 Here is another photo showing the delicious melted cheese. The dish was alright, but it is easy enough to cook at home so I would recommend getting something else instead.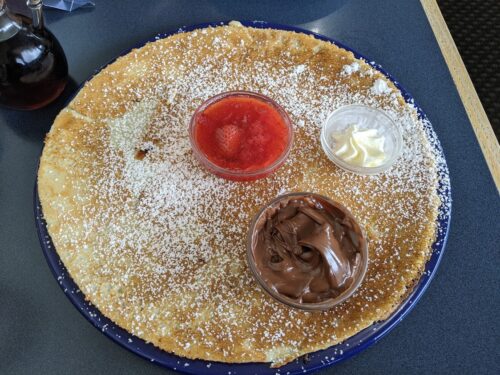 Pannekoek: For the fiance's birthday voucher, we redeemed the strawberry Nutella pannekoek again – a happy balance with two of our favourites things. The pannekoek was good, with the texture in between a pancake and crepe.
If you do come to DeDutch, I would recommend the pannekoek as that is their specialty item. It's good and there are so many flavours or DIY combinations to pick from. You could get better brunch food elsewhere.
All in all, our visit to this location was pretty meh and we wouldn't come back. I would recommend the Olympic Village location instead since they have a deep fryer, so their potatoes are crispier. There was not much left to be desired here but we did leave full.