During the last week of summer (wow, I can't believe I'm saying that already), a couple of my friends and I decided to check out Thyme to Indulge for a late lunch. I've heard many great things about this place and love eating in this neighbourhood, which is a bit odd that I haven't tried this place until now.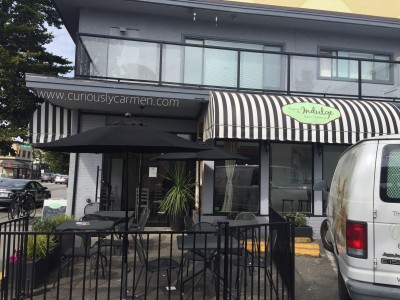 Thyme to Indulge is actually a catering business, with a small restaurant located in their office space. There were a few catering trucks parked outside. On the day that we went, there was only one person working in the front, which included greeting, busing, serving, cashier, barista – etc.
Because of that, service was a bit slow although the server was very sweet. I'm sure they have more workers on the weekends, and we weren't really in a rush so it was okay for us.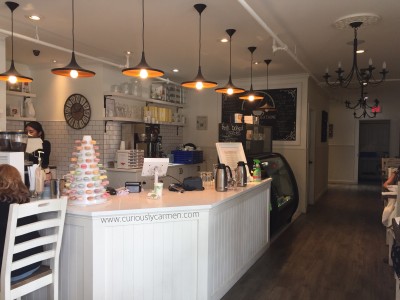 I really enjoyed the interior design of this place – the inside was very clean and spacious, with lots of white wooden furnishing and a splash of girly accents.
Also, check out that cute macaroon pyramid, made out of real macarons that they sell! (Display macarons only of course)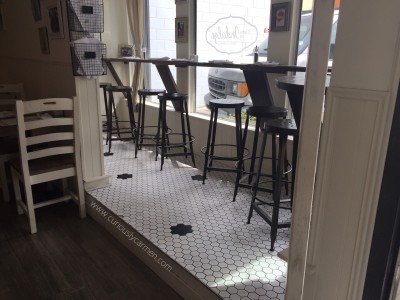 There is also a cute little nook where customers can eat, separated by a slightly raised step. I absolutely loved the tiles contrasting with the wooden floor panels. Thyme to Indulge also has an espresso bar and mini pastry section, so this cute little area would be perfect for grabbing a small bite or enjoying a nice drink.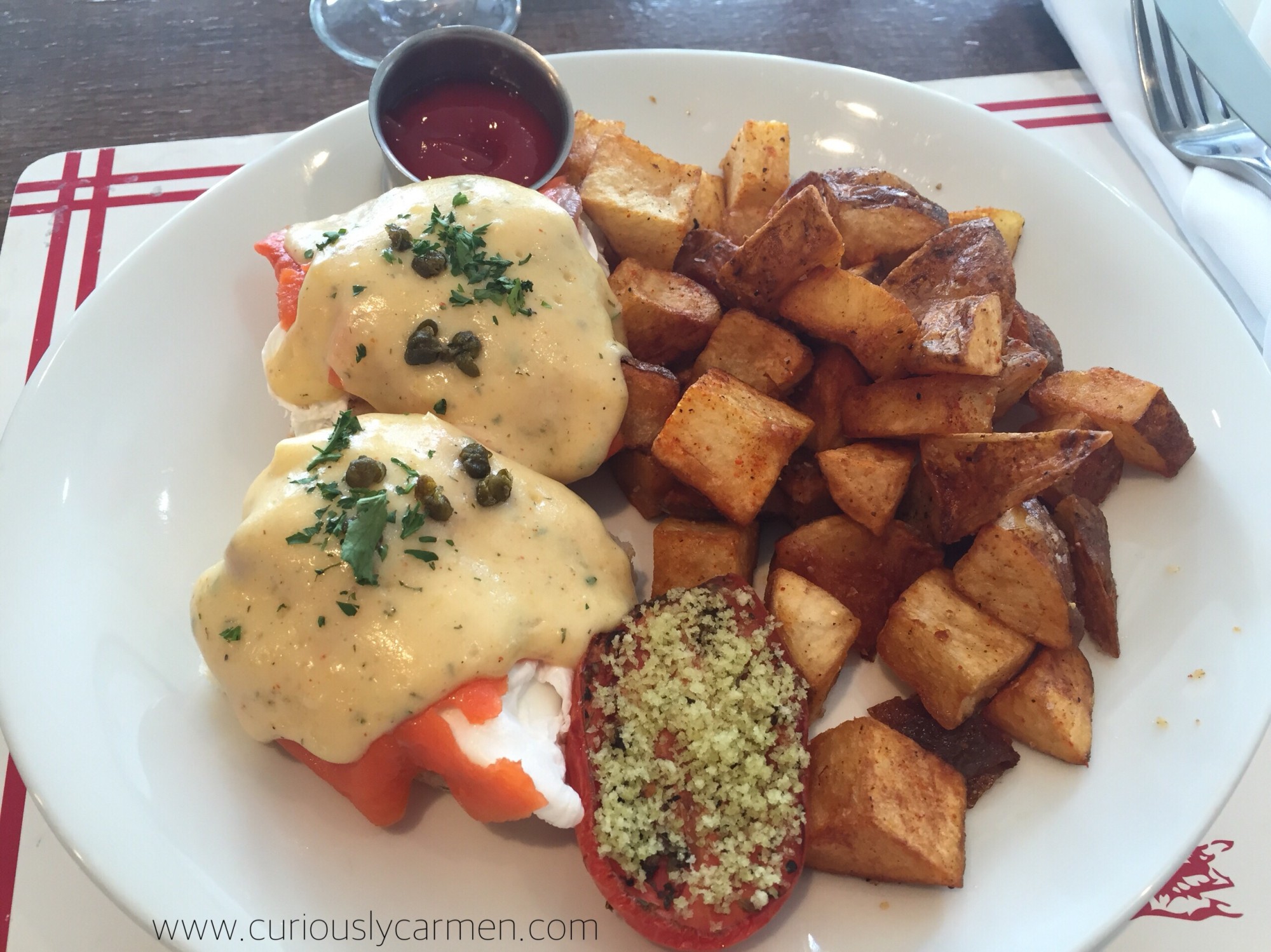 I ordered the BC benedict, but two of us ended up splitting our dishes because we both wanted to try them! I can never go wrong with smoked salmon, and this was no different. I requested the egg to be poached slightly hard and just a tad runny (full runny eggs creep me out) and it arrived the way I wanted it to!
I'm not a hollandaise expert, but I found the sauce to be very creamy and it went well with the smoked salmon. I loved every bite of the benedict and would order it again in a heartbeat!
The breakfast potatoes were decent, although a bit on the dry side but nothing a bit of ketchup can't fix 😉

The other dish my friend and I shared was the crispy bacon poached eggs. This sounded amazing on paper, but unfortunately we were both disappointed with the way it came out.
There was barely any bacon on the egg, and we found the batter to be very bland. This definitely should not be called crispy bacon poached eggs because we were expecting more than a few specks.
Since the crispy bacon poached eggs were the star of the show, the rest of the dish was pretty plain and simple. The tomato provencal was a nice touch though – it was slightly grilled, sweet, and juicy and dusted with breadcrumbs and herbs on top! I haven't seen many brunch places serve this as a side before so it was a nice surprise.
For those who have never had it before, I would describe a tomato provencal as a grilled tomato with seasoned breadcrumbs on top and came from the southwest region of France.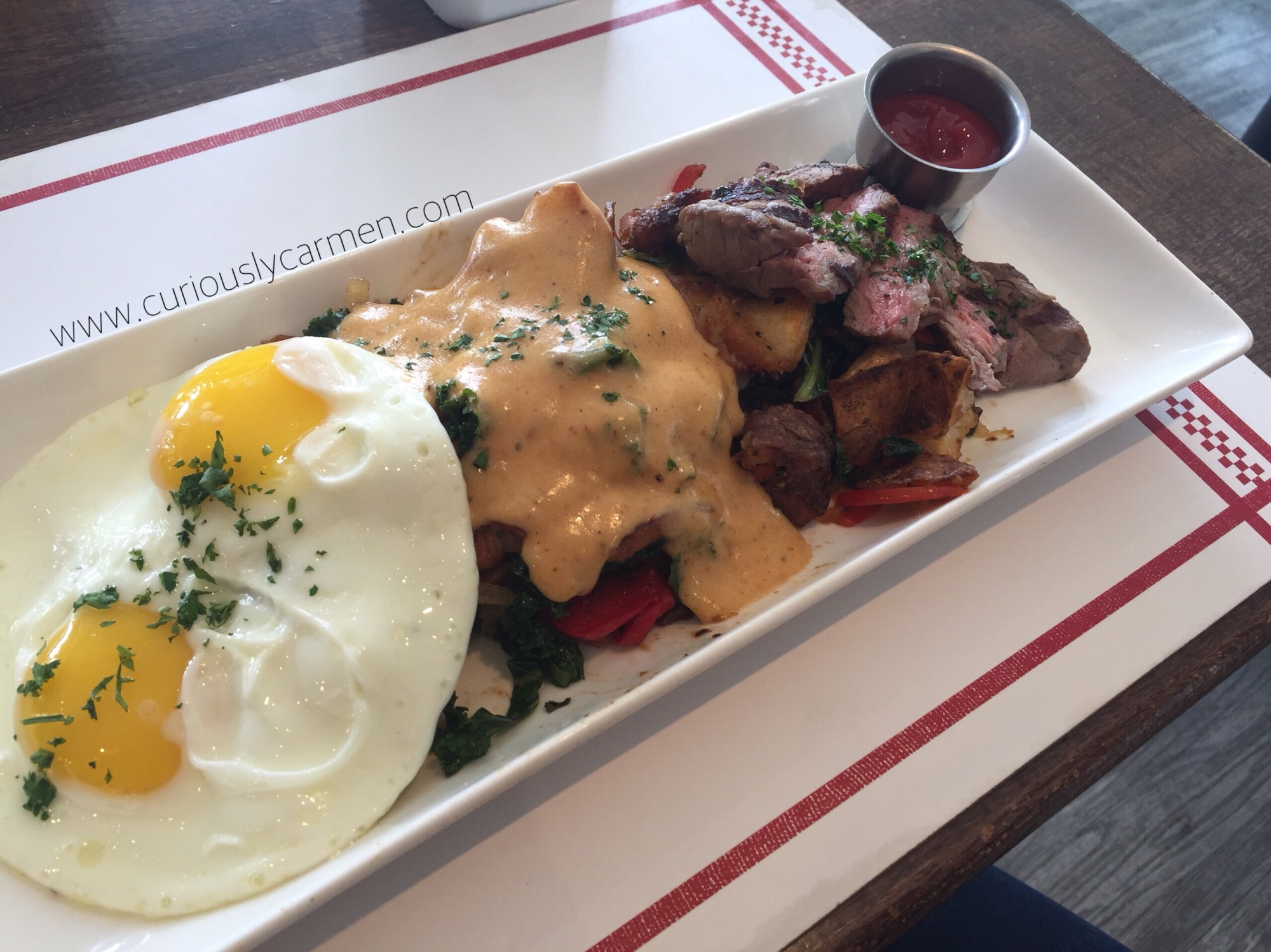 The third dish we had that day was the steak and eggs! I had a bite of my friend's steak. The steak was a chargrilled 6 oz, and was absolutely delicious and mouthwatering. It was very tender, savoury, and packed full of flavour.
All in all, we enjoyed our lunch and I would definitely come back. I loved the ambiance, friendly service, and most of the food here. I would love to try some of their pastries next time too – in particular, the macarons.
Thanks for reading!
-Carmen