**Disclaimer: This visit happened in early November right before the new health order. We bumped into 2 friends outside randomly, and had lunch together. Right after, the new health order was announced. I wanted to wait until the health order was lifted to post this and not set a bad example.
However, 2 months have passed already and the order keeps getting extended so I am just going to post this now. Stay safe and be responsible.**
---
Kimbap Cheonguk has been on my to-try list for many years now but I never ended up going until now. I've read many good things on this place so my expectations were high.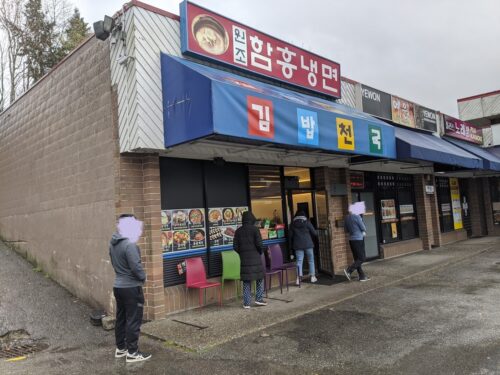 Kimbap Cheonguk is located on the Burquitlam border, in Koreatown. It is in a plaza with plenty of parking and other restaurants too.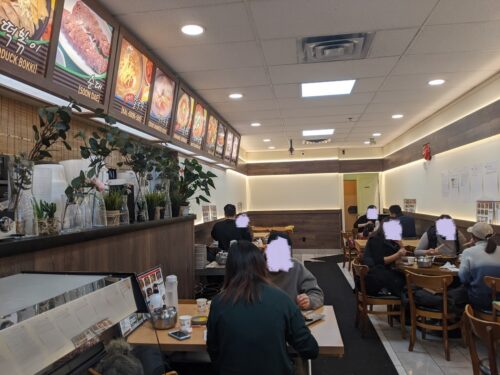 Funnily enough, while the fiance and I were in line, we bumped into Kimbap and Kimchi outside! They were also planning on having lunch here, so it was a good coincidence. We ended up having lunch together and since they come here regularly and speak Korean, they did the ordering for us.
Side note: Kimbap and Kimchi both lived in Korea before, and they told us that in Korea, "Kimbap Cheonguk" is also the name of a cheap Korean food chain known for their kimbap. "Cheonguk" is heaven in Korean, so the name of the restaurant translates to Kimbap Heaven.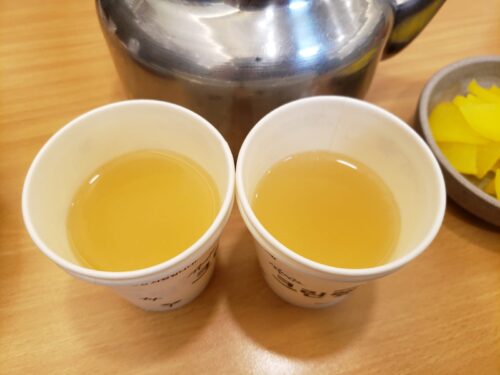 Soup: At first glance, you may think this is tea. I certainly thought it was until Kimchi told us it was soup. The soup was savoury and tasty. They also kept a big teapot of it next to us so we could keep filling up on it.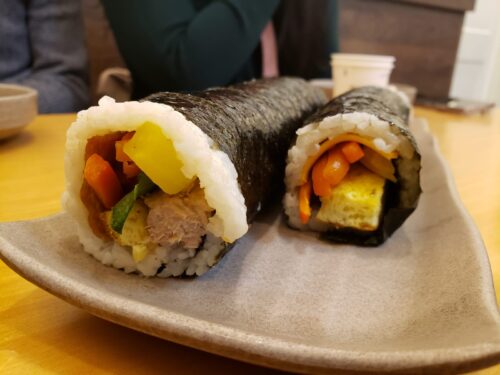 Tuna kimbap: The reason why we came here, to try the kimbap! The tuna kimbap was delicious and I could see why this place is so popular. This may be odd but I enjoyed the seaweed wrapping a lot. The seaweed tasted like it was lightly brushed with sesame oil or something.
Cheese kimbap: We also ordered a cheese kimbap, which was tasty as well. I thought there would be more cheese in it, but turns out it was a thin piece of processed cheese as you can see in the top photo.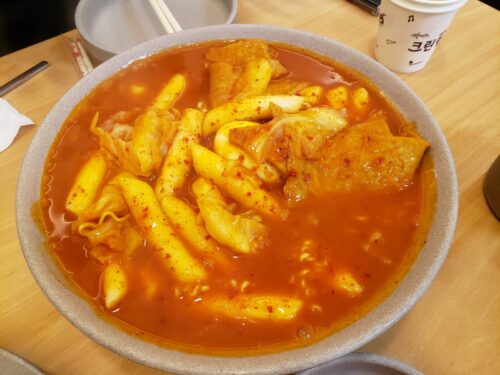 Ra bok ki: This was a sweet and spicy rice cake dish that also came with fish cakes, egg, cabbage, and instant noodle. It was our first time having this dish, but Kimchi and Kimbap order this regularly.
There was a good balance of sweet vs spicy. The dish was full of rice cakes, noodles, and fish cakes so it was really filling.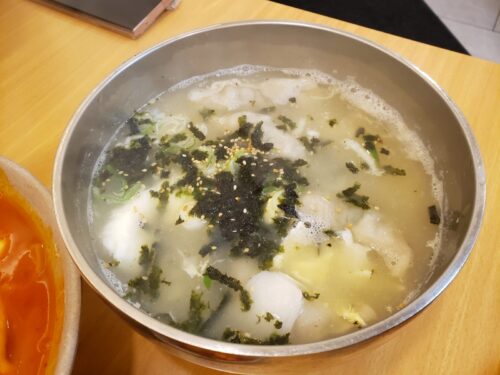 Ddock mandoo gook: Ever since trying Korean dumpling soup at Tongileo, I have been ordering more dumpling soup whenever I go for Korean. The dumpling soup here was delicious and very comforting. There was a very generous portion of dumplings, rice cakes, and egg. I couldn't stop drinking the broth!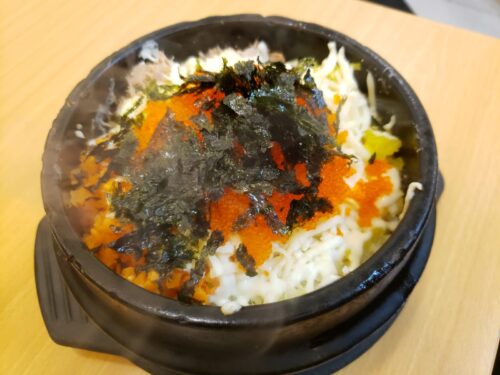 Al bob: The al bob was a stone bowl rice with tuna, cheese, tobiko, mozzarella cheese, seaweed, and vegetables. It sounded delicious, and it was! This was the fiance's favourite dish. Everything mixed together nicely and the cheese was stringly and melty.
In addition, the tobiko added some nice crunchy texture. I haven't seen this dish offered at other Korean restaurants but we would gladly order this again. There was a lot going on in this dish, with lots of different ingredients, but everything went well together. The best part was eating the crispy rice at the end! Make sure to spread the rice around the whole stone bowl so your rice will turn crispy!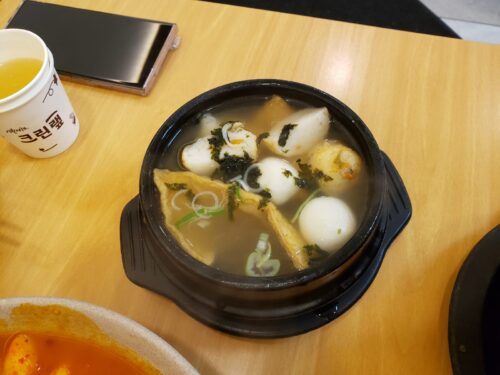 Fish cake soup: The fish cake soup was a small appetizer size compared to the rest of the dishes. I found it alright with no complaints, but it was forgettable to me since the other dishes were so good.
All in all, we had a delicious lunch at Kimbap Cheonguk and I am looking forward to our next visit. A bonus was bumping into Kimchi and Kimbap (see disclaimer at top, this lunch happened before the most recent health order) at the restaurant, and trying some new Korean dishes with them. Next time I am craving kimbap, I know where to go. Their non-kimbap dishes were delicious too.