Quietly nestled in a small strip mall in Port Coquitlam, lies an authentic Korean restaurant that goes by both Tongileo or TEO Korean Restaurant. I have never heard of this place until my Korean friend, Fish, told me about it! She lives nearby and this was her go-to for authentic comforting, homemade dumplings and soup noodles.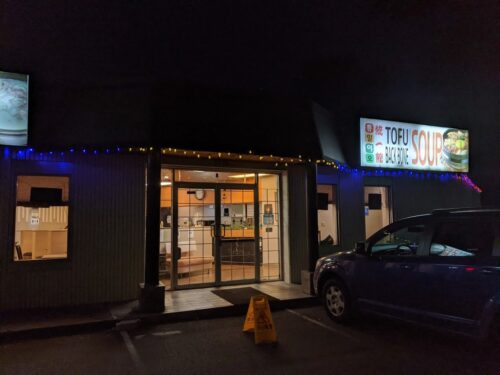 Her Korean grandma also approves of this place so that's when you know it's legit! I rarely go to Port Coquitlam but I made the trek out here one evening to try it.
Tongileo was located in quite a random location, off Lougheed Highway in Port Coquitlam. The storefront doesn't actually say Tongileo or TEO Korean Restaurant on it.
Instead, it just advertises "Tofu back bone soup" and the restaurant name is on the strip mall sign post. I didn't realize until driving back home, that it was only minutes away from Coquitlam Center. There is also a small meat shop in this plaza, and I read reviews that they are the same owners as Tongileo but not sure if that's true or not.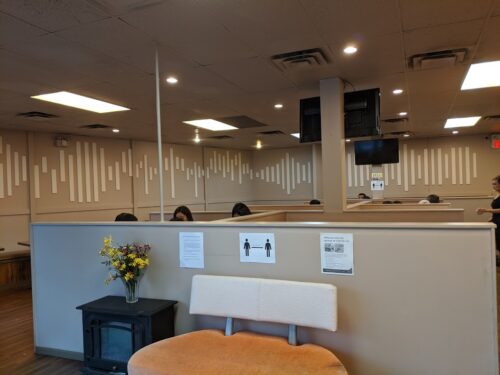 We came on a weekday evening and the restaurant was at full capacity with COVID restrictions. We got the last table so we didn't have to wait. Yay!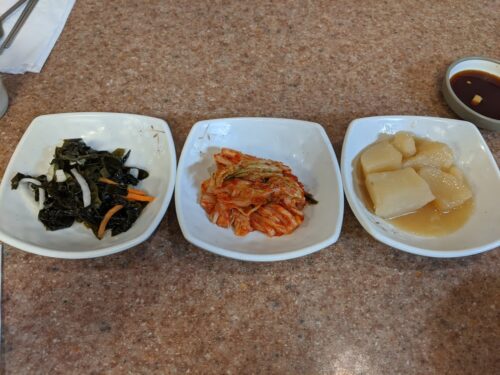 Banchan: The banchan that day was seaweed, kimchi, and sweet potato. They were all tasty and fresh.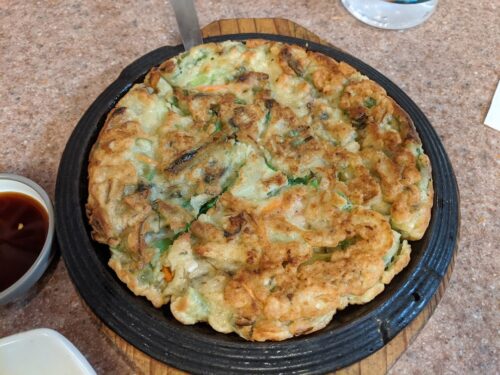 Seafood pancake: The seafood pancake was jampacked with ingredients inside, and was flavourful. My only complaint would be that it could have been slightly more crispier but it was still delicious.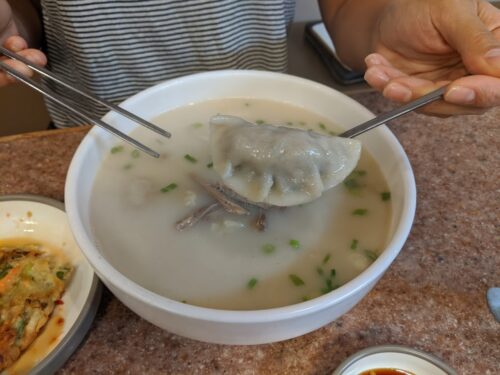 Kal-guksu with dumplings: This is Fish's go-to order, and I ordered it as well! I am a huge lover of a warm bowl of comforting soup noodles. This was my first time trying Korean soup noodles like this!
The dumplings were jampacked with pork and lots of chopped vegetables inside. They were very comforting and tasted homemade, not too salty and simple. I loved how much chopped vegetables were inside and how plump and filled these dumplings were.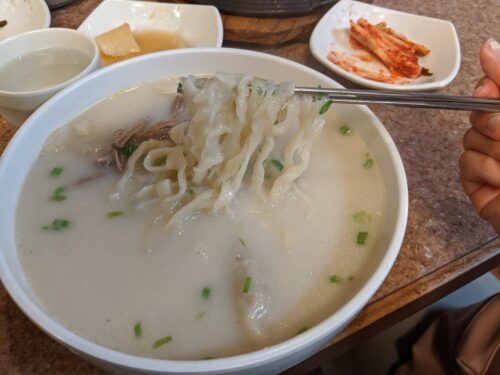 The broth was simple and clear, yet flavourful. It felt healthy and safe to eat with my sensitive stomach. There were also some slices of beef in the soup but the star of the show was definitely the dumplings.
The noodles were also handmade and knife chopped, so they were a bit rugged in texture which I loved. I find that these types of noodles carry more soup in the ridges.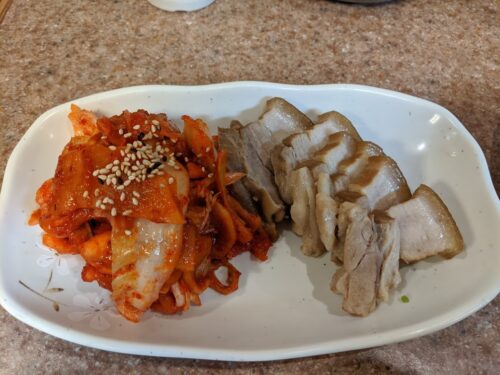 Bossam and kimchi: Fish ordered the kal-guksu combo, which came with the dumplings and noodle soup along with bossam and kimchi. The bossam was tender and rich, with a nice fatty taste to it. The kimchi packed a lot of heat and was fresh and crunchy.
Overall, it was a good visit to Tongileo and I'm glad to have ventured out to Port Coquitlam with Fish to try it. It's a hidden gem in PoCo and it could be hard to find especially since the name of the restaurant isn't on the storefront, but the food was great.