Another Dine Out review! Luckily, the Dine Out menu here features the same dishes as the regular menu, so you can still read this review even if you're not planning on doing Dine Out! I found this restaurant through social media, with many people saying that it was a really good deal.
After finding out that they have a waterfront view with seaplanes, we were sold. We love nice views and airplanes!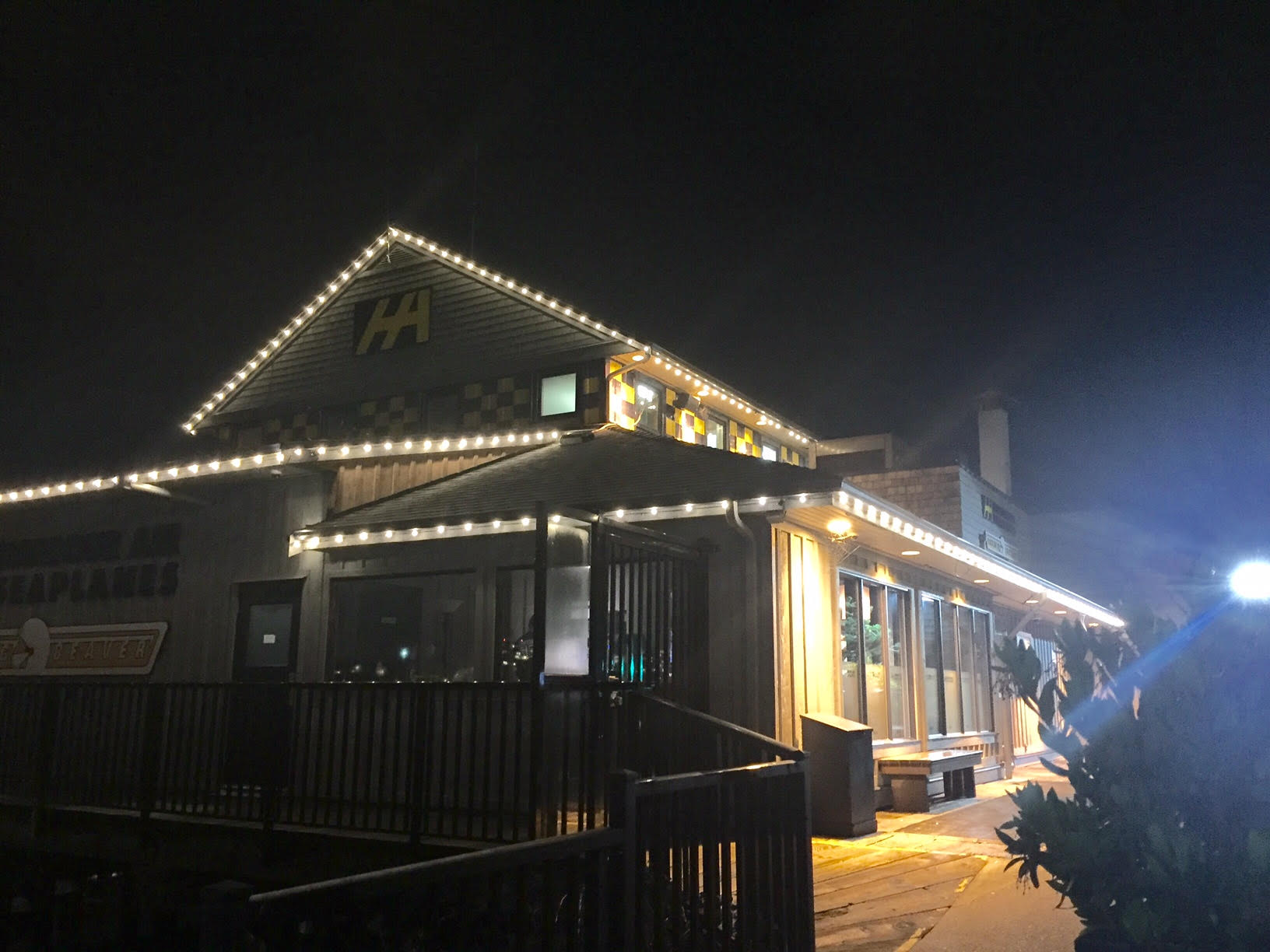 Prior to visiting this restaurant, we had never been in this area before and missed the turn from Vancouver to Sea Island. It is in a pretty quiet area, with nothing else here except for the smaller airport terminal for flights within the province.
The restaurant is also connected to a seaplane terminal, which was being advertised for leisurely private flights around Vancouver and Victoria. Maybe one day, I'll afford to ride in one of those for fun!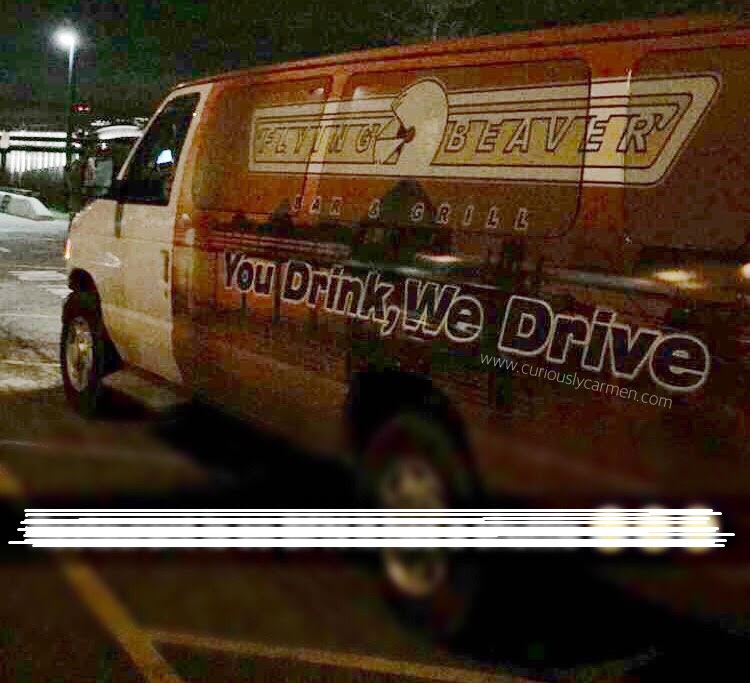 This place is in such a random and quiet area that they offer a shuttle bus service! I thought that was pretty awesome. I'm not too sure on how often the shuttle service works and where they pick up customers from, though.
They offered a 3 course meal for Dine Out, and was $20 per person. Here is what we ordered:

Baja fish tacos: The boyfriend chose this as his starter. It was a pretty good taco, with a generous piece of fried cod inside. The veggies here were crunchy and fresh as well!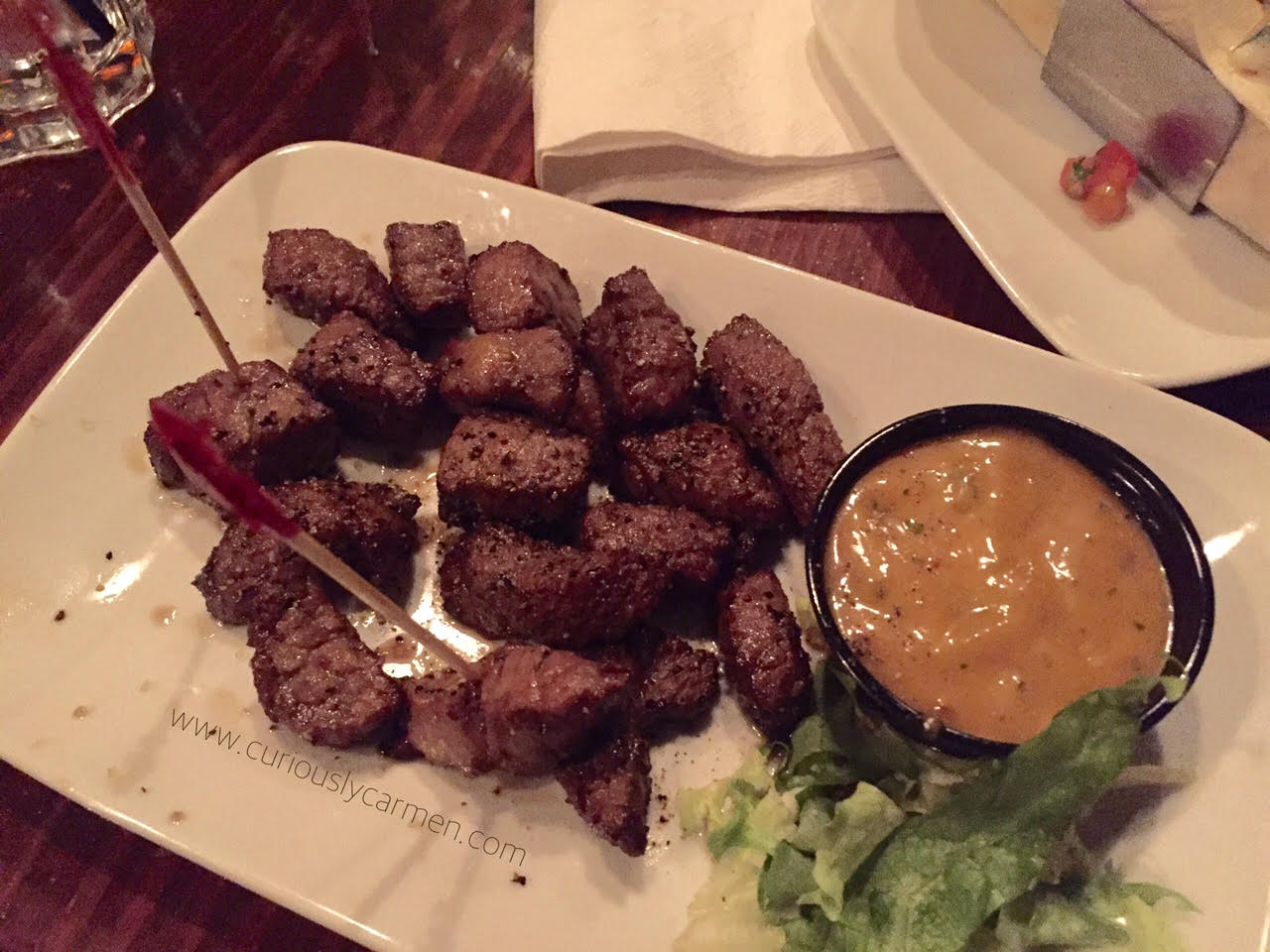 Steak bites: I wanted the clam chowder, but since it contains dairy, I chose to order the steak bites instead. I definitely did not regret my decision because this was delicious! The steak bites were cooked medium, and was slightly pink in the middle. It had a nice smoky and grilled taste, and was bursting with flavour. It was also really peppery, which I loved.
The dipping sauce was a chiptole aioli, which didn't really complement or enhanced the savoury steak flavour. In fact, they didn't mix well at all and was really random.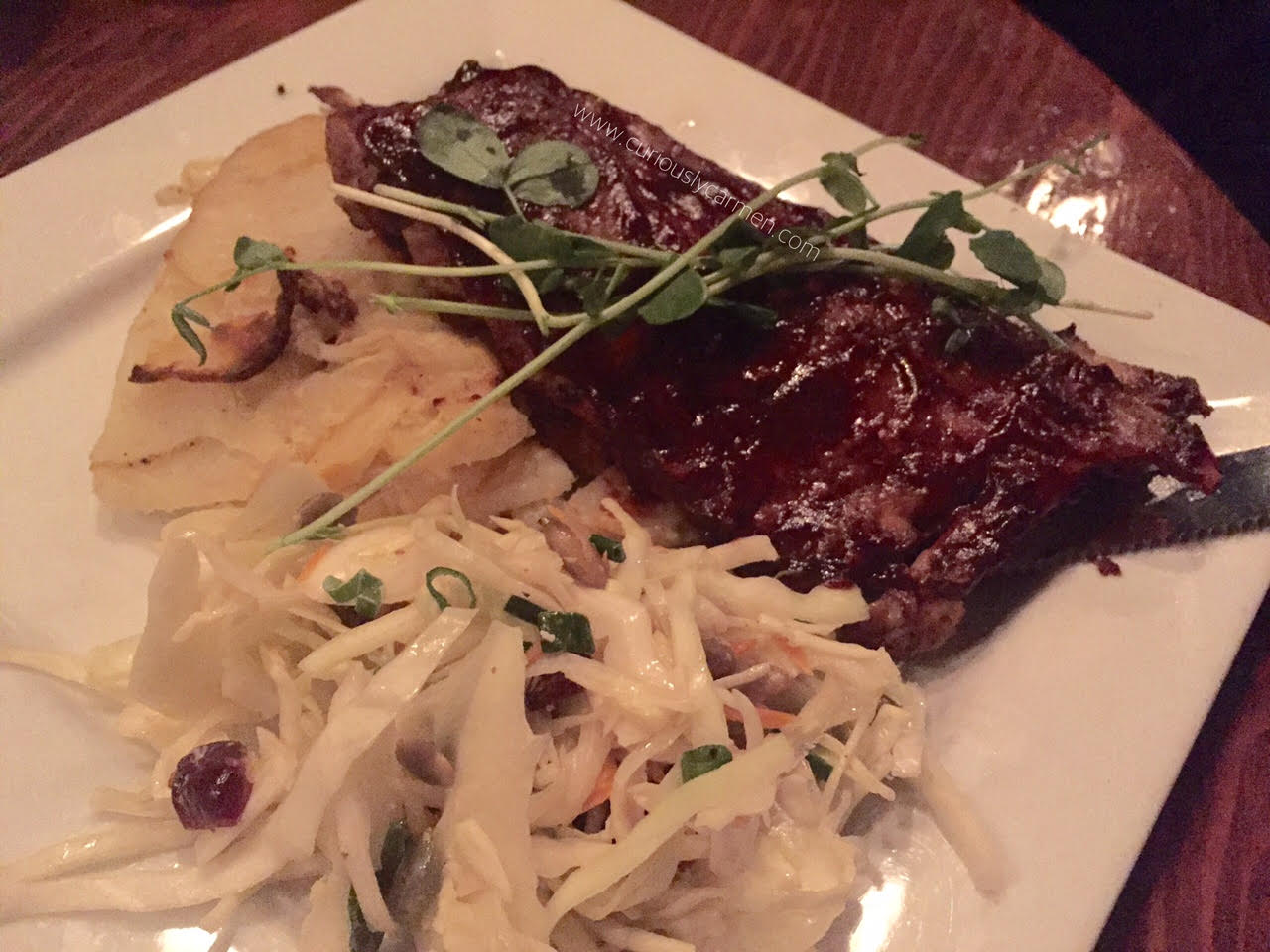 BBQ Pork Ribs w/ scalloped potatoes & cole slaw: The boyfriend loves his ribs, so this was an easy choice for him. The pork ribs were very tender and fell off the bone perfectly. There was a generous amount of BBQ sauce, giving the pork a lot of extra flavour too.
It came with scalloped potatoes, which the boyfriend was crazy about. He gave me a bite and I automatically regretted it (and simultaneously loved it) because I tasted a LOT of cream and cheese. It's strange because now that I can't have dairy, I am able to taste or smell the flavour of cream/cheese/milk more than before. It's like my body is warning me even more now that I can't eat it.
Anyways, that one small bite I had was really good and reminded me of what a sweet life I used to have – being able to have rich, dairy goodness without reacting badly and getting sick.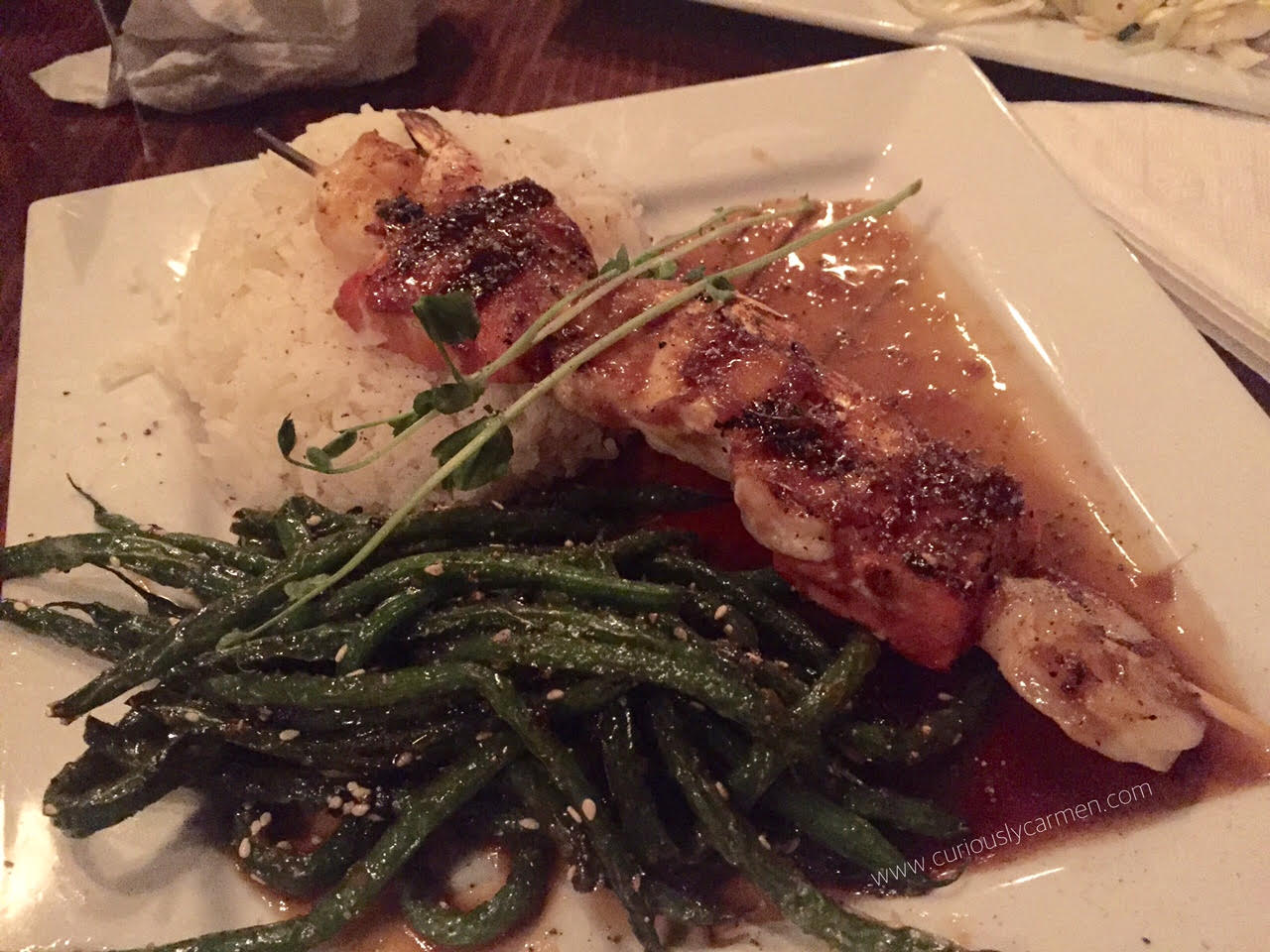 Seafood grill w/ veggies & jasmine rice: I love my seafood, so this was an easy decision for me! The skewer came with sockeye salmon, prawn, and Atlantic halibut. The skewer was pretty big and all the seafood was cooked well. The fish flaked perfectly off, while the prawns were nice and snappy.
It didn't come with much seasoning (maybe just a bit of salt?) and had a nice grilled taste, just like the steak bites.
It also came with a ginger soy sauce, which I wasn't a fan of. The ginger taste was too strong. It reminded me of a very strong honey ginger tea.
Adding the sesame string beans, I felt like I was eating a Chinese meal instead of Western =P The rice was slightly aromatic and came with some freshly ground pepper. There was a pretty generous amount of veggies and rice, as you can see!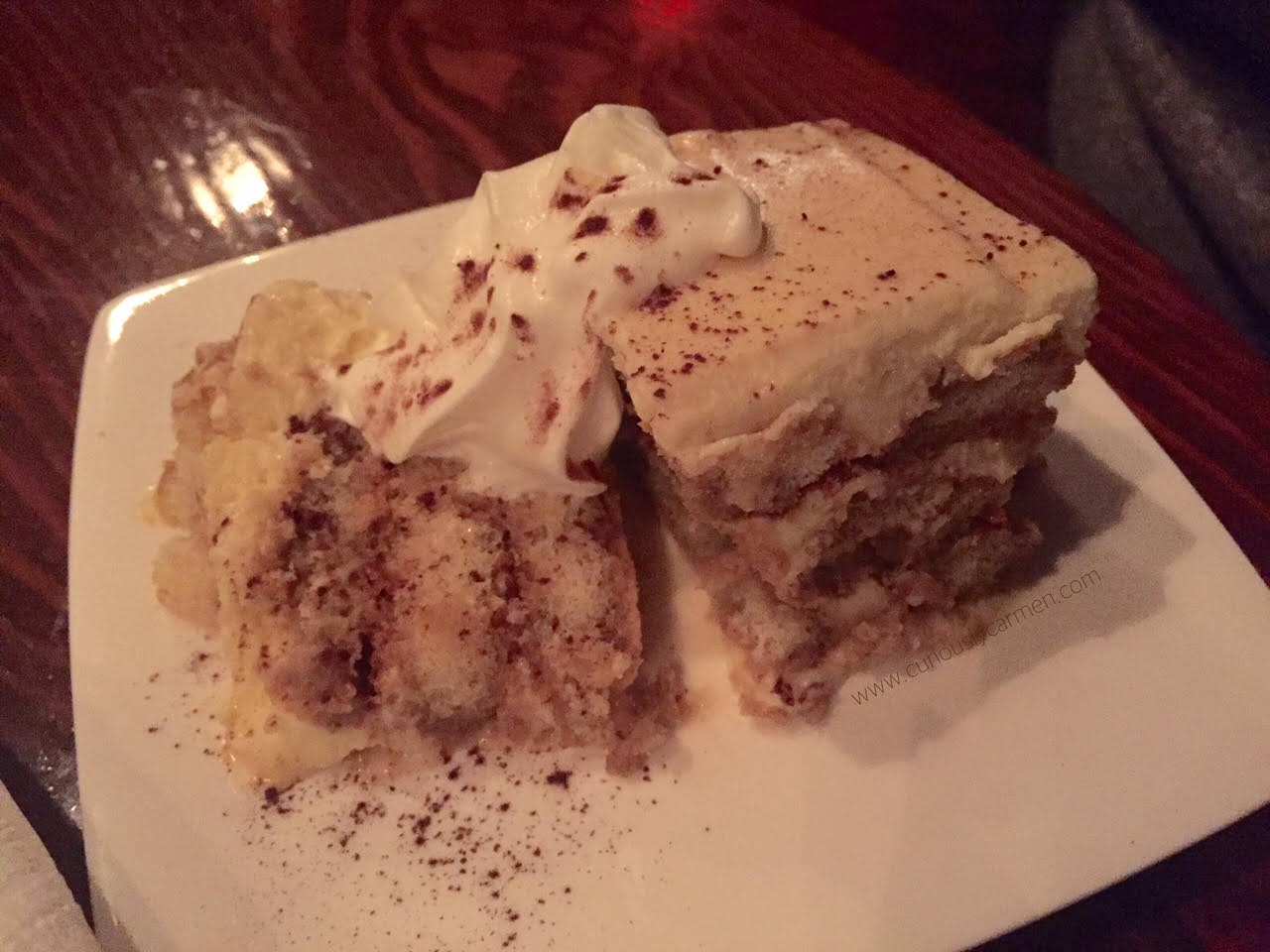 Tiramisu w/ belgian chocolate: I wish I could have tried this, because the boyfriend kept saying how amazing this was with every bite that he had.
He said that it was very balanced, meaning that it wasn't overly sweet but had just the right amount of chocolate and coffee.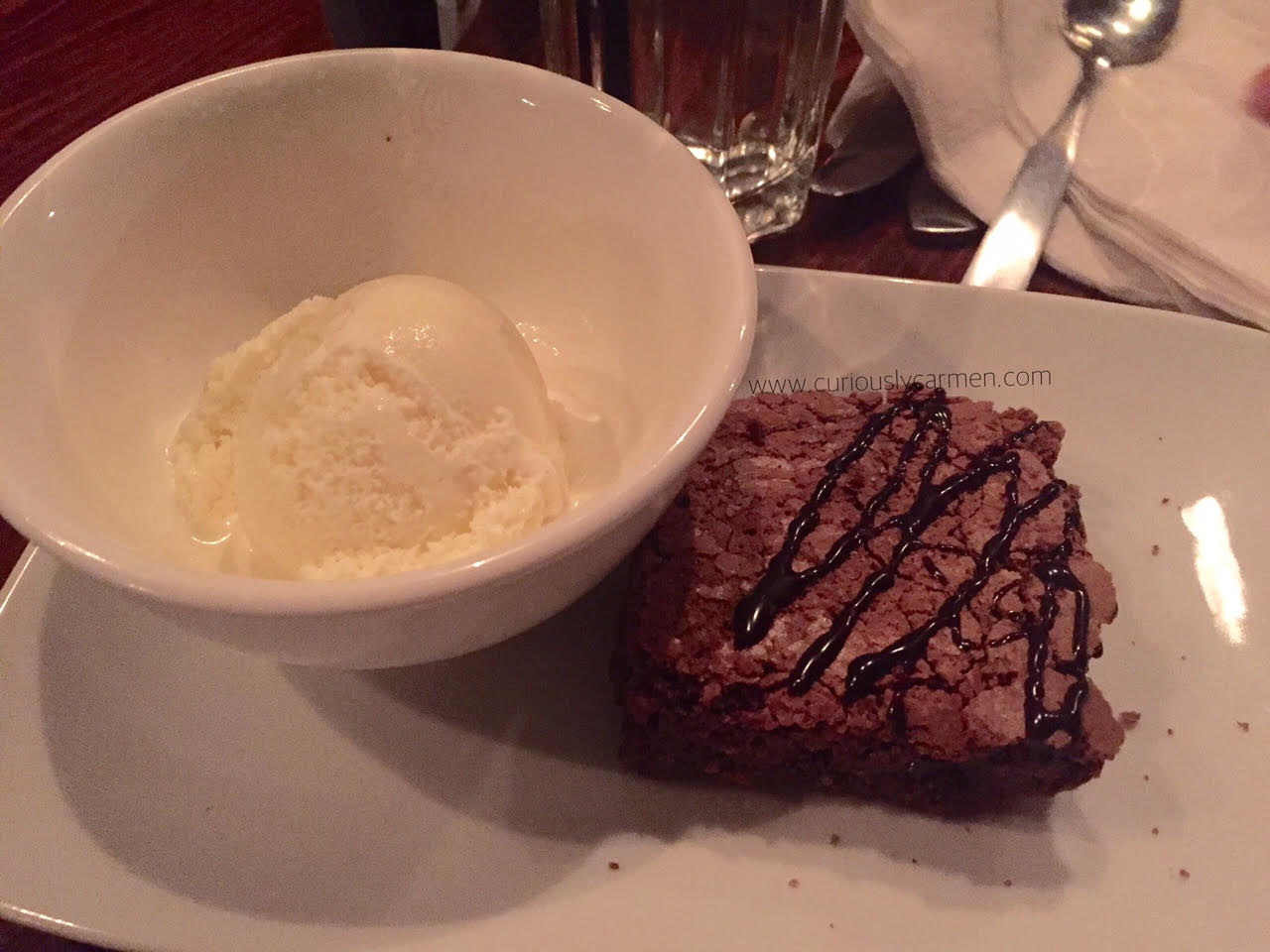 Chocolate brownie w/ vanilla ice cream: The brownie was served nice and warm. I didn't find that there was much chocolate taste though – it was just VERY sweet.
I had four bites before it was too much. Sweet tooth people, this one is for you! I gave the ice cream and rest of the brownie to the boyfriend. Comparing the brownie to the tiramisu, he said the brownie was definitely a LOT sweeter.
—
For $20 each, this was a really good deal and I'm glad that we drove all the way out to this restaurant. Although it was pretty busy, service was friendly and attentive. I wouldn't come back just for the food because I could probably get similar food a lot closer to where I live, but rather, come here for the nice view instead.
It's a breath of fresh air to be away from all the hustle and bustle of the city. I would love to come back when the weather gets warmer and enjoy some drinks and snacks on the patio.
Thanks for reading!
-Carmen