Bai Bua is our go-to whenever we are feeling like Thai food. We have been here many times over the years, and it did has not disappointed so far. Since we were in this area last month, the fiance suggested coming here for dinner, and Jerky and Toro joined us too.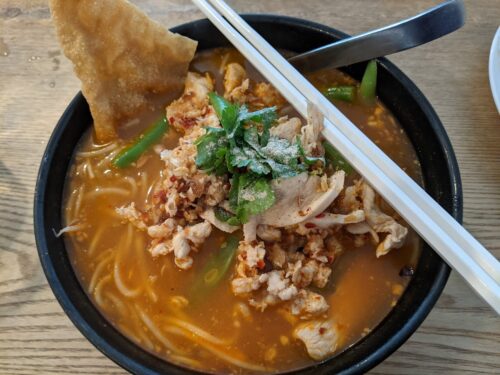 Sukho Thai noodle soup: I had plans to get the clear chicken soup, but I saw this on the menu and decided to switch it up. I love spicy foods but over the years had to cut down due to health reasons. It's been so long since I had a spicy noodle broth!
The spice was pretty mild. I found the soup to be actually more sweet than spicy. I prefer my noodle soups to be more on the savoury side, but this was alright. I'd probably stick with the clear chicken soup next time because it was a bit too sweet for my liking.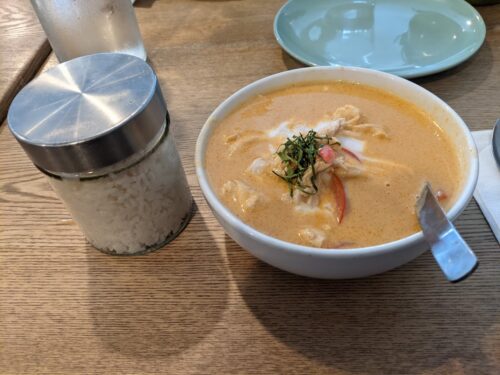 Penang curry: The fiance was going to also get his usual curry, but we noticed the specials board and the Penang curry caught his eye. I've had a few of their specials before and they are always really good!
Unfortunately I don't remember what was in the special and it's not on the menu. But this was delicious!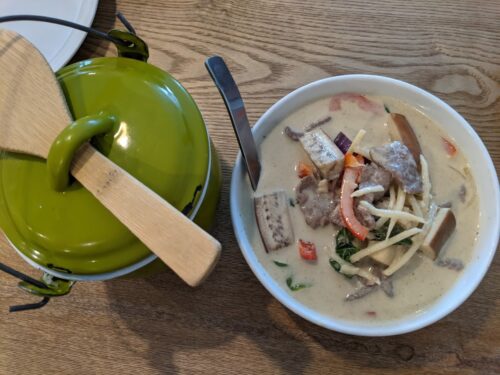 Green curry: Jerky and Toro split a green curry with a side of large coconut rice. Coconut rice is a must when having Thai curry. It makes the flavours so much better! They had no complaints and said it was delicious.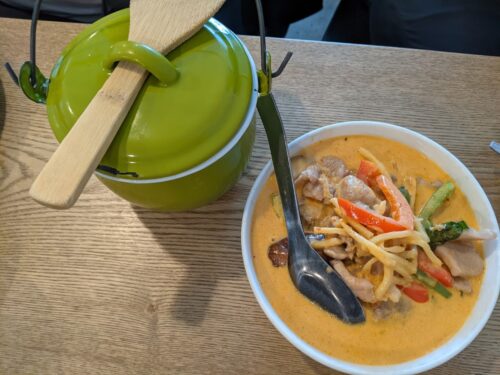 Curry: Jerky and Toro ordered another curry dish as well. I forgot what this one was, but they enjoyed it. You can't go wrong with any of the curry dishes at BaiBua.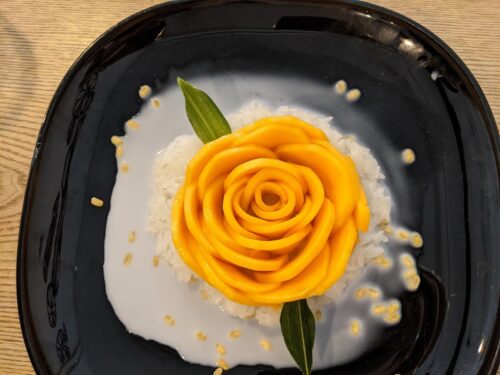 Mango sticky rice: I love their mango sticky rice! A bonus is that it is dairy free. The mango is cut into a pretty flower shape, on top of fragrant and sticky coconut rice. Finally, it is topped with more coconut milk. The dessert is a bit pricy but worth it.
Overall, it was another delicious dinner at Bai Bua. Bai Bua is a solid choice for Thai food in Vancouver.