While looking for dinner options for our girls reunion, Cinnamon suggested Bai Bua. She had raved about it before and I've heard great things from other people as well! I am really glad we ended up coming here.
This post is a combination of two visits!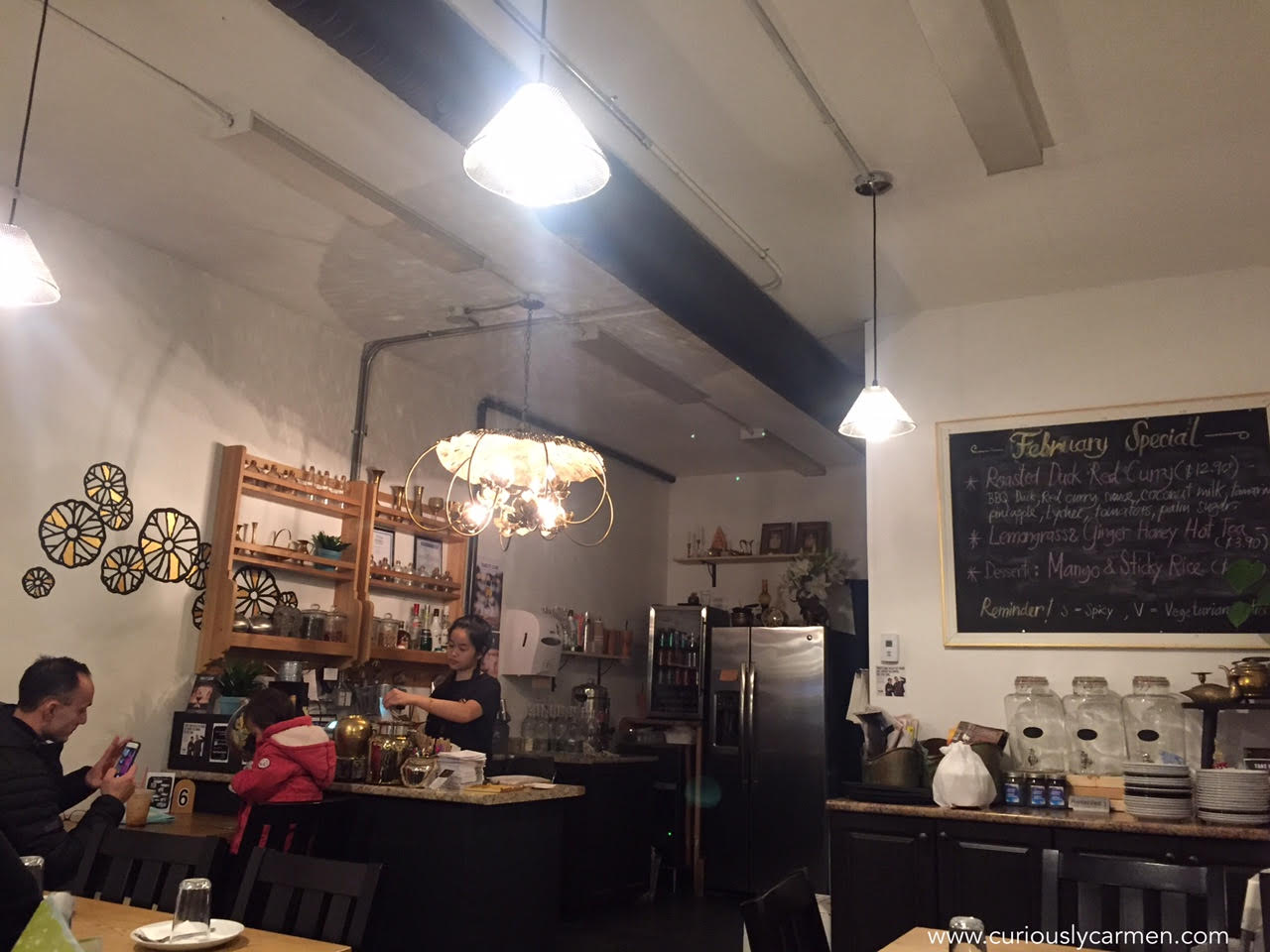 Bai Bua is conveniently located in East Van, by Hastings and Nanaimo. Within a couple of blocks, you are in foodie heaven… Tacofino, Red Wagon, East Cafe, Platform 7, Aer Cafe, Sushi Nanaimo… and of course, Bai Bua!
We weren't sure how busy it was going to be, so I called in to make a reservation for four a few days prior.
Throughout the night, it was pretty quiet, which was good because we had brought our belated Christmas presents to exchange after dinner. Throughout the night, service was pretty decent although there was confusion around them forgetting one of our dishes.
Walking in, I really liked the decor of the restaurant. It felt very cozy and warm, with some hand painted artwork on the walls.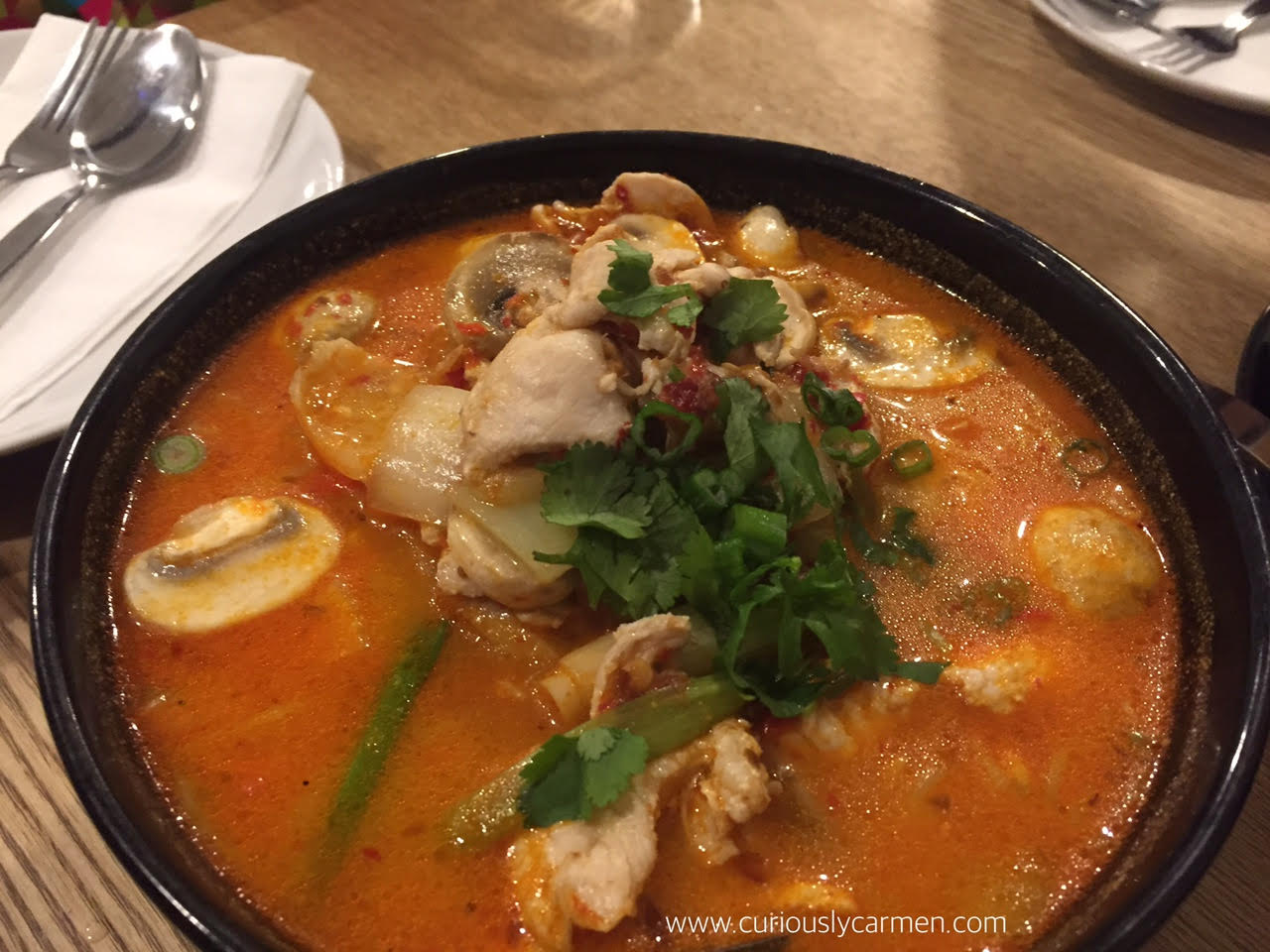 Tom yum noodle soup, $10.90: Cinnamon had been here a couple times before, and said the tom yum noodle soup was pretty good. Despite not being allowed to eat spicy food, she decided to break the rule that night because this soup was just THAT good! It packed a good amount of spice and was a generous portion.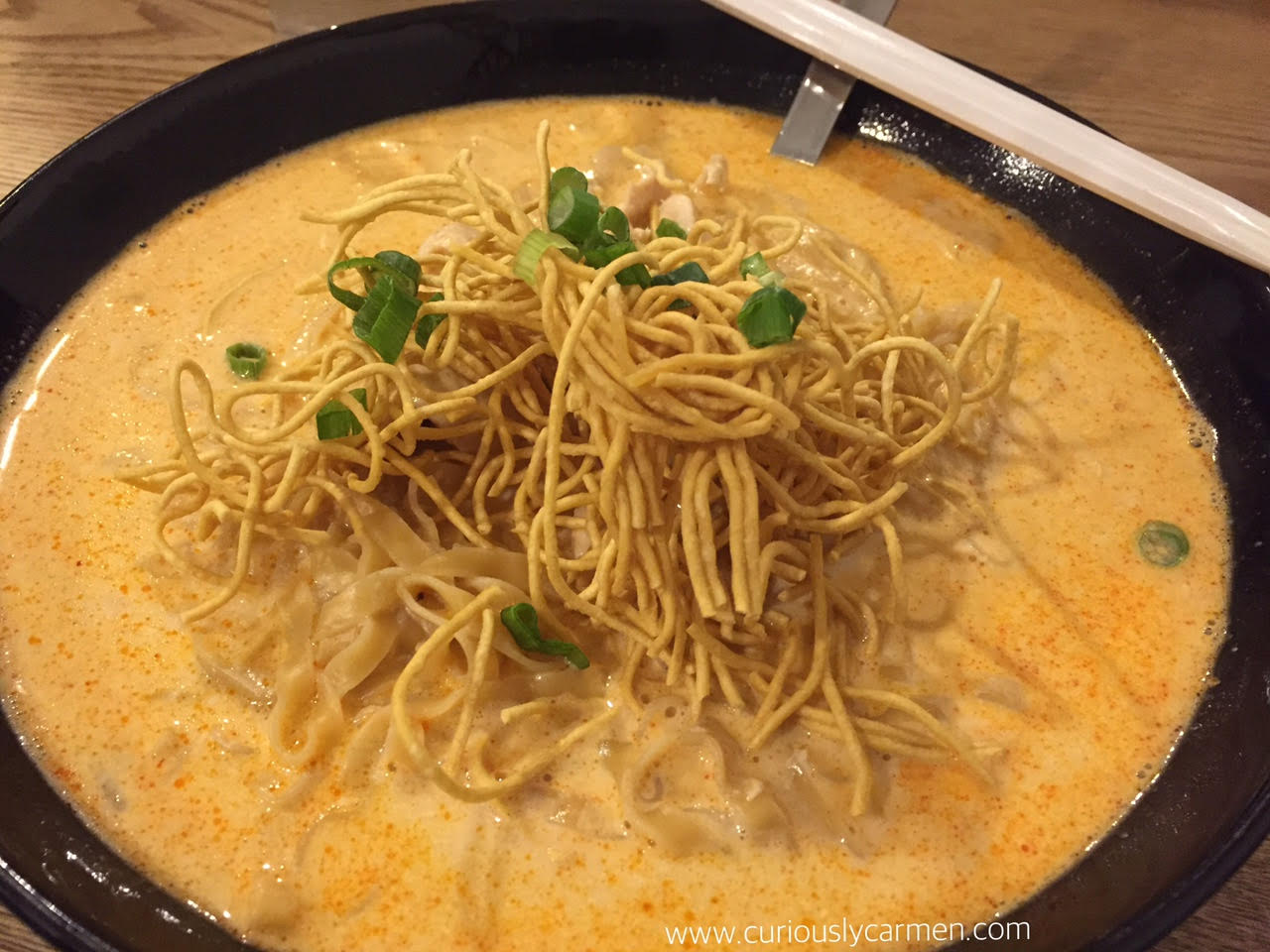 Curry noodle, $11.90: It took us awhile to order because I was having a hard time choosing what to get. Everything sounded so good! In the end, Sangria was nice enough to offer splitting two dishes! The first dish we ordered was the curry noodle. Sangria had also been here before, and really loved these noodles.
All of their curries are made in coconut milk, meaning that it was safe for me to eat! The curry noodles were nice and creamy with a rich broth, and a good amount of spice. There was a combination of both the pad thai noodles and fried egg noodles (I think that's what it was?). The protein in the curry noodles was chicken breast, which there was a good amount of.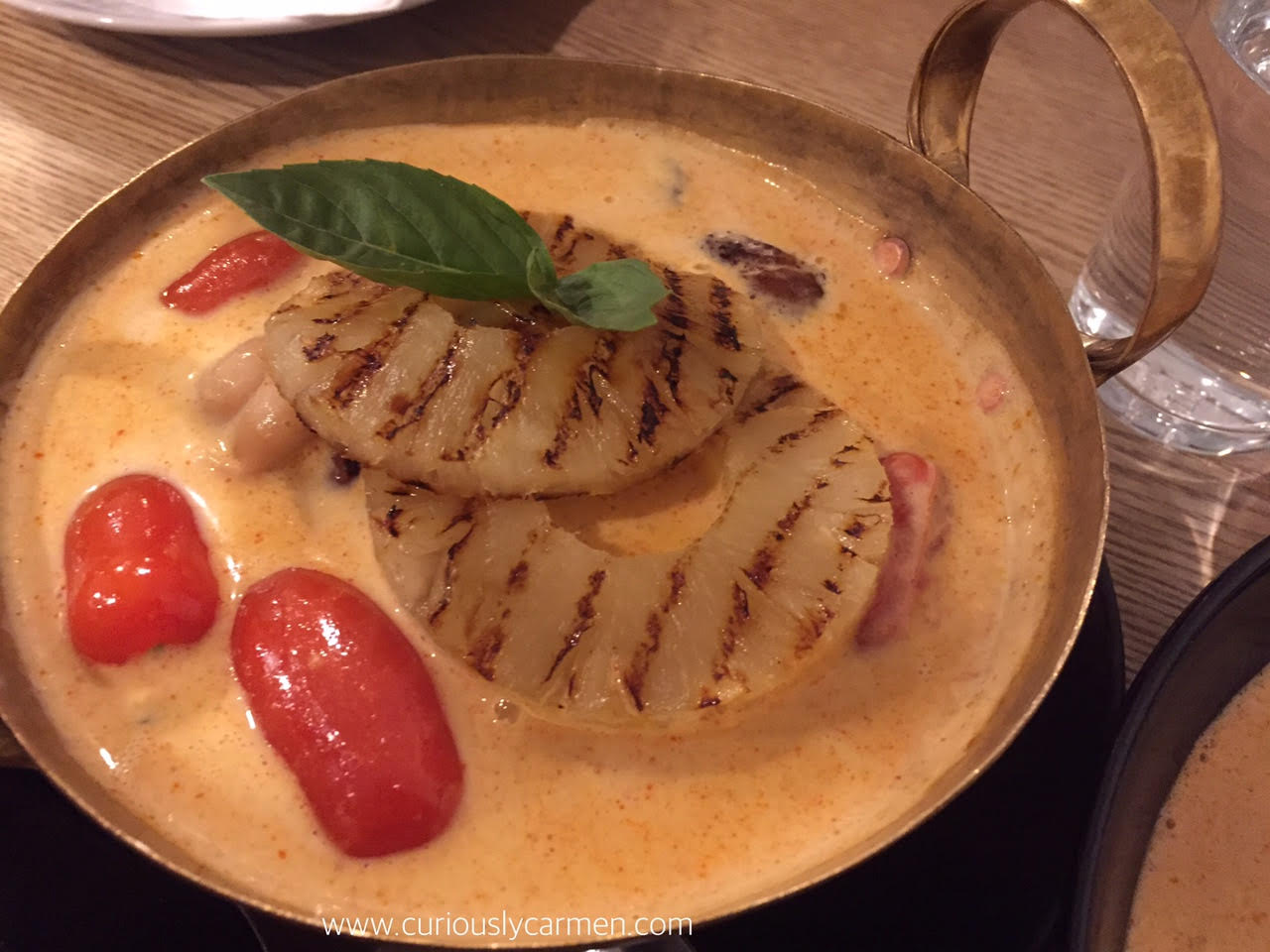 Roasted duck red curry, $12.90: Originally, Sangria and I had ordered green curry. But after placing the order, we saw the roasted duck special listed on their chalkboard and both wanted that instead! Then, Cocoa read the menu as well and decided that SHE also wanted to change her pad thai to the roasted duck red curry as well.
We were really glad we changed it, because this was aammaazziinngg! The roasted duck was very tender, juicy and flavourful. There was quite a bit of roasted duck in there as every spoonful was met with pieces of duck meat. As for the curry, it was sweeter due to the cane sugar and pineapples. I wish that this was a permanent item, but all the more reason to come back again before February ends!
Cocoa isn't much of a spice person, but she enjoyed this because it was more on the sweet side with only a hint of spice. I brought the leftovers back and the boyfriend scoffed at me for ordering red curry instead of green curry (because green curry is better), but quickly changed his mind once I heated it up for him with the coconut rice.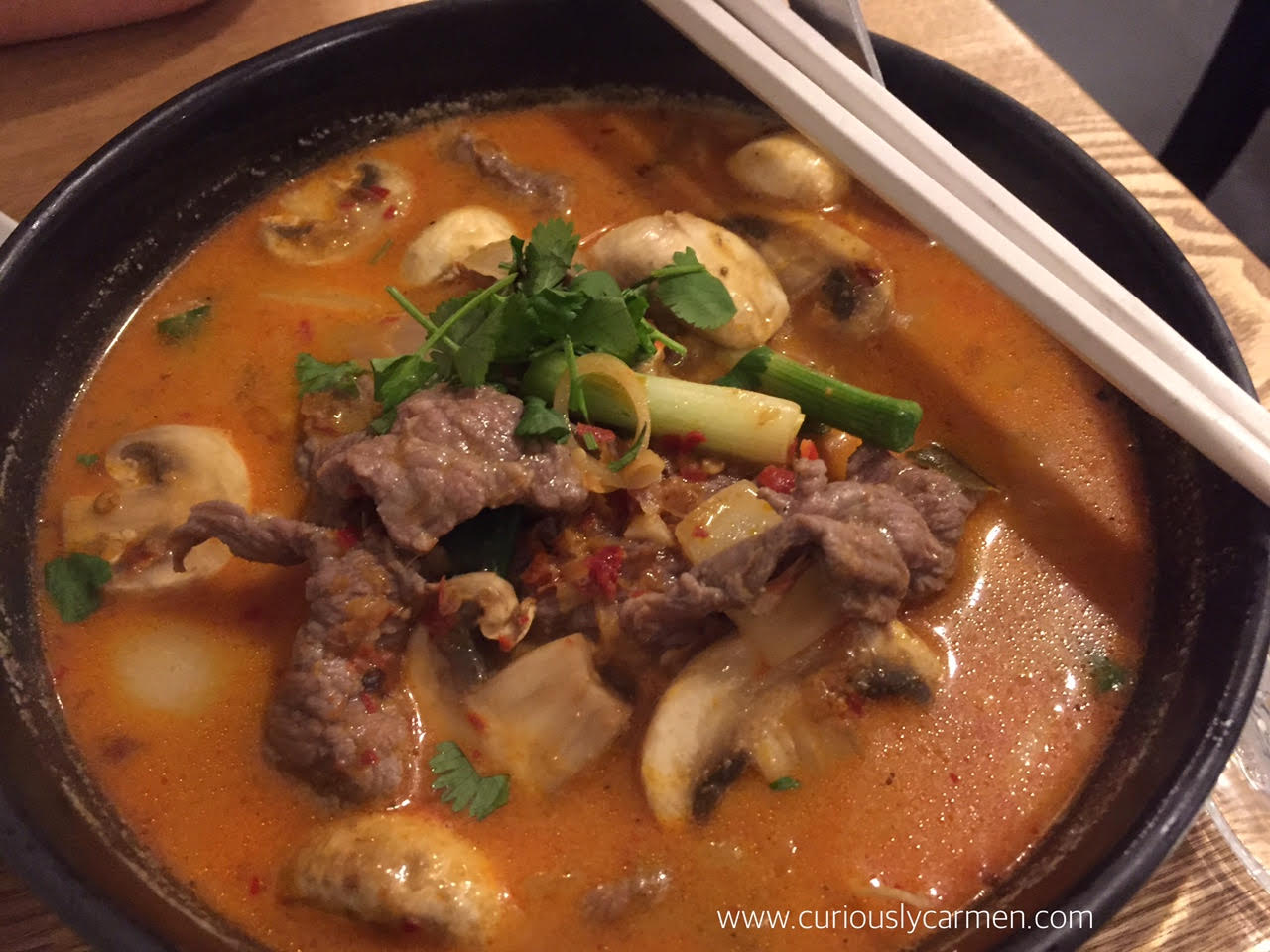 Tom Yum Noodle Soup, $10.90: The next week, I took the boyfriend here! We were both wanting to try the tom yum soup, so why not get some noodles with it too? I'm glad I double checked with the server because although it didn't sound like it, this dish contained both coconut milk and regular milk.
This was my least favourite dish so far. Although I liked how it was spicy and sour, I wasn't a big fan of the herbs they used in the soup- there's a spice that I don't like in Thai food, but I can't put my finger on which one exactly it is… Maybe since we couldn't have the regular milk inside, that made the taste of the herbs a bit stronger? However, the boyfriend enjoyed the dish and happily ate the rest of it.
I was also unlucky and ate a big chunk of dried, chewy lemongrass. I also didn't really like the texture of the noodles either. Oh yeah, and the beef was dry and rough.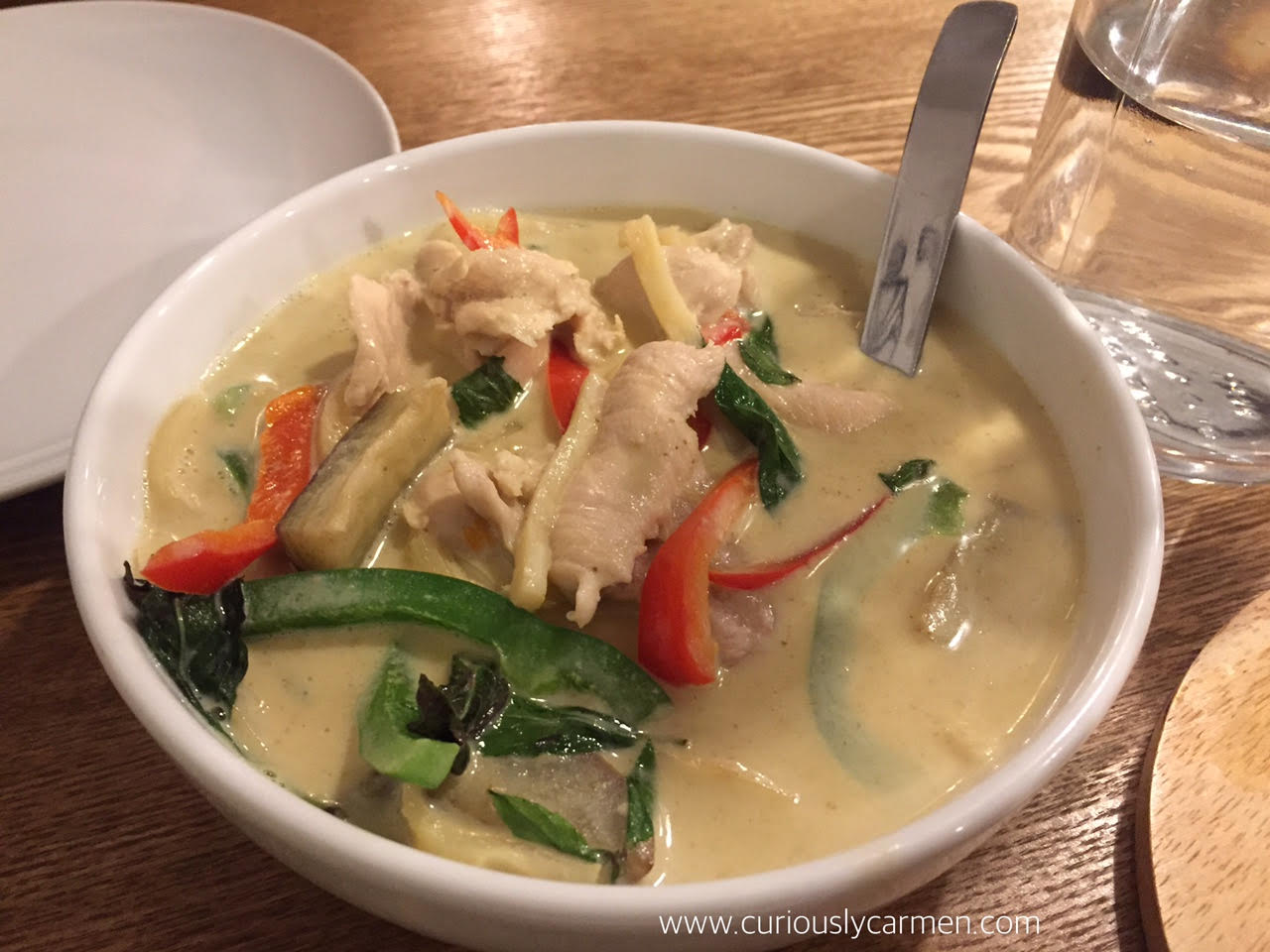 Green curry, $11.90: On my first visit I tried the red curry, this time it was the green curry! The green curry wasn't as spicy and more on the sweet side. As with the red curry, the green curry was rich and creamy from the coconut milk. The chicken was moist and juicy, with a good amount of veggies inside.
Coconut rice large, $5.00: A Thai dinner isn't complete without coconut rice! Their coconut rice is so good. It has a strong coconut flavour and is slightly sweet. Any curry and their coconut rice is the perfect marriage!
I recommend getting the large for two people, as you can pack it up with the remainder of the curry sauce and eat it for lunch the next day, as I did 😉
Phew! Such a long post… but for good reason! I definitely see myself coming back here in the future and I'm glad Cinnamon suggested this place!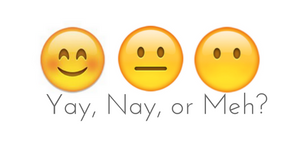 Yay!