Happy New Year everyone!
It has been awhile, if not years, since I have been to East One. I easily forget that this place exists and end up going to Angel Cafe or somewhere in Richmond when the mood strikes for HK style food.
Anyway, we came with my parents here in September and everyone was pleasantly surprised at how much we enjoyed everything.
We came during lunch, and took advantage of their cheap lunch promotion! A huge number of items are available for under $10 (well, $9.95!) during lunch. The size is a bit smaller, but it's still worth it! We ordered a bunch of things to share.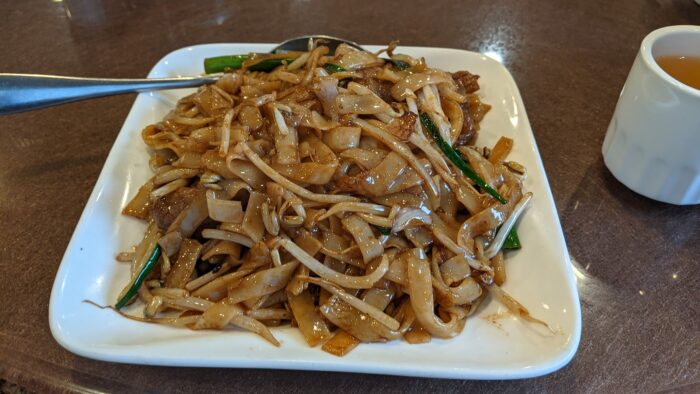 Beef stir fry noodles: I am not sure what this dish is called in English! This was the husband and my favourite dish of the afternoon. There was a lot of "wok hei" which I am too lazy to explain what that is so just Google it if you're not sure. It was definitely on the oily side but delicious.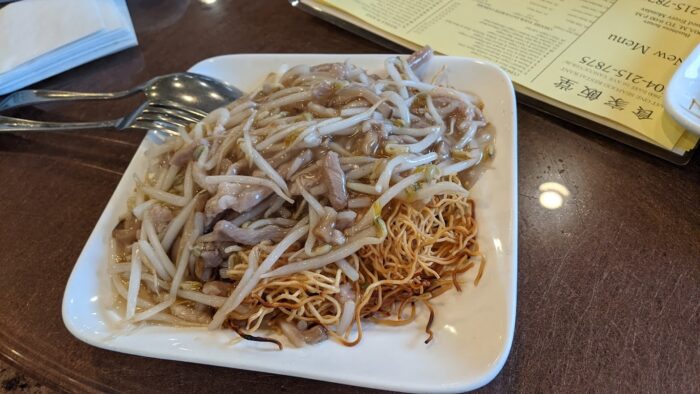 Crispy chow mein with chicken and beansprouts: Again, we enjoyed this dish as well. The chow mein was crispy and there was a decent amount of chicken. The sauce was good too.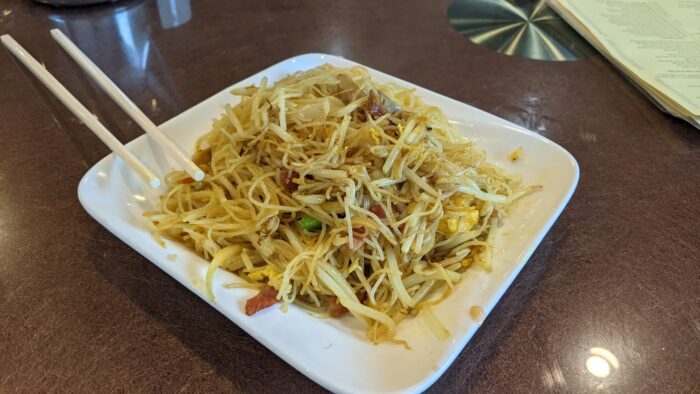 Singapore vermicelli: I think I found this more on the salty side, but it was still delicious. It was full of curry flavour and fragrant, with a decent amount of meat and veggies mixed in.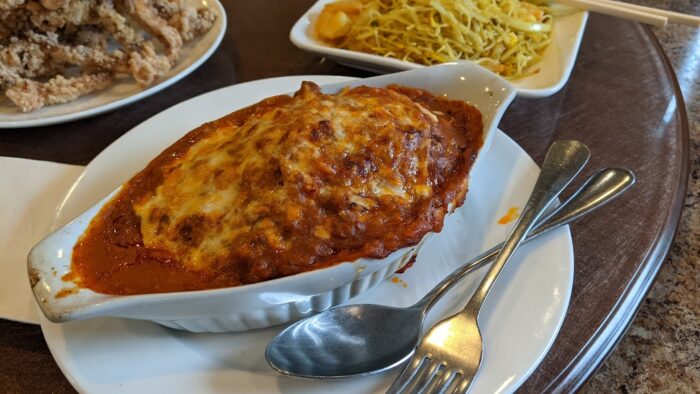 Baked spaghetti bolognese: My absolute favorite HK style dish even though I should not be eating it! This was great too!
Preserved egg and shredded pork congee: This was a later add-on after I saw another table order it, and it looked good hehe. East One has quite the congee menu and this is one of the staples.
I enjoy making congee at home, but I don't buy preserved egg so I usually order this at restaurants. The congee was warming and delicious. The only minor complaint is that the preserved egg was only cut in half, which meant there were four big chunks. We ended up cutting it ourselves with the spoons so NBD.
We all left satisfied and full, with leftovers! I hope it won't be a few years until my next visit because the lunch menu was delicious and affordable.