Brown Bites is a mini series on my blog where the fiance writes guest posts or features places he has tried without me. Why the name Brown, you ask? It is named after the Japanese LINE character, Brown. Brown is a cute, shy, emotionless cartoon bear but secretly full of love, and we adore him to pieces!
---
Welcome to the latest edition of Brown Bites. Today I will be writing about Western Lake Chinese Seafood Restaurant. Carmen and I came here before the pandemic started, and she forgot about writing this post because the photos were taken on my phone instead of hers that day.
Located in East Vancouver a little past the corner of Victoria Drive and East 33rd Avenue, Western Lake is a popular choice for dim sum and dinner. It used to be one of the go-to dim sum restaurants for my family, and would still be, if not for difficulty finding parking.
It was Carmen's first time here so would it live up to the hype? Read on and find out.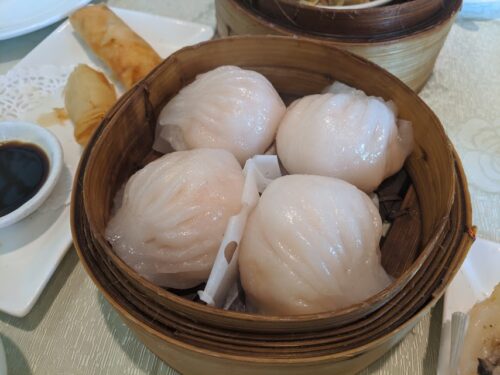 Steamed Prawn Dumplings: A classic choice when it comes to dim sum, the prawn dumplings at Western Lake are on the larger side when it comes to prawn dumplings, and pack a lot of prawns inside.
The prawn filling is quite dense, and we both could not decide if this was a good or bad thing. Overall, not bad but not the best either.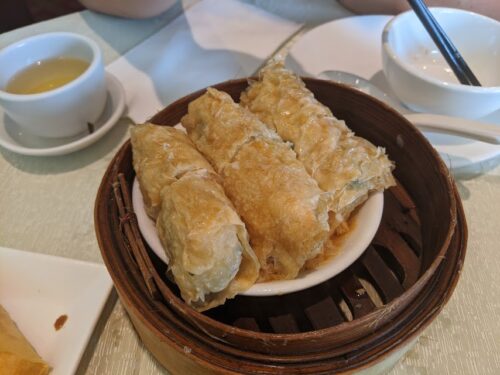 Steamed Bean Curd Wraps with Fish Paste: This is one of my favourite dishes to order for dim sum, and the one at Western Lake is unique in that it uses a fish paste filling rather than the usual meat and veggie filling more commonly used.
Unfortunately, this dish was a no for Carmen and I. The fish paste filling was bland, and also quite dense. The one nice thing was the sauce that it came with was not too thick and gravy like.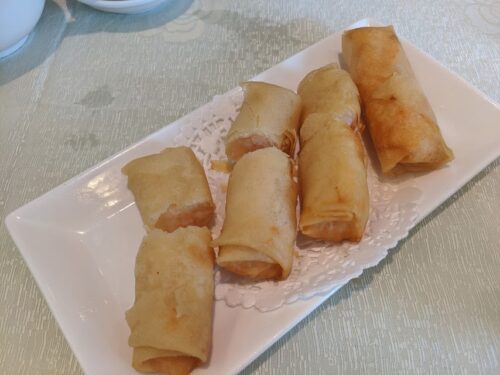 Deep Fried Prawn Spring Roll: The spring rolls here were delicious and done well. The skin was light and crispy, and the prawn filling was not as dense as the one in the prawn dumplings.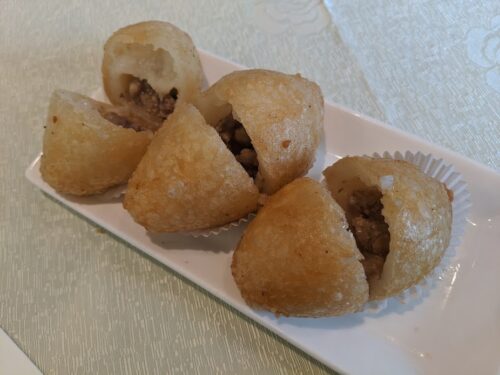 Deep Fried Stuff Pork Dumplings: The deep fried dishes were on point. Carmen loves these but we normally don't order it because it's deep fried. However, she was having a random craving for these which is why we went for dim sum in the first place.
Similar to the spring rolls, the outer layer of the skin was crispy, the inside was chewy and sweet, and went very well with the savoury pork and shiitake mushroom filling.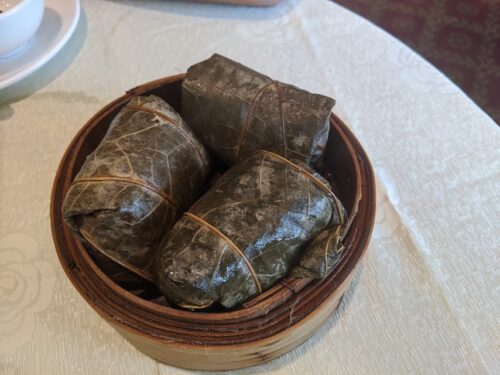 Steamed Mini Sticky Rice Wraps with Dried Scallop: Another go-to dish for us when we go out for dim sum, the sticky rice wraps here were on the small side compared to other restaurants.
Taste-wise, this dish was also on the bland side, and Carmen mentioned the rice was a bit dry inside. We both did not like the inclusion of dried scallop, even though it makes the dish more fancy.
Overall, our visit was okay. I remember it being better in the past, but today's visit was hit or miss. We would definitely give it another chance.
Thank you for reading my guest post. You can read more Brown Bites posts here. I will now pass it back to Carmen.