When my friend messaged me and suggested we catch up over Dine Out, I haven't seen him for awhile and wanted to catch up, so I said yes! I told him about my dairy restriction and that I would prefer an Asian place because they don't cook with as much dairy. Luckily, both him and his wife wanted to try Tai One, a new Taiwanese restaurant opened by the city-famous Bubble World franchise!
Unfortunately, we all left with a negative first impression of the restaurant, including getting yelled at by one of the waitresses. Keep reading to see why.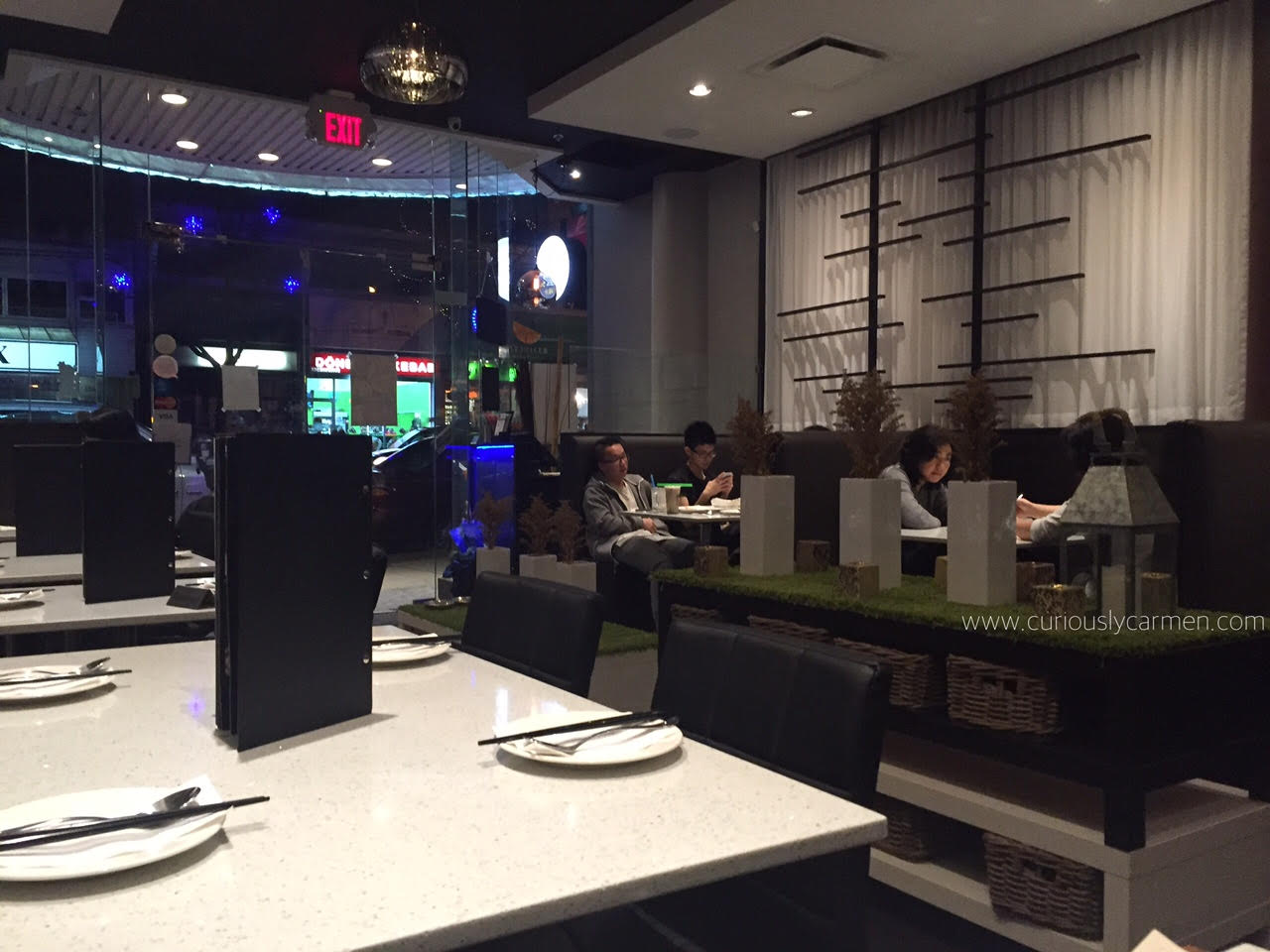 I made reservations for Dine Out two nights before. After finding some free parking (yay!), the boyfriend and I were really early. We both weren't sure if we wanted to order from the Dine Out or regular menu, and took quite a long time deciding so I'm glad that we arrived first.
I also find it hard to write a relevant review during DOVF because most places have specialty dishes that aren't served after the festival. Luckily, this wasn't the case at Tai One as their regular menu options were offered in the Dine Out menu!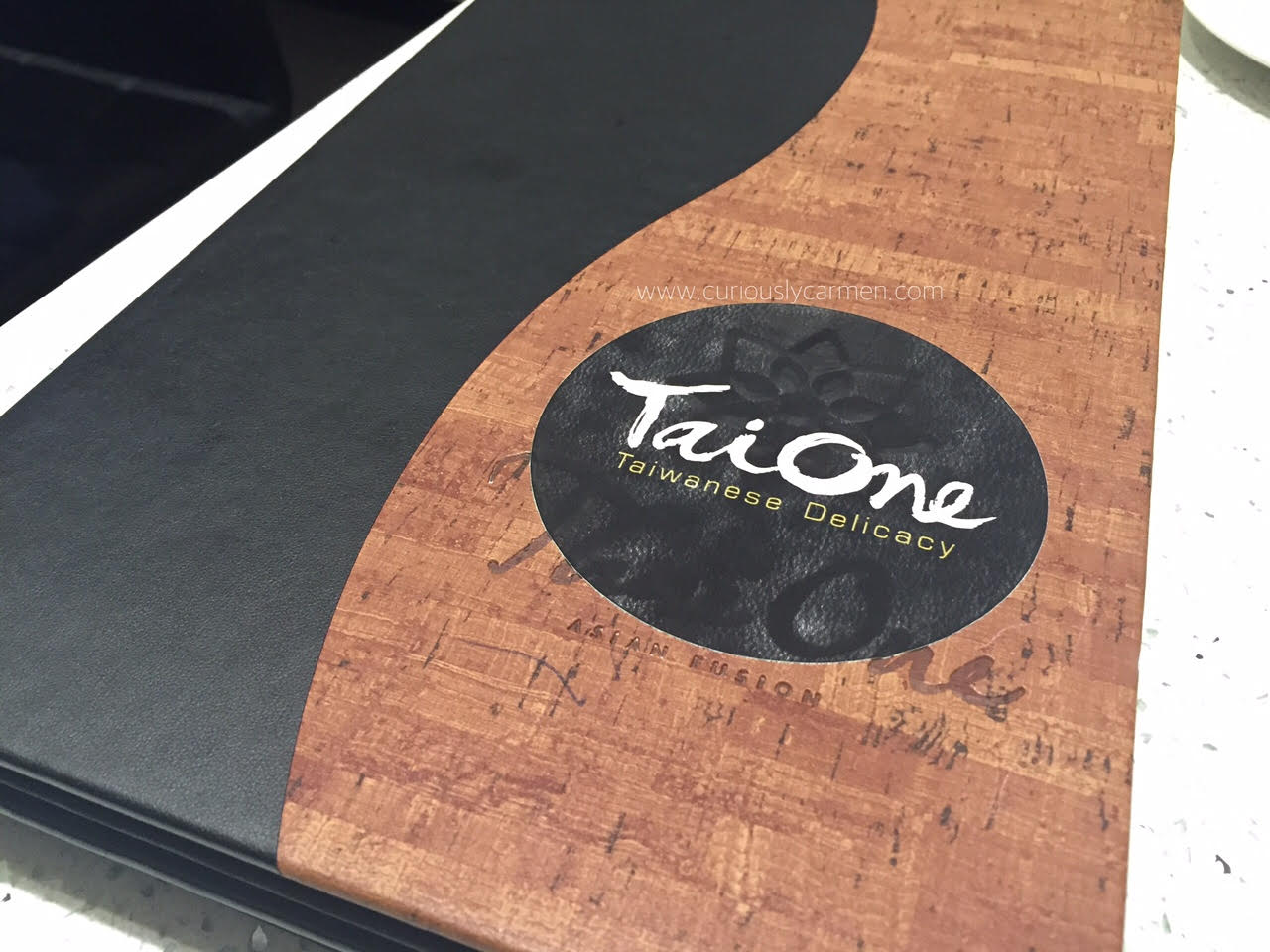 The restaurant looked very new, was very spacious, and felt very comfortable. You can see the middle tables they have there that store the napkins, cutlery, etc, but they decorated the top to make the place look a bit more modern.
We were also a bit confused as to what the official name of this restaurant was. Their menus and signage was a mix between Tai One and Thai One. Inconsistency really irks me, please stick with a correct name, people!!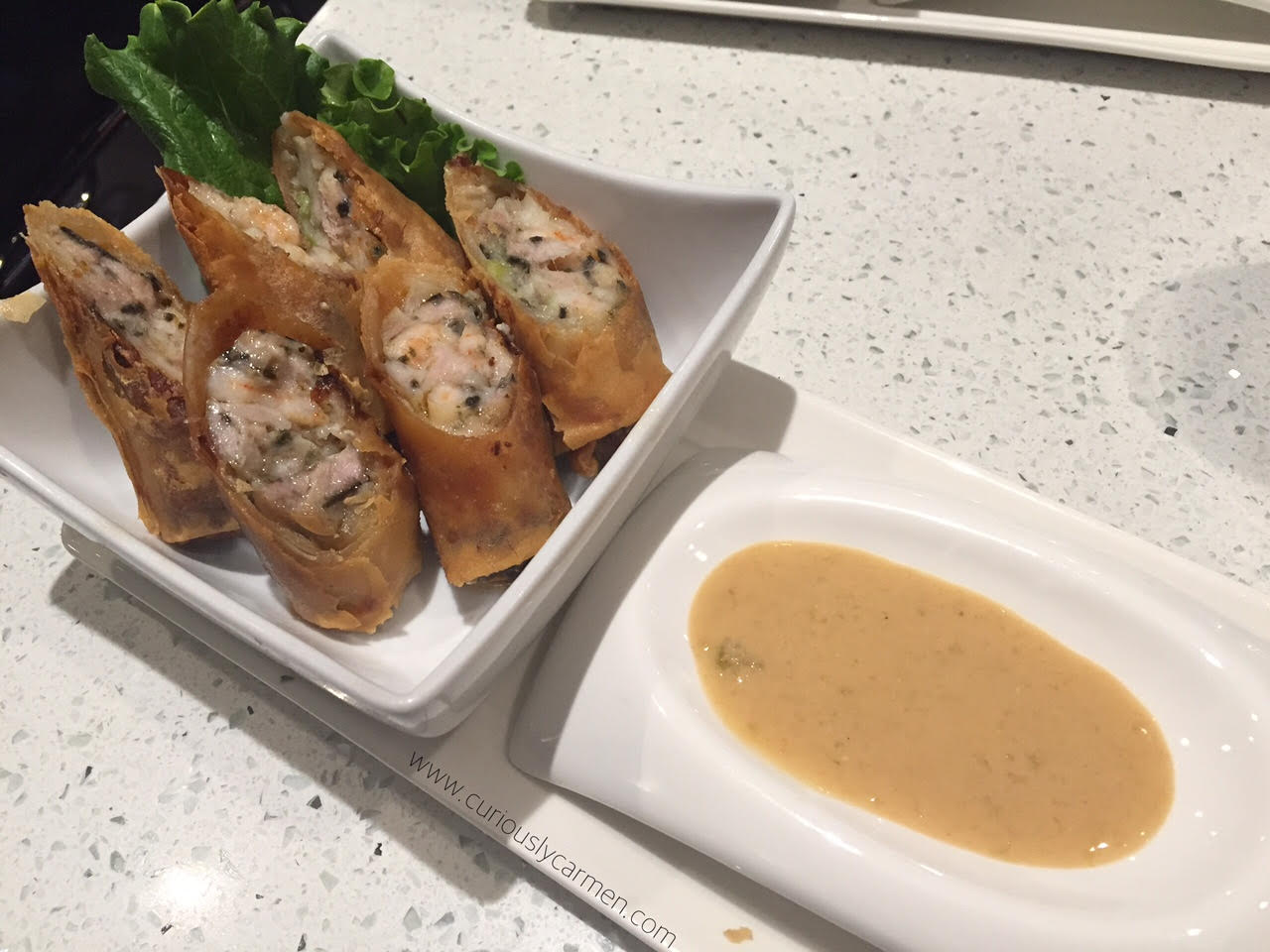 Chicken and prawn spring roll w/ miso-based sauce: A couple of us ended up ordering this as our DOVF appetizer. The server let us know that she accidentally gave us two extra spring rolls, and that it was supposed to come with just four.
I found the spring roll to be very fresh, crunchy, and bursting with flavourful ingredients. I love prawn spring rolls, so having the chicken and veggies inside was an extra bonus! However, I did find the spring rolls to be very oily. The bottom of the bowl was dripping with oil near the end. I found the sauce to be a bit bland, and enjoyed the spring rolls without the sauce.

Green curry w/ jumbo prawns: Can you tell that I like prawns yet?! Not going to lie, the prawns solidified my decision in ordering this dish. I was impressed with the amount of prawn they had in this dish! In addition, the prawns were juicy, fresh, and had a nice snappy 'bounce' to them.
The green curry itself was a delicious aromatic and spicy affair. I wasn't expecting it to be this spicy, and I am pretty tolerant of spice. I had to pace myself to eat really slow due to the rising heat levels of the curry. The coconut milk made it creamy and rich too.
Marinated chilled tofu: I loved the side dish as well. It was also spicy, but had a hint of sweetness too! It was a great addition to the plate and came with freshly chopped green onions.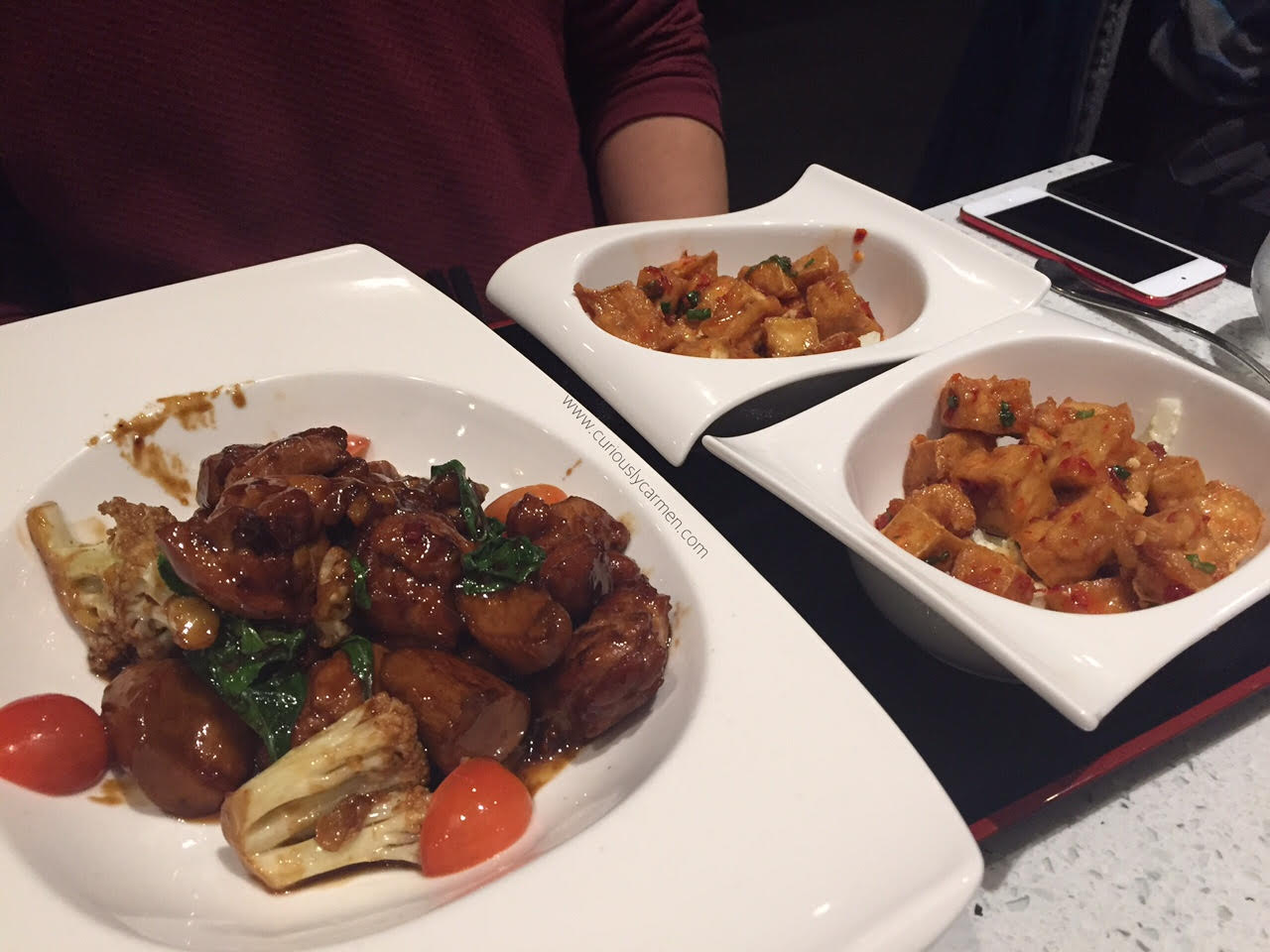 Taiwanese Basil Chicken Stir Fry w/ rice and side dish: My friend found the chicken stir fry to be pretty spicy, even though it didn't specify on the Dine Out menu. However, he enjoyed his dish.
Instead of rice, he asked to substitute salad, which the waitress agreed to originally. However, steamed rice arrived and after asking for salad again, they came back and brought him two of the same side dishes instead. Okay….?  At that point, he just decided to eat the two side dishes because service was becoming increasingly slow, and staff seemed really rushed (although it wasn't that busy)…..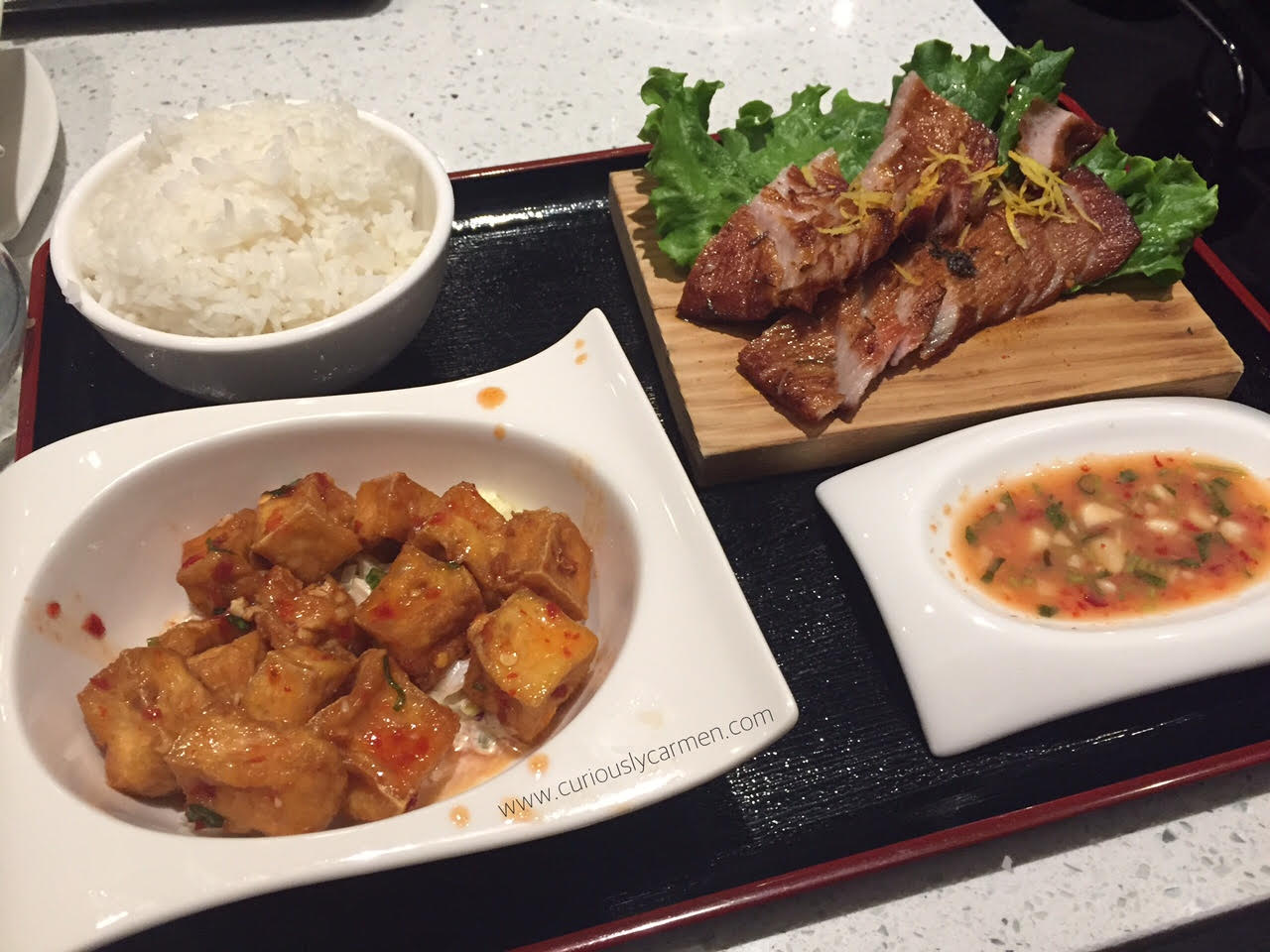 BBQ Pork Jowl: The boyfriend and my other friend both ordered the same dish. They both loved the pork jowl. It had a nice grilled flavour to it, and wasn't too fatty. It was also cut up into nice individual bite sized pieces already.
Their dish also came with the same delicious marinated chilled tofu!
Here is where things go bad…
As I mentioned above, service was becoming increasingly slow so my friend didn't bother letting them know about their mistake. At this point, service was pretty much nonexistent. After our main courses, we sat and waited for our dessert for at least thirty minutes. We didn't really mind since we were busy chatting, but still wanted to make sure they didn't forget.
After trying to wave a waitress down multiple times, we finally asked if our dessert was coming. She said yes. Then, she came back a few minutes later letting us know that the dessert we ordered was sold out. Instead, she offered us two dessert items on the menu or bubble tea. This came out to a slightly better deal for us because the main dessert items were bigger than the DOVF dessert.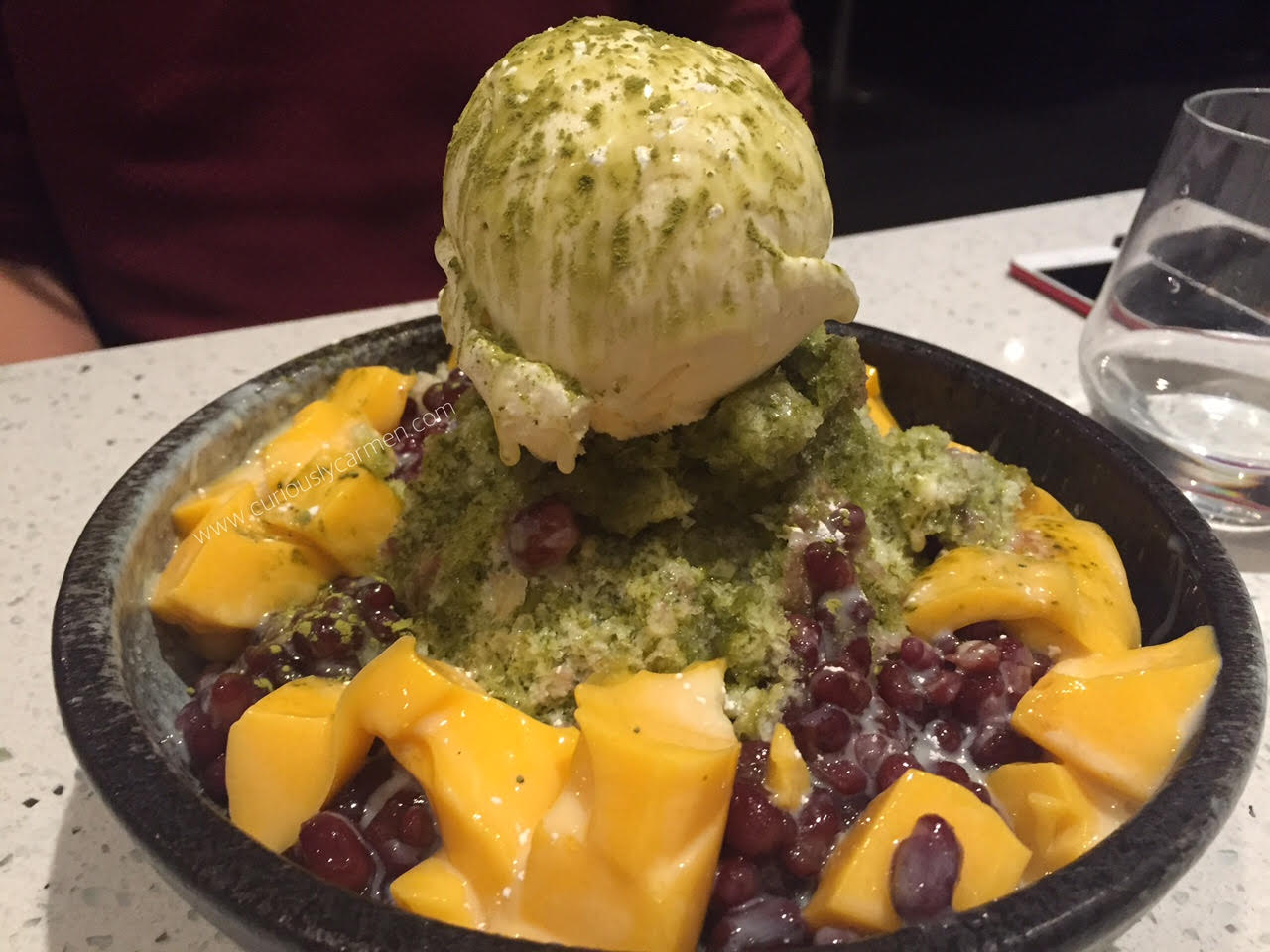 Matcha red bean shaved ice: After hearing our original desserts were sold out, my two friends decided on splitting this. It looked really good, but they said it was disappointing.
Normally, this would cost $10 and it is definitely NOT worth the price. We all thought that it was real mango chunks, which would make the $10 price more justifiable. Much to my friend's dismay, it was actually just the cheap, jello, mango chunks! As my friend said, they could make this at home for half the price.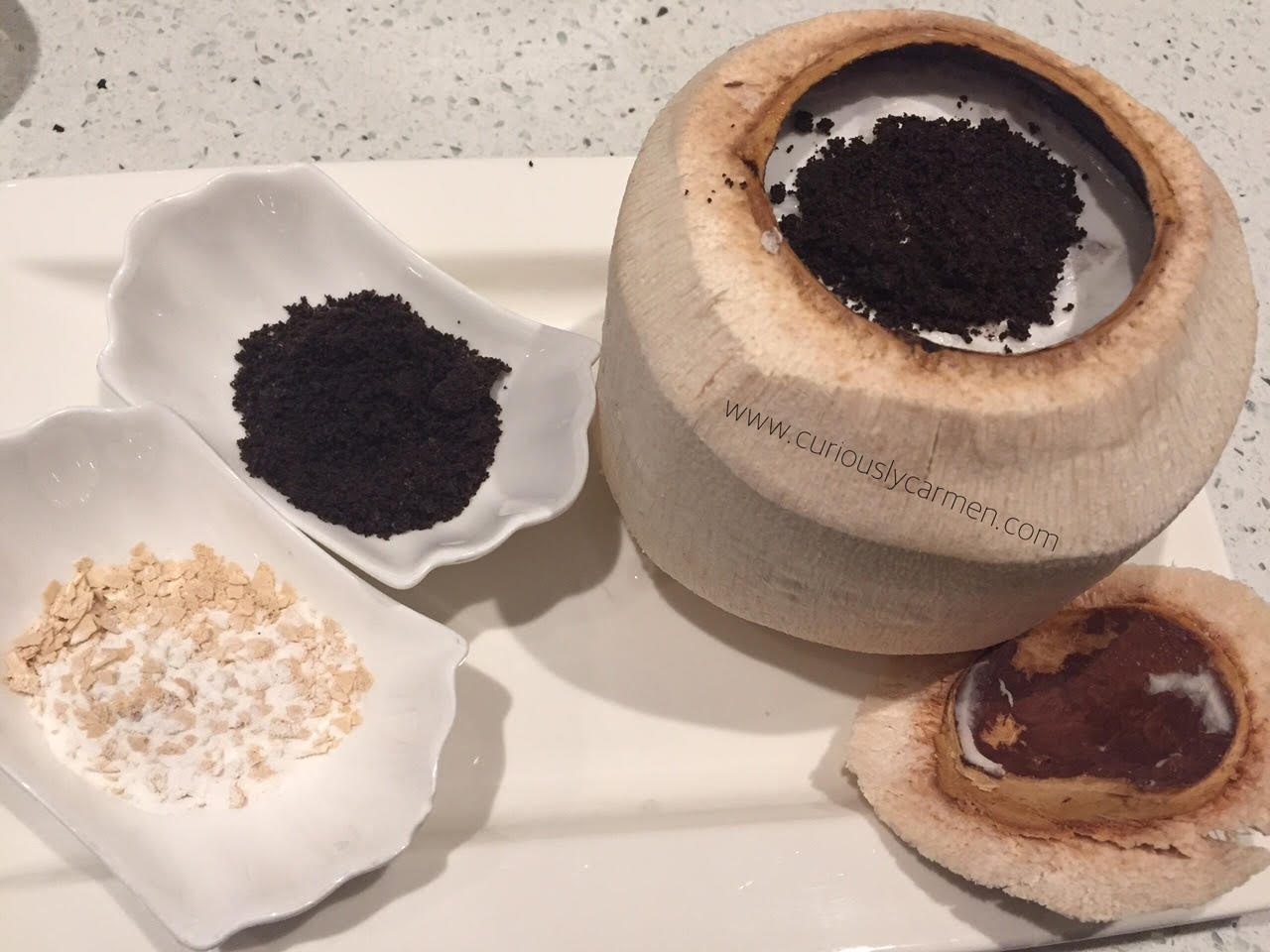 Fresh coconut pudding (large size): Not much else I could order, since the other desserts all had dairy and the tofu pudding was sold out. This dessert was better than the ripoff  one my friends ordered above.
The inside was coconut pudding, similar to jello but with a creamier and thicker texture due to the fatty coconut milk. There was also fresh chunks of coconut meat throughout the dessert. Topped with oreo crumbs and dried coconut flakes, I haven't had such a delicious dairy free dessert in ages. It gives me hope that I can enjoy desserts again.
Here is where it gets even worse.
Dragon monster waitress story:
So, remember how I told you all that we were informed the tofu pudding was sold out? Yup. After telling us that, the next two tables after us proceeded to get their tofu puddings. WHAT?! We were so confused. Why would you tell us that it was sold out, then give it to the next two tables after us?
I also mentioned that service was becoming nonexistent. At this point, we just wanted the bill. Again, it was really hard to waive a server down even though it wasn't that busy. Finally, our bill came.
Since we were all curious as to why the tables after us got the 'sold out' dessert, we very politely asked the server why. After we asked her, her mood changed from 'rushed and don't care about you' to dragon monster. I kid you not.
She got EXTREMELY defensive, saying that they ordered before us (they didn't,we were there first and ordered first, but we weren't going to push it because she was already really mad), she gave us extra spring roll by accident, and that HE (*points angrily at the boyfriend* LOL) didn't even order Dine Out and gave us the larger desserts.
Keep in mind that we weren't being rude or angry at all, and I was actually really satisfied with the new dessert. After having been in customer service for 5+ years, I am very mindful of the way I'm perceived by servers. I never treat servers rudely because I know how it feels. We were simply asking her a question and didn't find a need to lash out.
FYI: In the beginning, I overheard one of the waiters saying to walk-in customers that DOVF required a reservation, in order to ensure they had enough dessert for DOVF customers. We made a reservation, but still didn't get one? Interesting.
—
I would love to give them a 5/5 rating because the food was cooked exceptionally well, but it's not just about the food. It's about the ambiance, service, and overall experience. However, service was nonexistent for most of our meal, and very rushed/careless when they came. Then, we got yelled at from the waitress for a simple question so I'm not too sure if I would want to come back. Was a very interesting experience indeed.
Thanks for reading!
Carmen