I remember having Cartems donuts maybe like 6-7 years ago when a friend brought them to an university club event. They were delicious! Since then, I haven't had Cartems so Latte and I went to go check out the Main Street location one evening!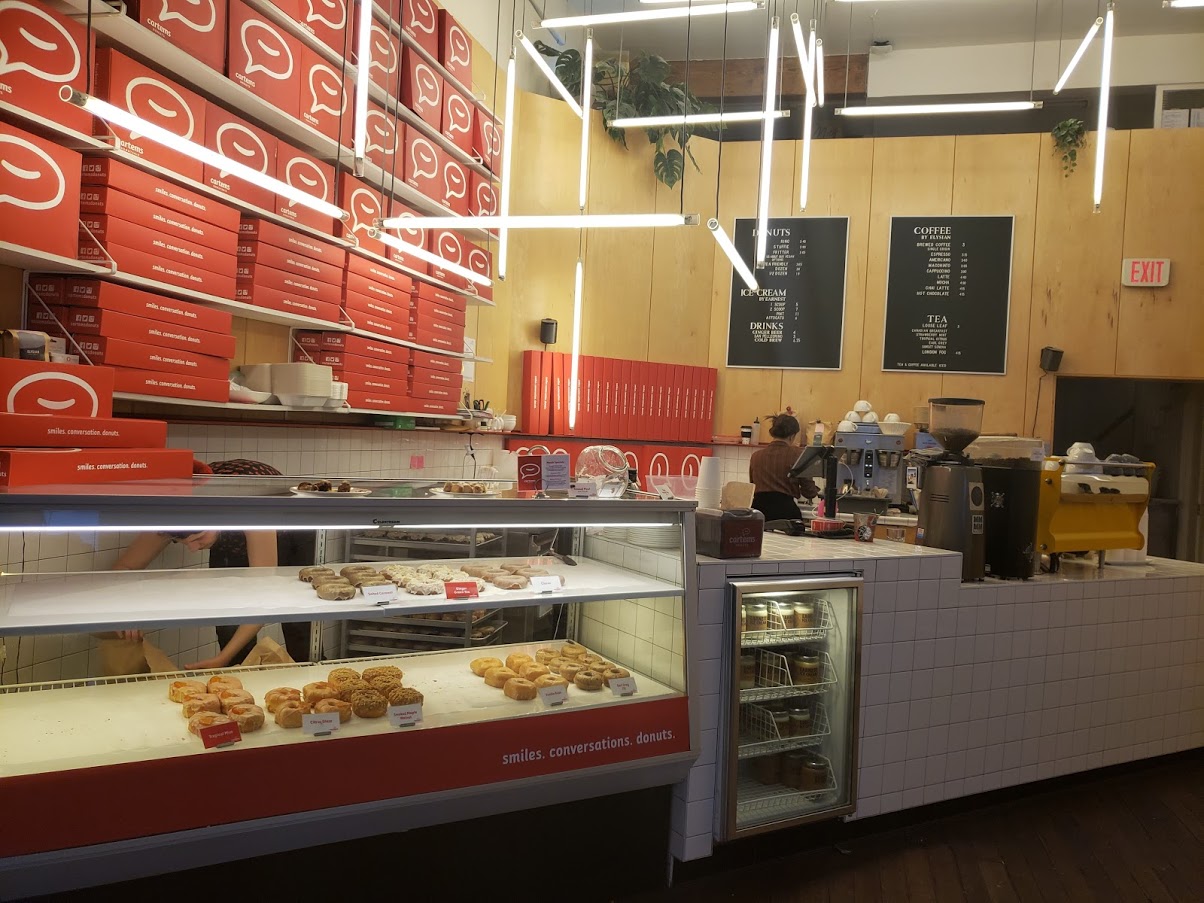 The Main Street location was quite spacious, with very high ceilings. There was a friendly, good vibe going on in there and it would be a nice place to study or get some work done.
The bottom row of donuts are always vegan, so they do have a large selection of vegan donuts (one of the reasons I wanted to come back since I currently can't have dairy). I was surprised that Latte wanted a vegan donut, but that's better for me because it meant we could share!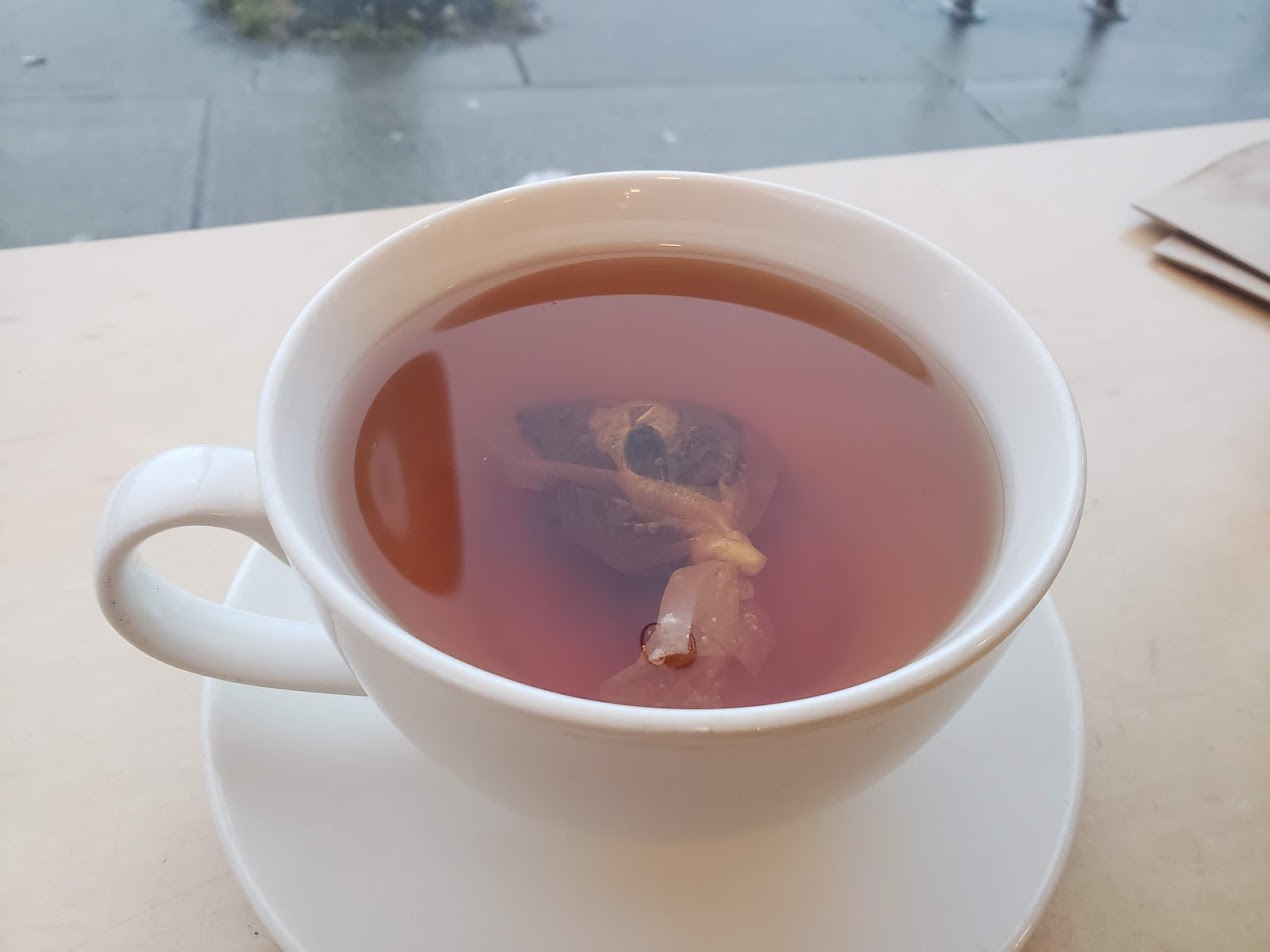 Tea: We both ordered a tea with our donut. I had the herbal strawberry mint which was fragrant and warming.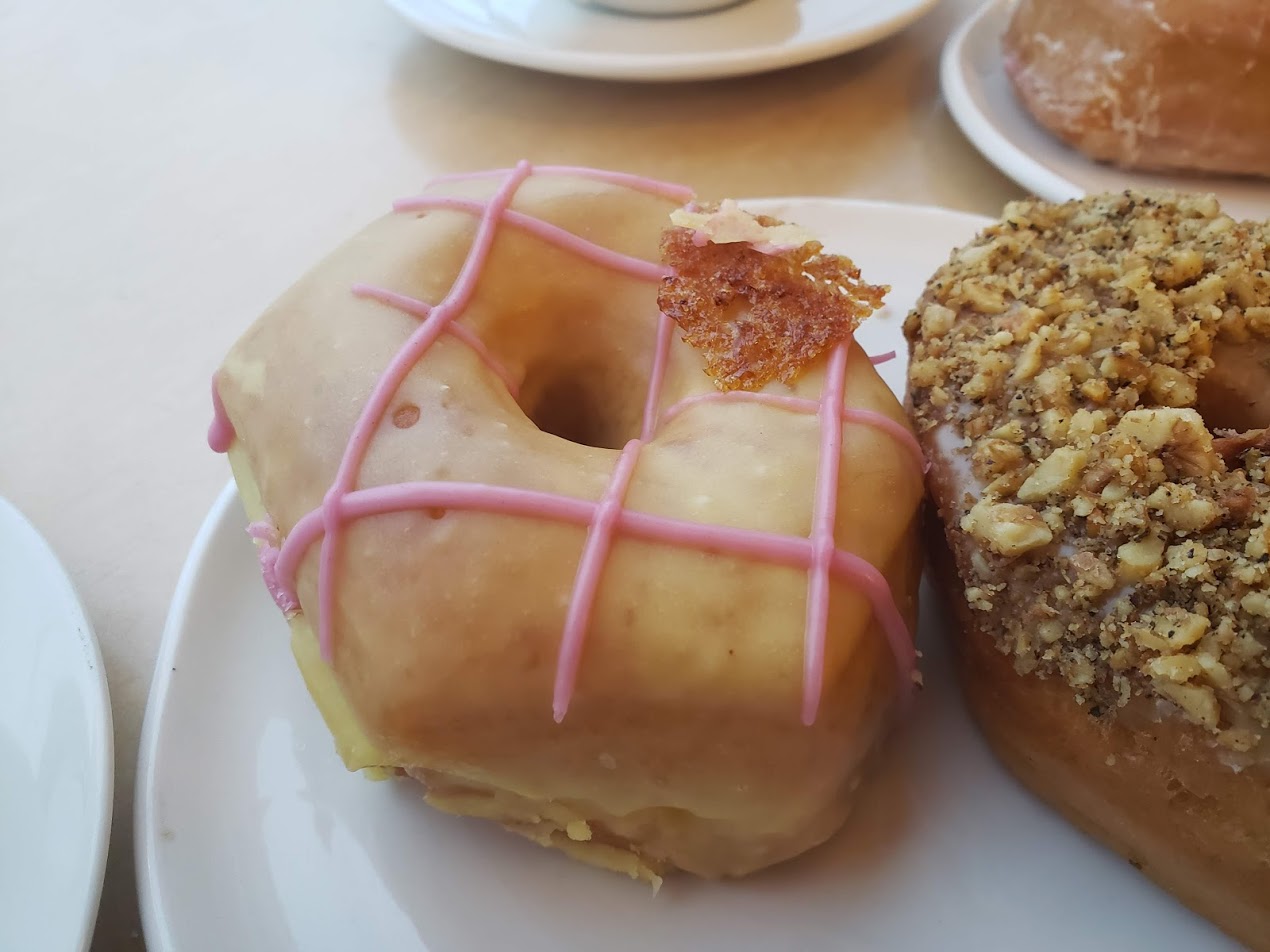 Citrus glaze donut: This was my favourite out of the 3 that we ordered! The donut was thick and fluffy. The citrus glaze was subtle and gave it a nice, sweet tang. I've never had a citrus donut before but the flavours worked well with each other.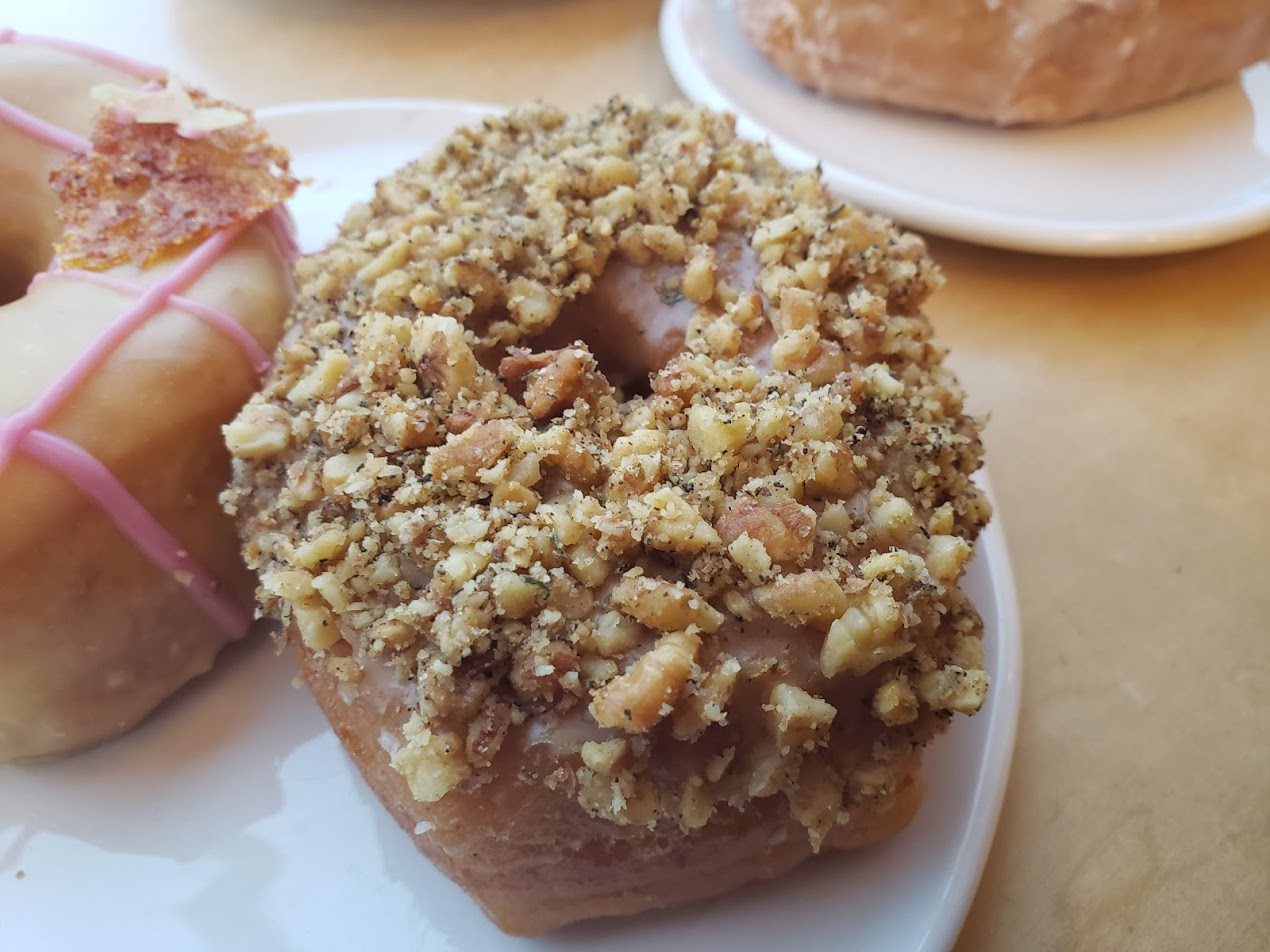 Maple walnut donut: This one was good too, but it was more of a savoury donut. It was topped with crushed walnuts and I tasted a hint of black pepper.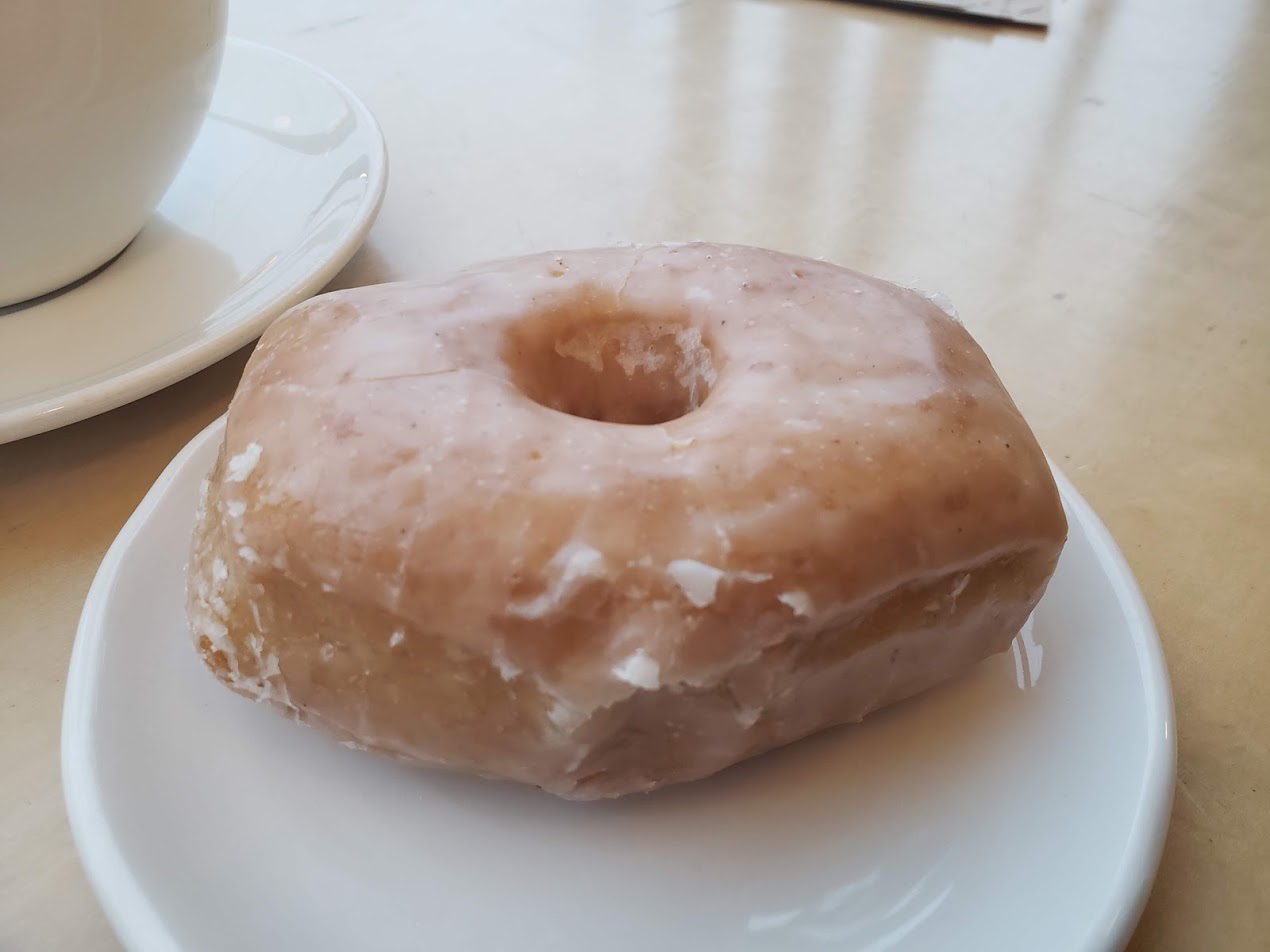 Vanilla bean donut: This donut was also good! It was the simplest one out of the 3, so we really tasted the quality of the donut. The donut was delightfully fluffy and moist.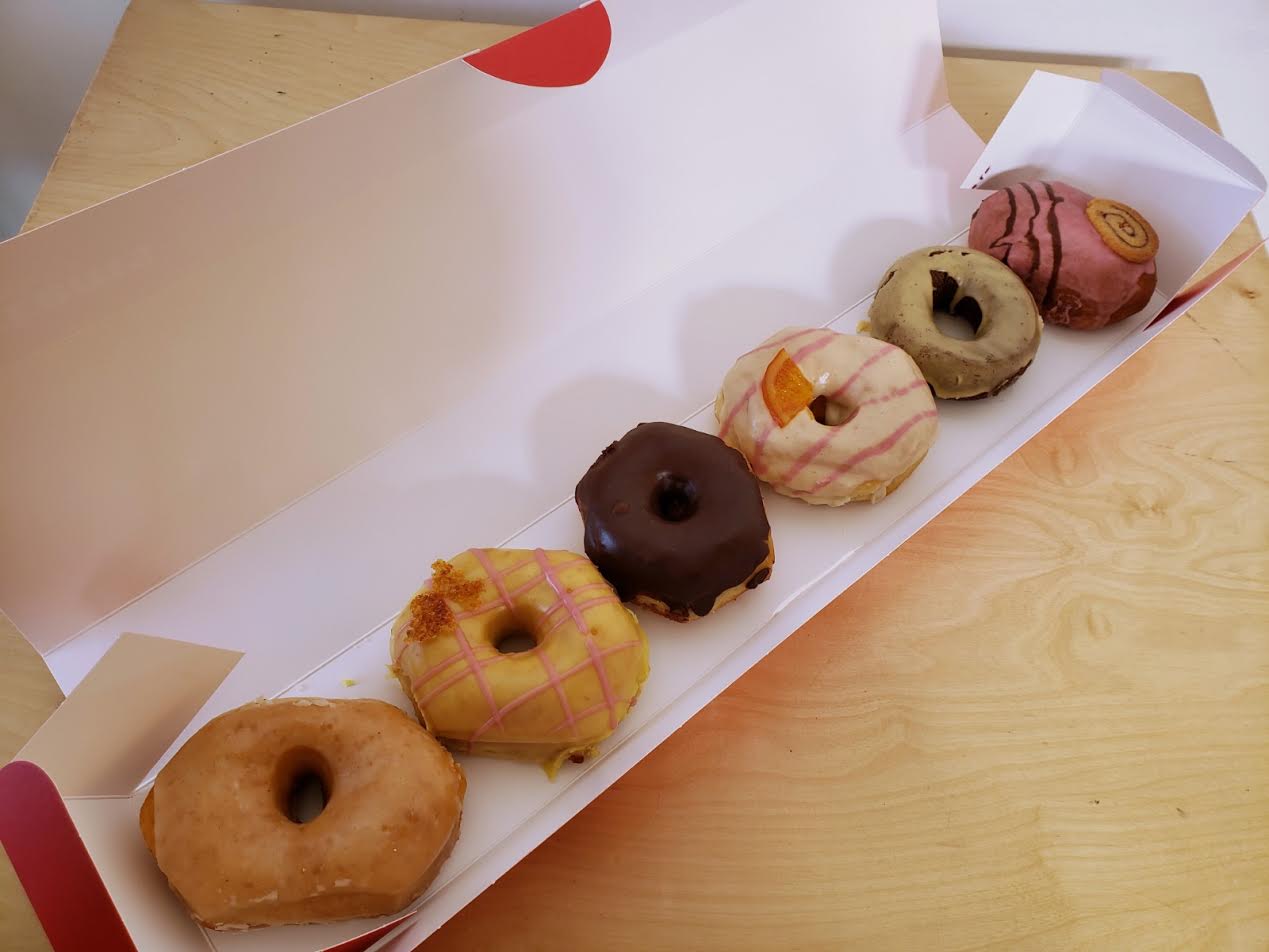 I couldn't stop thinking about that citrus glaze donut, so I took the boyfriend here a few days later! We ordered 1/2 dozen to bring back and tried more flavours.
The funny thing was that I decided to keep it a secret that it was vegan, so that he wasn't bias in his opinions!!! MUAHAHA!!!
From left to right:
Vanilla bean: Reviewed above
Citrus glaze: Reviewed above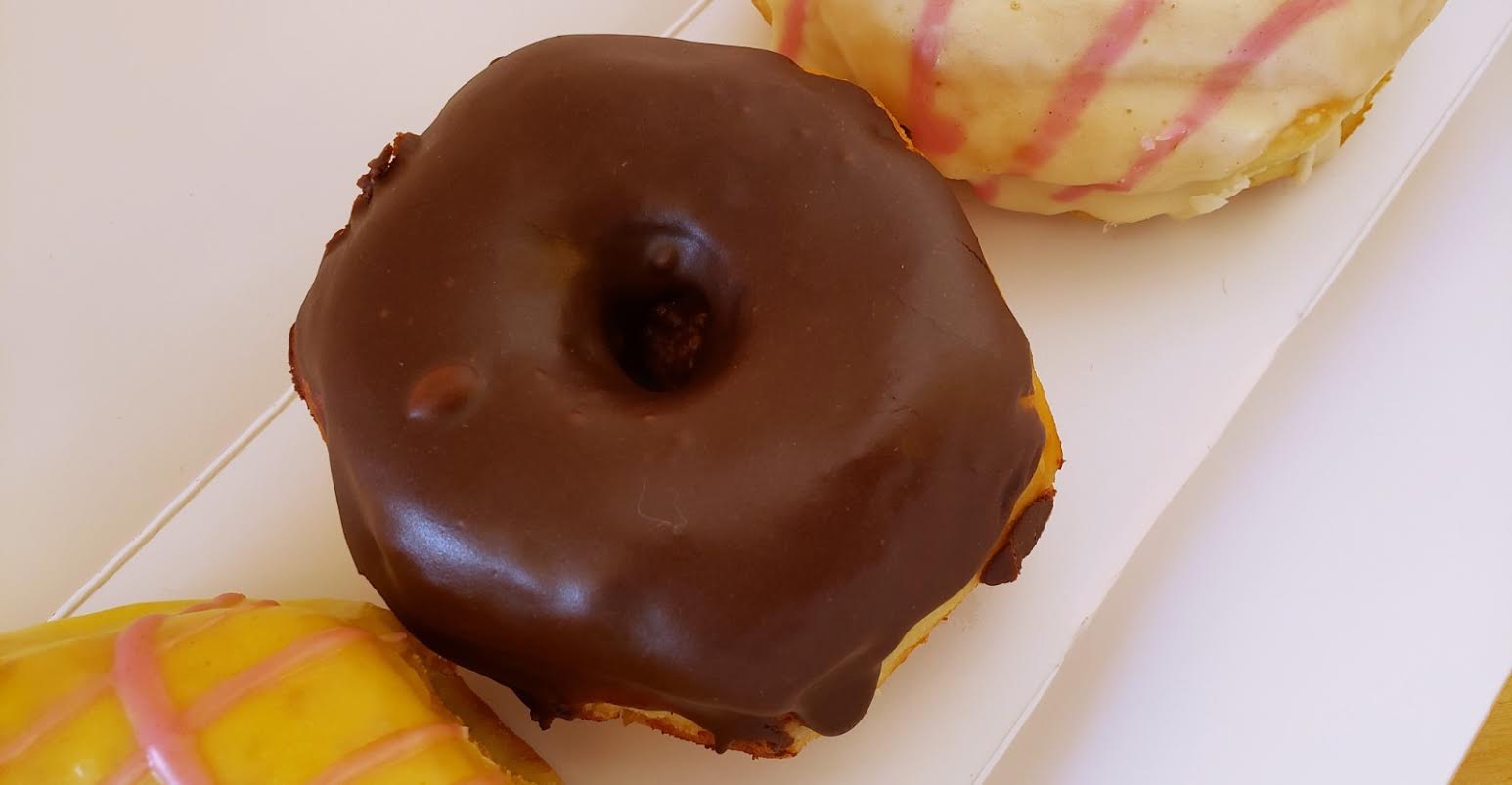 Chocolate donut: A classic donut, you can't really go wrong with chocolate. The boyfriend loved it!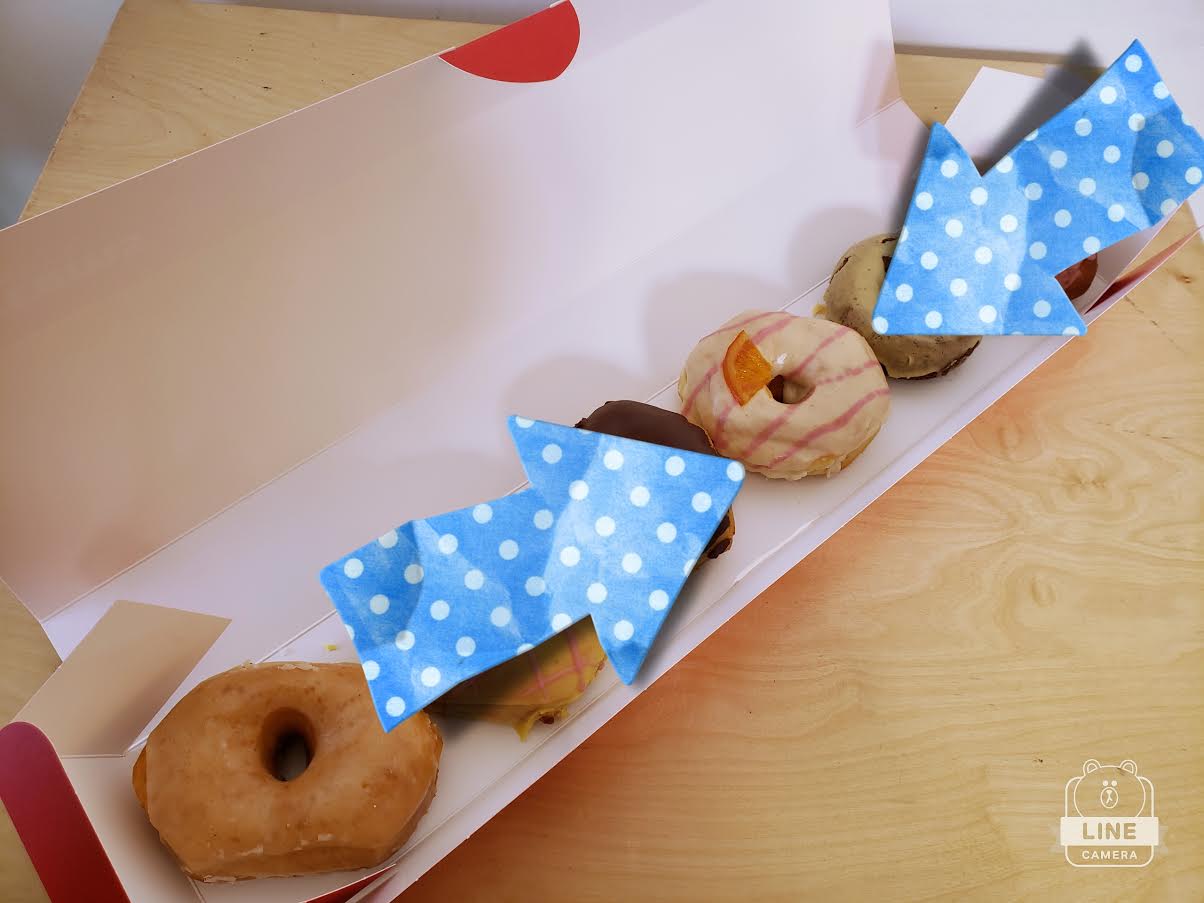 Tropical mint: The only donut that we did not like that day. The taste was just odd… it was a bit sweet but you get this minty aftertaste. We ended up scraping off the tropical glaze on top so we could eat it as a plain donut.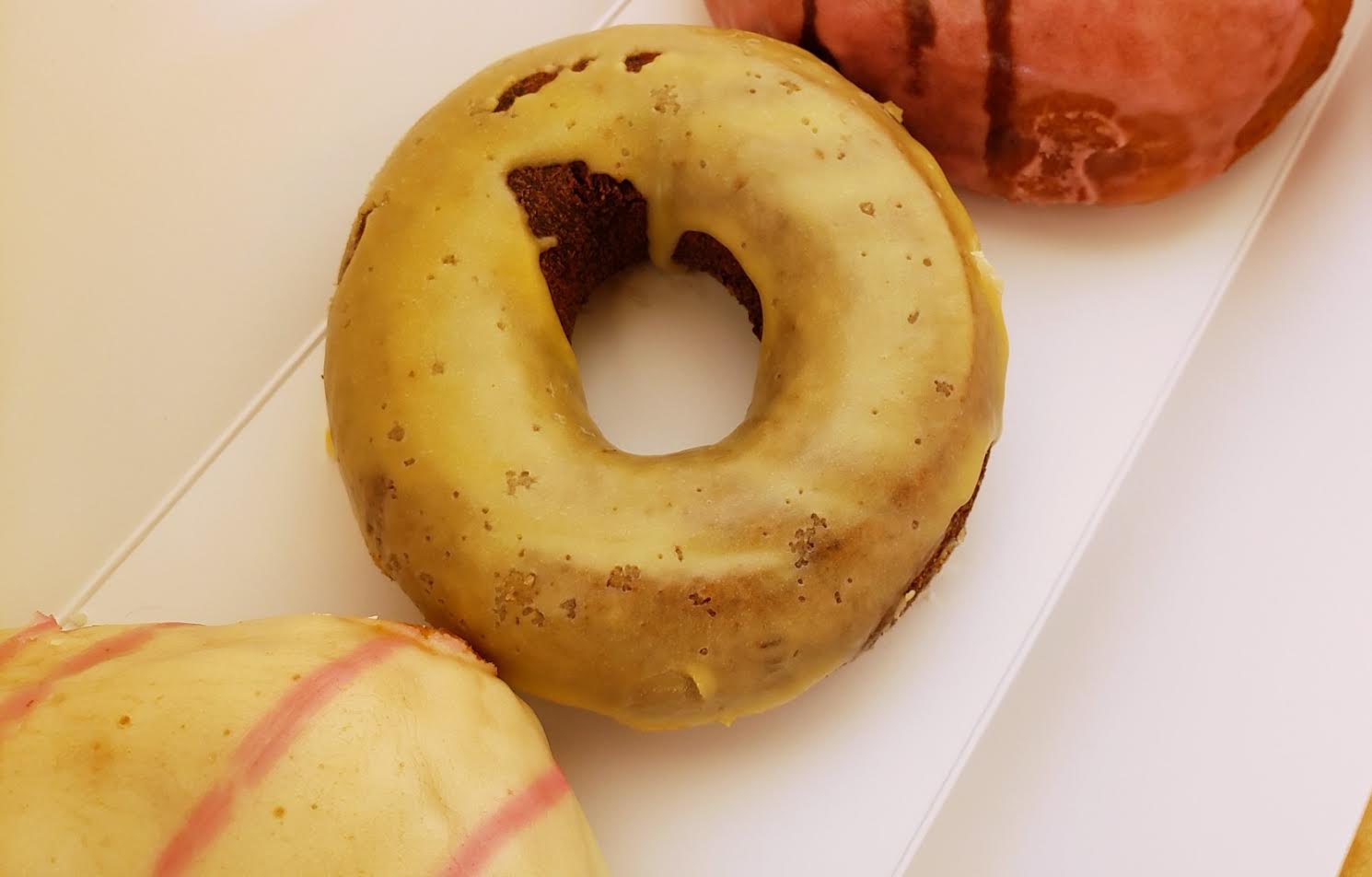 Salted caramel: This was the only 'regular' donut we had (aka not vegan). Since it contained dairy, I couldn't eat it. He found it to be a lot more dense and not as fluffy, so he didn't like it as much.
At this point, I was laughing inside and couldn't wait to tell him this was the only dairy donut – MUAHAHA!!!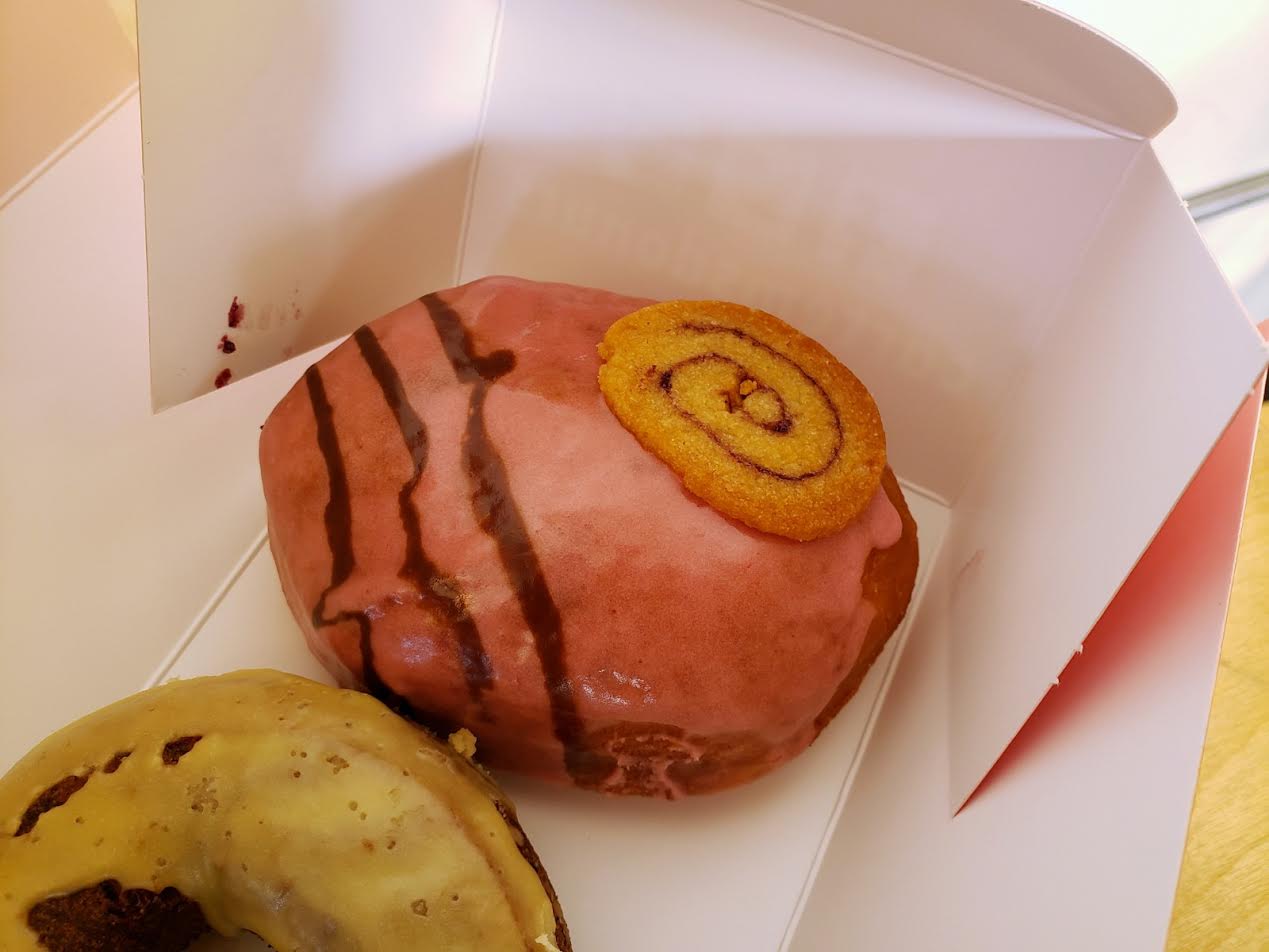 Berry hibiscus: This one was just alright…. it was filled with jam inside. The berry hibiscus donut wasn't as fluffy as the other ones.
After the boyfriend ate all the donuts, I mischievously told him that they were all vegan except for the salted caramel! He was quite shocked and never would have guessed.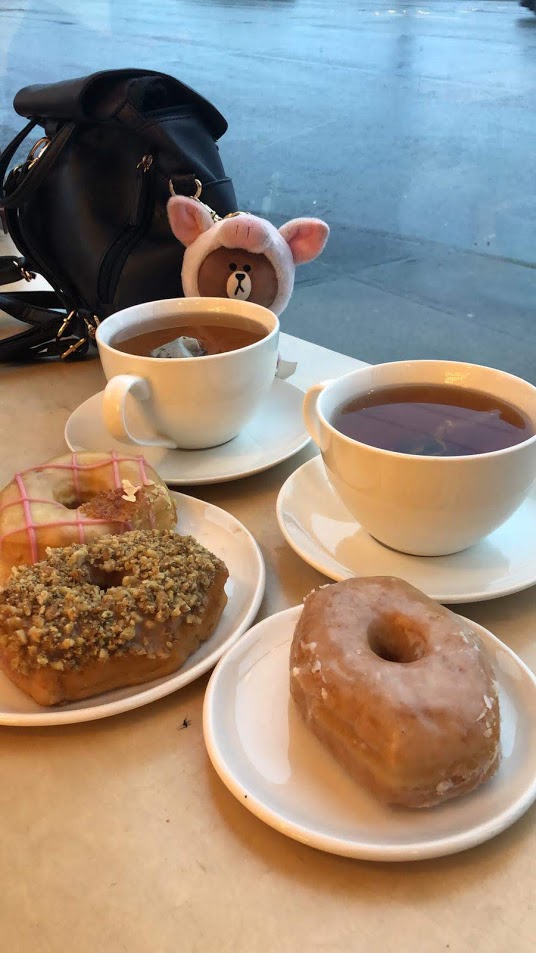 Cartems Donuts are amazing and they have very creative flavours! I would definitely recommend stopping by. They have a huge selection of vegan flavours which are arguably better than the regular, non-vegan ones!