I don't know about you, but I loooveee green juice! That might be hard for you to believe as I'm not completely into the whole healthy living lifestyle. I love my burgers, fries, and root beer, but sometimes I like to trade that in for some feel-good green goodness.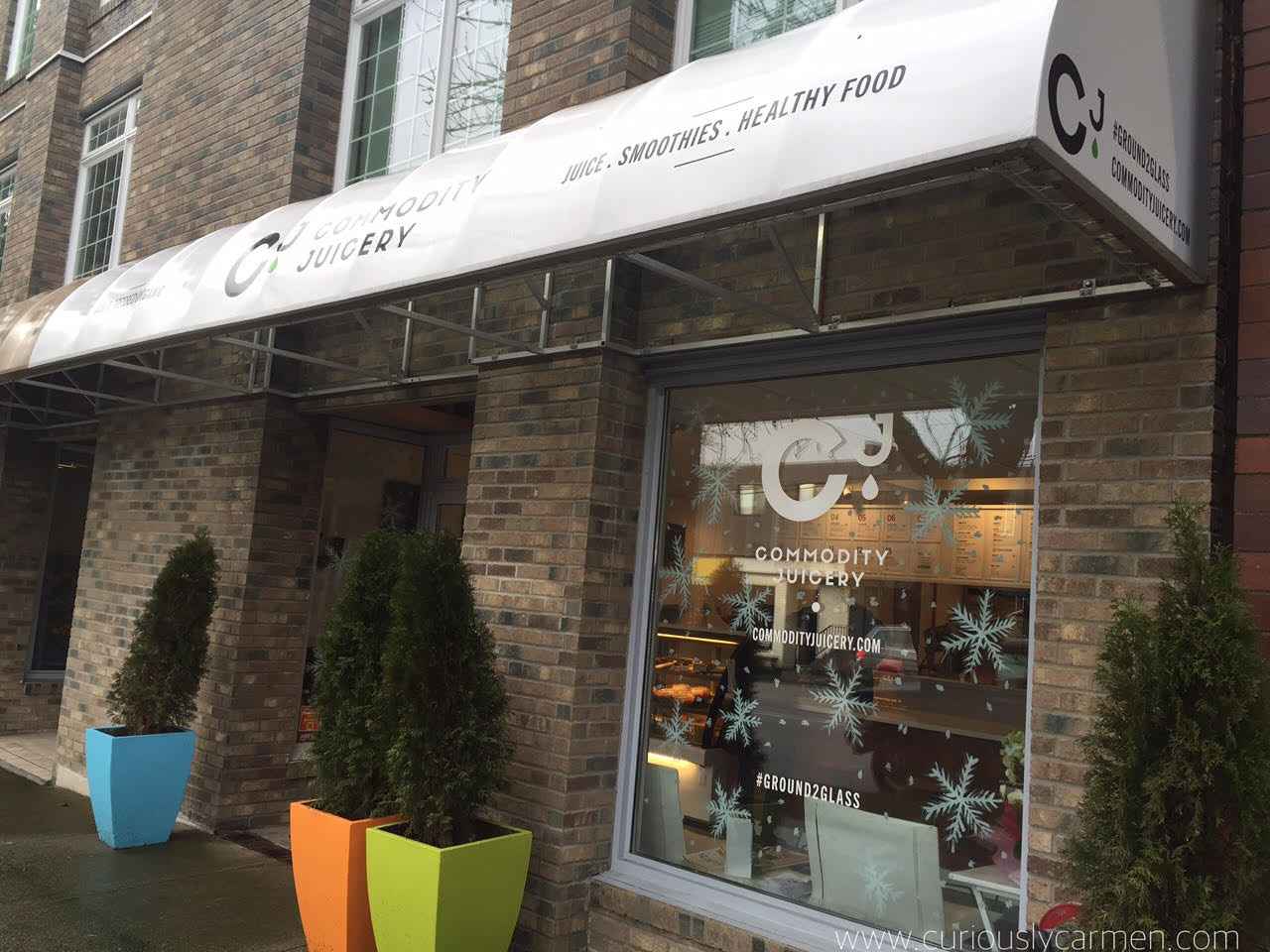 Commodity Juicery is a new juicery that opened up on Fraser Street in Vancouver, right across from Earnest Ice Cream. Since this area isn't that busy or commercial, it is pretty easy to find parking. It is also easily accessible by bus (#8 Fraser or #25 UBC).
I was invited to a taste-testing and sampled a few of their juices and food offered on their menu. Here is what I thought!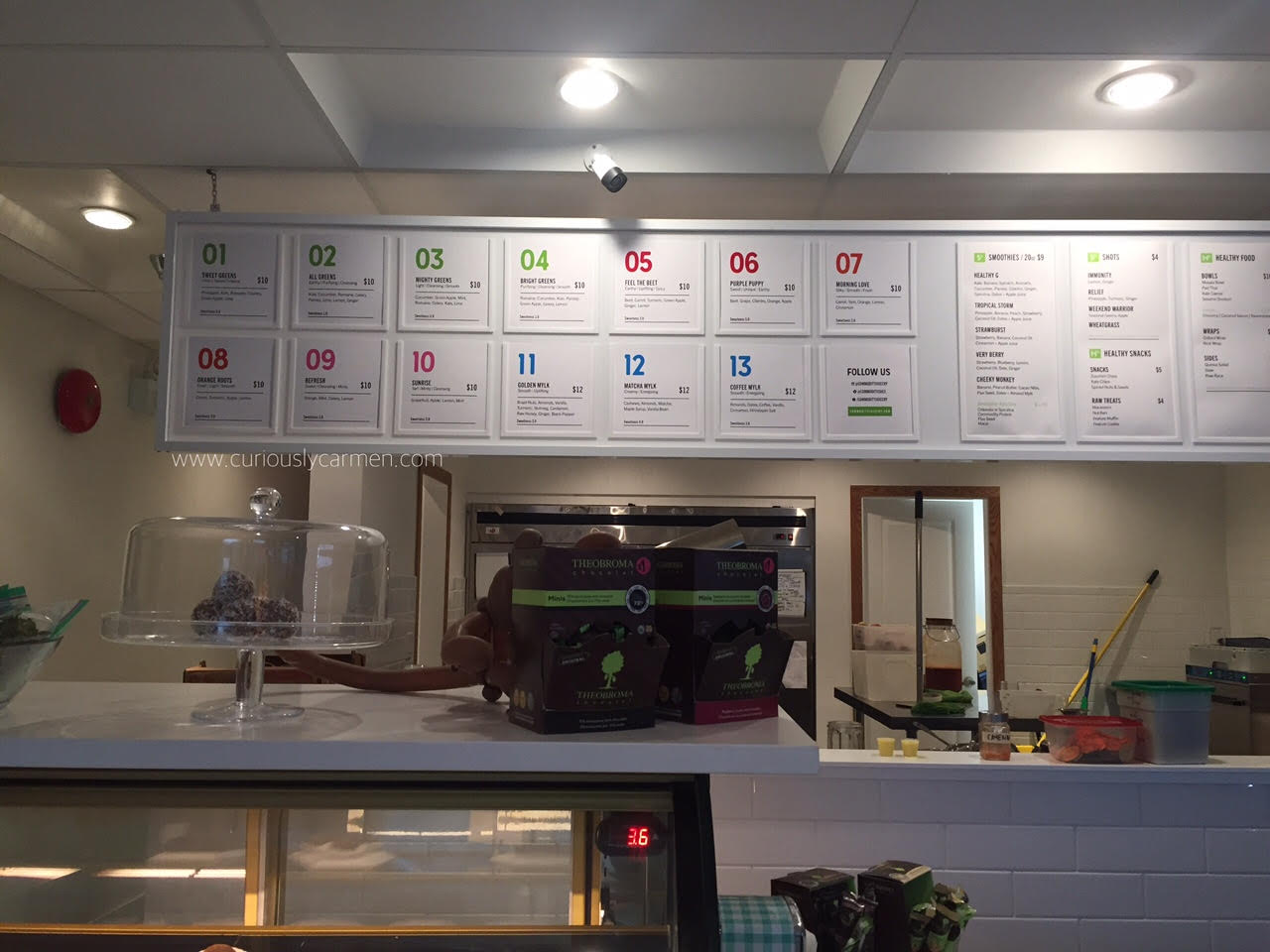 Upon walking in, Commodity Juicery is pretty small but seating is comfortable. They have a service counter that doubles up as a table, which seats four people comfortable. There are also two lounge chairs by the window.
I loved how white, clean, and new everything was! They also have an open kitchen, which you can completely see the staff juicing on their ginormous industrial juicer or make the food. Half way through our taste testing, we got to see and talk to one of the staff members, who was creating more nut mylk and juices!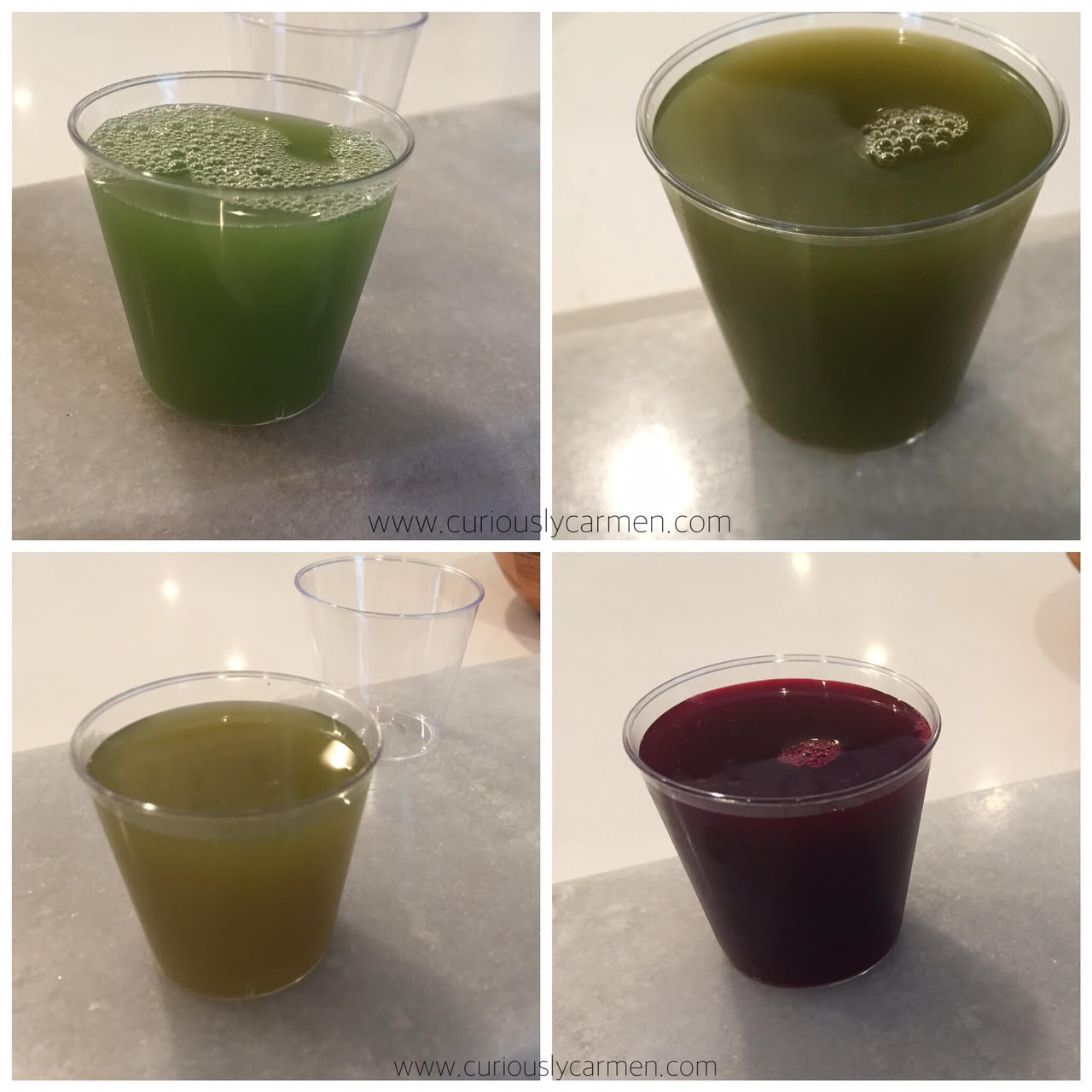 Top left, going clockwise
All greens #2: We started off with the least sweetest juice. This was made with kale, cucumber, romaine, celery, parsley, lime, and ginger. It was very light, and tasted like cucumber water with a hint of lime and celery. I was a bit worried that I wouldn't like this, but it wasn't that bad! You would like this if you're a fan of green juice like I am.
Mighty greens #3: Cucumber, green apple, mint, romaine, celery, kale, lime. This one tasted similar to all greens, except that it was sweeter due to the green apple.
Purple puppy #6: Beet, cucumber, cilantro, orange, apple. Compared to the previous two, this one was a LOT sweeter due to the orange and apple. My cousins both said there was a strong beet taste to this.
If you're not a fan of the green juice taste but want the healthy benefits, I would recommend this one. It tasted like a regular, sweetened juice (even though there was no added sugar!).
Bright greens #4: Romaine, cucumber, kale, parsley, green apple, lemon. This one tasted pretty similar to the other two green juices. I enjoyed all three!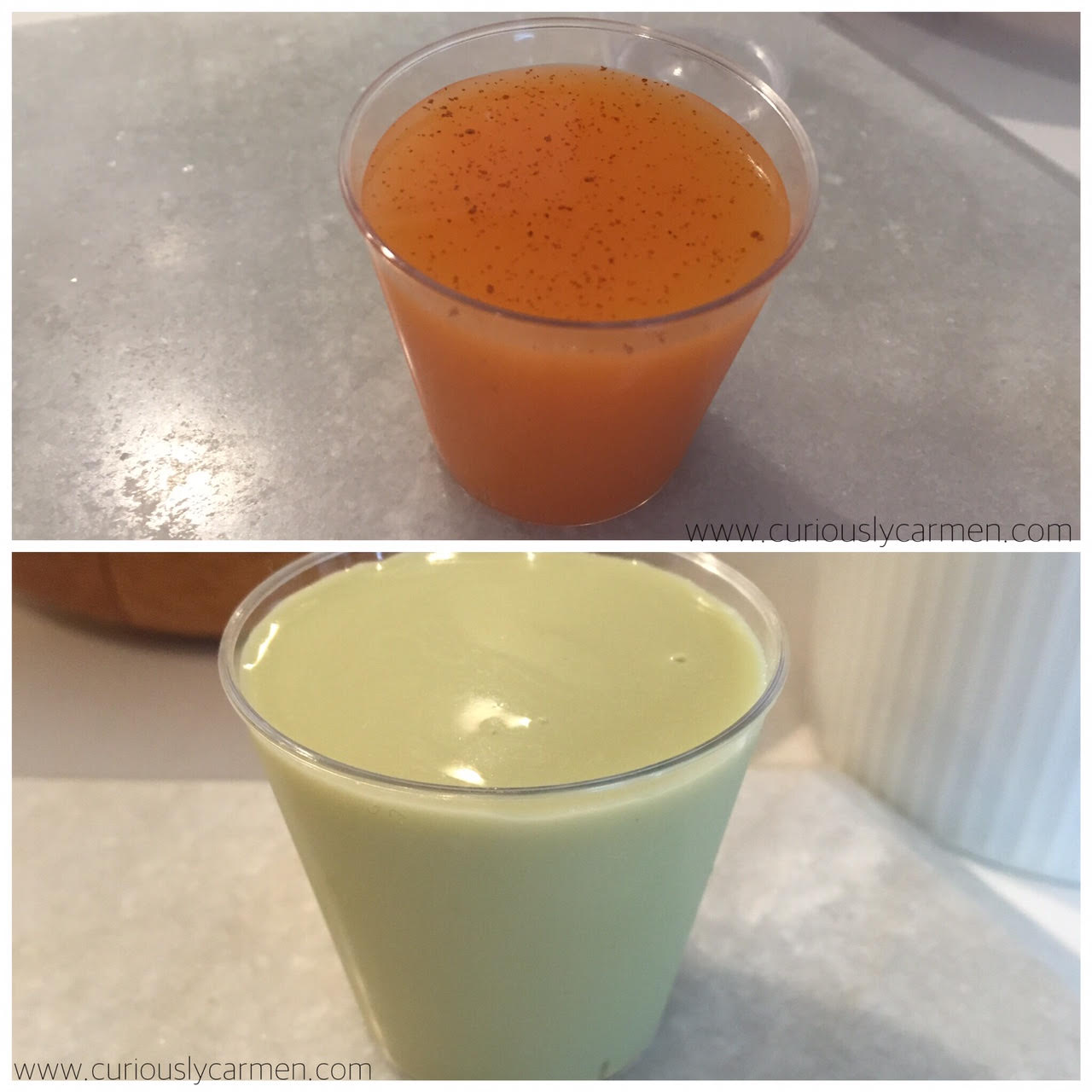 Top to bottom
Morning love #7: Carrot, yam, orange, lemon, cinnamon. This reminded me of the fall due to the cinnamon and carrot. It tasted like you were drinking a pie, if that makes any sense! It was very warming and smoothing.
Matcha mylk#12: Cashews, almonds, matcha, maple syrup, vanilla bean. Moving away from the green juices, we sampled one of their 'mylks' – all of their milk is dairy free and made with nuts.
This was really delicious! The cashews and almonds made it creamy, due to the higher fat content that nuts have. The vanilla bean taste at the end was the cherry on top of a delicious mylk.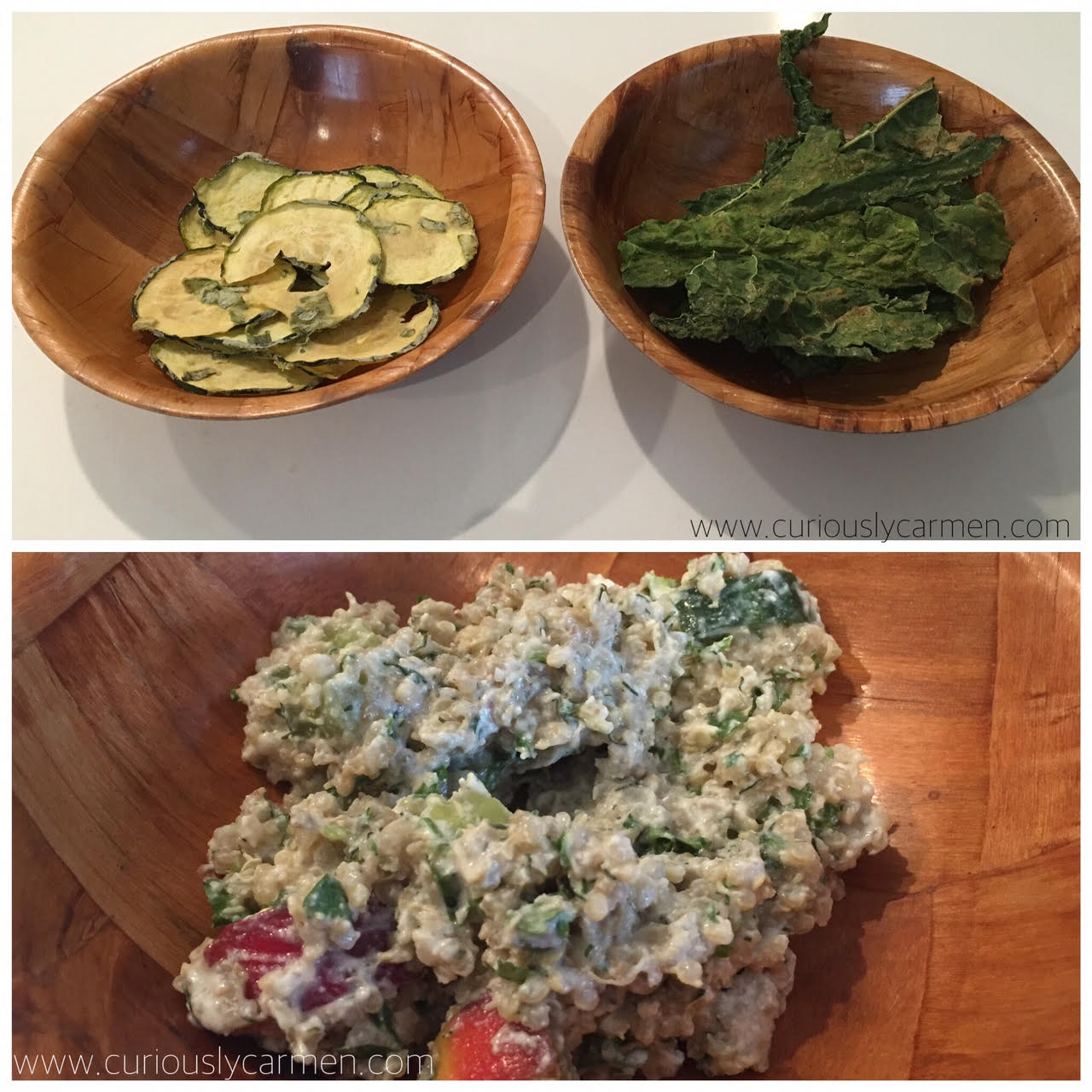 Zucchini & kale chips: The zucchini chips were seasoned with sour kream (aka. cashew milk with seasoning), and tasted delicious! The kale chips were nice and thick, and flavoured with chili lime. Both chips were delicious and we couldn't stop munching in between juice samples.
Vegan quinoa salad: I was surprised at how creamy the quinoa was, even without dairy! Again, it was made with cashew milk. There was a nice garlic flavour, with hints of fresh and sweet apple.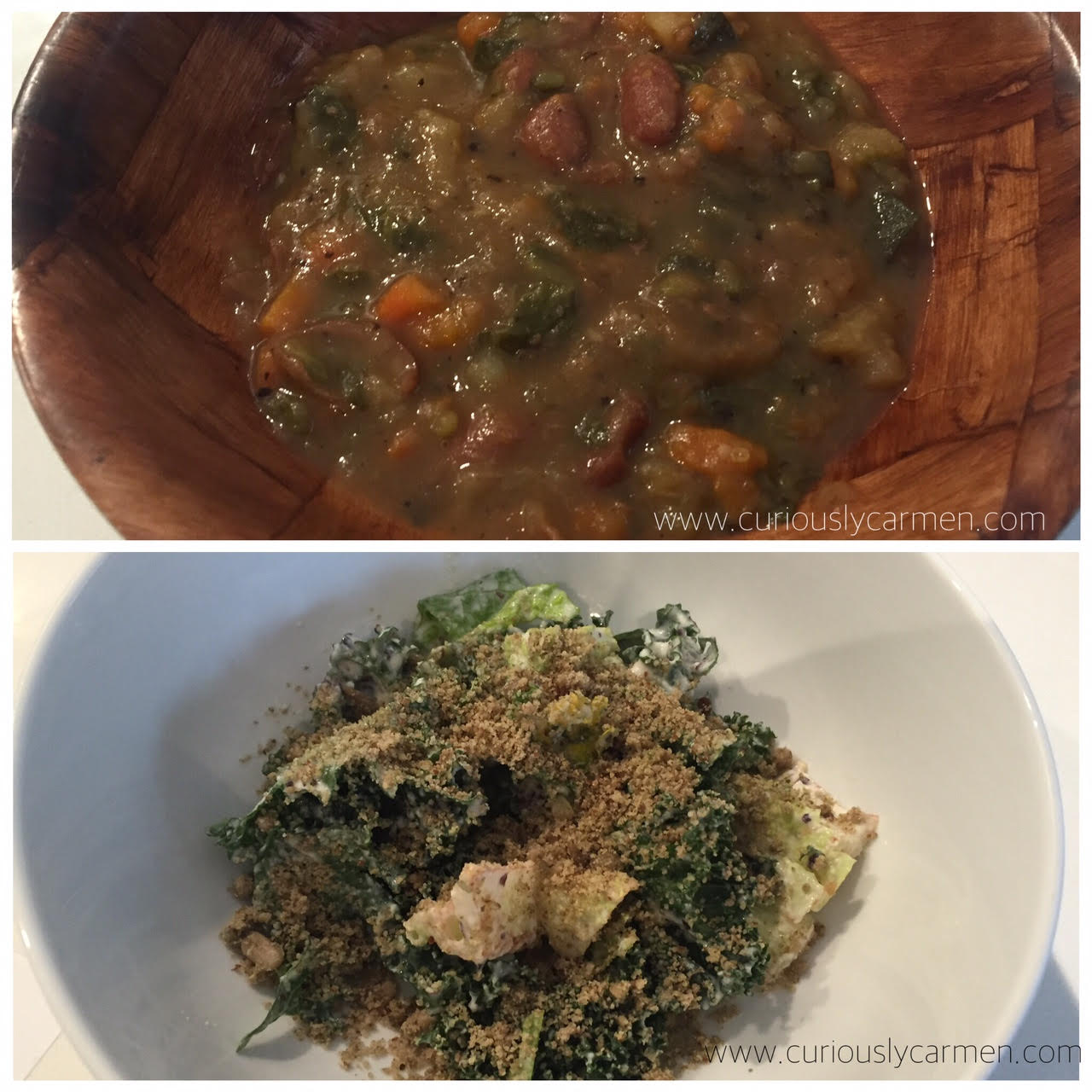 Vegan minestrone soup: This recipe was carried on from one of the owners grandma! How sweet. Even though it did not have any meat, I found this to be really delicious and something I could have daily. It was the perfect embodiment of a heart warming soup.
Vegan Caesar salad: Hands down, my favourite dish that day. I couldn't stop thinking about this salad and telling my friends how amazing this was! This salad was so incredibly fresh, crunch, and creamy.
Did you know that the base of Caesar dressing is anchovies? I didn't know that! In replacement of anchovies, they used dulce flakes which has a similar taste to anchovies.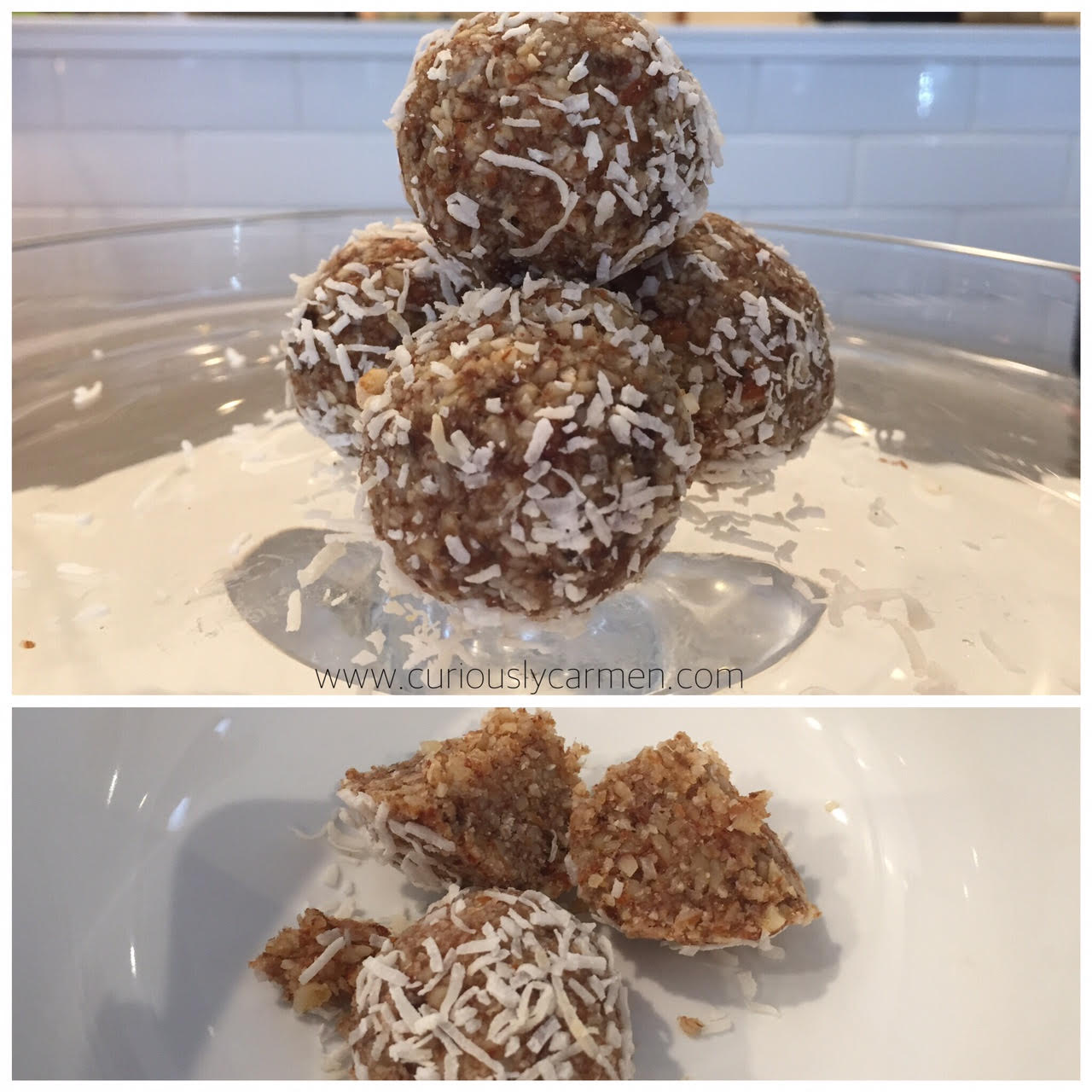 Vegan coconut almond date bites: These cute little bites were delicious as well! They were very sweet due to the dates, while the coconut flakes gave it a nice crunch. These are perfect for a healthy dessert alternative and sure to satisfy those who have a sweet tooth.
In conclusion, Commodity Juicery opened my mind up about vegan eating, and how delicious and easy it can be.  The juices were delicious as well and there is something for everyone, even if you're not crazy about green juices.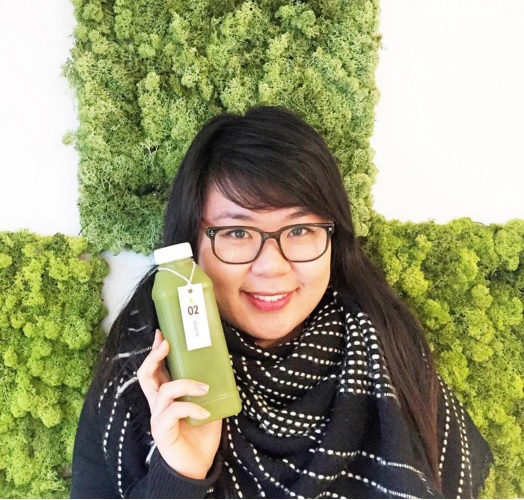 Juices range from $10-12 a bottle, with food items ranging anywhere from $2-$10. If I could afford a $10 juice, I would come back here pretty often but until then, I'll be continuously thinking of their delicious juices.
Thanks for reading!
Carmen
Complimentary tasting in exchange for a review. Opinions are own.