I can't believe that I forgot to talk about Neverland Tea Salon. I was in the middle of switching phones in the summer, and the photos were taken on my old phone and I completely forgot about them after I got my new phone. Nonetheless, a late review is better than no review – especially if it is a place as magical as Neverland Tea Salon.
I first stumbled upon this place after a meager dinner experience at Ramen Sanpachi, over a year ago. We were walking around the street after dinner, and although the lights were off and the place was closed, I knew I had to come back to Neverland Tea Salon one day. I kept this place at the back of my head until Bubble suggested to go to high tea!
We also had Entertainment Book coupons for high tea so decided to go before things got busy in the Fall (Hah, it's practically Winter now).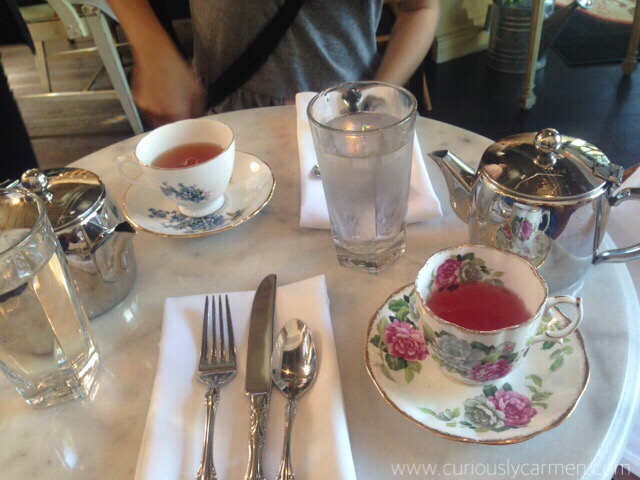 Neverland is very cutesy and girly. You step into a fairy tale setting and everything about this place is just so princess-y, classy, and cute. Luckily, we got the best seats in the restaurant that day, which was a big pink sofa spot at the front.
There were four of us, and we ordered two separate sets of high tea. We ordered the high tea ($30 each) and the demi high tea ($18 each), but it was slightly cheaper from the coupon. With the high tea, you get bottomless tea (!!!!) but with the demi high tea, you are only able to select two teas per person.
I'm not going to go to detail over all the teas that we ordered, but trust me when I say their tea was pretty good! All of the teas that we ordered were full of flavour, and can be sweetened with honey or sugar cubes on your table.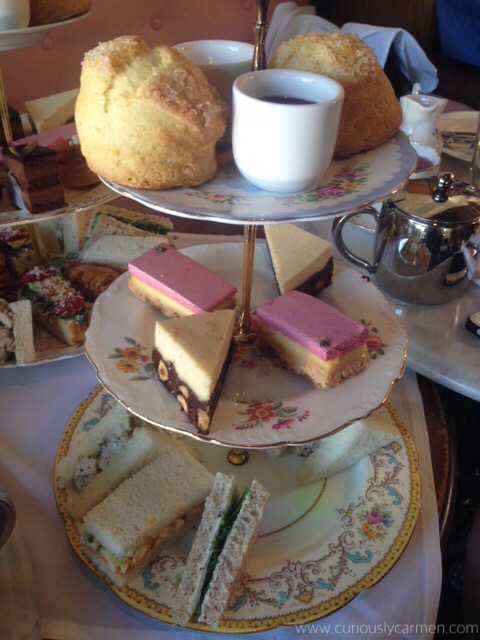 Demi tea ($18/person): This is the smaller and cheaper selection of high tea. The pastries and sandwiches offered with the demi tea are the same as high tea, but it does not include some items. Since Rainbow, and Stitch had already been here many times and weren't that hungry, they split the demi tea.
Fun fact: The owner of the tea salon actually made all the high tea trays herself! She bought all these vintage plates, and glued them together into beautiful stands.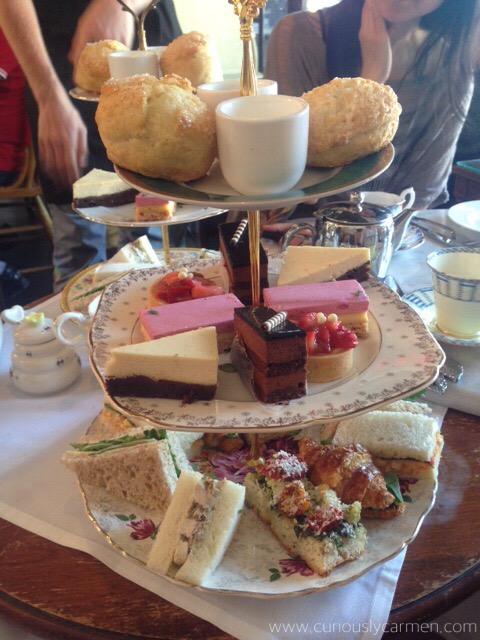 High tea ($30/person): Bubble and I split the high tea, which ended up being cheaper since we had a buy one get one from the Entertainment Book! As you can see, there are more items offered from the high tea.
Although I'm not a big fan of scones, I was told that I had to try the scones here because they were really good. And yes, they were delicious. They were soft, warm, and buttery. So good!
If you've been following my blog for awhile now, you know that I prefer savoury food over sweet food. In fact, I don't have much of a sweet tooth at all so naturally I gravitated towards the bottom plate with the savoury selections.
Since their sandwich and pastry selection changes often and this visit was over three months ago, I don't think it's much use to describe each of the food items in detail. Although the sandwiches look very simple, they were actually really delicious and the quality was definitely there.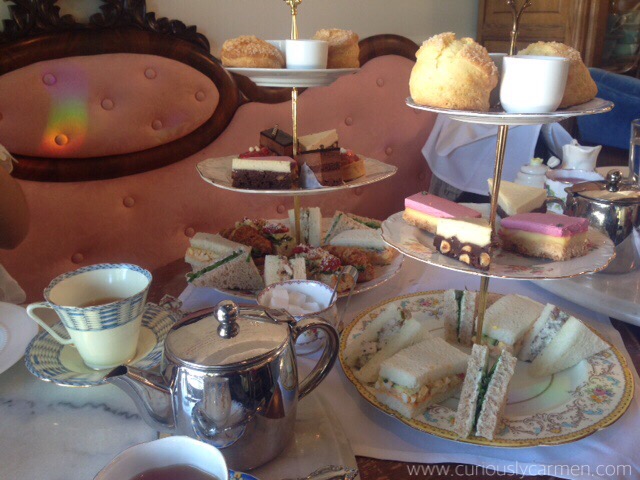 Here is a picture of both the demi and high tea! Since you are drinking A LOT of tea, you definitely get full really fast. We ended up packing most of the pastries home because we were so full from the sandwiches and amount of tea we were drinking.
I would recommend trying out Neverland Tea Salon if you like girly and cute themed places. The service is very friendly and knowledgeable, although a bit slow. Maki came here last month too and mentioned that it took so long for her to ask for the bill, that she ended up with a parking ticket when she left because the meter expired. She asked for the bill 15 minutes before the meter expired so that really sucks. 🙁
Thanks for reading!
-Carmen