Amongst the surge of new bubble tea places in the past year, OneZo inarguably has been one of the most popular and successful ones so far! I've heard good things about it from multiple people but have yet to go because me and caffeine don't mix well.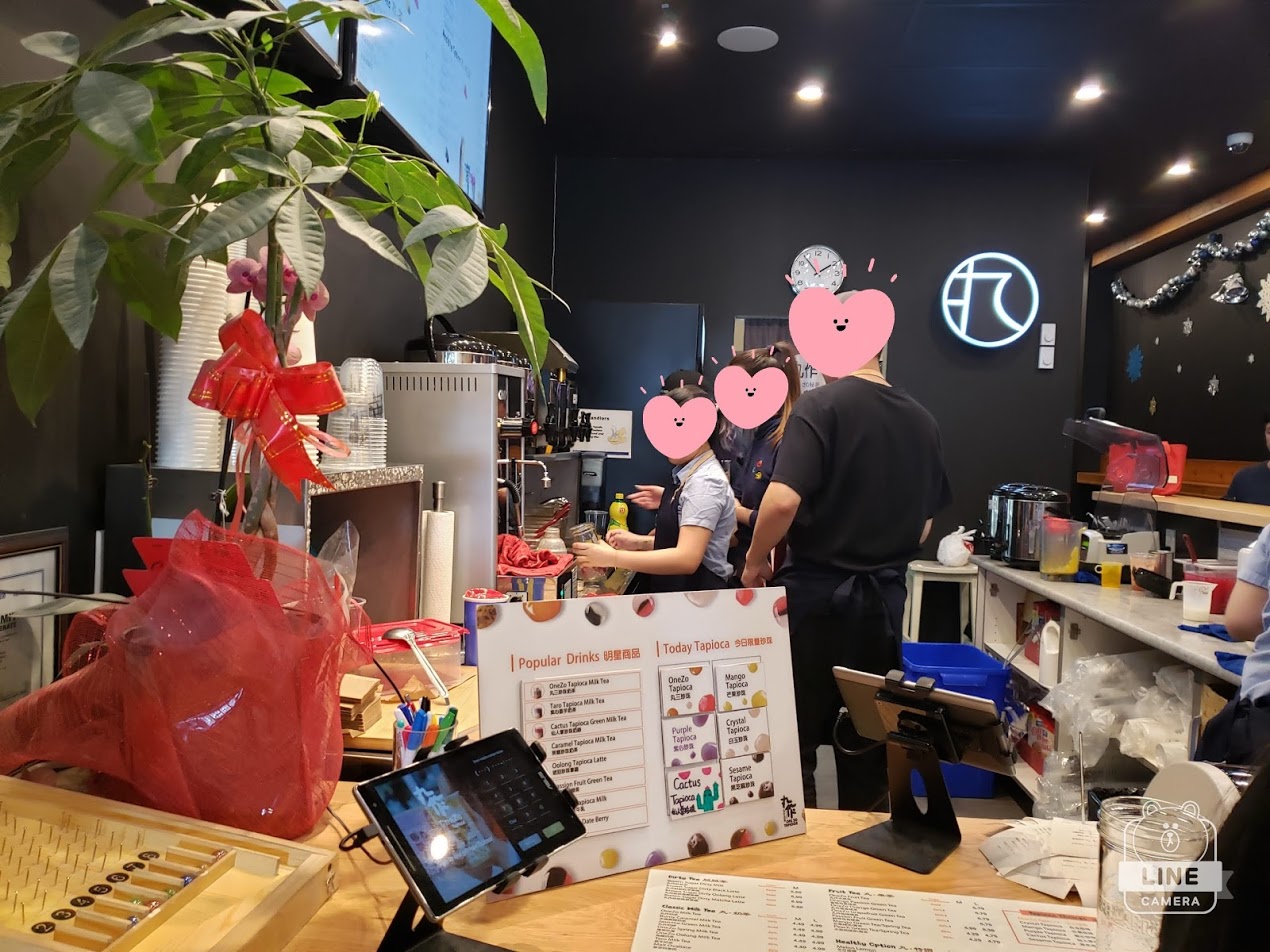 For example, many years ago (when my stomach tolerated dairy), I drank a milk tea at 10 am and couldn't sleep the next morning until 6 am! Another time, I was lying awake in bed at 2 am wondering why I couldn't sleep…. After thinking of everything I ate/drank that day, realized I had a can of Pepsi during a family gathering. -_-"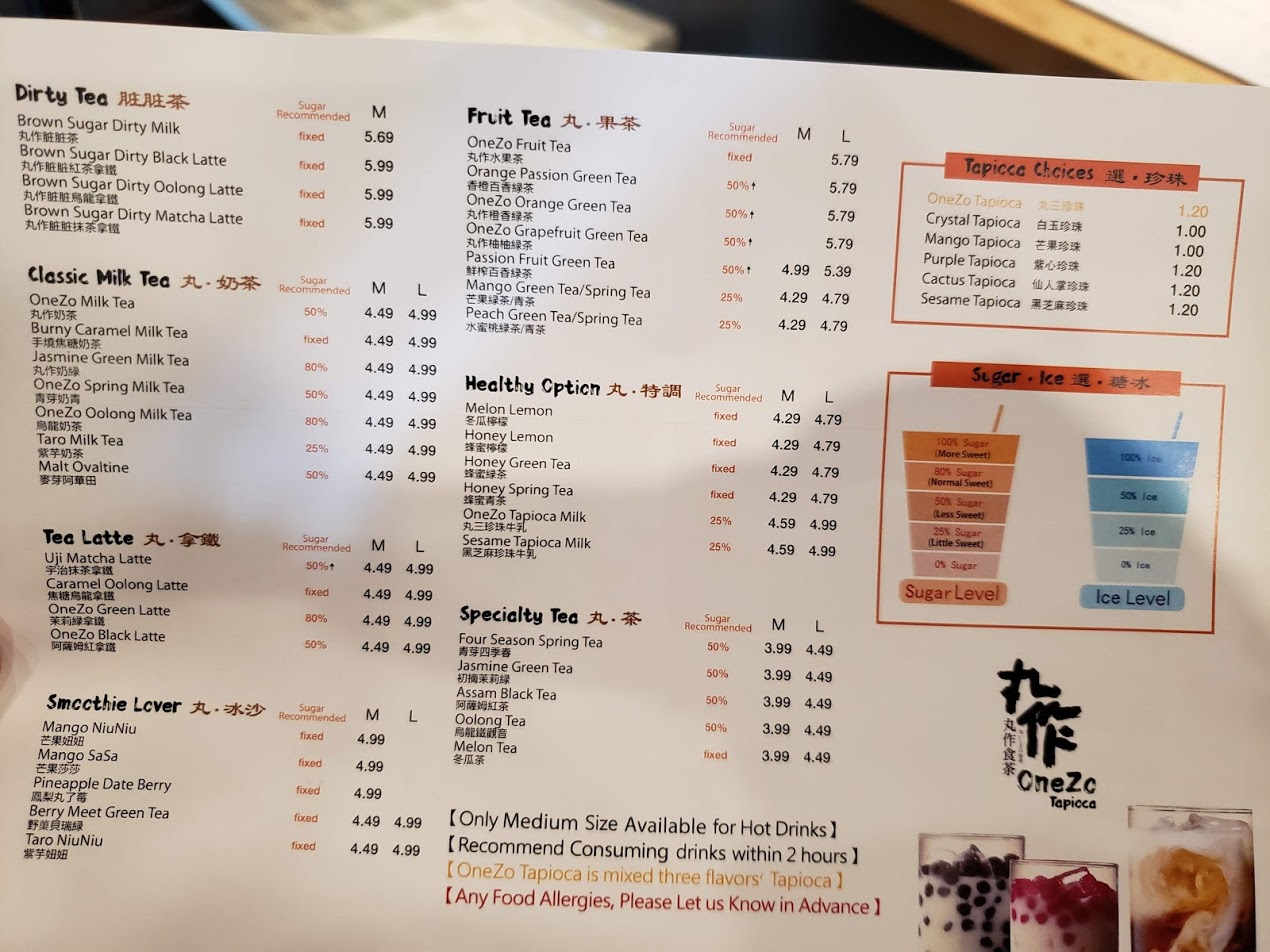 I could get the slush but their tea drinks were their most popular so I didn't feel like it would do justice. However, seeing that it was a 4 day long weekend, I figured I could have caffeine on Friday and have 3 more days to adjust my sleep schedule until going back to work on Tuesday!
After having lunch at Boiling Point, we walked over to OneZo but ended up missing it because it was quite inconspicuous! Once we got in though, it was packed (also because it's small and narrow).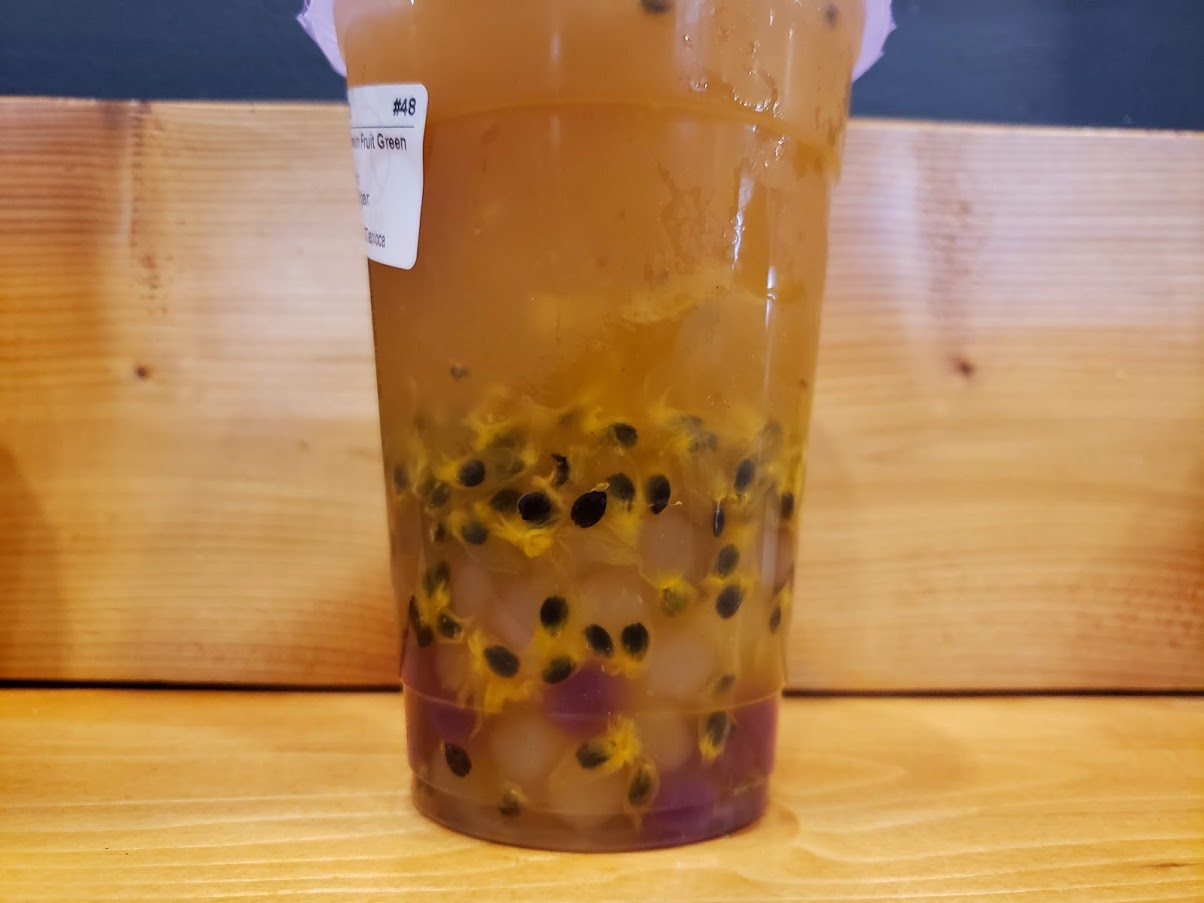 Passion fruit green tea with OneZo pearls: I wanted to try the fresh fruit tea but it only came in a large size, and I was not ready to commit to that much caffeine. So, the passionfruit was my second choice!
Let's start with the pearls, which is what they're famous for … They were sooo good and chewy!!! I got the OneZo pearls which was a daily preselected mix. That day, it was a mix of mango, sweet potato, and crystal. It was my first time trying flavoured pearls and it was delightful! The mango flavour was quite subtle but definitely had a tropical flavour. The sweet potato had a stronger flavour and reminded me of less dense version ZenQ's sweet potato Q ball. The crystal pearl is your regular pearl but clear.
Moving on to the green tea, I found it really fragrant and strong! Since it's been awhile for me and green tea, I asked the boyfriend to try and see what he thought because he drinks tea every week. He agreed that it was a stronger green tea and very fragrant.
My only complaint was the passionfruit seeds! I appreciated the quality and use of fresh passionfruit seeds, but the crunchy texture distracted the beautiful chewiness of the pearls. It reminded me of crunchy sunflower seed shells which is not what I'm wanting in bubble tea.
Although I enjoyed the taste of the passionfruit, I wouldn't want the seeds in there again.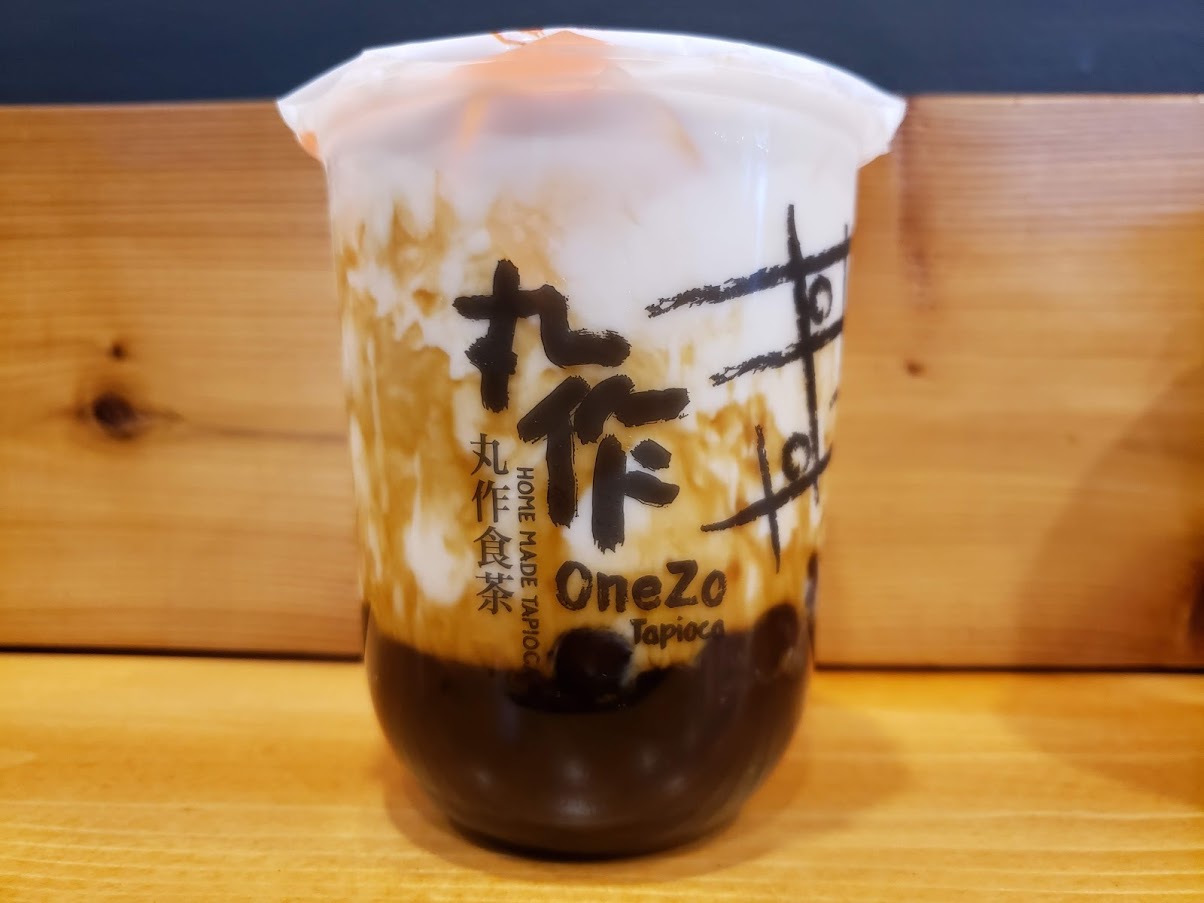 Brown sugar dirty milk: We are huge fans of LINE Friends, hence the Brown Bites series on my blog. We follow an IG page of Brown comics, and the night before, they posted a drawing of Brown drinking too much brown sugar dirty milk. So this was one of the influencing factors of the boyfriend getting the brown sugar dirty milk… Yes we are a bit (maybe very) crazy with LINE friends!
Anyways, he didn't realize that this didn't come with any tea. No complaints though because he really enjoyed the drink. It was sweet and had a nice caramelized flavour.
We thought there weren't going to be any pearls but it ended up coming with your standard black pearls, which were tasty as well.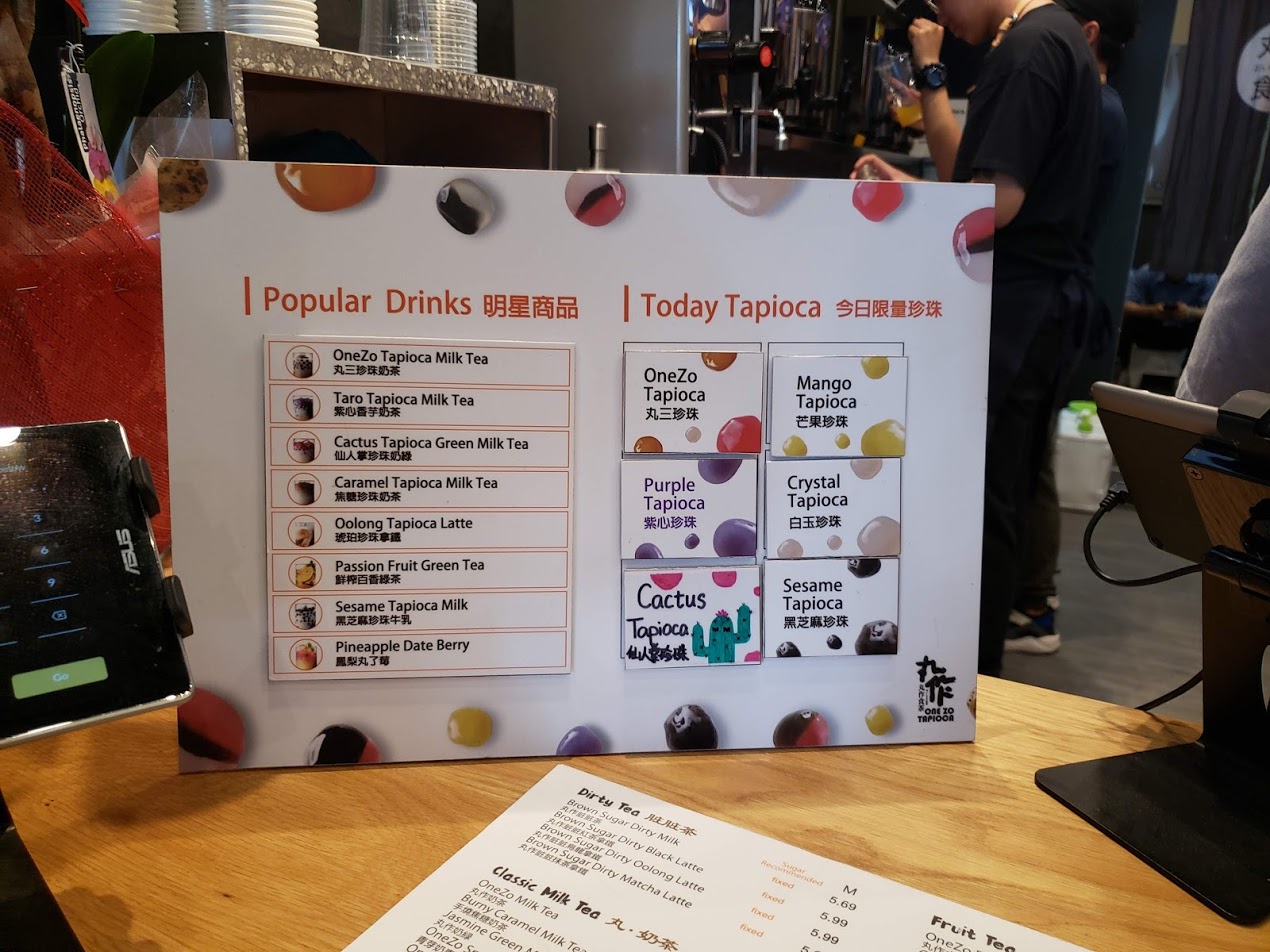 Overall, we both were very satisfied with OneZo and can see why it's so popular! You can really taste the quality in their drinks and customized pearls. If you're a pearl lover, I would definitely recommend coming here.