Woohoo! It's costume season again, one of my favourite times of the year. If it were up to me, I would love to dress up in silly costumes more than once a year.
This year for Halloween, I will be going as a loofah and the boyfriend will be going as a bar of soap!
Out of all the DIY costumes we have made over the years, the loofah was certainly the most challenging. I used a combination of videos/posts, and it was a lot of trial and error.
Although I love DIY costumes, I am absolutely abysmal at making them and can't sew. Which is why I like to share these on my blog – if I can make these, anyone can. Trust me. Let's get started!
LOOFAH COSTUME MATERIALS/INSTRUCTIONS: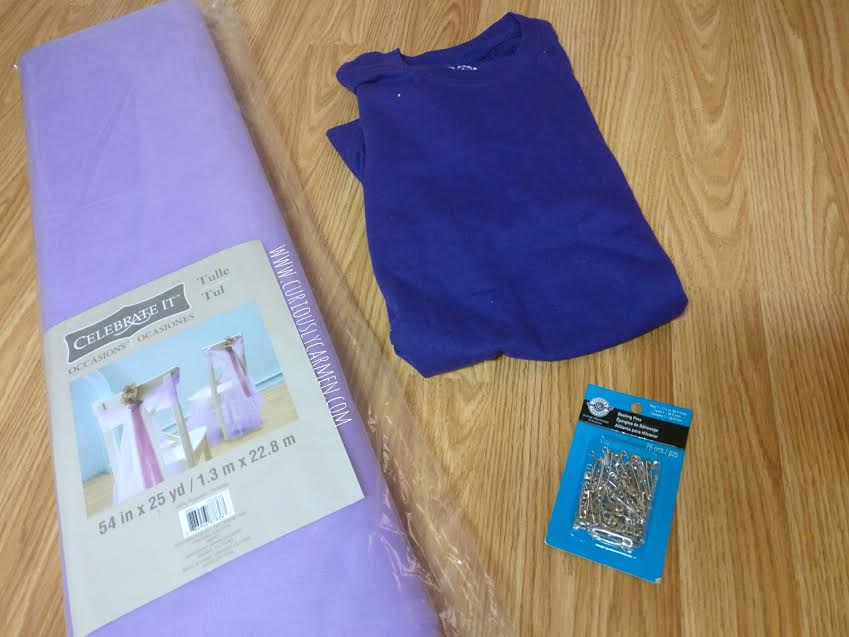 25 yards/74 feet of tulle fabric (You can easily purchase this at Michael's or at a fabric store)
Twelve safety pins
Scissors
String
Shirt (preferably same colour as the tulle)
Measuring tape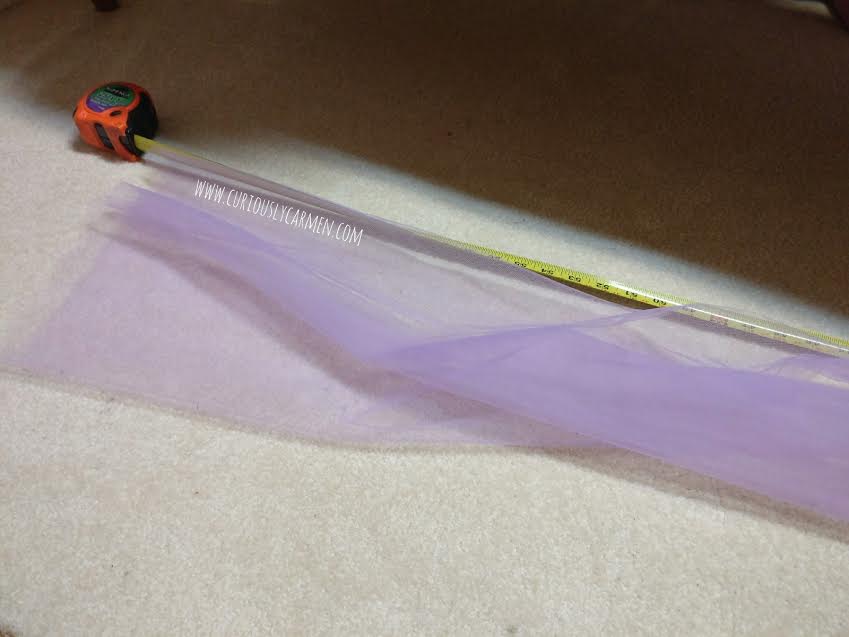 Cut out 12 even strips of tulle using a measuring tape for accuracy, approximately 6 feet each. This part was frustrating for me because one layer of lavender tulle is practically clear, so I couldn't really see where I was cutting… multiply this by 12 and you can understand why I was getting frustrated!
With each strip, fold it in half length-wise
Then, fold it in half width-wise again (should be approximately 3 feet by this step)
 In the middle, wrap a piece of string tightly
Repeat #2-#4 for the other strips

Step #4

Take a safety pin and hook it in the middle of the strip, where the string is.
Pin the first piece of tulle by your collar bone

Step #8

Repeat #6-7 for the other strips until they are evenly pinned on the shirt. I have attached a photo of where I pinned each tulle section on the tshirt. Repeat for the back as well. It may seem a bit high but once you fluff it out, you can't tell!
Now comes to fun part – fluffing it out! Go crazy and (gently) pull the tulle out to give it the desired puffy effect
Repeat #10 until you are satisfied with the level of puff!
BAR OF SOAP MATERIALS/INSTRUCTIONS:
For this costume, we were originally planning on just painting a cardboard box. However, we didn't find one large enough and also, my friend brought up a good point where the boyfriend wouldn't be able to sit down LOL. So, I did some brainstorming and came up with this super cheap and easy alternative!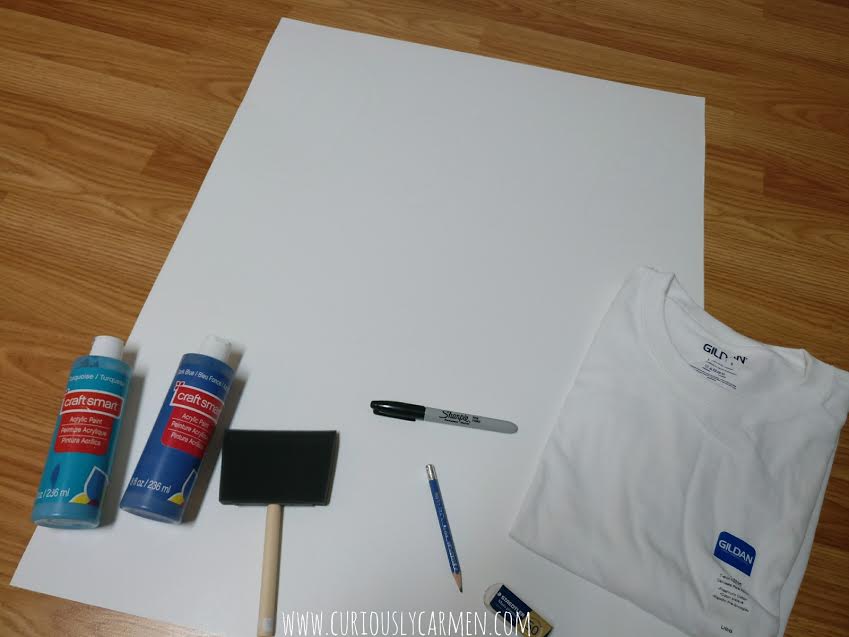 Two sheets of white poster board
Blue, gold, black acrylic paint (other colours are okay but we decided to go with the Dove bars haha)
Paint brush
Sharpie
Pencil
String
Tape
Using a pencil, outline the design you'd like. We looked up an image of Dove's bar soaps and replicated that, but you can do whichever brand you'd wish, or simply just write "SOAP".

Outline what you are planning on painting with a sharpie
Write down the ingredients, or any other text you'd like included to make it look more realistic
Paint!
Cut two pieces of string and use tape to connect the two poster boards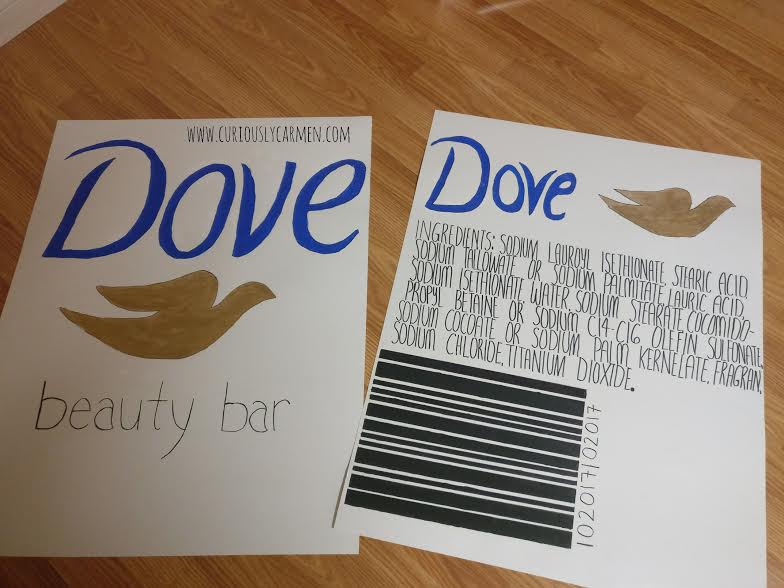 I will be updating this post after Halloween with our final costume result! Just wanted to get this post up before Halloween to give you some ideas.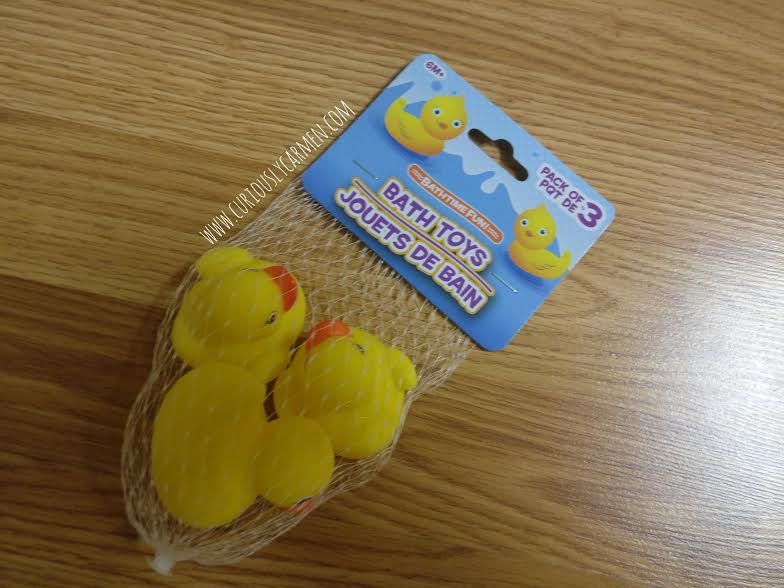 As a bonus, get some rubber duckies at the dollar store (I found this pack for $1.25) and hot glue gun it onto a headband! 🙂 You could also blow up some white balloons to act as bubbles, heh.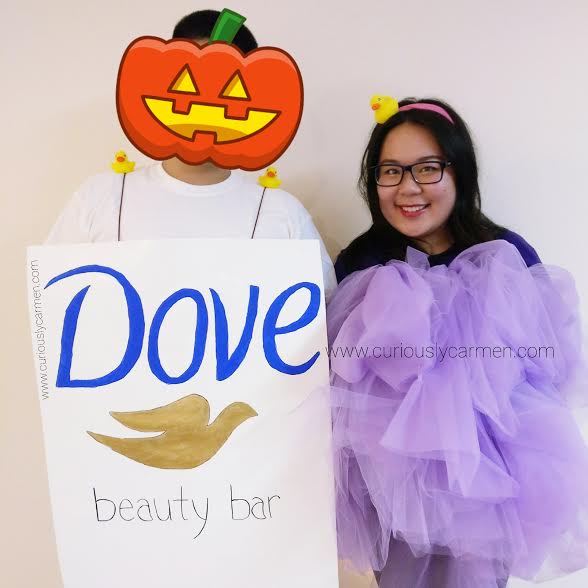 Happy costuming!