Baker and Table Cafe has been on my radar ever since it opened two years ago. I always make a mental note to try it when we are in the Fraser St. area, but the restaurants we usually go to (Deer Garden or Angel) are sooo filling that I end up forgetting about going.
It's no secret that the boyfriend and I love Japanese food and culture. Despite going to Tokyo only 3 months ago, we miss Japan a lot and can't wait to go back! To get our Japanese grocery fix, we go to Fujiya often.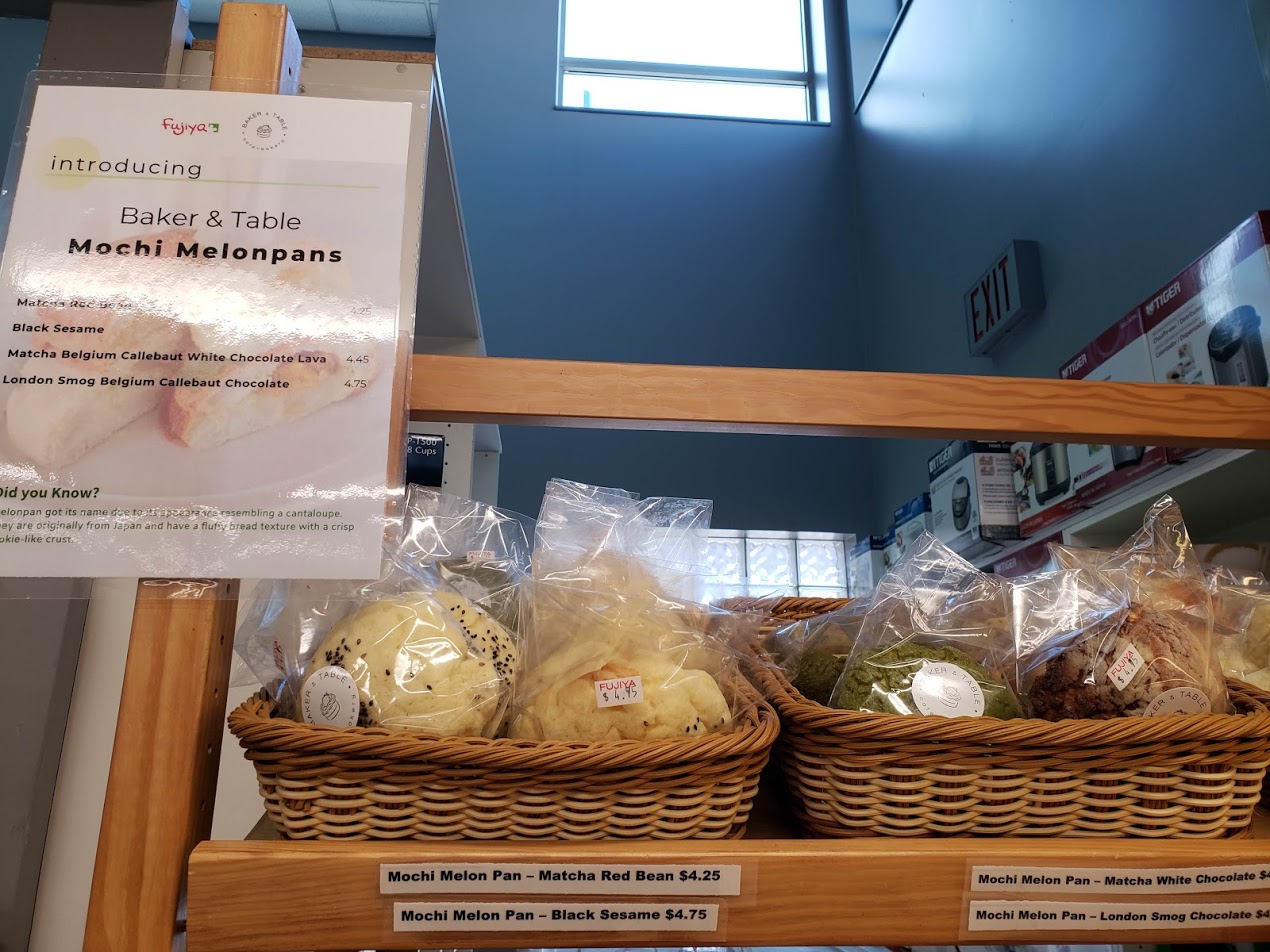 On one of our grocery trips, I noticed Fujiya carried some mochi melonpan from Baker and Table (weekends only)! I took my chance and bought all 4 buns that they offered. My stomach was not happy with me but sometimes I want to try new things.
A melonpan is a type of Japanese bun. There isn't any melon in it per se, the name originated from how the bun looks like a melon. Pan is the Japanese word for bread.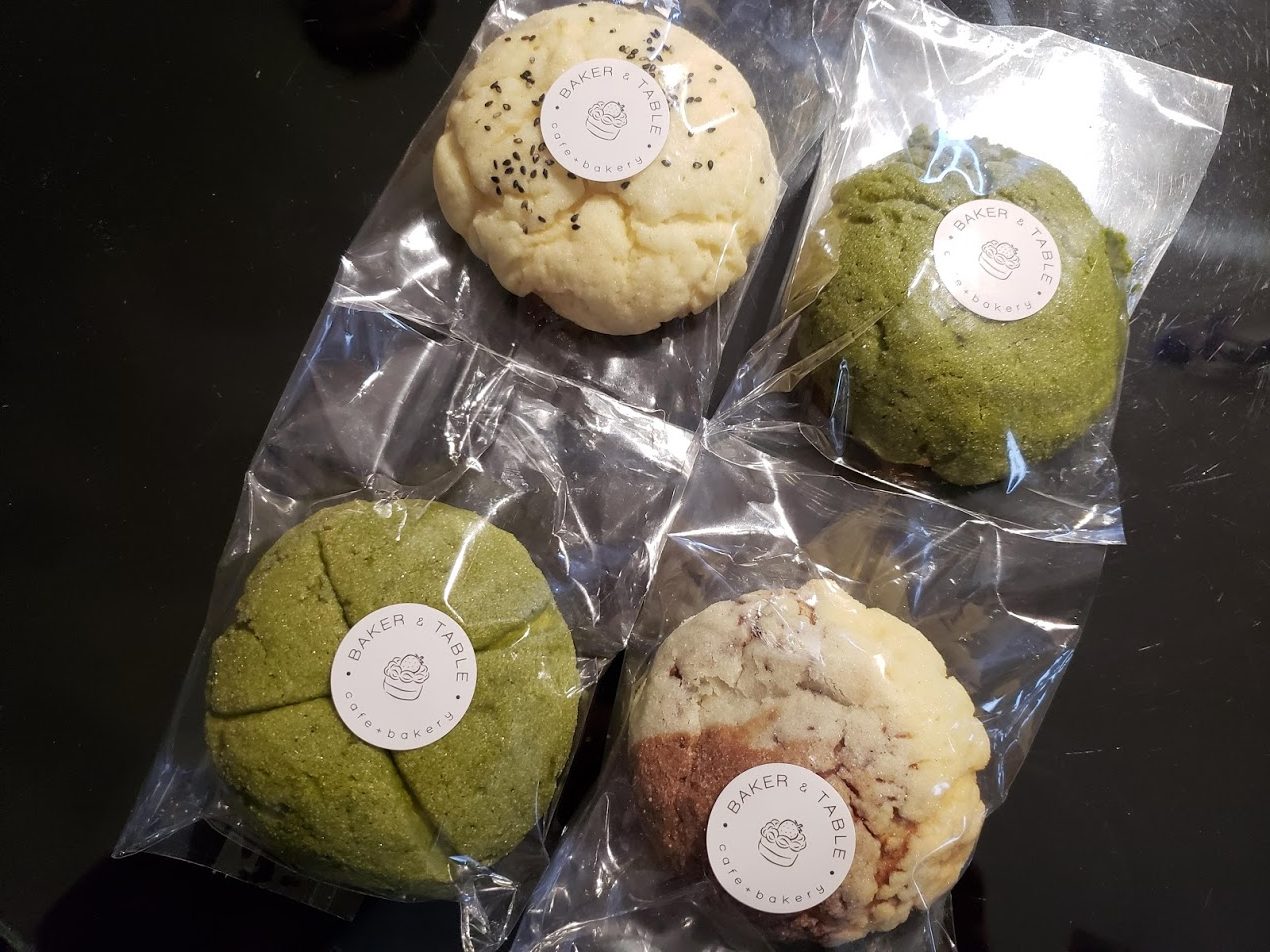 These are the four melonpans that we bought! The flavours that day were matcha white chocolate, black sesame, London smog chocolate, and matcha red bean.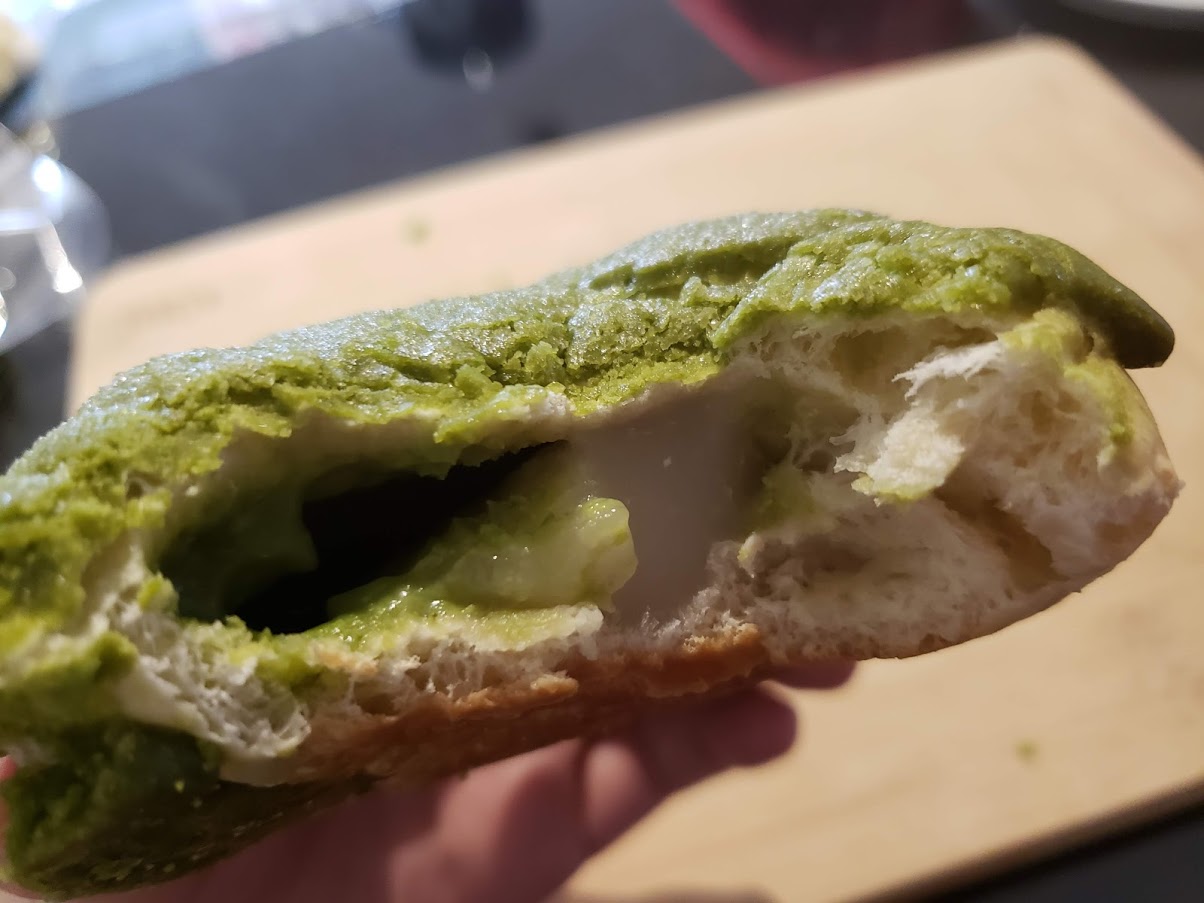 Matcha white chocolate melonpan: The matcha flavour was pure, strong and earthy. It reminded me of matcha treats in Japan, because they do not sweeten their matcha as heavily as in North America (I'm looking at you, Starbucks).
After a few bites, we were greeted with the chewy mochi! It was delicious. Although there wasn't much white chocolate taste, it was still a delicious bun.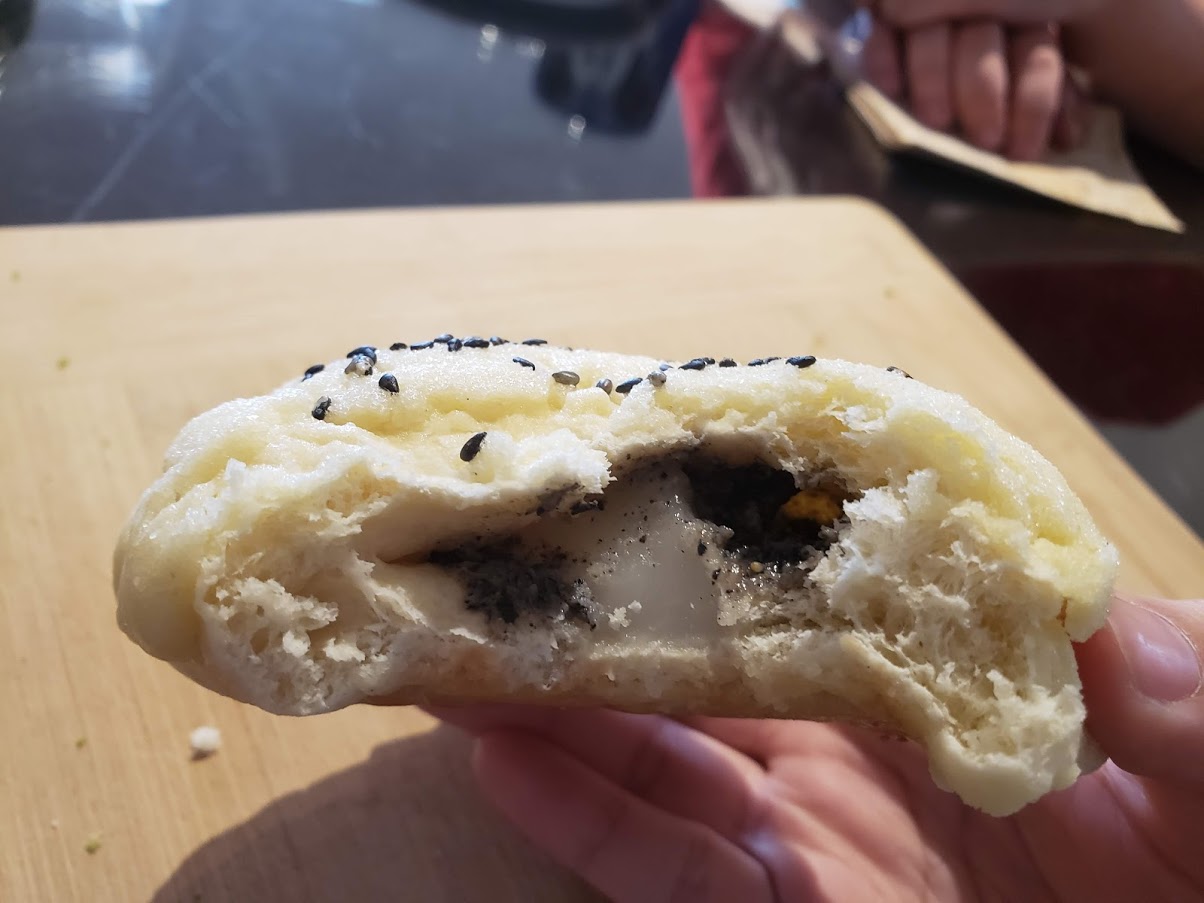 Black sesame melonpan: Next up was the black sesame! The first few bites didn't have much sesame flavour, but once we got to the center of the bun, there was a lot of black sesame paste.
As with all of them, the texture was fluffy and soft. So delicious!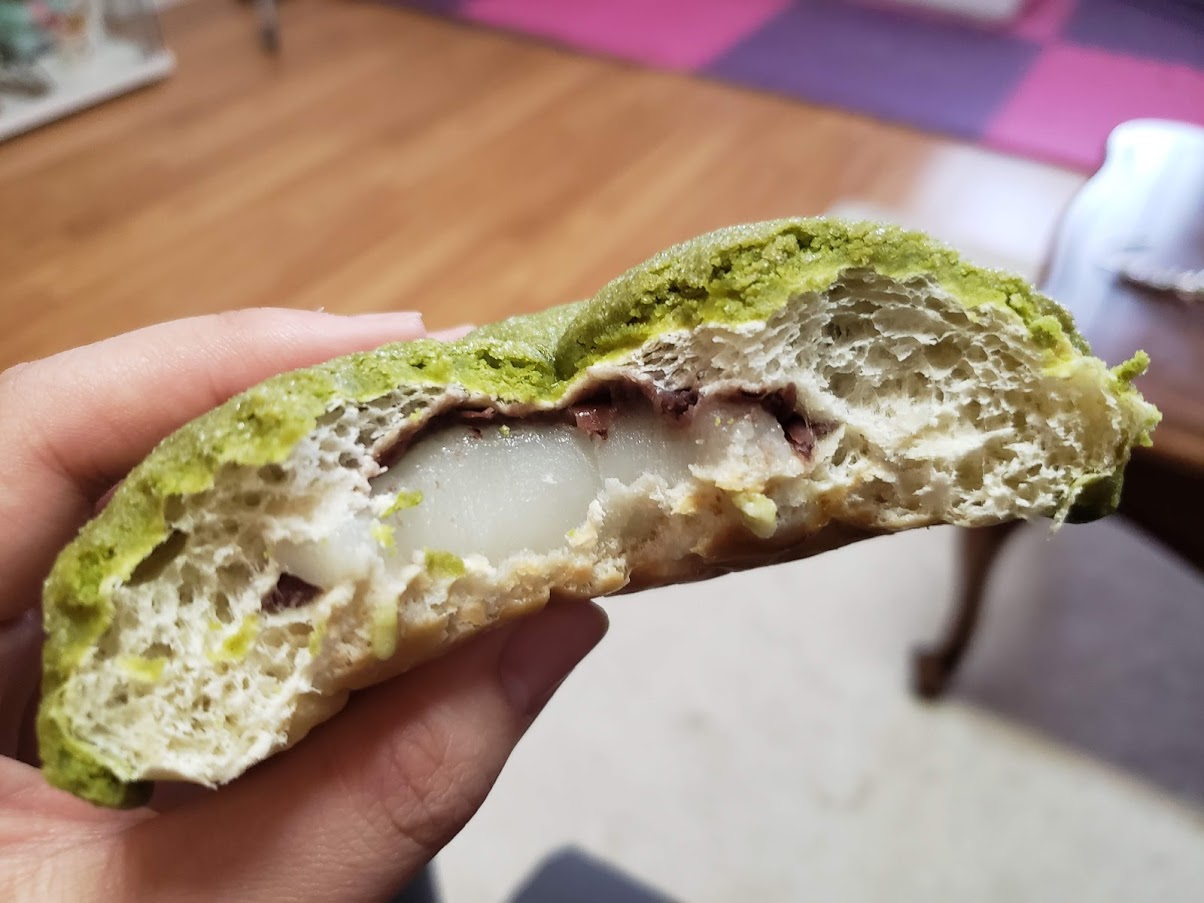 Matcha red bean melonpan: Compared to the matcha white chocolate melonpan above, the red bean one was a lot neater to eat. I let him eat all of this because of my digestive issues.
This is one of the boyfriend's favourite combinations, and he quite enjoyed it.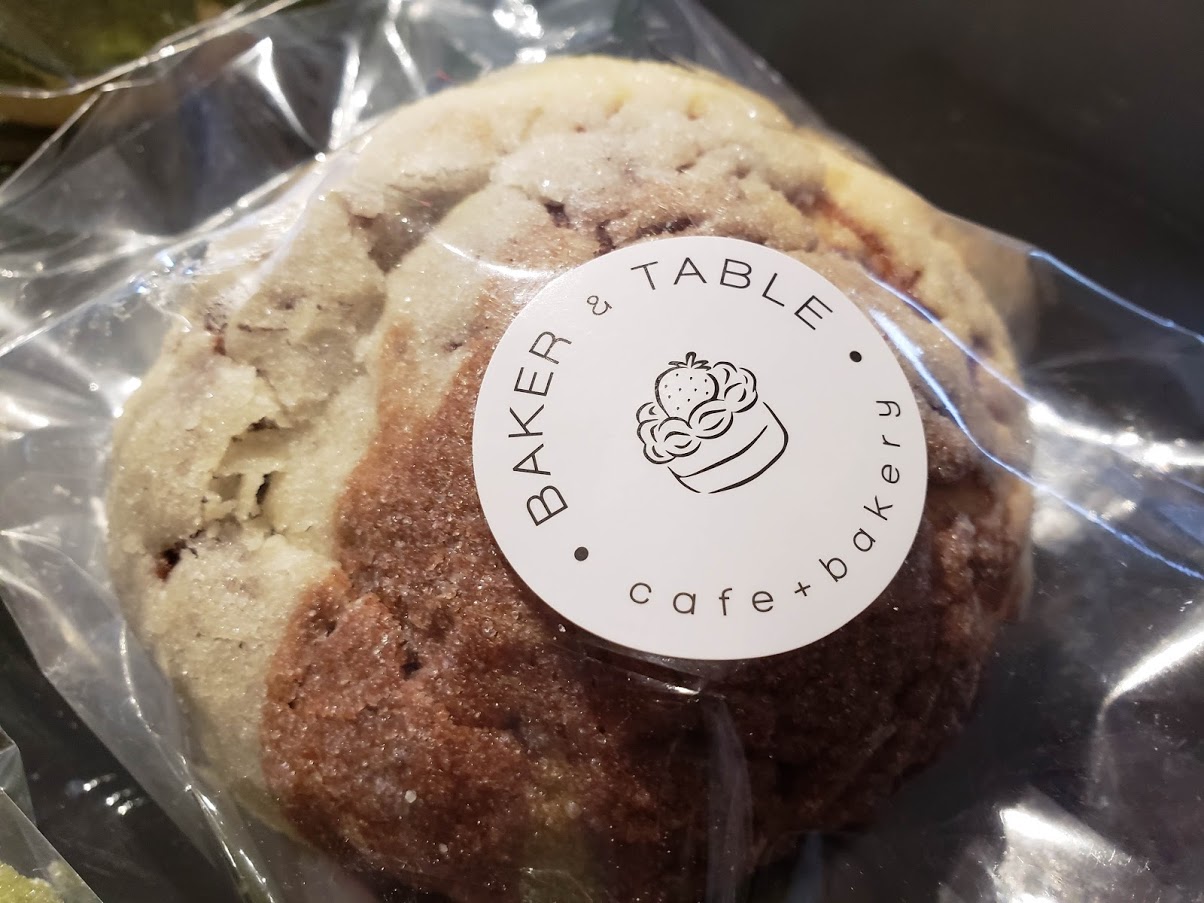 London smog chocolate melonpan: Last but not least! I also let the boyfriend eat all of this because of my stomach problems. I was surprised that he enjoyed this one the most, I thought surely he would have loved the red bean matcha most!
The reason why he liked this one the most was because it was the sweetest. This is probably the most 'Western' one of them all because of how sweet it is!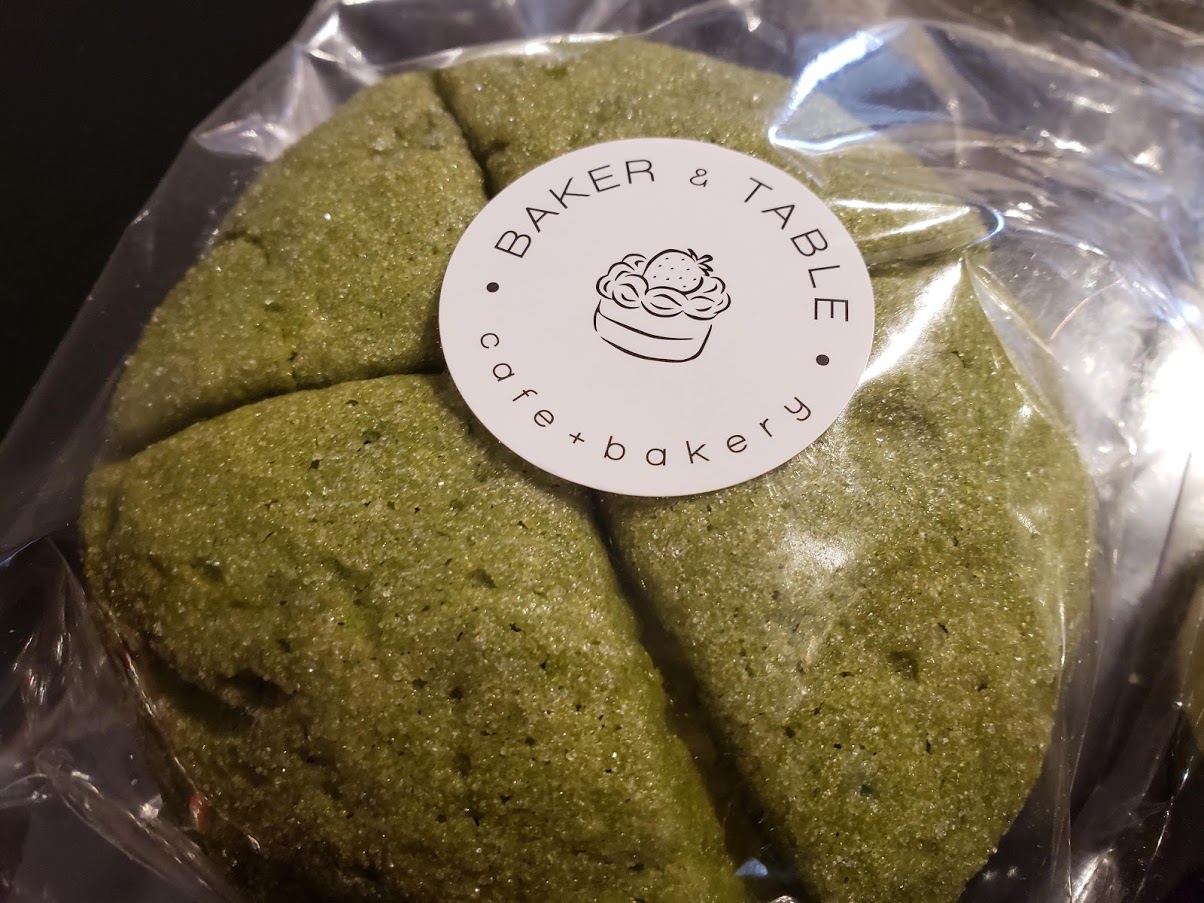 All in all, we enjoyed all the melonpan that we bought that day. I didn't eat as much as I would have wanted due to my digestive issues, but I did enjoy the bites I had (and surely suffered after lol).
Time to go check out their actual cafe and try more things! They also offer lunch and dinner things too. Another cool thing about Baker and Table is that they are a peanut free facility, for those with peanut allergies.
Now, they just need to add some non-dairy versions so I can enjoy more of their pastries! They have a vegan waffle which I would love to try!