Brown Bites is a mini series on my blog featuring places the boyfriend has tried without me, so it wouldn't be my own review. Why the name Brown, you ask? It is named after the Japanese LINE character, Brown. Brown is a cute, shy, emotionless cartoon bear but secretly full of love, and we adore him to pieces!
One of the traditions of my boyfriend and mine is to have a seawall biking date at least once in the summer. I recently invested in a new and better bike, and so biking has become a new hobby! So, we decided to bike over to Granville Island and start our biking tradition early!
I predict that there will be a lot more biking adventures this year now that my bike isn't a piece of junk anymore. Which means hopefully more food reviews for places around the seawall!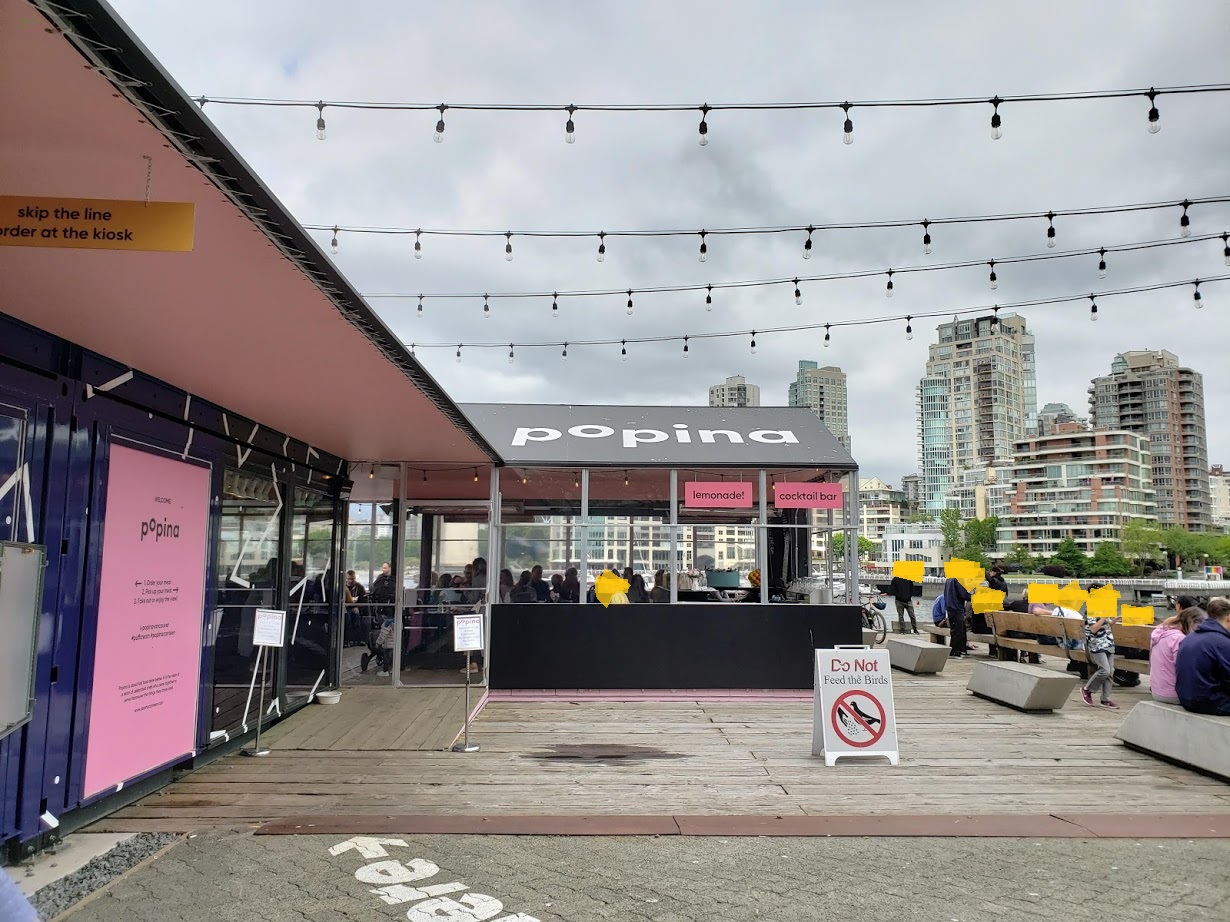 After getting to Granville Island (so glad we didn't have to deal with the hassle of parking in this crowded area), we walked around the market a bit!
We then came across Popina Canteen, which looked new and interesting, so we walked over.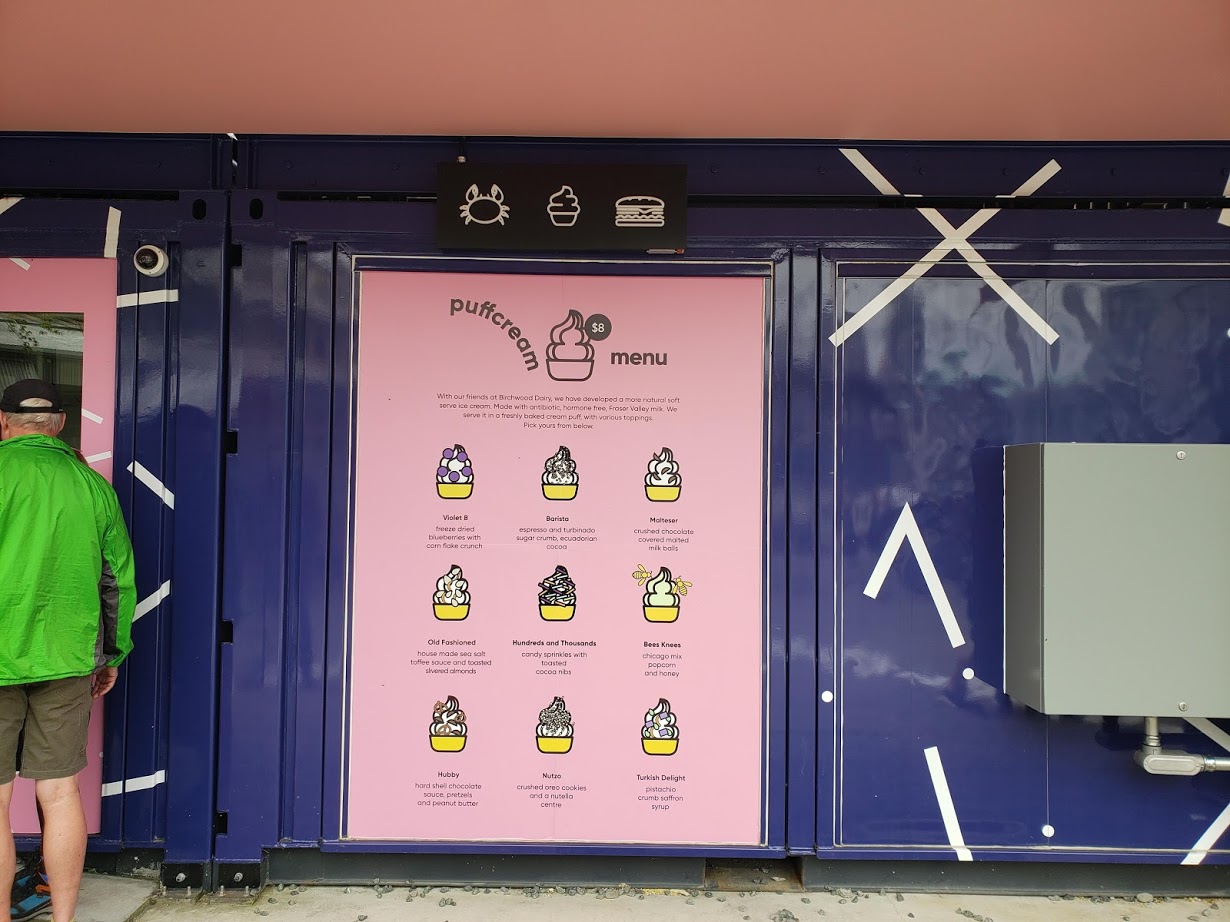 Once the boyfriend saw that they sold soft serve in cream puff, he knew instantly he had to get one! Unfortunately for him, it was not instant because service was soooo slow as you'll soon read about.
Popina Canteen is a new, upscale 'fast food stand' made in collaboration with a four popular chefs in Vancouver.
There is an option to order food to go, or you can take it inside to their covered customer-only (and pigeon proof because those pigeons in Granville Island are sure aggressive) area.
Inside the covered customer-only area, you can also order alcoholic drinks.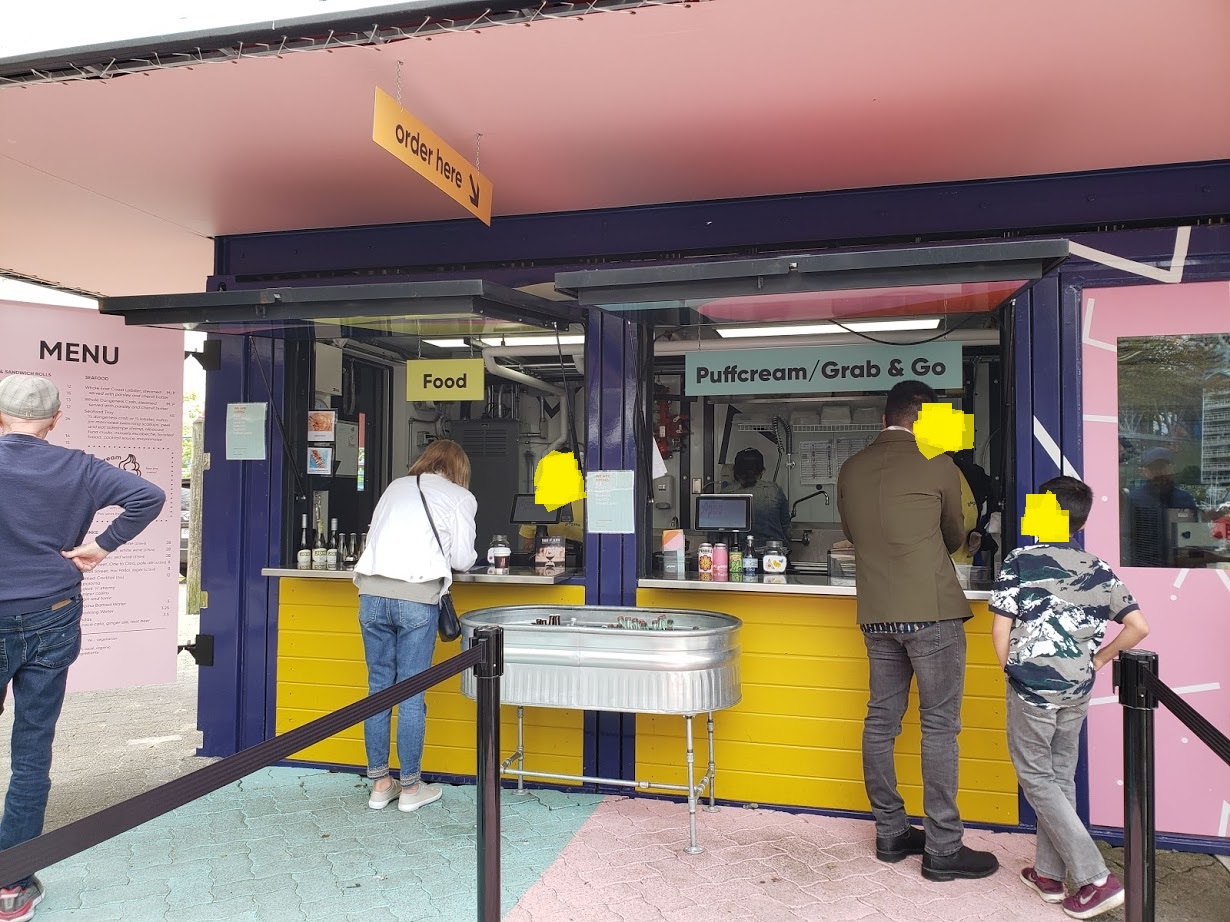 You can also order food on their touch screen computer, but there wasn't any options for the soft serve there so we headed on over to the counter.
Unfortunately, the Malteser, which was the boyfriend's first choice, was sold out already.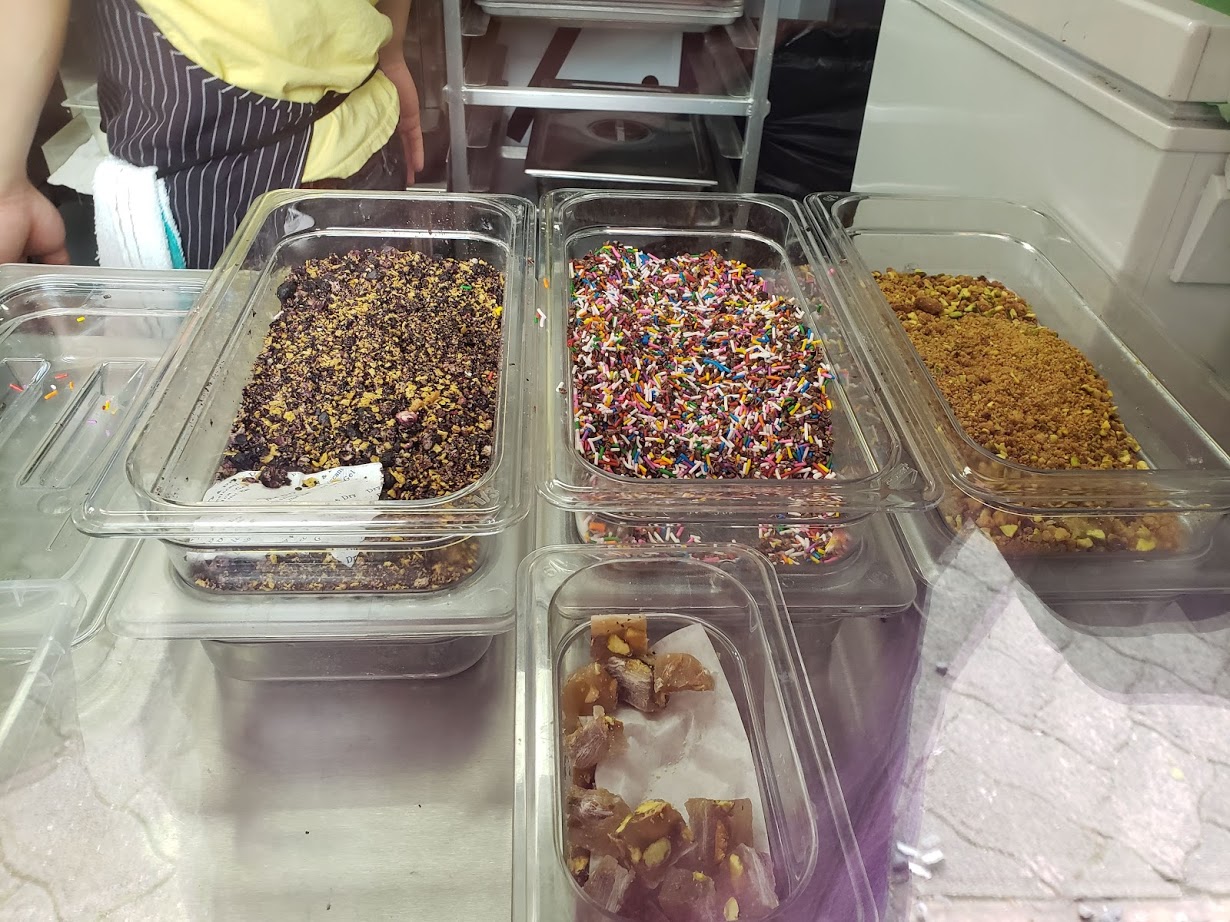 After ordering, the wait was quite long considering that there was only 1 other order ahead of us. The one staff member making the dessert worked at the pace of a turtle… she was so painstakingly slow in covering the soft serve with oreo bits. Imagine the sloth from Zootopia.
To make matters worse, she ended up making the wrong flavour so we had to wait another 7 minutes for her to make one soft serve, and dust the ingredients on. She was also pretty grumpy and unapproachable so it was awkward telling her that she made the wrong one…
I'm not sure why it took so long to roll the soft serve around in the dry ingredients… If this is a consistent thing, I really don't want to imagine how long customers have to wait during peak summer hours.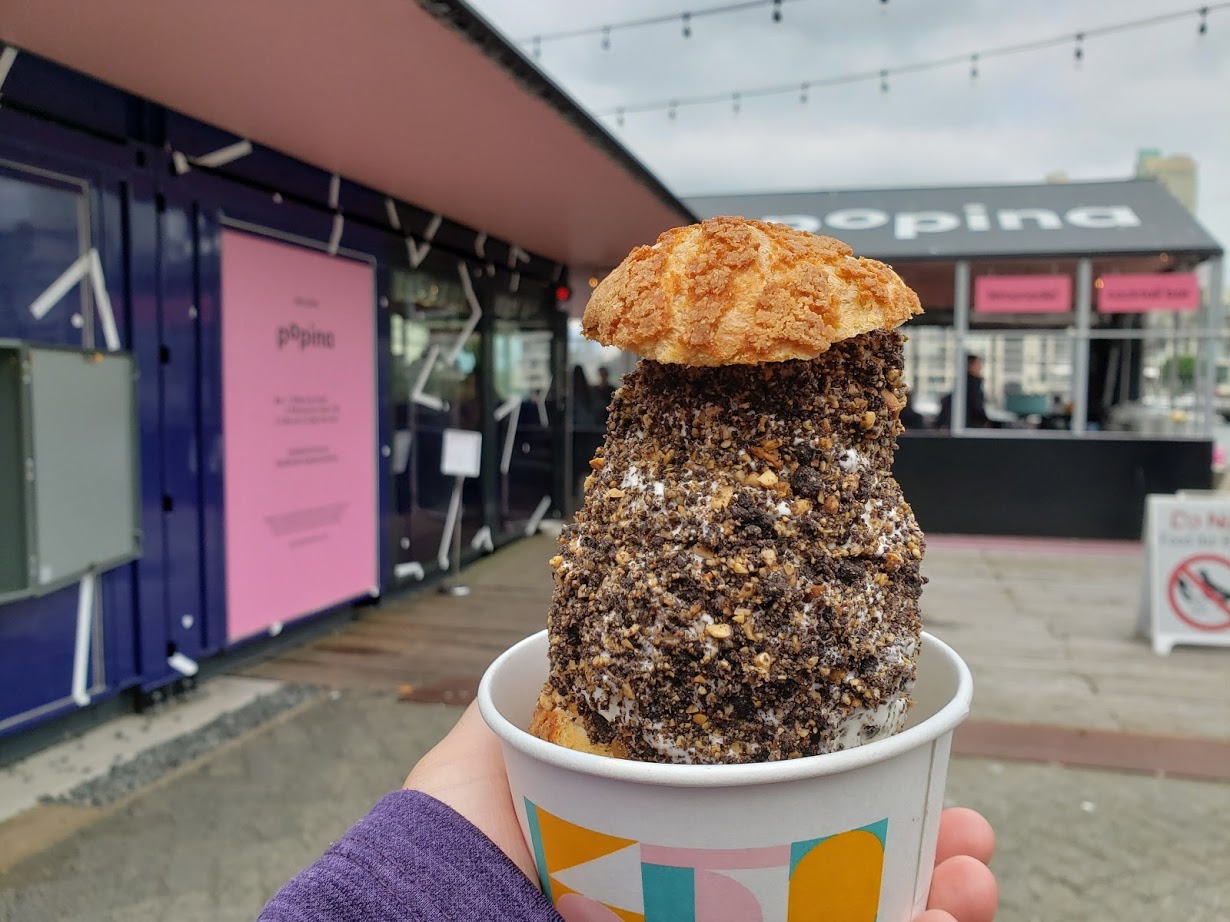 Nutso: He ended up going with nutso, which came with crushed oreo cookies and a nutella center. The soft serve was great quality because it came from Birchwood Dairy, which is local (Rain or Shine and Glenburn also use Birchwood, if the name sounds familiar to you).
He also really liked the cream puff too. Since the soft serve was so high, the paper cup was a really great idea to keep it from getting messy. It was a bit overpriced at $8, but Granville Island is a prime tourist spot so prices reflect that.
Overall, he enjoyed the puffcream but it was disappointing how long the wait was despite it not being busy, and how slooooow we saw the staff member make it.
The staff here could also have been more friendly, they seemed pretty grumpy and hated their job. While waiting for the puffcream, I also noticed that the bartender inside their seating area was quite pretentious to a customer asking if they could have tap water.
So the customer service soured the experience a bit, but the puffcream itself was tasty.