When I first heard about Q Shi Q, I knew that I definitely had to try it. While trying to find a place to eat with a friend, I suddenly remembered this place and was so excited when he agreed to try it with me!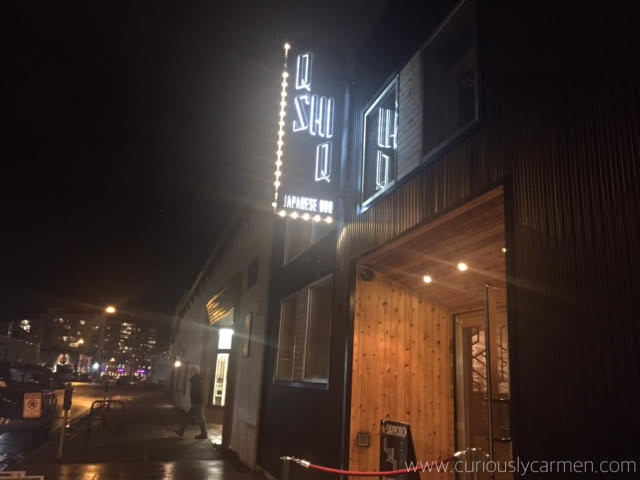 Q Shi Q opened its doors in late October, so it is still pretty new. It is located just on the border of Olympic Village, a walking distance from the pubs in OV and Earnest Ice Cream. Since this area is mostly industrial (for now), with an exception of new restaurants popping up here and there, it was really quiet in the evening and easy to find parking.
Q Shi Q was the only lit up building on the street, so I definitely knew I was at the right place. I'm predicting that over the coming years, this place will be populated with more restaurants and night life as Olympic Village continues to expand.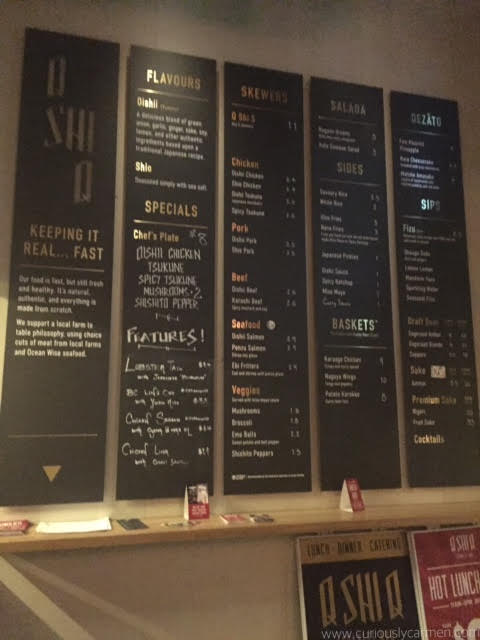 After finding parking effortlessly, I made my way into the restaurant. The exterior reminded me of a night club rather than a restaurant, as they had a small rope fence and waiting area.
I was greeted warmly by the owner, and this welcoming tone set the mood for the rest of the visit. Service was very friendly and welcoming, though our waitress was trying very hard to sell us certain items.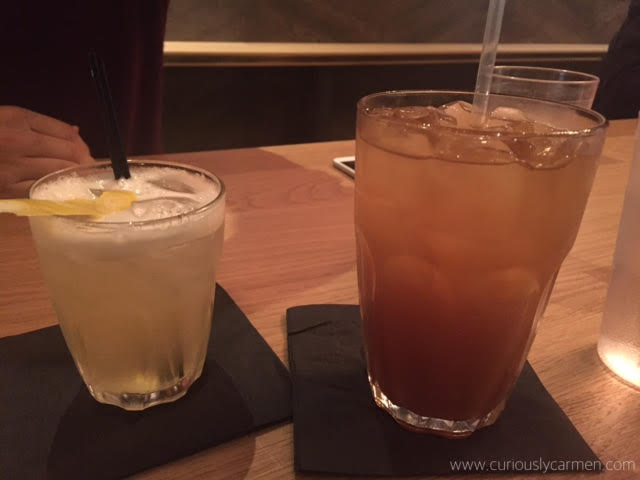 Pictured left is a cocktail made out of egg white, lemon peel, and ume (a type of delicious plum wine). The ume made it sweet and refreshing, but the lemon gave it a subtle sour taste as well.
Shouga soda, $2.50: It was very rich, strong and spicy, as ginger is supposed to be. At first sip, you are greeted with a strong blast of ginger that carries out throughout the drink. I drank this very slowly, and the potency of the ginger was lessened near the end of our meal as the ice cubes had melted.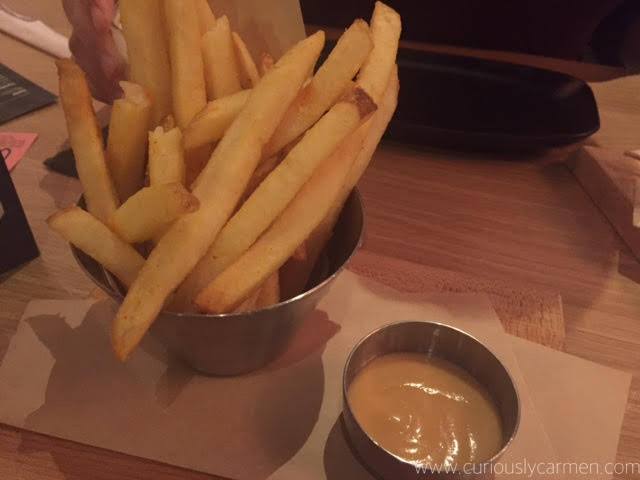 Nana fries, $3: They have two types of fries, shio and nana fries. Shio fries are seasoned solely with sea salt, while nana fries are seasoned with 7 different spices. The fries arrived fresh and piping hot, and were absolutely delicious! I loved the seasonings, and there was a hint of spice as well.
These fries are a great alternative to your standard fries and I would recommend trying these! I would come back just for these fries. They start off salty, savoury, and spicy and end with a slight, well rounded hit of sweetness.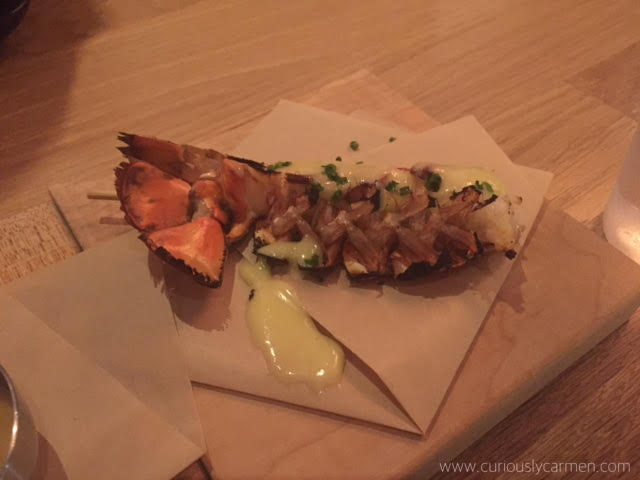 Lobster miso mayo skewer, $9.50: This was one of the daily specials that night, and came highly recommended by the server. The sauce tasted very well rounded and was slightly sweet and creamy, although there wasn't any cream or dairy ingredients inside. I double checked because since I recently became lactose intolerant, so I have to be very careful and avoid dairy. =(
(Yes, I did a lab test which confirmed the intolerance, which can develop suddenly. Mine is bad so I have to be careful when I'm eating out now. Also, yes that means no more ice cream, cheesecake, cheese, etc unless I take pills but even those don't help sometimes! Boo).

Skewers, any 5 for $11 (excluding specials): Q Shi Q has two standard flavours- oishii which is a blend of green onion, garlic, ginger, soy, lemon, and other things, and shio which is just sea salt. Pictured here are the oishii pork, oishii sirloin, kirashi sirlion, oishii chicken, and oishii tsukune.
While mid way through the pork skewer, I noticed that the pork was pretty pink in the middle so I stopped eating it. However, I decided to give them the benefit of the doubt. The lighting was pretty dark in there so maybe my eyes were playing tricks on me? But after the meal, I got a stomachache so it was probably from the under-cooked meat.
Other than that, the other skewers were pretty delicious and all had a nice hint of smokiness to them. My favourite was the oishii chicken, which was moist, juicy, and bursting with grilled and seasoned flavour. My least favourite was the oishii tsukune because it was a chicken ball skewer. It had a light and somewhat fluffy texture and did not have as much flavour as the oishii chicken.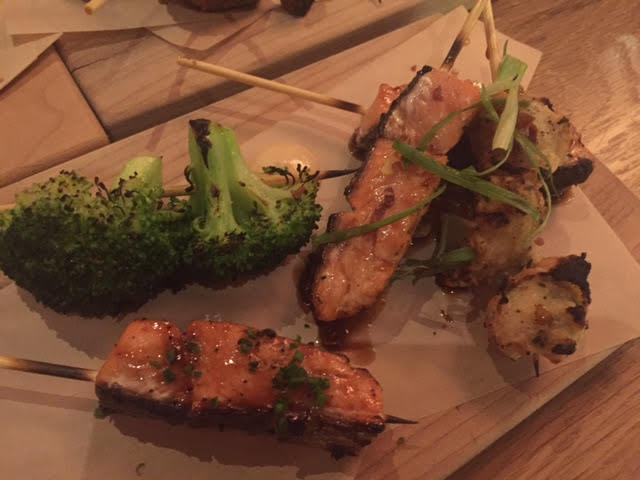 Skewers, any 5 for $11 ( excluding specials): oishii salmon, two  ponzu salmon, ebi fritter and broccoli
Just like the pork, I found the salmon to be undercooked. Some areas flaked off nicely and were a nice light pink but some parts in the middle did not look cooked. I ended up avoiding the areas that looked undercooked. Looking back, I'm not too sure why I didn't just ask for them to grill it a bit more.
The ebi fritters were very small and had was composed of mostly batter instead of prawn. This was disappointing and I wouldn't order this one again.
Considering the meat and two pieces of broccoli are the same price (any 5 skewers for $11), it is more worth it to get the meat. However, it is still important to eat veggies (says the girl who barely eats veggies) so we decided to order one broccoli skewer. It was fresh and crunchy, and tasted a lot better since it was grilled (can you tell I don't like veggies?).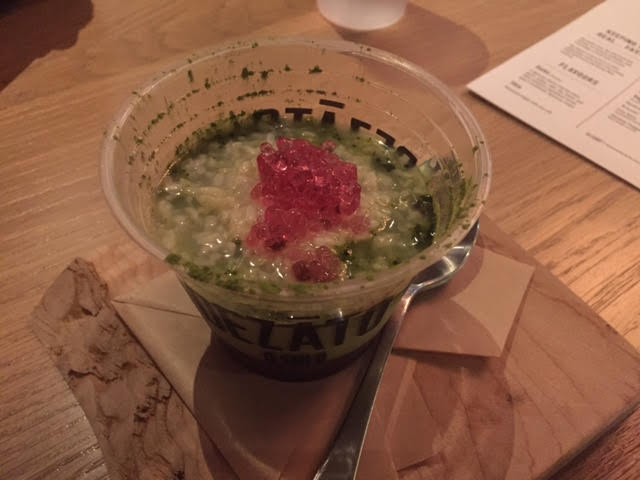 Matcha amasake parfait, $4: My friend ordered this for desert and was going to let me try some, but we were notified by our server that the rice pudding had cream and milk in it. However, my friend really enjoyed the dessert and said that the matcha was really strong and delicious!
All in all, we both enjoyed Q Shi Q except for that some meat might have been undercooked. The service was excellent, the atmosphere was great, and the food was very flavourful. It is a good place to hang out with friends and share some good skewers!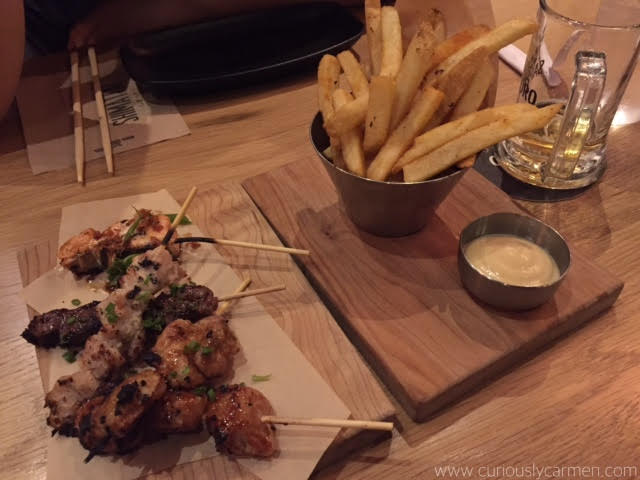 I took the boyfriend here the following week because I wanted him to try the nana fries! We ordered pretty much the same thing as my first visit.
Thanks for reading!
-Carmen