Hi everyone,
Feels like awhile since I've been able to sit down and blog – it's been a crazy and stressful past week. =( There is something therapeutic about writing and blogging for me. I can already feel myself getting calmer by writing… I guess because it takes my mind off other things. Anyways, let's get to the post!
My coworker had been talking about a new pub that opened recently at Olympic Village.. I didn't believe him because I pass by or go to that neighbourhood relatively often and I haven't seen it before! So, after a disappointing and expensive dinner at The Flying Pig, we decided to walk around. Sure enough, there was Steel Toad! How did I miss seeing this place?!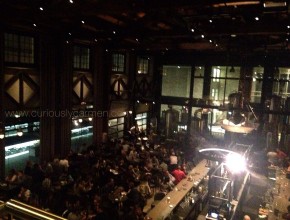 I told Macaroni about this place and she wanted to check it out as well, so we decided to have a double date dinner here a couple of weeks after. Steel Toad underwent massive construction for five years, this place used to be a warehouse of some sort.
Walking in, the place was really big and spacious! Compared to Craft next door, it is a lot bigger and that's saying something since Craft is already a large restaurant as well. There was a bouncer and hostess that greeted us at the door. Since we had made reservations for the busy weekend night, we were seated on the second floor alcove which gave us a nice view of the restaurant.
The atmosphere there was fantastic – live, buzzing with energy coupled with a nice smooth melody of a live band that was playing that night. If anything, I would recommend going just for the energy because as you'll find out, the food was just meh to us.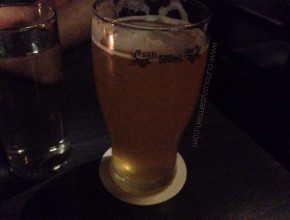 I was pleasantly surprised that the beer here was pretty cheap for a fancy gastropub! Maybe because they brew everything in house? Definitely the lowest prices I've seen compared to Craft, Tap & Barrel, St. Augs, Biercraft, etc etc. I forgot what I ordered, but our server recommended this to us.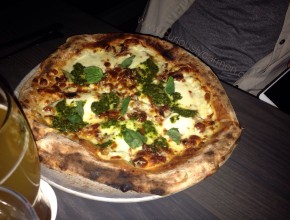 Macaroni ordered the margherita pizza. This was probably the best tasting dish we had that night. The dough was nice and chewy, although some parts were super burnt and charred black. It came with a generous amount of melted cheese and the tomato sauce had a nice herb-like flavour to it.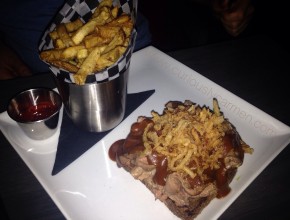 The second dish that arrived was the roast beef sandwich, which came with a side of fries. The roast beef sandwich was pretty disappointing, it came on a single slice of plain toast that you can buy at any grocery store. For the roast beef itself, it was pretty bland. We expected more from this dish than a single slice of toast topped with flavourless roast beef and sauce.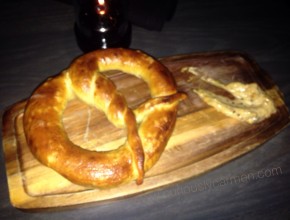 I'm glad we ordered the pretzel, or else we would have gone hungry! The pretzel was warm, fresh, and chewy. It was lightly sprinkled with salt and the dijon mustard complemented the flavours. I really enjoyed the pretzel and would probably order it again if we came back.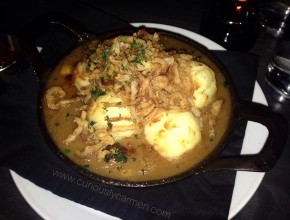 The most disappointing dish of all – the shepard's pie. I've never had a bad shephard's pie until that night. To start, the server over-exaggerated at how big the portion would be, she told us it was really big and that it was super delicious. When it arrived, we all stared at the size of it and were thinking "….this is it?" The boyfriend and I shared this, and I was glad I wasn't that hungry or else it wouldn't have filled us up at all.
It was severely bland and lacking any type of flavour. We had to sprinkle a lot of salt on top to make this mediocre. We weren't sure why the server had recommended this dish to us, and how it passed for "super delicious" because it was quite the exact opposite.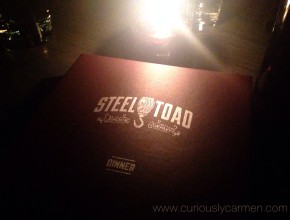 The service? What service? Not so great. Although our server was friendly, she was really slow and we saw her socializing with other servers instead. We tried to ask her for salt and pepper since out shephard's pie was so bland, but she never acknowledged or checked up on us. We ended up walking to the bar and asking the bartender if we could use it. We also asked the bartender if we could get our water refilled.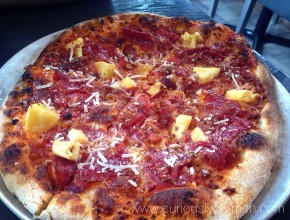 On a separate visit, the boyfriend and I came back for a beer, but with caution since our first visit wasn't spectacular. Since we only wanted to grab a couple drinks, we decided to come back as I liked the drink prices and how you can get a smaller size (250ml). We came on a late afternoon just in time for happy hour!
We weren't planning on eating, but the happy hour deal was so great that we couldn't pass it up. A pint of house beer and choice of pizza for $11, which is about 50% off depending on which pizza you order. We ordered the Hawaiian pizza, which came with your standard ham, pineapples and also capicola. Just like our first visit, we enjoyed the pizza and it had a generous amount of capicola!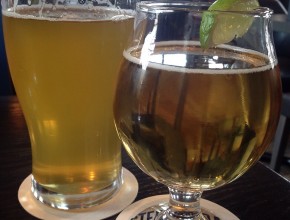 Since the happy hour came with a pint, the boyfriend ordered one of the house beers, the saison sauvignon. It was slightly salty and a tad hoppy, it reminded me of the more popular seedspitter watermelon wit from Parallel 49.
I really wanted the beer I had last time (which was the purpose of our visit), but unfortunately they were sold out =( I settled on the Lonetree cider instead, and ordered the smaller size as I didn't feel like drinking so much alcohol that time of the day… but hey, it's the long weekend okay! Don't judge… It tasted like your typical cider, but I would have liked it more cold since I found it to be only a tiny bit above room temperature.
The service this time was phenomenal! We had a different server, who was super nice and friendly, and gave us many drink recommendations. He checked up on us many times and made our visit a delight. It's amazing how much the service can change your perception of a place! I'm glad we gave this place a second try.
Steel Toad is still less than a year old, with room for improvement. Some of their dishes are executed nicely, while others could use work. The service is inconsistent as well, but I'm glad our second time was a lot better!
Read my reviews on Tap and Barrel and CRAFT as well, all three of which are located within blocks of each other!
Thanks for reading!
-Carmen