I haven't done one of these outfit posts in awhile, should I do more of these? I don't really have any fashion sense which is why I don't talk too much about clothes. I buy whatever is on sale and looks decent, and is comfortable. Key words: sale and comfortable. Who's with me here?! But once in awhile, I dress up for occasions and the event I attended recently was one of those occasions. My good friend Cynthia, over at EatMunchLove , invited me to a Christmas party/gala event, and we decided to dress up a bit for the occasion. This outfit was literally thrown on thirty minutes before I was leaving the house, I had planned two or three outfits to wear that night but they were either too cold for the weather or not dressy enough.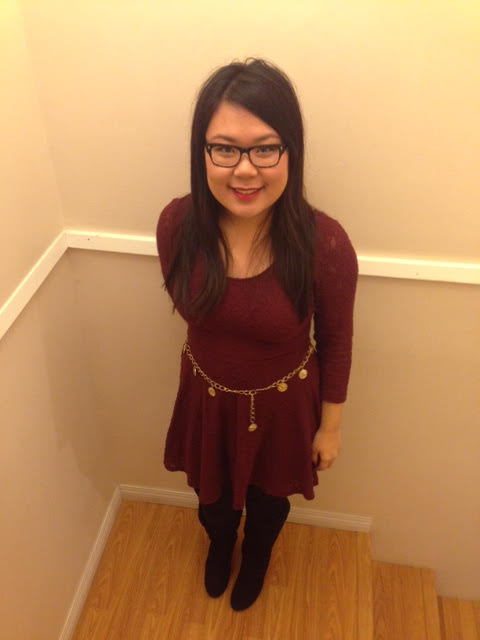 Dress: Abercrombie
Belt: It was my mom's in the 80's (Mean Girls reference anyone?)
Boots and tights: See below
I fail at this whole fashion blogging thing, I think I'll just stick to writing food or makeup/beauty related topics. I don't remember where I got the tights from, but they were pretty thick for stockings and kept me relatively warm. I'm also glad that I decided to wear my black heeled boots because they went a bit past my knees, which kept me warm. They have these built in leg warmer thingys at the top which helped with insulation 🙂 I also can't remember where I bought them, I got them at least five years ago. I just dug them out because I'm going to a themed party at the end of the month and I thought that the boots would be very appropriate for my costume. Otherwise, they would have just sat in a box collecting dust.
Also, I think that the belt looks a bit awkward, I probably should have put it on tighter so that it would go a bit higher. But I was in a bit of a rush and forgot about it… oops.. will keep that mind for next time hehe.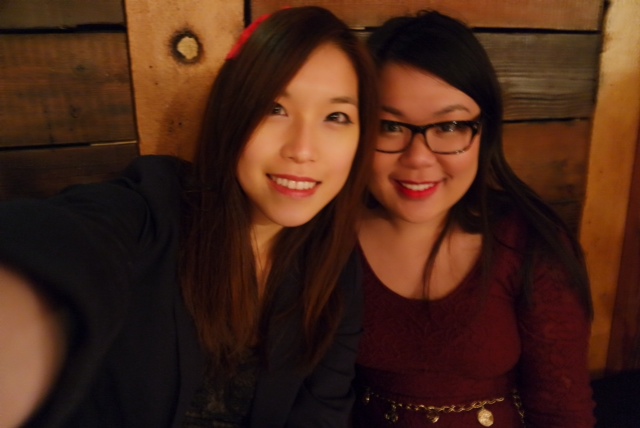 Here is a picture of us at the event! Turns out, we were accidentally matching, Cynthia wore a black dress and red stockings. I guess red is a very popular colour to wear for the holidays. Well, I just love wearing red anyways… it's probably my favourite colour to wear since black isn't considered a colour.
I also had a fun time putting on my makeup, I used some products that I normally don't use so I might be posting that up soon too! It was my first time trying my ELF eyeshadow palette, which I bought over a year ago and only opened that day… and also an Urban Decay extremely sparkly eyeshadow pot! I can't recall the exact name off the top of my head, sorry. It was also my first time trying my Makeup Forever lipstick duo that I bought during my Black Friday mini Sephora haul. But I didn't get many great pictures since the lighting wasn't that good.
Thanks for reading! What are some of your favourite things to wear to holiday parties?
-Carmen