Ever since I bought the Sephora "Draw the Line" eyeliner sample yet two years ago, I have found an eyeliner that has never disappointed me, or caused frustration. An eyeliner that has stood unwavering by my eyes, never giving up on my shortfalls, accidental eye grazing, or washing away in torrential downpours that Vancouver sees waaayy too often. This is my all day, everyday, dress up/dress down eyeliner- my reliable rock when all my other eyeliners have failed me. Yes, it may sound a tad bit dramatic, but the Kat Von D Tattoo Liner is my Holy Grail of eyeliners.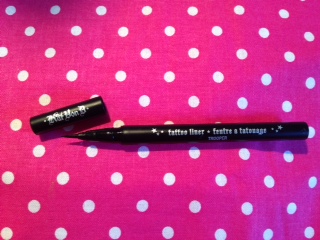 Application: I usually shake the pen before using. When applying, the brush is very flexible and thin, which makes it super easy to create flawless eye lining, whether it is a cat eye look, or just your simple, everyday look. The colour on the brush tip does not "fade" as you are drawing the line, so you can apply your eyeliner in one, quick, and easy go!

Long lasting: This eyeliner will last all day without smudging, hence the term "tattoo liner". I also love how pigmented the colour is (I have "trooper"), and the shade will not diminish or fade throughout the day. It is also waterproof, but removes easily with makeup remover (I use The Body Shop chamomile eye makeup remover).
Value: This sells at Sephora for $22 CAD. I would say it's worth the money, because it's hassle and worry free and will last you for months if not a year, even if you use it daily. It's so tricky to find long lasting, high pigmented, and non-time consuming eyeliners. I rather stick with this eyeliner than buying a couple of eyeliners from the drugstore for the same price. Yes, you may get two for the price of one of these, but quality over quantity :)!

That's it to this short review! The eyeliners in the Sephora "Draw the Line" set change yearly, and I have loved all the eyeliners that came in that set (seen above). It's a really great opportunity to try different brands for a cheap price. The set was around $35 but before you think it is expensive, think about this. It came with six high end professional eyeliners, three of which are full sized. The full sized Urban Decay 24/7 liquid eyeliner (which was included) comes to $23 itself.  while the Smashbox gel liner pot (came with full sized) is $25 by itself. Drugstore eyeliners cost around $7-10 dollars each these days, so if you were to buy six drugstore eyeliners which aren't as good quality, you would still be paying more. Do you have this eyeliner set as well? If yes, let me know which one is your favourite! (Picture from http://bestthingsinbeauty.blogspot.ca/2012/12/sephora-favorites-draw-line-eyeliner.html)

 Here is another picture of the eyeliner, taken from my Naked 3 eyeshadow palette 🙂 Anyways, I hoped you liked my review and mini blurb about value sets. I've noticed that most of my makeup reviews have been purchased from Sephora, I will probably focus on a drugstore product for my next review 🙂 They are easier on the wallet and if you're lucky, you may find one that's just as good as the higher end products! What drugstore products are your favourite?
Don't forget to follow me on Bloglovin because I'm lonely over there, and comments/feedback here make me extremely, extremely happy 🙂 Have a great day!
-Carmen