One of the products I received from the Estee Lauder Fall/Winter 2014 Media Preview was their perfectionist, youth infusing foundation. I mentioned this briefly in my media preview post, but I finally had the opportunity to try it out.
Honestly, the name "youth infusing" sounds a bit strange to me. In my opinion, I don't think maturing skin is anything to be ashamed about. There is nothing wrong with aging- it is a natural process, and I think it's beautiful, as it is a part of human life. Just because someone is sixty years old, I don't think that it makes them less beautiful than a 20 year old.  I do know that they are referring to the skin's physical appearance, but there is a  beauty and art in wisdom too.

Wow sorry, I definitely did not mean to go off on a tangent about maturing skin! Do you agree though?
What it claims:
This foundation contains Estee Lauder's best selling perfectionist [cp+r] serume, which helps to repair the looks of lines and wrinkles, makes skin looking more radiant, glowing, and noticeably younger
The advanced optical ingredients softly highlights and defines to enhance facial features which will brighten skin
Contains priming beads which instantly fill lines and blurs imperfections to create flawless looking skin
Is lightweight, ultra comfortable with a satin-finish, so skin feels luxuriously soft to the touch
Since I received this as a gift, I was unable to select my shade. I received the shade "fresco", number 2C3. Fortunately, this shade was suitable for me and did not make me look unnaturally dark or too pale! The foundation also contains their IntuiTone pigment technology, which guarantees true-to-life shade matching by working with skin's natural undertones, so that might be part of why the shade matched so well right away. This retails for $50 CA.
Application: I used two pumps of this foundation on my face, and blended it with my brush. Immediately, I noticed that the foundation felt very lightweight, as it claimed to do. Since it does have a lightweight feel, I found that the coverage was lighter than I liked. Normally, I wear medium-heavy coverage but I would say this is a light coverage.
I considered applying a different foundation on top to see how well it blended, but I decided that I rather see how much lasting power this has throughout the night.  My face felt pretty smooth and non sticky after this foundation. Another thing that I liked about this foundation was that it had no chemical or harsh scent. I've bought a few foundations that have a weird chemical scent, which is a bit off putting.

Here is the finished product! I have on the foundation, with light bronzer and blush. What do you think? I thought that for a lightweight, light coverage foundation, this foundation did the job pretty well. I really liked the feel of it on my skin.
Lasting: I wore this foundation for around four hours. I was planning on going to an event that night, but a couple of things happened and I didn't end up going. For the time I did wear this foundation, I found that my appearance did not become dull. It was also very easy to wash off, which I appreciated.

Pros:
Lightweight formula makes it very comfortable to wear!
Makes skin appear radiant and softer, would recommend using this foundation if you know you'll be taking many pictures cause your skin will look very smooth and healthy 🙂
For a light coverage foundation, it covered my imperfections/scars/etc amazingly well 
Very easy to blend and remove
Includes a IntuiTone pigment technology that guarantees true to life shade matching by working with skin's natural undertones
Includes SPF 25
Cons:
Very sturdy packaging, but the glass bottle means that you will have to be careful not to drop this
Directed more towards a more mature consumer, as this foundation focuses a lot on blurring fine lines and wrinkles
Bottom line, I do really enjoy this foundation mainly due to how lightweight it feels, but covers my imperfections very well. It also made my skin appear more radiant, smooth, and soft!
What are your thoughts on this foundation? Do you prefer light/medium/or full coverage foundation? I would love to hear your comments!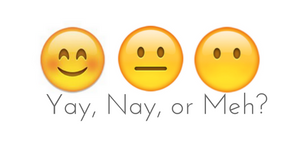 Yay!
Sample provided for review. Opinions are own.
Thanks for reading!
-Carmen