A bit over a couple of years ago, I had a delicious lunch at Anh and Chi and wrote a review on it! Since then, I haven't been back until Maki mentioned that she tried it and enjoyed it. We had some wedding tasks planned in the area a few weeks later, so we came by for a re-visit lunch.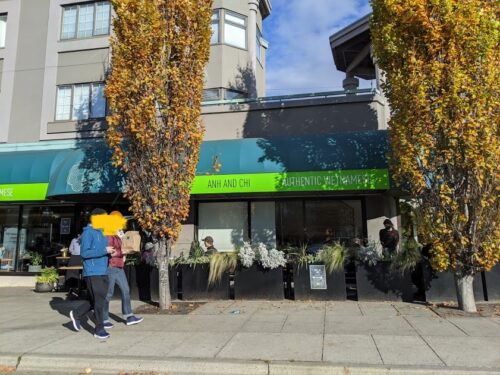 One thing to note is that Anh and Chi only takes reservations by donations. They start at $10 and you can pick one of the charities that they have listed on their website. Otherwise, you will likely have to wait in line because this place is always busy.
We came on a Saturday afternoon, and aimed to get here just before 12pm to beat the lunch rush. However, there was already a line ahead of us so we ended up waiting for about 15-20 minutes.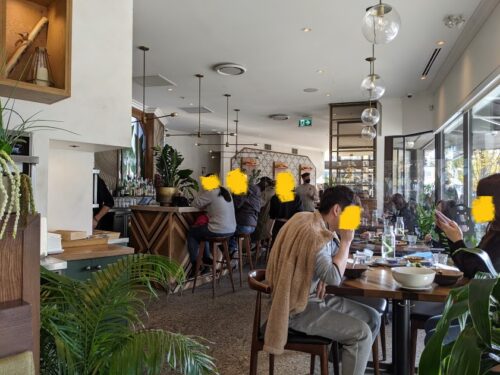 The interior of Anh and Chi is really aesthetically pleasing. It is modern, but warm and woodsy with lush green plants everywhere.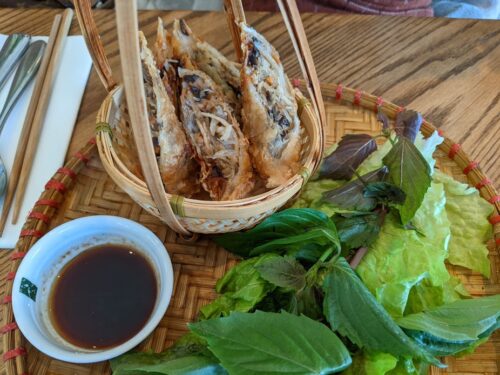 Mushroom spring rolls: I remember on my first visit here 2.5 years ago that these spring rolls were delicious! Maki really enjoyed them too, so naturally we had to get these.
The spring rolls were incredibly crunchy and packed with flavour. They came stuffed with black mushroom, carrots, jicama, taro, and vermicelli. Despite them being vegetarian, I found them to be really delicious and would gladly order them again and again. The fish sauce added even more flavour and complemented the spring rolls really well.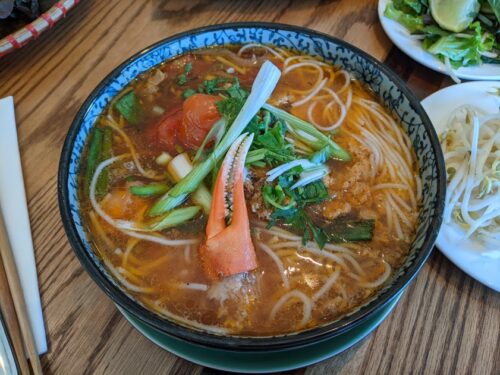 Bun rieu: When I saw that they had bun rieu, I knew I had to try it! Bun rieu is a crab and tomato soup. It came with crab meat and roe soufflé, fried tofu, crab claw, fresh tomatoes, green onions, rice vermicelli noodles, pork bone broth, shrimp paste.
The soup was bursting with umami flavour and was delicious. There was a lot of depth in the broth and the crab meat and roe souffle was soft and fluffy. I haven't had anything like that before but it was good. However, the broth eventually got too salty after having more bites so I should have asked for some hot water to dilute it down but oh well.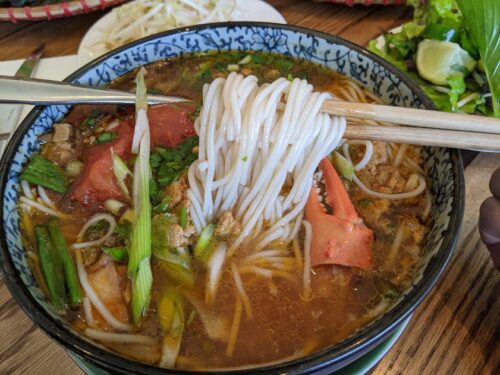 Instead of the regular noodles, I asked to substitute for the bun bo hue thick vermicelli noodles. The thick noodles seemed to be thinner than other places though. Now that I'm writing this review, I wonder if they forgot to substitute but I didn't think much of it then.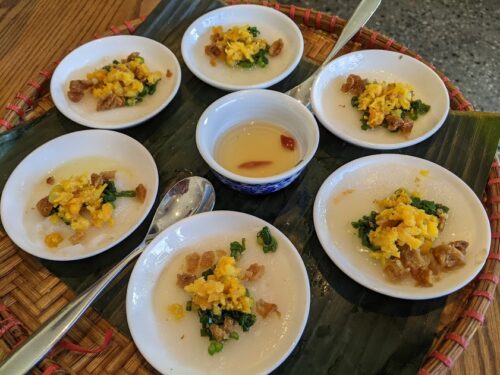 Steamed rice cakes: The steamed rice cakes were individually served in small sauce dishes. At first, we weren't sure how to eat them because the rice cakes were sticky and messy when we tried to peel it off the plate. There was also a lot of water leftover from the steam in the plates.
Maki ended up slightly lifting the rice cake in a circle with the chopstick, and then putting the chopstick under the whole rice cake to make them unstick without breaking.
The rice cakes came with mini sauteed prawns, chicken crackling, and chive oil. The chicken crackling was my favourite part and it also added a fun crunch and gave the rice cakes some texture contrast.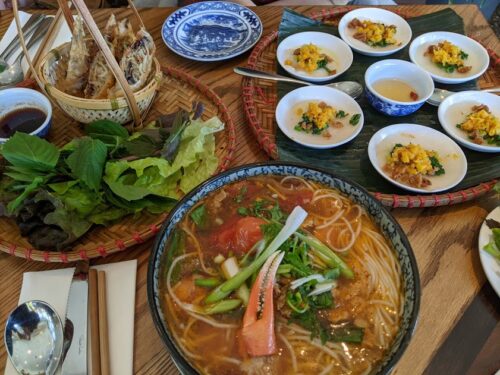 All in all, I enjoyed my second visit to Anh and Chi. You can't go wrong with coming here. The quality, flavour, and service is great and the constant lines prove it! I highly recommend coming here.