Disclaimer: In light of COVID-19, I just wanted to say that I am doing my part and social distancing. This is a review based on contact-less delivery.
I know that you may want to go out and have fun, but it is crucial that we distance ourselves to slow the spread of the virus and flatten the curve before it gets worse. Yes, you may feel fine but you could be passing on the virus to someone who is immunocompromised or elderly that may not survive this virus.
---
This year's anniversary was a lot different than we expected, aka we did not expect there to be a pandemic! This did not dampen our plans though, thanks to delivery. Our original plan was to order Miku's delivery platter but we realized a day before that Miku was closed on Sundays.
After looking around on Yelp, I suggested Ask For Luigi as it's been on my list for many years now! This place was also highly recommended by friends and other food bloggers so it's about time I tried it out.
Ask for Luigi is located off the beaten path in East Vancouver by the industrial area just before DTES. You would not expect a delicious, intimate Italian restaurant with homemade pasta here.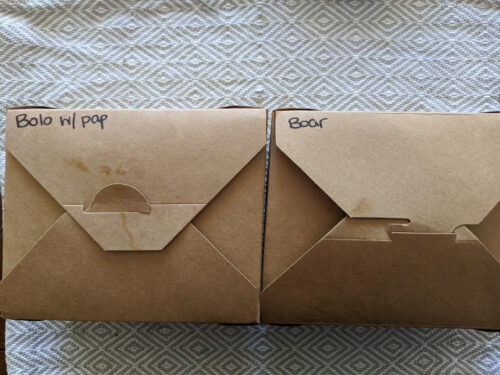 Admittedly, we are no pasta or Italian food experts. After Googling most of the terms on the menu (and playing the game of 'is this a cheese, noodle or meat?'), we placed our order.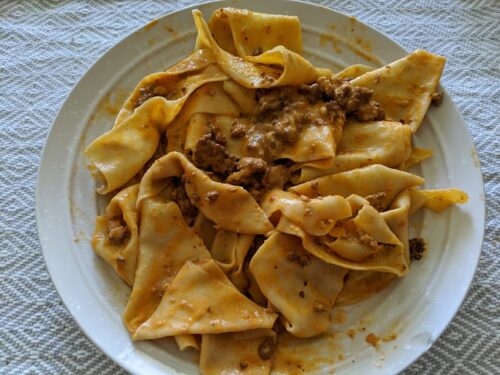 Penne bolognese, parmesan: I decided on the penne bolognese with parmesan but substituted with pappardelle noodle instead because I was craving wide and flat noodles that day.
My bolognese was so delicious. I could see what the hype about Ask For Luigi was after my first bite. The pasta was so cheesy and creamy with a delicious tomato sauce. There was a generous portion of beef inside as well.
The homemade pappardelle was cooked to a perfect al dente.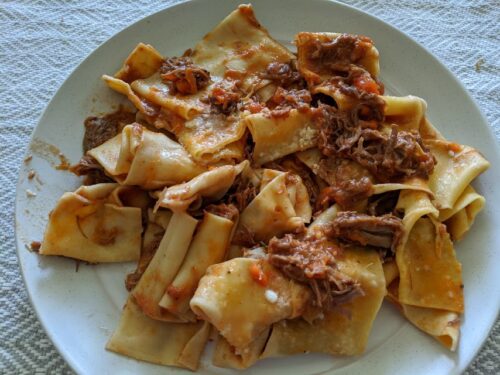 Pappardelle, boar rago, and pecorino: I'm not sure if the fiance or I had boar before, but it was similar to pulled pork with a slightly gamier taste.
Compared to my bolognese, the fiance did not like his dish as much because it wasn't as cheesy or creamy. The cheese had a sharper taste to it. After a quick Google search while writing this, pecorino is a type of hard sheep cheese so that explains why (I looked up all the other dishes except this one because the fiance had decided on this already).
If he knew that this was made from sheep milk, he wouldn't have ordered it. But if you're a fan of gamey food, I'd recommend this dish.
Overall, we were quite impressed with Ask For Luigi. The quality of the homemade pasta noodles and dishes overall was evident, even in takeout boxes without the romantic Italian atmosphere.
I can see why this place is so popular and I'm glad that we finally tried it!