Disclaimer: In light of COVID-19, I just wanted to say that I am doing my part by social distancing and only going out when necessary. This is a review based on contact-less delivery.
We are now in phase 2 which means restrictions are slowly lifting. It is crucial that we still limit our social circle, and wear masks when out. Yes, you may feel fine but you could be passing on the virus to someone who is immunocompromised or elderly that may not survive this virus. I know it's summer and we want to go out and enjoy the sun, but let's all remember to be safe and protect those most vulnerable.
---
Blackball Dessert is a Taiwanese dessert chain that made its way to BC last August, in Richmond. I wrote a review on their Richmond location and have been there multiple times since writing about it!
I noticed that another Blackball had opened up closer to us in Vancouver, so we placed a delivery order. I'm not sure if it was because we ordered delivery or not, but it was disappointing and not the same as our previous visits to the Richmond location.
One thing I really liked about Blackball was that you could customize their dessert bowls. Unfortunately, I wasn't able to do that on Doordash. The price was also steeper than I remembered, at almost $9 for a small dessert bowl.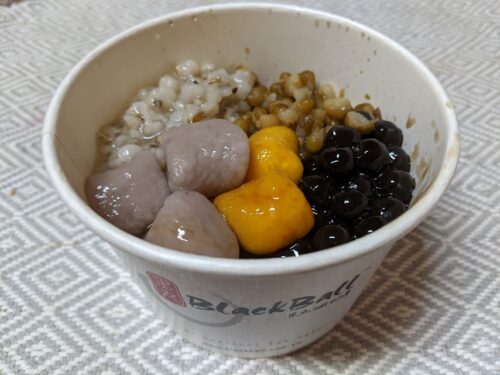 Taro balls grass jelly: Since I wasn't able to customize, I picked an item that seemed closest to what I'd normally order in person at their Richmond location.
When the dessert bowl arrived, I was surprised at how small it was for the price! I found it disappointing and not worth the price. As mentioned above, I don't remember how much I paid before, but I don't recall it being almost $9. I definitely wouldn't have gone to the Richmond location multiple times for that price point and small size, so I think they've increased the price since. I was curious to see the price in Richmond, but unfortunately I couldn't find a recent menu pic with prices online.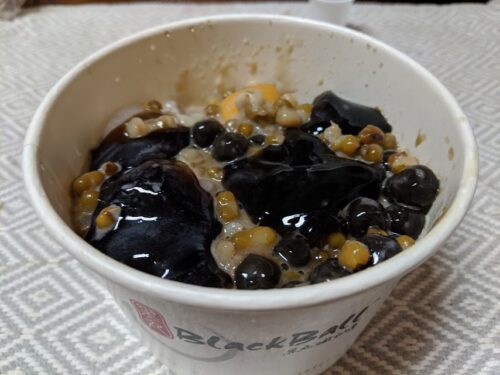 Anyways, the dessert itself was not bad, just small portion for the price. The pearls were chewy with a nice sweetness. The taro and yam balls were tasty as well. Blackball has won awards for their grass jelly in Taiwan, and it was good as well. I'm not a fan of Asian bean desserts (gasp!!!!) so the fiance happily ate that part.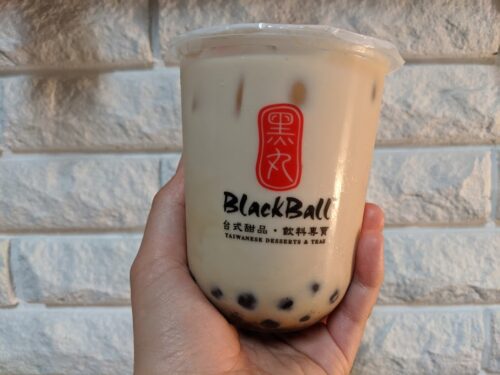 Brown sugar pearl with fresh milk: Again, this drink did not seem to be worth the price. It was quite small as you can see in the photo.
Taste wise, the fiance enjoyed it but thought it was very small for the price. There are so many other places that we could have gone to for bigger size for the same price or even cheaper.
I really did enjoy Blackball's Richmond location when they first opened last summer so I had high hopes for this location. However, after trying their Kingsway location, it seems like the prices have gone up and do not reflect the value anymore.
By the way, I pride myself on my honest reviews. There are a lot of food influencers out there who only focus on the good… to the point where I have never seen a negative review on a restaurant before and I don't trust their reviews. So rather than seeing me as picky or complaining, I hope you can see that I'm keepin' it 100% 😉