After going to Hoang Yen a couple of times with Avocado, she suggested that we try Cafe Xu Hue, which also has a delicious seafood noodle soup but with tapioca noodles.
I was intrigued because I've never had tapioca noodles and wasn't sure what to expect, but she loves coming here for their tapioca noodles! I love my chewy tapioca balls aka pearls in bubble tea, so I figured that tapioca noodles would have the same chewy texture. I was excited to try!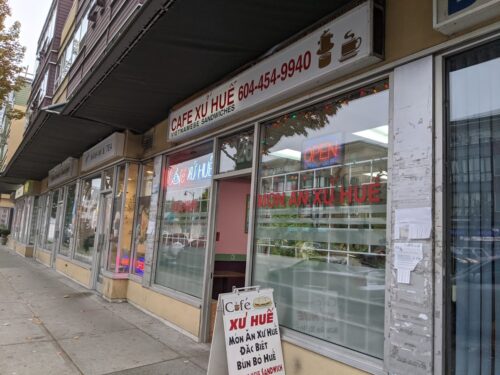 Cafe Xu Hue is located on Kingsway, by the new TNT. The storefront is really small and easy to miss.
Going inside, the restaurant was quite small with a loud fan underneath our table. Half the tables were removed due to the pandemic and it felt clean and safe in there.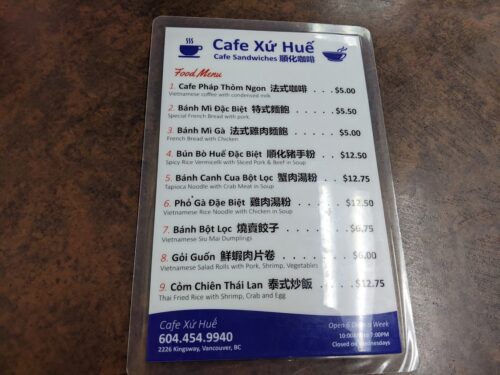 One thing to note here is that the menu is quite small. This is all there is to the menu!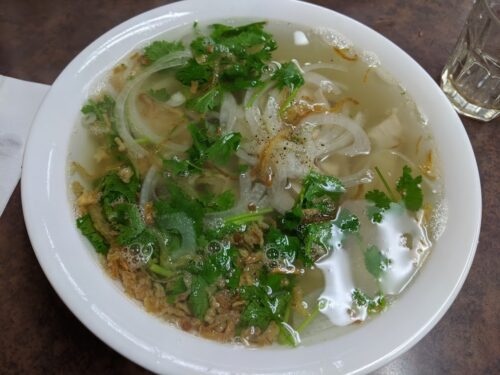 Pho ga: Since Avocado was going to get the seafood noodles, I thought I'd try something else to review. They didn't have a beef noodle soup, so I picked the pho ga which was a chicken noodle soup.
Since we came here for the tapioca noodles and this came with the usual rice noodles, I asked to substitute for an additional cost.
The chicken broth was light but still very flavourful, with a hint of garlic. Although it was simple and clean, it was a comfortable bowl of noodles.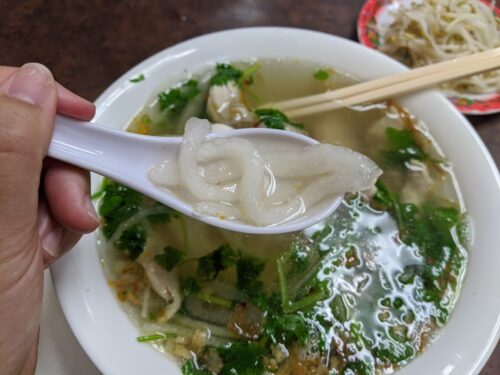 The tapioca noodles were delightful. They were thicker and shorter than I imagined, but very chewy and enjoyable.
My only complaint, and I'm not sure if it's because I got the bottom pieces of the bag or something, but near the end of my meal, some pieces were so short that I had a hard time finding them in my soup. The picture above were the longest stands of noodles I had.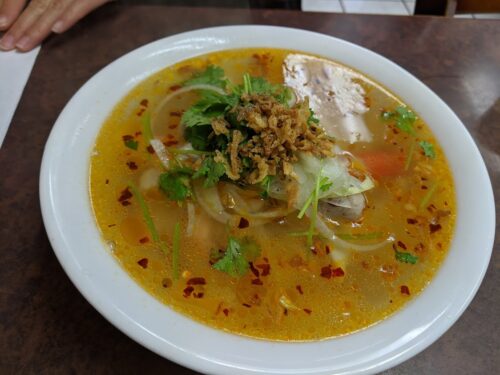 Banh canh cua bot luc: Avocado usually orders the crab meat soup here, and this time was no different. I had a sip of her soup (before we started eating and with a clean spoon – being safe and responsible during the pandemic!!!) and loved it. The broth had depth to it and was so flavourful. The soup tasted like crab, so if you're a seafood lover you'd enjoy this. There was also a hint of spice to it as you can see with the chili flakes.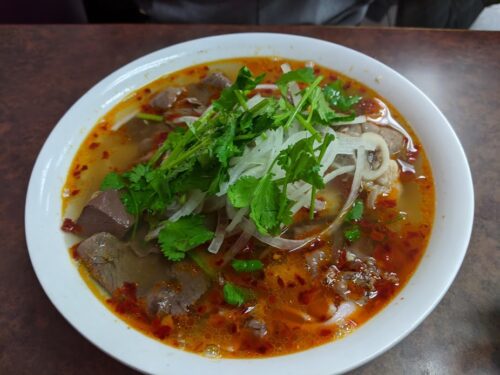 Bun bo hue: A few weeks later, I took my mom here since she likes bun bo hue. The bun bo hue here was seriously amazing. The broth had so much depth with the perfect amount of spice and lemongrass flavour.
I only had a few bites, but this was my favourite bowl here so far and I am definitely coming back here when I crave bun bo hue.
---
Despite having a small menu of only 9 items, Cafe Xu Hue was delicious. I would describe bit as a small, no frills, family run Vietnamese restaurant that has been around for awhile.
With so many Vietnamese restaurants in the city, the thing that sticks out to me and the reason why I would come back, are the tapioca noodles that I haven't seen elsewhere. and the mouthwatering bun bo hue.
If you know another place that has tapioca noodles, please let me know so I can try it out too!