Note: I wrote this review a year ago, last March. I came back here in May 2015 and didn't really have a good experience, so I hesitated to put this review up. The service was really slow and un-attentive, while the food didn't taste as good as the review I have written here below.
——
Back when I used to work in downtown, I had the pleasure of going to Coast for lunch. It was my second time here, and I suggested this place because I had a wonderful experience the first time I went. From the atmosphere to service to food, everything was exceptionally done (the second time I came which is what the review is based on, the third time was not good).
Originally, my cousin and I had plans to eat at Black & Blue for lunch, and I decided to read up on the menu before we went since I had a limited lunch break. I was a bit shocked at how abysmal the Zomato ratings were for that restaurant – I thought it was a good restaurant!
Since the Glowbal Group restaurants aren't particularly cheap, we decided to be safe and go back to Coast, since it was good the last time we went. I was able to make a last minute reservation online without any problems.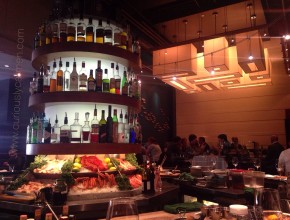 The circular oyster bar in the middle of the restaurant. I love the interior and ambiance of Coast. Some of the seating is a bit squishy and uncomfortable, especially during peak hours. You could be sitting almost shoulder to shoulder with the next table.

Sorry, I forgot what drink this was but it was one of their non-alcoholic cocktails. I tried to read their menu online, but none of the drinks there seemed to ring a bell so perhaps the menu changed.
I thought it was really refreshing, and wasn't too sweet but had some strawberry pulp in it. If I was going to be picky, I would have liked it with less ice because I found that 1/2 the drink was ice.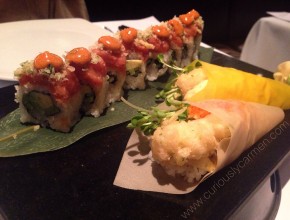 My cousin and I decided to split all of our lunch items. We both weren't that hungry since we had some light snacks before meeting up, so decided to split some items.
You can't go to Coast without ordering their seafood.
First up on the left, was the spicy ahi tuna roll. For $12.95, it is a bit overpriced considering a lot of Japanese restaurants can serve this for half the price, but there is no denying that the quality was definitely there. The tuna was extremely fresh and melted in your mouth. It came flavoured with a mouth watering sesame yuzu sauce, and a hint of spice. There were small crunchy flakes on top which topped the cherry off in an amazing roll.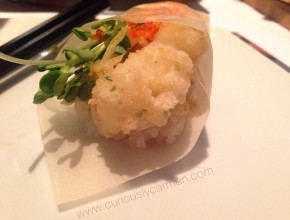 On the right, were the fish and chip cones. It came with cod tempura, greens, fresh tobiko, and rice wrapped in some sort of soy paper (???). Again, everything tasted delightfully fresh and the tempura was perfectly crunchy. I loved biting into the crunchy tobiko as well, which popped with flavour! The rice bed did a good job in filling me up as well.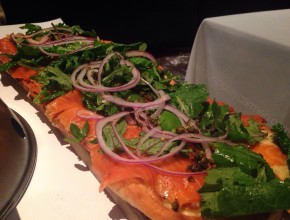 Our last dish was the smoked salmon flatbread. Give me almost anything with smoked salmon and arugula, and I will eat it. Smoked salmon and arugula is probably one of my favourite combinations of food.
The flatbread was thicker than I expected, I was expecting some sort of thin crust pizza-variation for some reason.
I came back here last May (see note above), and ordered this as well. Unfortunately, it was not as good as the flatbread was drenched in so much mayo that it we couldn't taste anything else. This place isn't as consistent as it used to be, so I'm unsure if I would come back especially since it's not cheap dining.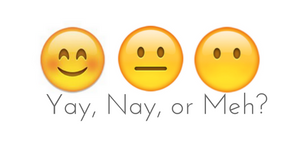 Would have been a yay! but because of the second experience, it is a meh…
Thanks for reading!
Carmen