Disclaimer: In light of COVID-19, I just wanted to say that I am doing my part and social distancing. This is a review based on contact-less delivery.
I know that you may want to go out and have fun, but it is crucial that we distance ourselves to slow the spread of the virus and flatten the curve before it gets worse. Yes, you may feel fine but you could be passing on the virus to someone who is immunocompromised or elderly that may not survive this virus.
---
A long time has passed since I have had bubble tea! I would like to say at least two months. We have been trying to save money and spend less on eating/drinking out. Since I'm always blogging about food, it probably doesn't seem like we have cut down but I must say, it has been very successful as proven by our dramatically lower credit card bills!
But the bubble tea craving hit over the weekend, and we decided to try Dive In Dessert Bar since they were offering free delivery on Uber! Dive In Dessert Bar is located on Commercial Drive and opened a year ago. I believe they are Korean-run as a lot of their menu focused on bingsu aka shaved ice.
After doing a quick Google search, older menu photos didn't feature bubble tea options so it seems like this is a newer addition!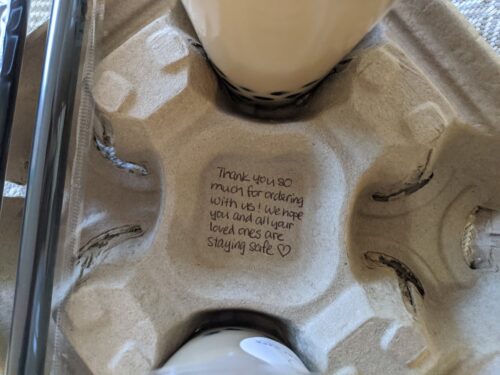 Our order arrived in a timely manner and was packaged with care. Our drinks had cling wrap in addition to a lid, so that there was less risk of spillage.
In addition, they left a sweet note on our cup holder!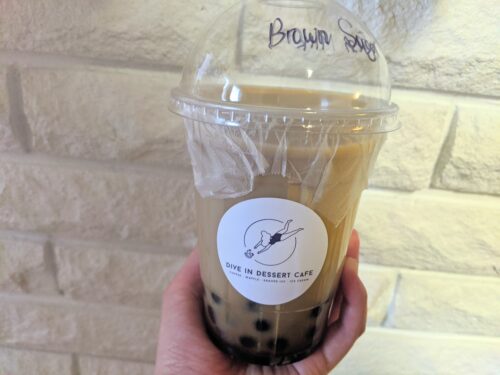 Brown sugar bubble tea with soy milk: Not many bubble tea places have non-dairy replacements for brown sugar drinks! I was quite happy to see that they offered soy and almond milk options (for an additional 0.50 cents).
My drink was delicious! There was a sweet caramel taste due to the brown sugar. The pearls were chewy and tender, due to being gently cooked again in the brown sugar. I really enjoyed this drink and would order it again, without a doubt!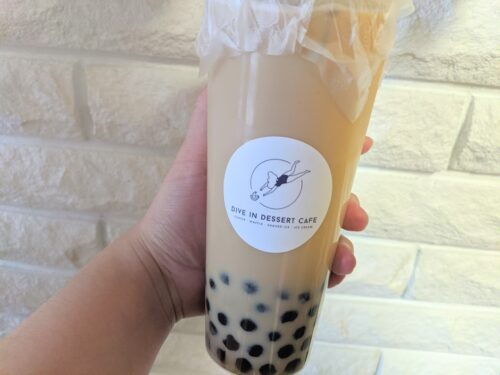 Classic milk tea: The fiance went with a classic milk tea! There was a strong milk tea flavour and was the perfect amount of richness and sweetness. He would also get this again.
The size was also bigger than most places, as you can tell with my hand for scale.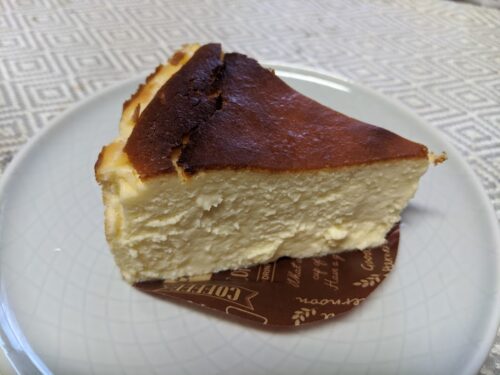 Basque burnt cheesecake: To qualify for free delivery, we also added a cheesecake! I don't have much of a sweet tooth and prefer savoury food items, but this was one of the few times that I was craving something sweet.
The cheesecake was absolutely heavenly. It was light yet creamy, and was not dense. The burnt top added an extra element of flavour to it.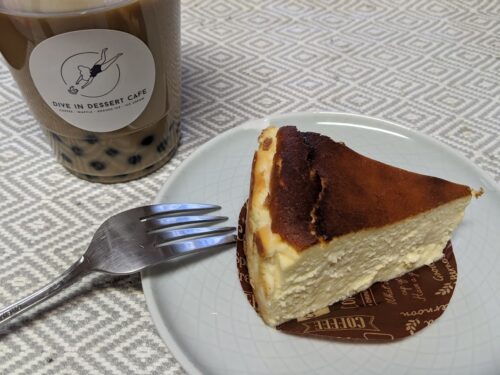 Dive In Dessert Cafe was delicious, and I would definitely "dive in" again! I'm already looking forward to the next order we place. Another great find during social distancing!
Also, if you know of any other places other than Chunyang, Ding Tea, ZenQ, and The Alley that have brown sugar drinks with non-dairy options, please let me know!