Disclaimer: By the time I post this, I am not sure what the COVID protocols are because things are changing so quickly. At the time of writing, we are currently in a two week semi lockdown that began one week ago. This dinner happened before the lockdown when we were allowed to be with our safe 6 so please do not attack me.
Please be responsible, do not expand your social circle, stay home if you're sick, and overall be a considerate and decent human!
---
Dosa Factory is an Indian restaurant that I've heard good things about. While looking for a place to order delivery from that I haven't reviewed yet, I saw Dosa Factory on UberEats and suggested it for dinner!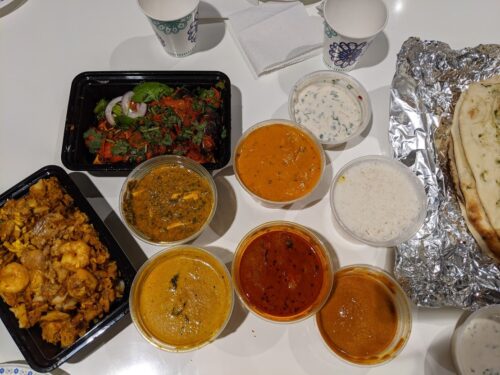 Also, a heads up on UE incase this happens to you as well. This has nothing to do with Dosa Factory but I wanted to share our experience. Unfortunately that night, UE was experiencing issues. In the morning, we scheduled the delivery between 5:30-6:00pm. By 6pm, the app still showed that the food was being prepared so Nigiri called the restaurant. Turns out, the food was ready and had been waiting for a driver since 5:30! We waited a bit more until 6:30pm when Nigiri decided to pick it up because we were all hungry (btw the app was still showing that the restaurant was cooking….ugh).
By the time Nigiri drove to the restaurant, came back and we opened our food, it was lukewarm after sitting for 1.5 hours. Needless to say, we were not impressed with UE that night and requested a refund. I learned after this experience that if the app says that the restaurant is still preparing the food and it's been an hour already like us, call the restaurant and check.
Again, I know this is not the restaurant's fault and the experience with UberEats does not affect my review on Dosa Factory but I wanted to let you know incase your food is taking a long time.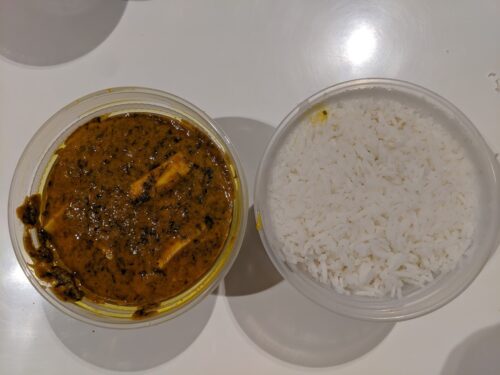 Palak paneer: This is Nigiri's must order when getting Indian food! The palak paneer here was not bad. The flavour was mild with not a lot of spice, so it was great to eat this in between the spicy dishes to cool our mouth. I've only had palak paneer at Chakra, and I found that Dosa Factory had more cottage cheese cubes inside.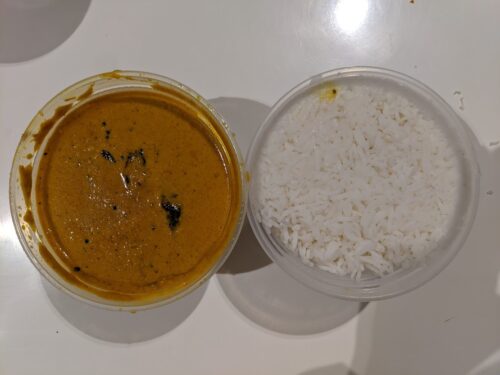 Malabari chicken korma: The chicken korma here was delicious too! The meat was very tender, aromatic and flavourful. There was a good amount of spice to it.
Butter chicken: The butter chicken was sweet, creamy and a nice break from all the spicy dishes. Kimbap doesn't eat spicy food so this was the perfect dish for her. There was a generous amount of chicken inside.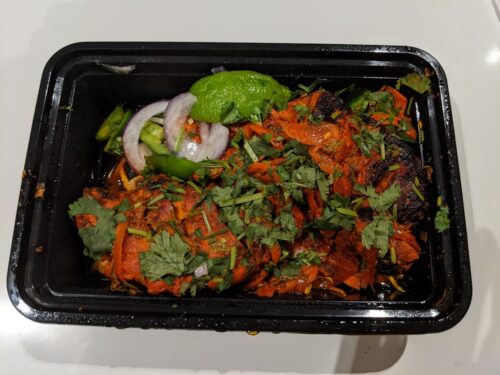 Tandoori chicken: Kimchi picked the tandoori chicken, which was essentially two very large drumsticks and breast. The chicken was marinated very well and wasn't spicy. It was my first time having tandoori chicken so I don't have much to compare it to, but I did enjoy it!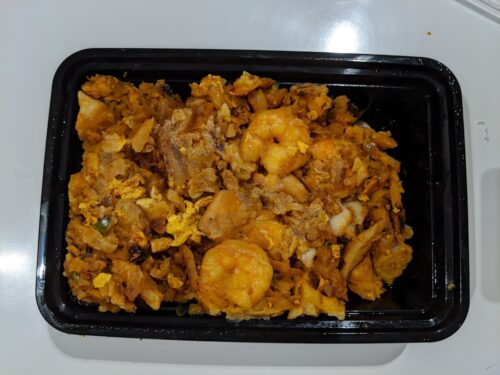 Fish and prawn kotthu parotta: Since we had a lot of chicken dishes already and Maki is a pescatarian, I chose this dish. I had a really good kotthu parotta at Kurumba and a not so good one at House of Dosa just down the block from Dosa Factory, so I wanted to compare.
First of all, this was jam packed with juicy, flaky pieces of fish! I would say there was more fish than roti bread which I am not complaining about. There wasn't much shrimp though but the generous portion of fish more than made up for it. Taste wise, it was delicious and very flavourful, not heavily drowned with oil to the point where the roti bread wasn't fluffy anymore.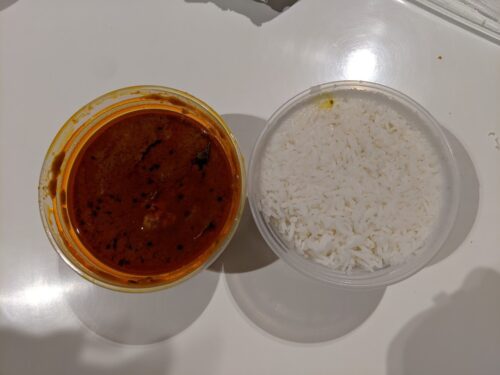 Madras fish curry: This was a random addition after it looked like we wouldn't have enough food. The Madras fish curry was the spiciest dish of all! It had no mercy with the spice level. The fish was cooked well and flaked off. There was a generous amount of fish inside the curry too.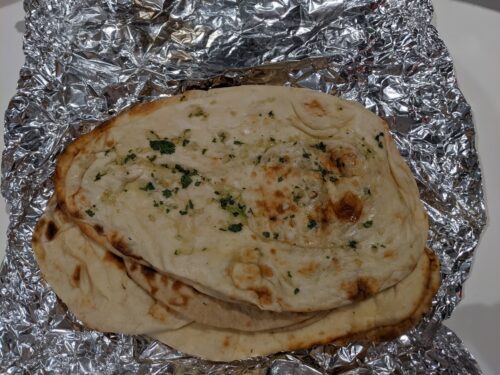 Garlic naan: The curry dishes came with a free side of fluffy basmati rice and naan bread as well. We upgraded some of the naan bread to garlic bread. Both the regular and naan bread was delicious and doughy.
Despite the hiccup with UberEats (see intro paragraph) and our food being lukewarm by the time we ate, we were all very satisfied with Dosa Factory. Everything was very flavourful and not slicked with oil to the point that it wasn't enjoyable.
After trying many Indian restaurants before deciding on a go-to, Dosa Factory would be one that I order regularly from! House of Dosa is on the same block but Dosa Factory is a lot better. Stay tuned for a review on House of Dosa! I actually have it written but I try to spread out my reviews on the same cuisines :).