When Duotian Fish Soup Noodles Restaurant first opened up five years ago, I wrote a disappointing review and did not go back. The food was lacklustre and I remember them being really stingy with ingredients (paper thin lemon in the lemon tea, barely any custard filling in French toast, etc).
There are so many better restaurants in Vancouver and I forgot about this place… Until a few weeks ago, that is. I was craving Deer Garden DIY type noodles but was wanting to stay close to home. I pondered for a bit, thinking of any restaurants close by that had DIY soup noodles… And remembered Duotian.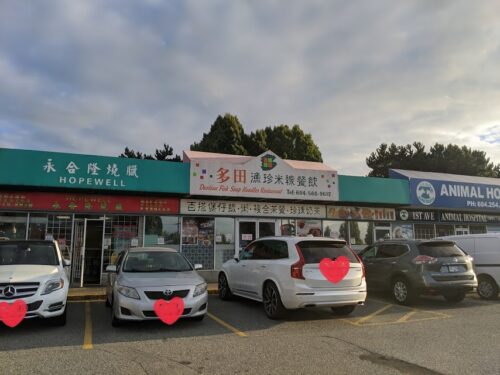 I wrestled with the thought of going/not going for a couple hours because I remembered it being bad. But I decided to give it another shot – five years had passed so perhaps they have gotten better?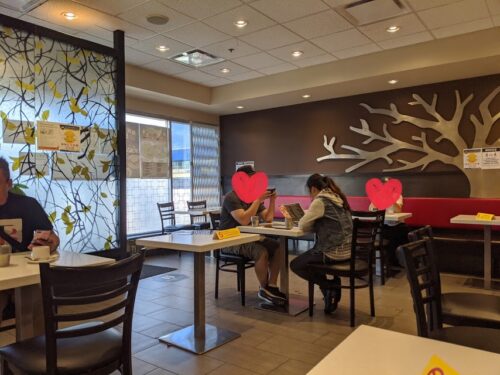 The fiance was so against this idea of going here because he remembered it was awful there too, that I went myself. LOL! Not that I minded though, I do enjoy going out to eat alone from time to time.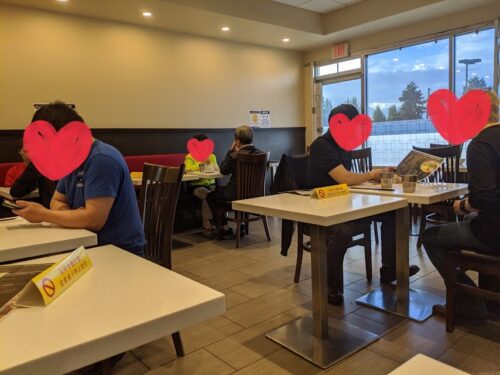 As with all restaurants during the pandemic, tables were spaced out and some were closed. Since it was only half capacity, the restaurant was full during dinner when I went.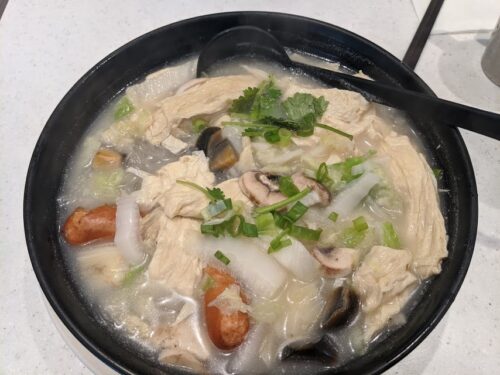 DIY soup noodle: To avoid any major disappointment, I came prepared knowing that the food here was probably going to be below average and meh. Why did I even decide to come then? Because I was craving soup noodles and wanted to see the extent of how disappointed I'd be… Just joking… Maybe.
I ordered my usual diy soup noodle. If you haven't been to a Chinese DIY soup noodle place before, you select a soup base, two toppings, noodle type and a drink. I went with the century egg and parsley soup with sausage and extra beancurd, and clear crystal noodles.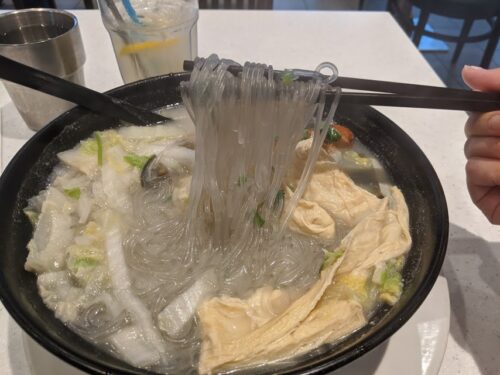 As expected, the bowl of noodles was meh and I've had better at Deer Garden. The main complaint was that the soup wasn't as flavourful and tasted watered down. It was still edible but could have tasted better with some more salt or white pepper.
There were a few things I enjoyed about my noodles though. First, the portion was big and very filling. Secondly, the preserved century egg was really good – better than Deer Garden's preserved eggs! The yolk was creamy and more flavourful, while the egg white did not have a wooden cupboard taste like Deer Garden. The only thing they do better here.
Thirdly, there was an abundance of fresh and sweet siu choy inside. So not all was bad and I left with my DIY soup noodle craving satisfied.
---
Duotian would not be a place I would go to unless it's a 5 minute drive away. There are way better Chinese cafes out there and I'm honestly shocked they have lasted 5+ years. But it's not entirely awful if you're in a pinch and wanting to fill yourself up. Just come with low expectations like me.