Emilio Finatti Pizzeria in White Rock came highly recommend by some old co-workers, Latte, and online reviews. Latte and I had plans to get takeout for a picnic, but the weather was cloudy so we went to Pho Sunrise and Mink Chocolate Cafe instead. We tried to come again a month later (with the fiance as well because it sounded delicious to him too) and it was a success!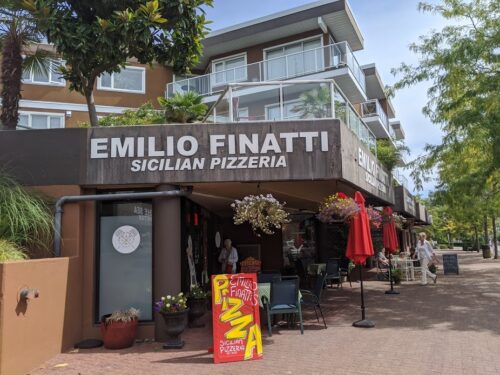 Emilio Finatti Pizzeria is located in White Rock, a few minutes drive from the beach (but it would be a hard walk due to the steep hills!). The restaurant itself is very small and a bit hole in the wall inside.
Mr Chu Tea and Coffee is across the street too, so you could also get some bubble tea while you're here. Review coming soon!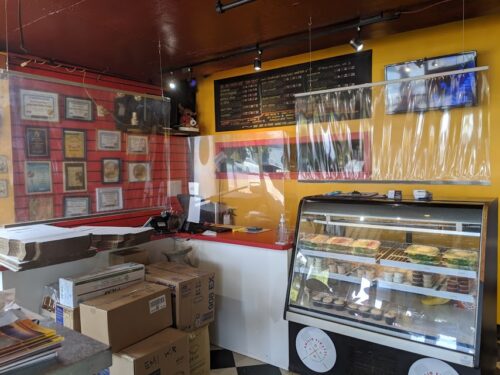 They usually have a couple small tables but due to the pandemic, no customers were allowed in. There were a couple tables outside but you'd be better off enjoying the pizza at the beach instead.
While writing this review, I wasn't too sure what Silician pizza was. After looking it up, I learned that Silician pizza is usually thick crusted and prepared in a rectangular fashion. However, Emilio's advertises themselves as thin crust. Not that I'm complaining though, everything was delicious as you'll soon find out!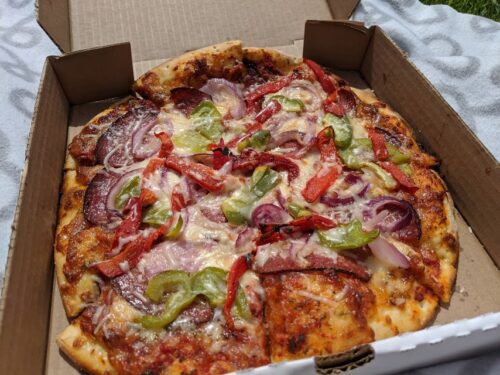 Roma pizza: The 3 of us shared 3 small pizzas, which proved later to be too much but leftover pizza in the air fryer is delicious! The Roma pizza came with marinara, cheese, genoa salami, red onion, green bell pepper, roasted red bell pepper finished with parmesan.
It was love at first bite! All of the ingredients in the pizza were extremely fresh and great quality. The perfect thin crust pizza. They were quite generous with the toppings too.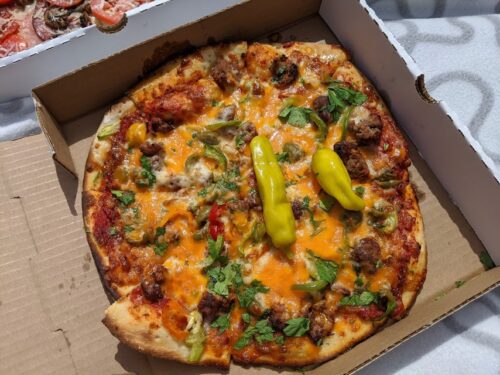 Mama mia: The second pizza we ordered was the mamma mia. This pizza came with marinara, cheese, meatballs, green olive, green bell pepper, hot banana peppers, finished with cheddar cheese, parmesan and herbs, Italian parsley.
This pizza was delicious as well! The thin crust was perfect too and the ingredients on top were very fresh. I haven't seen a pizza with a whole banana pepper before. My only complaint for the Mamma Mia was the olives, because I'm not a fan of olives.
The meatballs on top of the pizza were seasoned well and tender too. You could really taste the quality of the meatballs!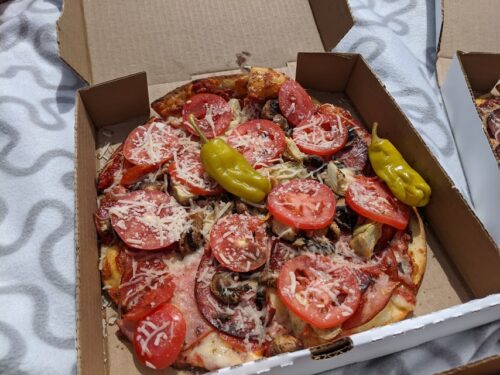 Pepperoni primo: Last but not least, the pepperoni primo! The pepperoni primo came with marinara, cheese, ham, pepperoni, genoa salami, mushroom, artichoke, finished with roma tomato, parmesan, greek pepper garnish.
This was my favourite of the day! The pizza was full of such fresh ingredients and was so good. There were so many toppings on top. I really liked the fresh sliced tomato that was added after. The parmesan dusting rounded out the pizza and elevated the deliciousness even more.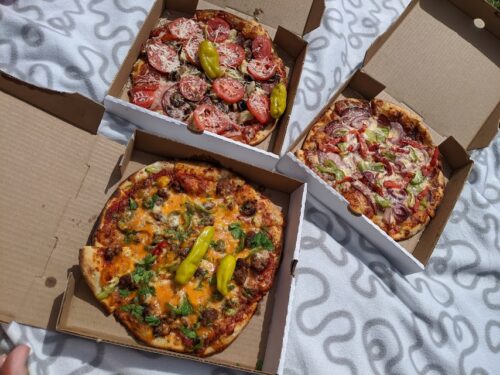 We all really enjoyed Emilio Finatti. The quality of the pizza and the toppings were top notch. A lot of reviews mentioned that the prices are a bit higher than usual, but it's no mystery why when you taste the quality ingredients and freshness. I would love to come back here during my next trip to White Rock.