I can't believe I haven't written a review on Fujiya yet! Well, I guess it's because Fujiya is a supermarket instead of a restaurant… But due to the pandemic, we haven't gone out to eat as much. I am trying to keep this blog going regularly hence all the delivery/take out reviews.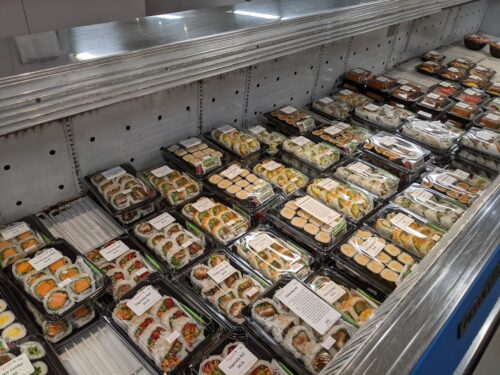 I'm pretty sure most people know Fujiya, it's been around for ages. I remember getting takeout from here when I was a kid! But incase you don't know or are new to Vancouver, Fujiya is a Japanese supermarket. The main supermarket is on Clark and Venables close to Chinatown, but they also have some smaller shops in downtown and Richmond that serve takeout only.
The fiance and I came here to get some groceries, but decided to buy get some takeout for dinner and lunch the next day!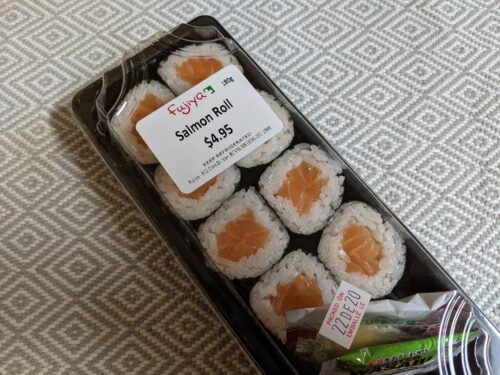 Salmon roll: I have been ordering this for many years and don't plan on stopping anytime soon. The price is really cheap for the portion, compared to restaurants. The salmon is always fresh and tasty, but I find the rice a bit salty. I think they add MSG in there or something. Nonetheless, I still enjoy it.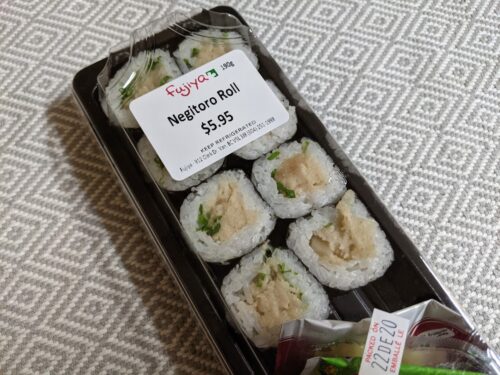 Negitoro roll: The negitoro roll was good too. The negitoro was fatty and soft.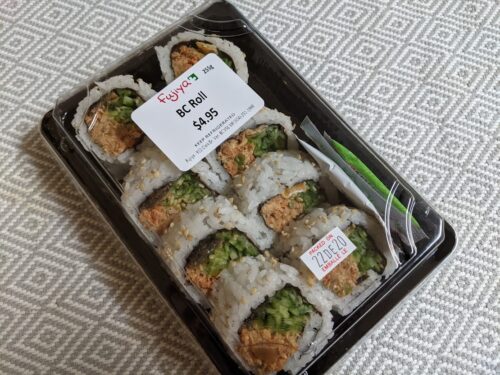 BC Roll: I'm not a big fan of BC Roll because it's usually just salmon skin and lettuce. However, there are a few restaurants that have a decent BC Roll that I wouldn't mind having a bite of. The fiance is more adventurous when it comes to BC Roll and he decided to try it here.
It was a good decision because the BC Roll here was pretty good! Normally, the roll only has salmon skin but Fujiya's had a lot of salmon meat.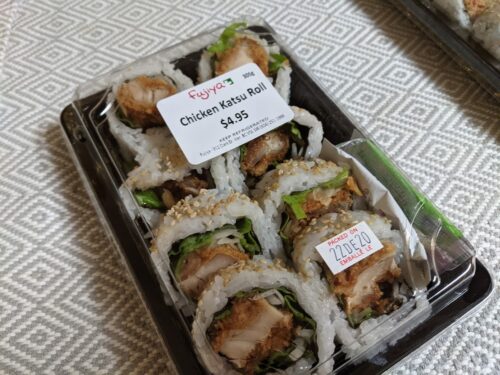 Chicken katsu roll: We had this for lunch the next day since it was one of the cooked items. Since all of their rolls are prepackaged and we also waited until the next day, we knew it wouldn't be crunchy anymore.
Despite not being crunchy, the chicken was very flavourful and well marinated. I imagine that it would taste even better when fresh!
Spicy chicken donburi: We also had this for lunch the next day. Unlike the chicken katsu roll, we were able to pop the chicken into the air fryer so it was hot and crunchy.
The chicken was also very flavourful and delicious. There was a generous amount for the price. If you had this at a restaurant, it would probably cost a lot more! My only complaint would be that the veggies were wilted and kinda gross. I think it's cause they probably put the hot chicken on top right away. It would have been better to put it on the side of the bowl.
Overall, we were satisfied with our dinner and lunch from Fujiya! There is no doubt we will be back for takeout again. The prices are very reasonable and the food is delicious.