iSushi is a new sushi restaurant that opened recently on Rupert and 22nd by Lucky Plus Chinese Restaurant, across from the old Oscar Cafe (RIP Oscar Cafe, you are so missed!).
This restaurant used to Kimura Japanese restaurant, which I visited many years ago, and then was briefly replaced with the brunch spot Ham and Eggman's for a year.
While looking for a place to eat (and a new place to review), the fiance suggested iSushi so we went to get pickup.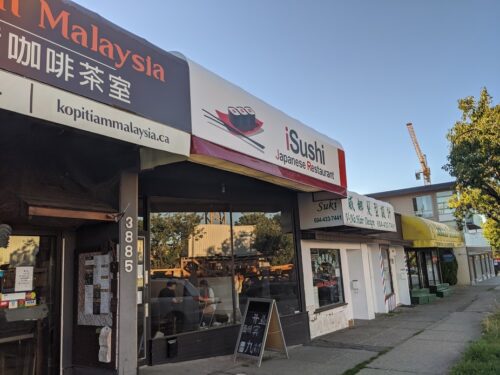 From my brief visit of picking up takeout, the staff was very friendly and nice. In addition, they had relaxing classical music playing. It was really soothing and relaxing, I almost wanted to stand in there a bit just to listen to it, haha.
Salmon roll: The salmon roll was disappointing. The rice was packed very tightly and was very dense and wet. The salmon sashimi itself inside was good, but the rice ruined the roll for me.
Negitoro roll: Same thing was above with the salmon roll.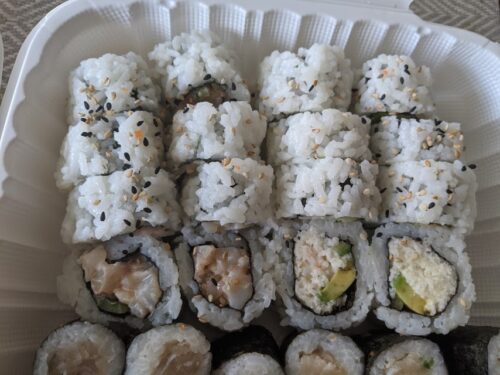 California roll: California roll is one of the main staples in a Japanese restaurant, and you can't really go wrong with it right? Well clearly I did because this was also disappointing. The imitation crab meat was chopped up into very small pieces and it had a crumbly, dry texture to it.
Chopped scallop roll: Finally, a roll that I liked! The chopped scallop roll was decent, with plump and fresh scallops.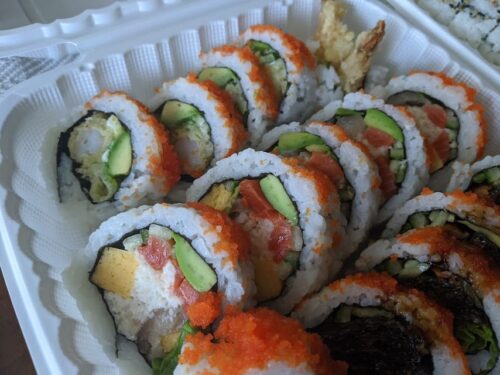 House roll: The house roll came with imitation crab meat, salmon, tuna, tamago, avocado, and tobiko. Again, it would have been a tasty roll if it wasn't for the imitation crab meat (which was half the roll) being chopped up into tiny pieces and being crumbly and dry.
Dynamite roll: The dynamite roll was tasty with no complaints. The tempura inside still had a bit of crunch to it.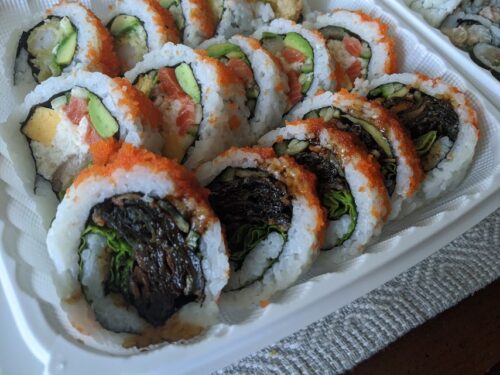 BC Roll: Over the years, we've found that BC roll can be hard to master and varies greatly among restaurants. The salmon skin has to be grilled enough and be fresh so that it is delicious, otherwise you're just eating soggy salmon skin. Fortunately, the BC roll here was good and the salmon skin was crispy with an enjoyable grilled flavor to it.
Overall, there were some hit or misses here. With a plethora of Japanese restaurants in Vancouver, ISushi would not be high on my list.
However, I realize they have only recently opened and possibly figuring out their groove still so maybe they will improve their techniques. There is definitely room for improvement.