Jenjudan was recommended to me by Jerky (No, he is not a jerk, I give nicknames based on my friend's favorite foods and he loves the Korean BBQ jerky from Costco haha). With so many bubble tea places popping up, it is honestly so hard to keep track of!
But I'm glad Jerky introduced Jenjudan and it has quickly rose to one of my new favourites. These are 2 reviews based on delivery.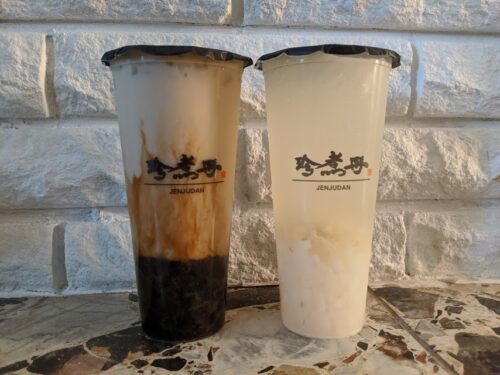 Lactose intolerant pals, you will be happy to hear that Jenjudan offers soy milk replacement! There are so many places that don't offer this so I jump at the chance when I see it. This also shows that they care about their customers needs.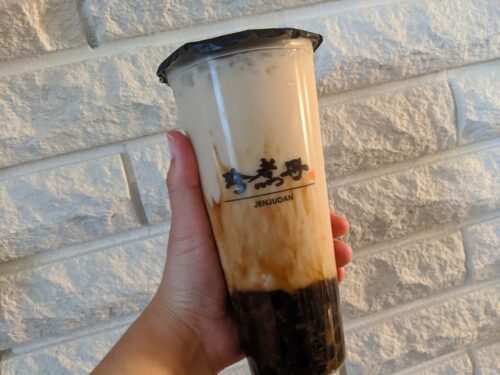 Brown sugar pearl milk: This is such a treat for me because so many places don't offer soy milk replacement. The drink was absolutely delicious. The pearls were caramelized from being cooked in the brown sugar. In addition, they had a soft and chewy texture. I'd definitely order this again!
So many places out there (Blackball, Xing Fu Tang, Ding Tea, to name a few) have such small portions. I was happy that this was not the case here, the size was pretty big.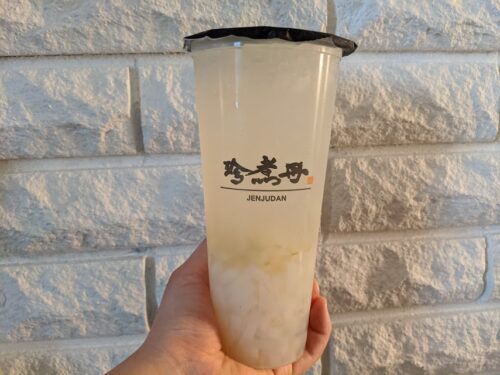 Lemon chrysanthemum tea: Since the fiance wasn't feeling like having caffeine or ordering the same drink as me, he settled on this drink. Even though my brown sugar pearl milk was delicious, this was even more delicious!
You could really taste the quality in the tea. There was a fragrant, floral aroma to it as well. The lemon flavour was faint but went really well with the chrysanthemum tea.
One of our favorite bubble tea drinks is Sharetea's lemon aloe vera, which is hard to beat. But I'd say that this drink was comparable, if not even better than one of our favourites!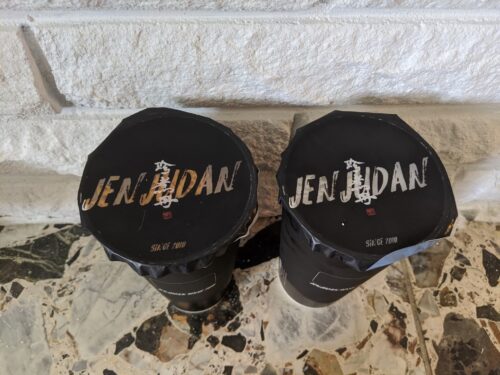 We enjoyed our first visit so much that we ordered again a couple of weeks later. I was a bit disappointed to see that they were not clear cups, #foodbloggerproblems! I wanted to show you readers what the drink looked like but we will have to make do with this. I took a picture of the top so at least you can see a bit of the drink.
Thai milk tea: The Thai milk tea was alright, but we had better at Bai Bua. For that reason, the fiance would prefer to stick with the other drinks.
Brown sugar pudding with pearls: I ordered this with soy milk again and it was delicious, although not completely dairy-free because there was pudding inside.
The pudding made the drink even more creamy, while the brown sugar gave it a smooth, rich caramel taste. In addition, the pearls were soft and chewy.
I am more of a pearl lover than pudding lover, so I would probably just order the brown sugar pearl but it was nice to try the pudding!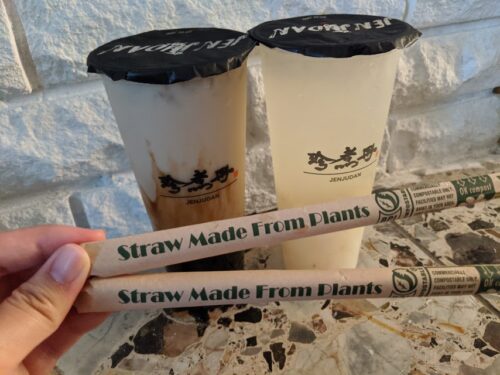 All in all, I'd highly recommend Jenjudan. The drinks are made with quality, there are soy milk options, and the portions are decent.
A bonus is that they are environmentally friendly with their plant based straws, I've never seen that at bubble tea places!