Kaisereck Deli is one of the food stands inside Granville Island Market. The fiance and I decided to get some takeout from the market and enjoy it outside (and pray that pigeons don't steal our food). Granville Island was pretty quiet that day, because they rely on tourism to stay busy.
Social distancing signs, directional arrows and hand sanitizer was set up inside, and people were following the rules. There were also security guards outside taking count in case it got too packed in the market.
After walking around the food stands, we decided on Kaisereck Deli which served German food.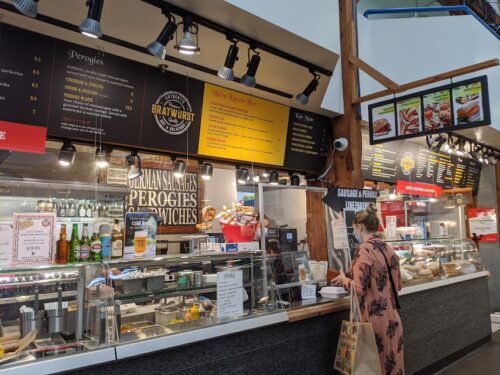 Ordering was a bit confusing. The line was split into two: one for sandwiches, the second for German sausages and perogies. Since we were getting both a sandwich, sausage, and perogies, we were directed to two different ordering counters.
It was fine since it wasn't busy that day, but I could see that it could cause confusion during peak periods as you're potentially budging and moving around.
Kaiser club: I was not sure on what to get, but after hearing the two customers ahead of me both ordering the Kaiser club, I decided to as well. It was an excellent idea!
The Kaiser club came with turkey, bacon, cheese, crisp lettuce and tomato on a ciabatta bun. Everything tasted fresh and was quite good, one of the better club sandwiches I've had. The only con was that it was pretty expensive, but not surprising considering it was Granville Island.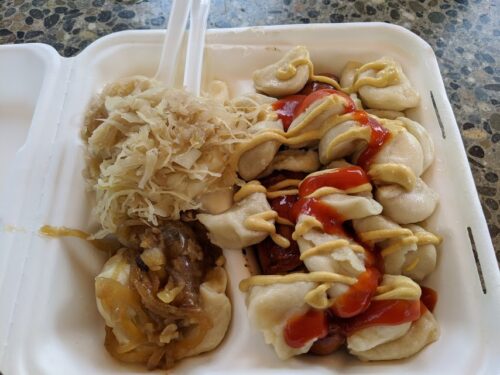 Perogy plate: The fiance and I also split the perogy plate, which came with assorted perogy flavours and a sausage of our choice. We picked the turkey sausage. They specialize in sausages and the turkey sausage did not disappoint! The sausage was juicy and big with a nice grilled flavour.
The perogies were disappointing though. They were the mini type, which wouldn't have been an issue but they were tasteless and bland. We ended up bringing this home and added some sauce to make them more enjoyable.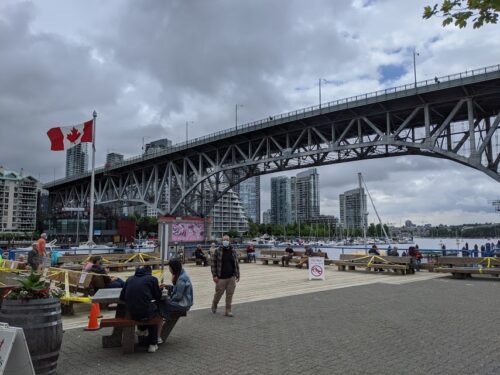 Overall, Kaisereck Deli is a decent choice inside Granville Island Market minus the perogies. I wouldn't make a trip to Granville Island purposely here for it, but it would be a nice lunch option by the dock.