While on the topic of authentic Sri Lakan food one evening, Lager suggested that we try out Kurumba in Port Moody. Sri Lakan food is not widely found in Metro Vancouver and Kurumba is the most authentic place in Lager's opinion. So, a bunch of us trekked out to Port Moody and tried Sri Lankan food for the first time!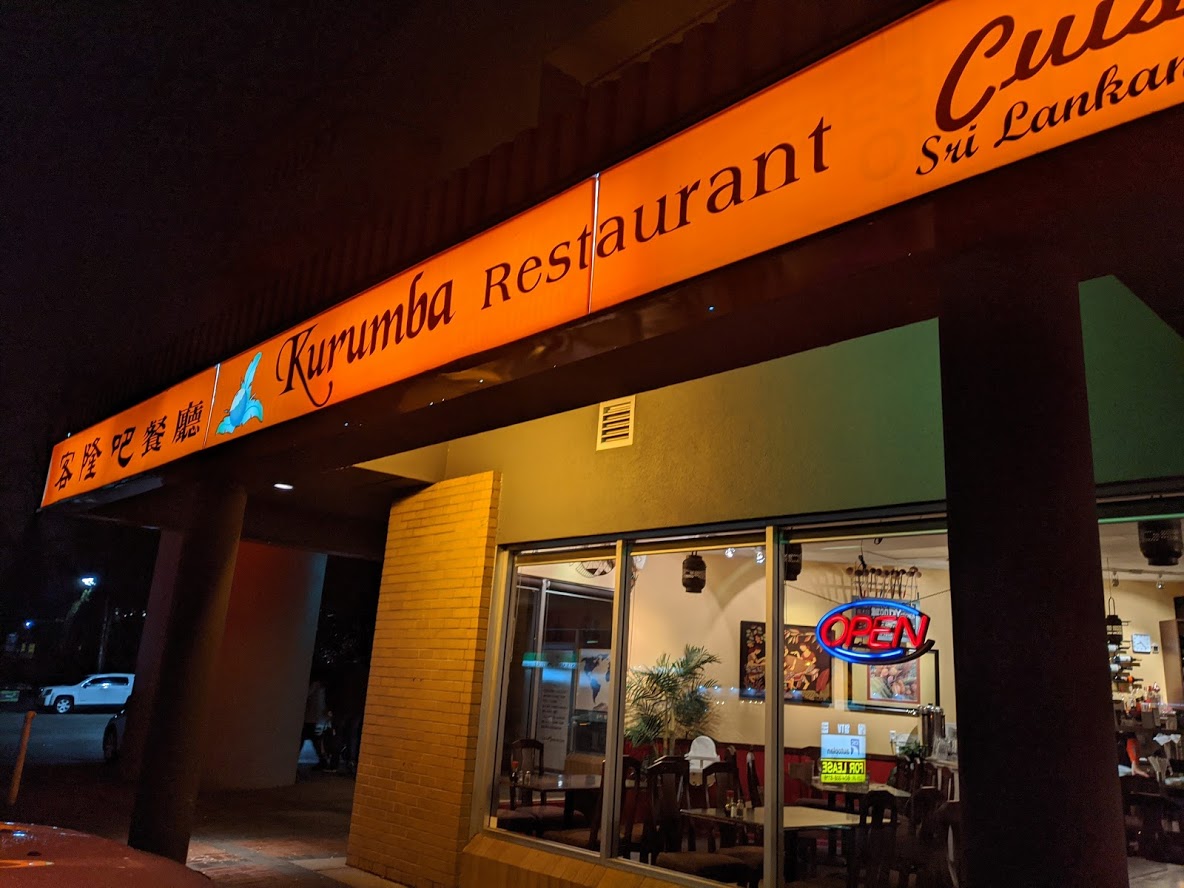 Kurumba is located in a small strip mall in Port Moody. Port Moody is a pretty sleepy town (city?) with not much going on. I find it easily missed on the way to Coquitlam. Anyways, we made a reservation but we ended up being one of the few tables that night so it wasn't really necessary, we just played it safe since there was a group of 10.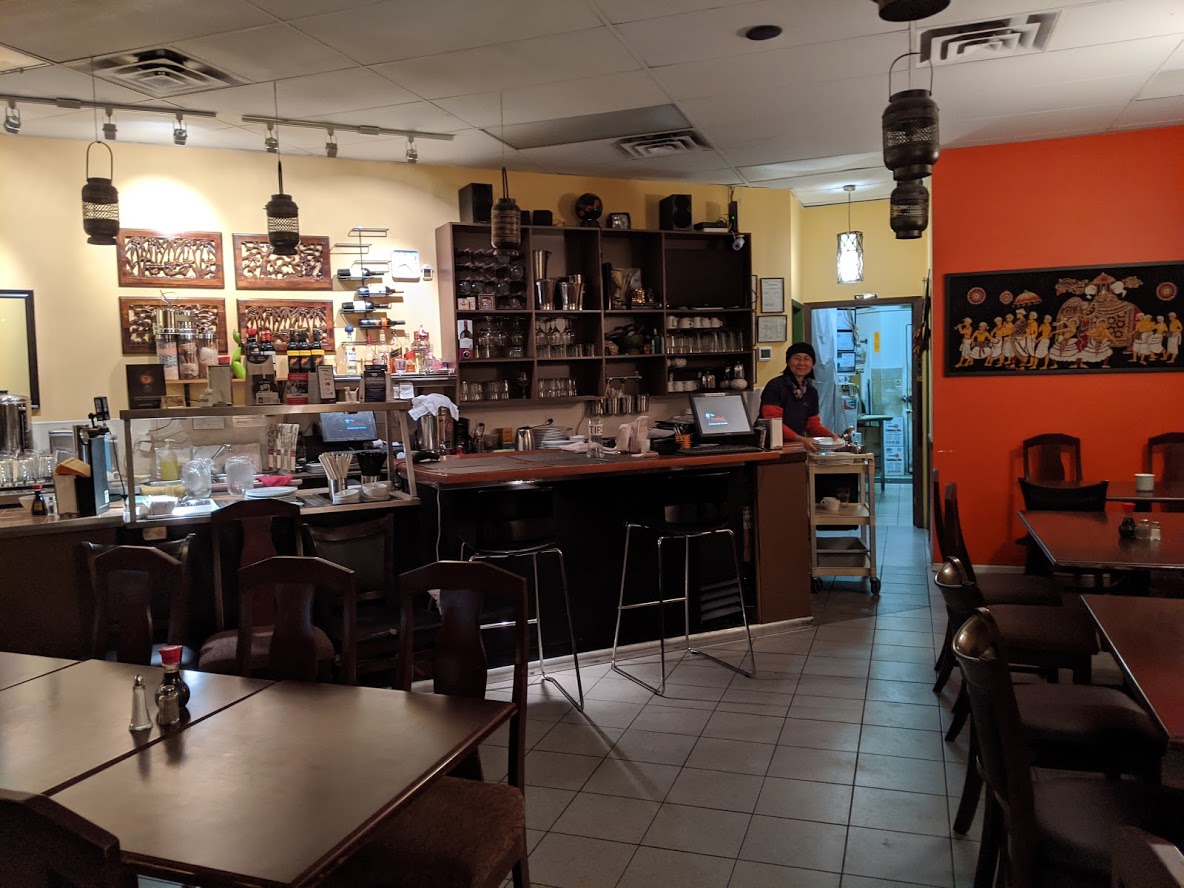 Although Kurumba is the most authentic Sri Lankan restaurant around, they also had other Asian cuisines such as Thai and Chinese. Apparently the owner is Chinese, but lived in Sri Lanka for awhile.
One thing Lager warned us about was that Sri Lankan food tends to be quite spicy. And indeed, it was! If you're not a fan of spice, you would find your menu very limited.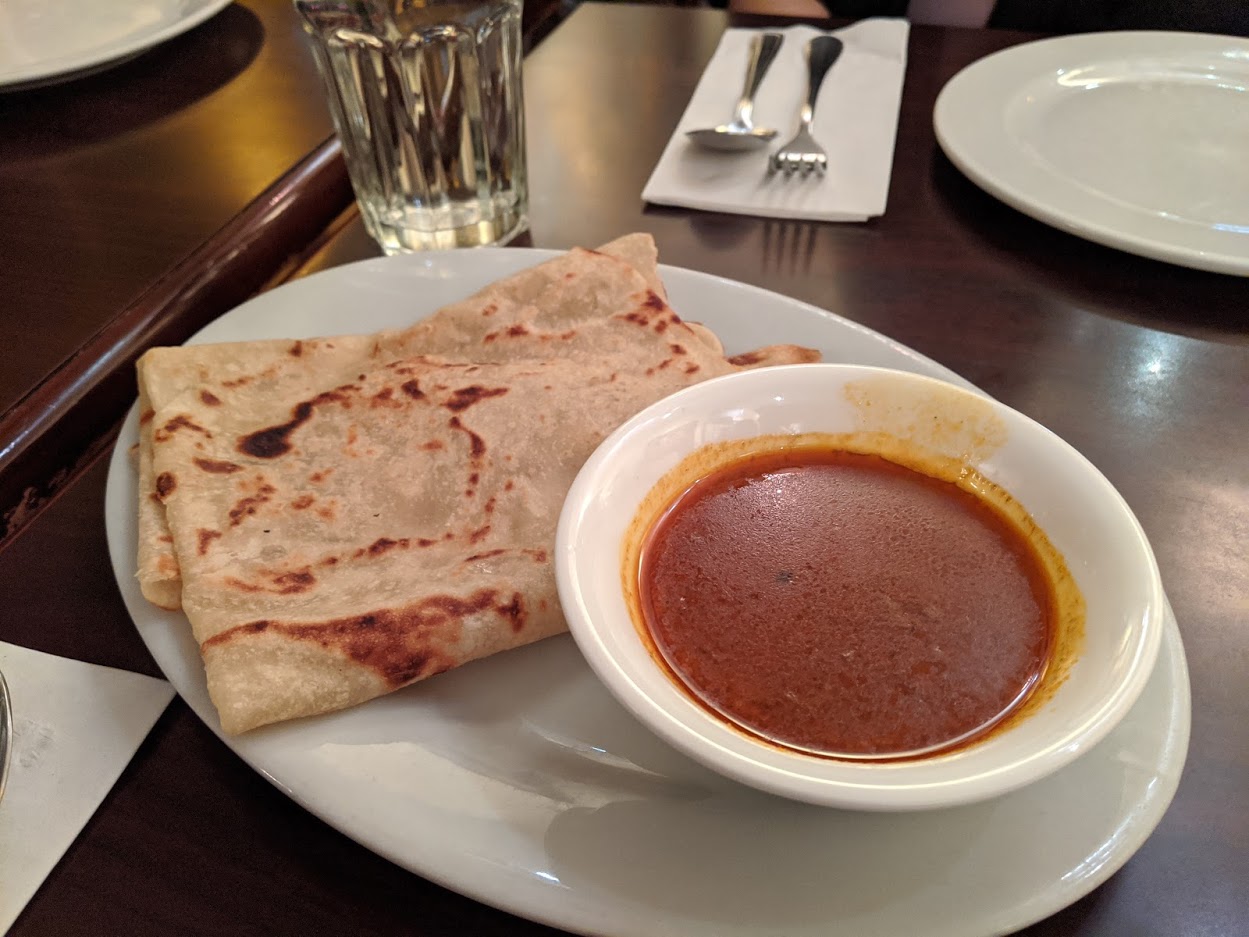 Roti canai: We started off with a plain roti, which came with a side of curry dip. The roti was delicious, meanwhile the curry dip was very spicy. Since most of our dishes were spicy, I opted out of the dip and ate the roti plain.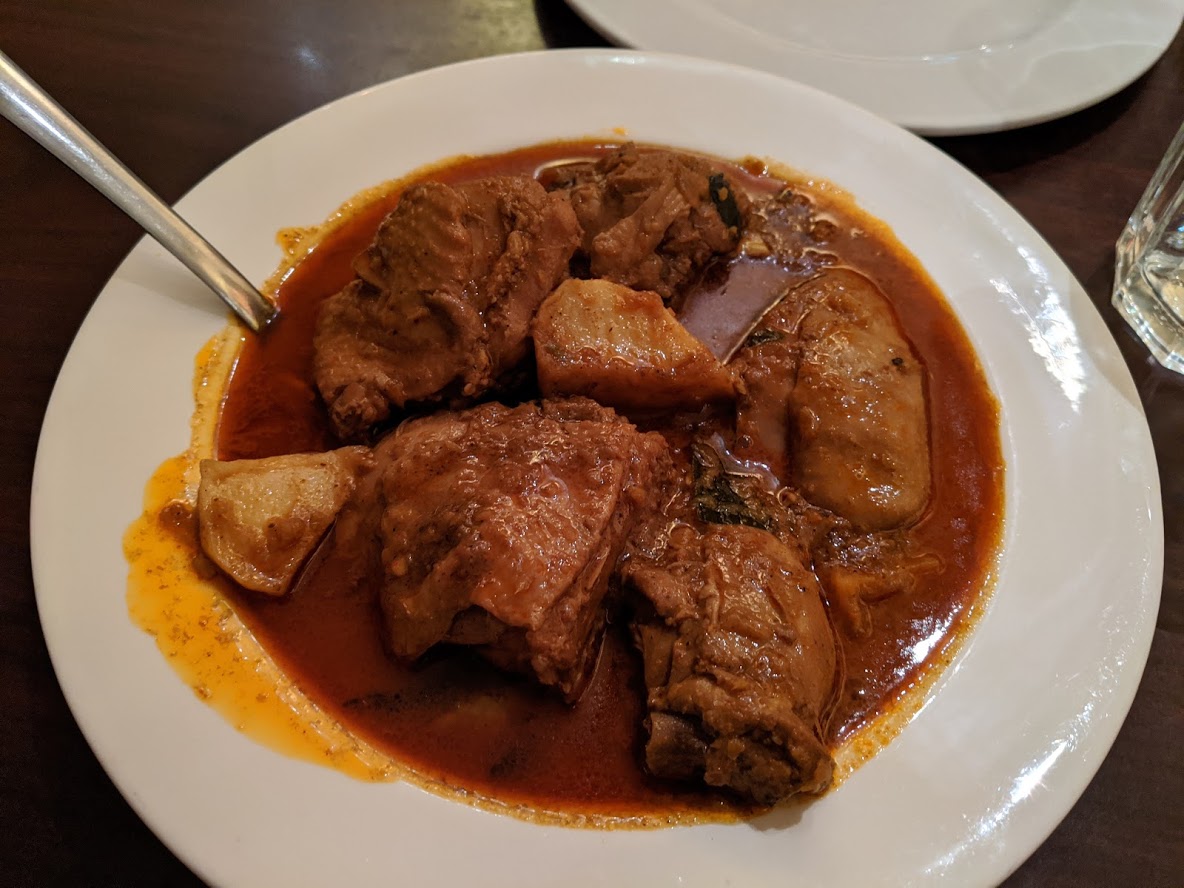 Sri Lankan chicken curry: The braised chicken was incredibly tender, juicy, and full of flavour. It was a very hearty and warming dish. The dish was served bone in, which made it more difficult to eat but wasn't a huge issue.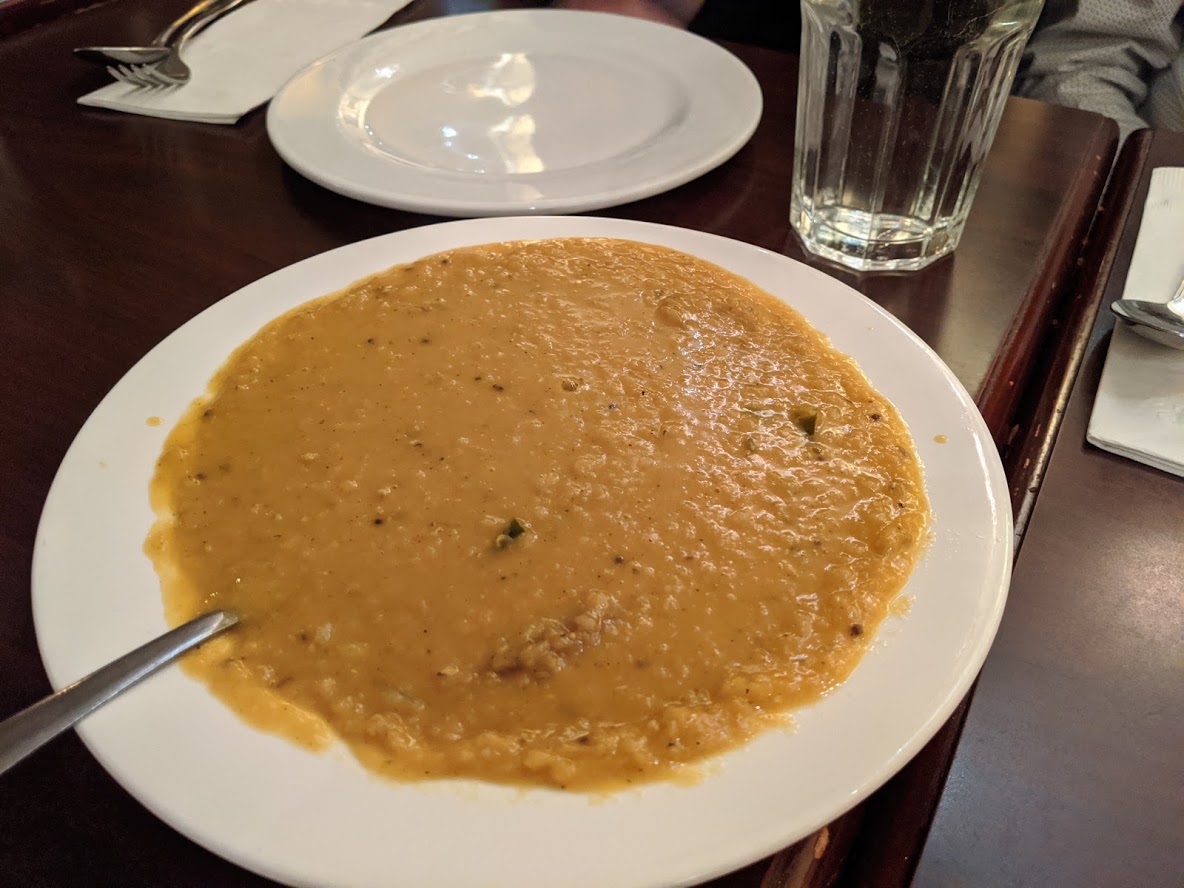 Dhal yellow curry: This was a lentil curry, which had the texture of porridge or stew. The flavour was quite plain but enjoyable, and good to cool our mouths down from the other dishes. Apparently this lentil curry is served to toddlers or young kids, because it is one of the few Sri Lankan dishes to not be spicy. It brought back childhood memories for Lager.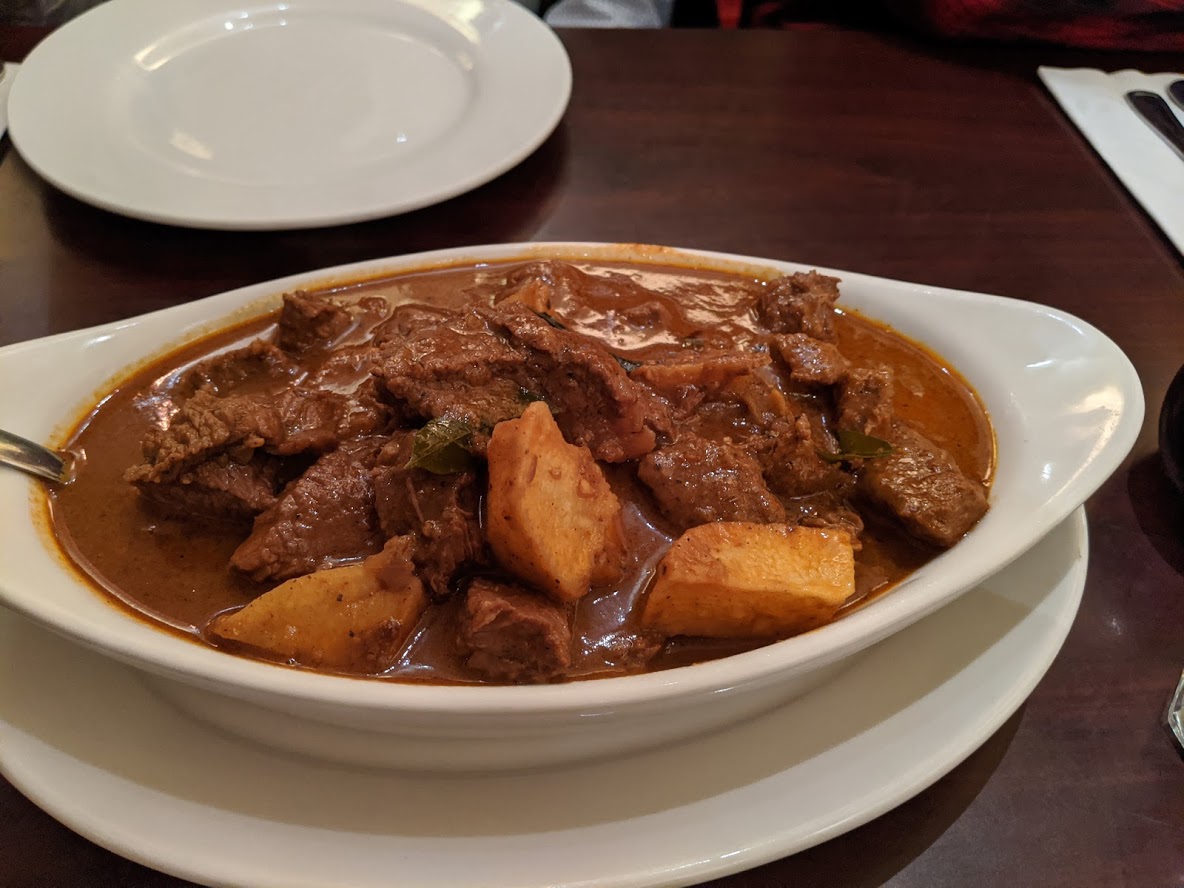 Sri Lankan beef curry: The beef curry packed a ton of heat! It was delicious although our faces and mouths were heating up. The beef was braised and served in cubes.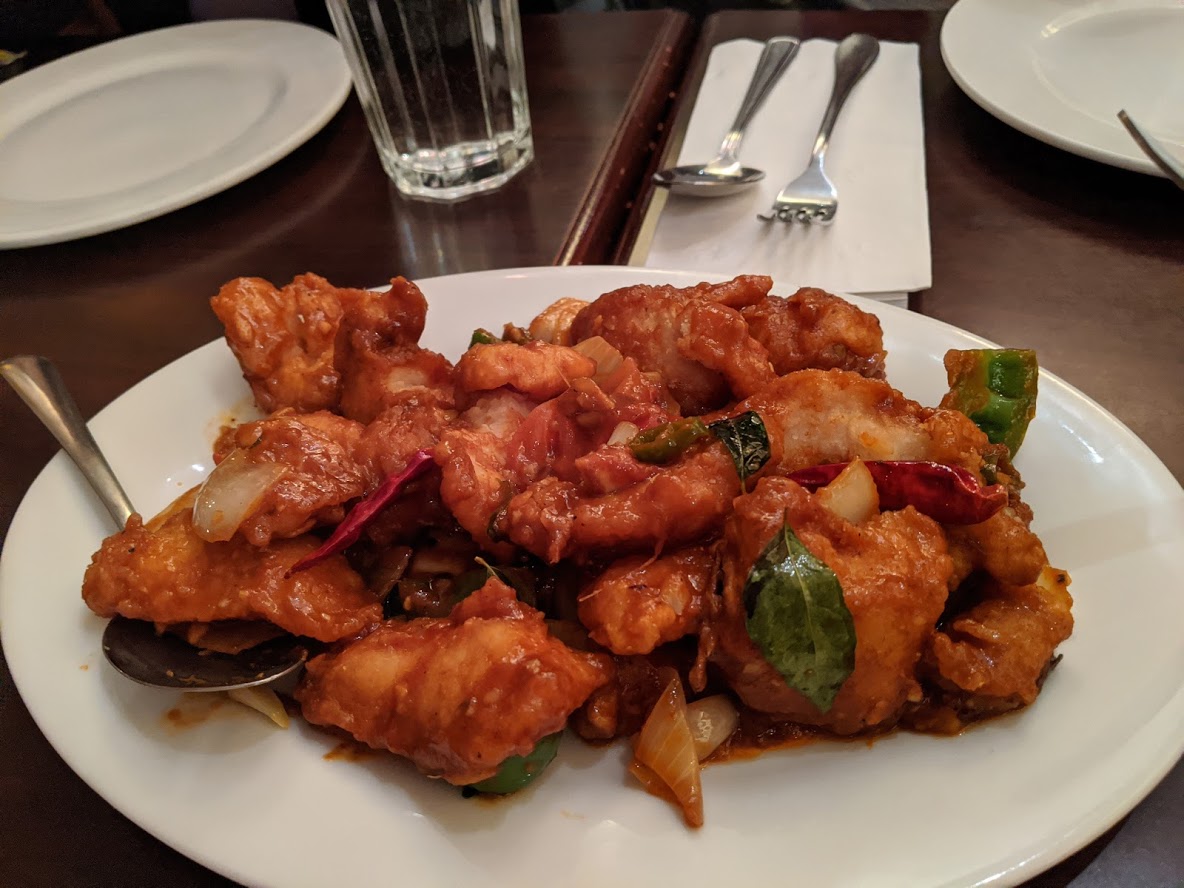 Sri Lankan chili fish: The chili fish came wok fried, similar to Chinese style. The fish was quite spicy and I found it to have more of a tangy spice compared to the other dishes.
Sri Lankan chili prawns: The prawn came in a similar spice as the chili fish. We found it manageable to eat 1 prawn at a time to contain the burning spice.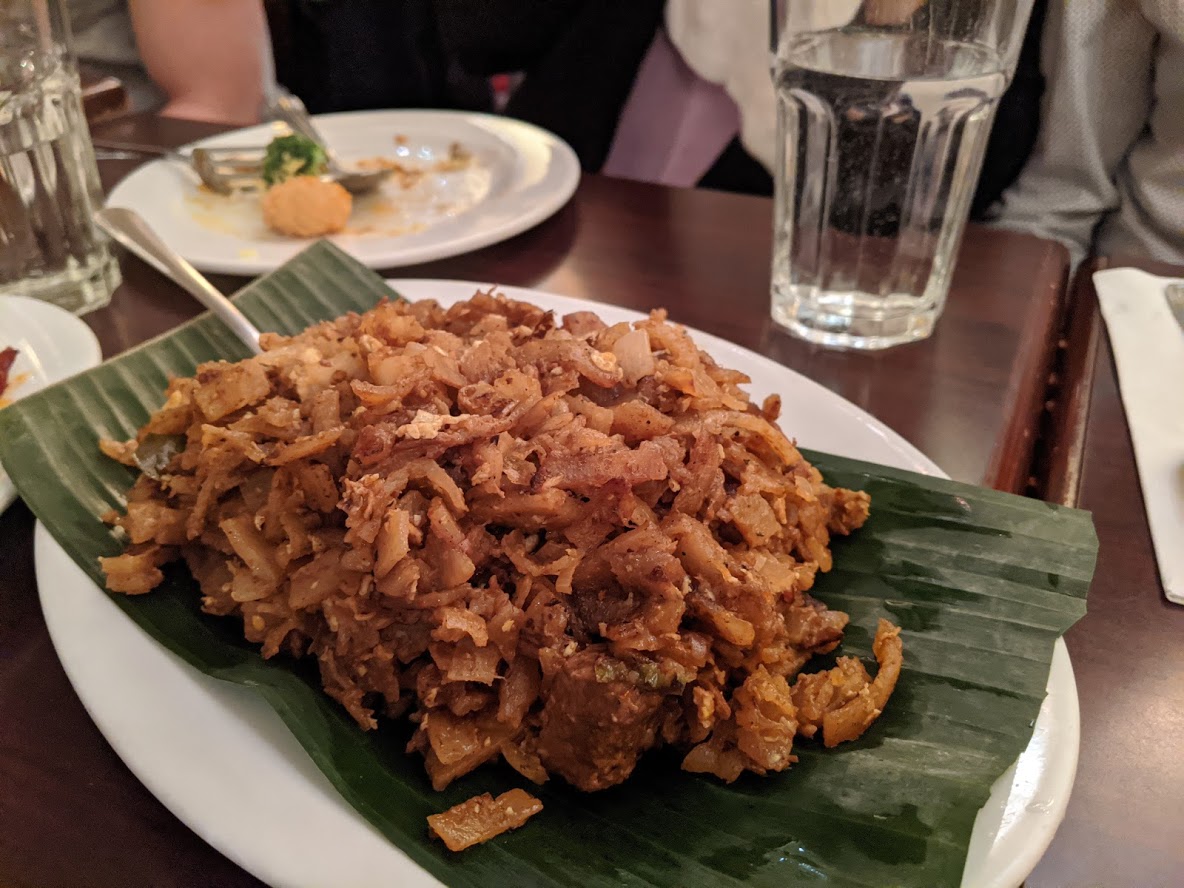 Kotthu roti: Perhaps my favourite discovery of the night! It is similar to a chow mein or stir fry. But instead of noodles, they use shreds of chopped roti bread! It was incredibly full of flavour and had lots of 'wok hei'. I loved the texture of the roti too. We ordered both a chicken and beef kotthu roti.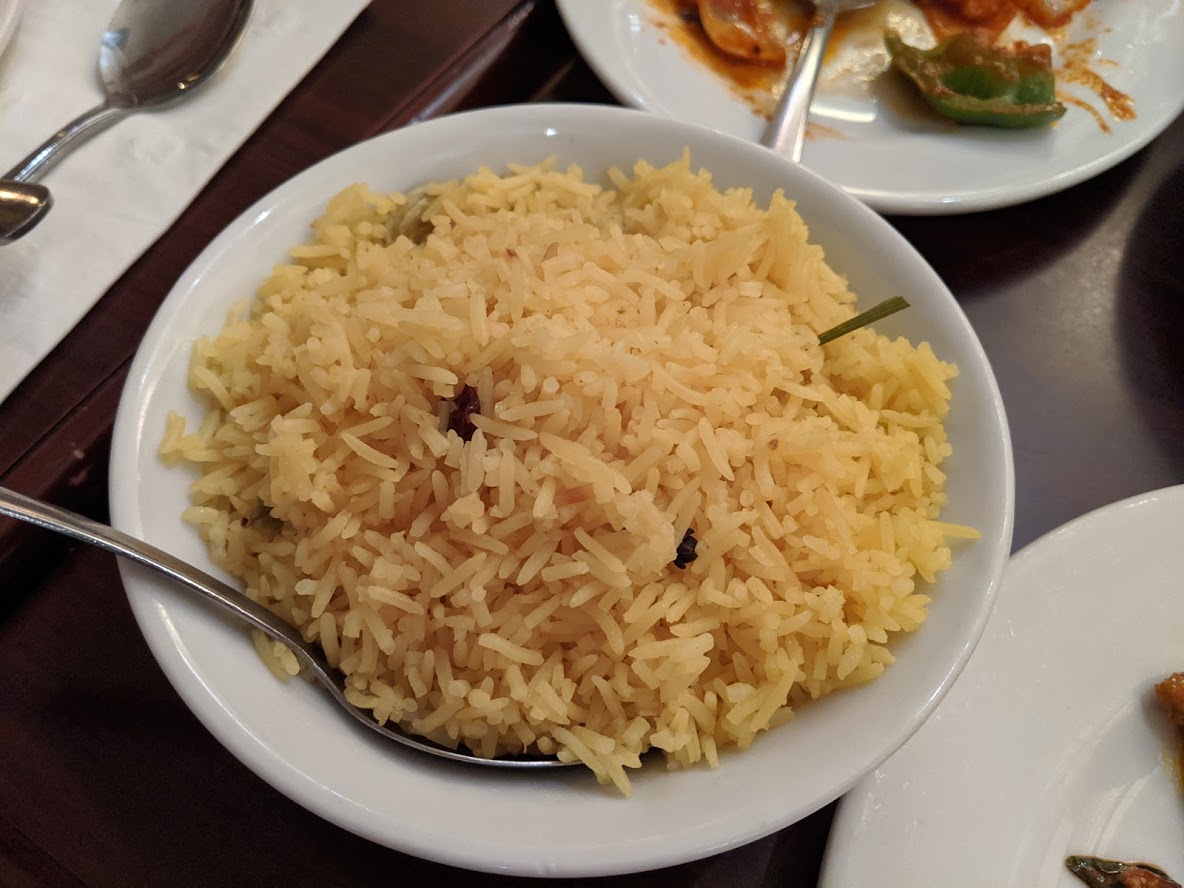 Yellow basmathi rice: A savoury Sri Lankan coconut rice cooked in herbs. I found it delicious and went well with the curry. Although it said coconut, I couldn't taste any coconut flavours to it.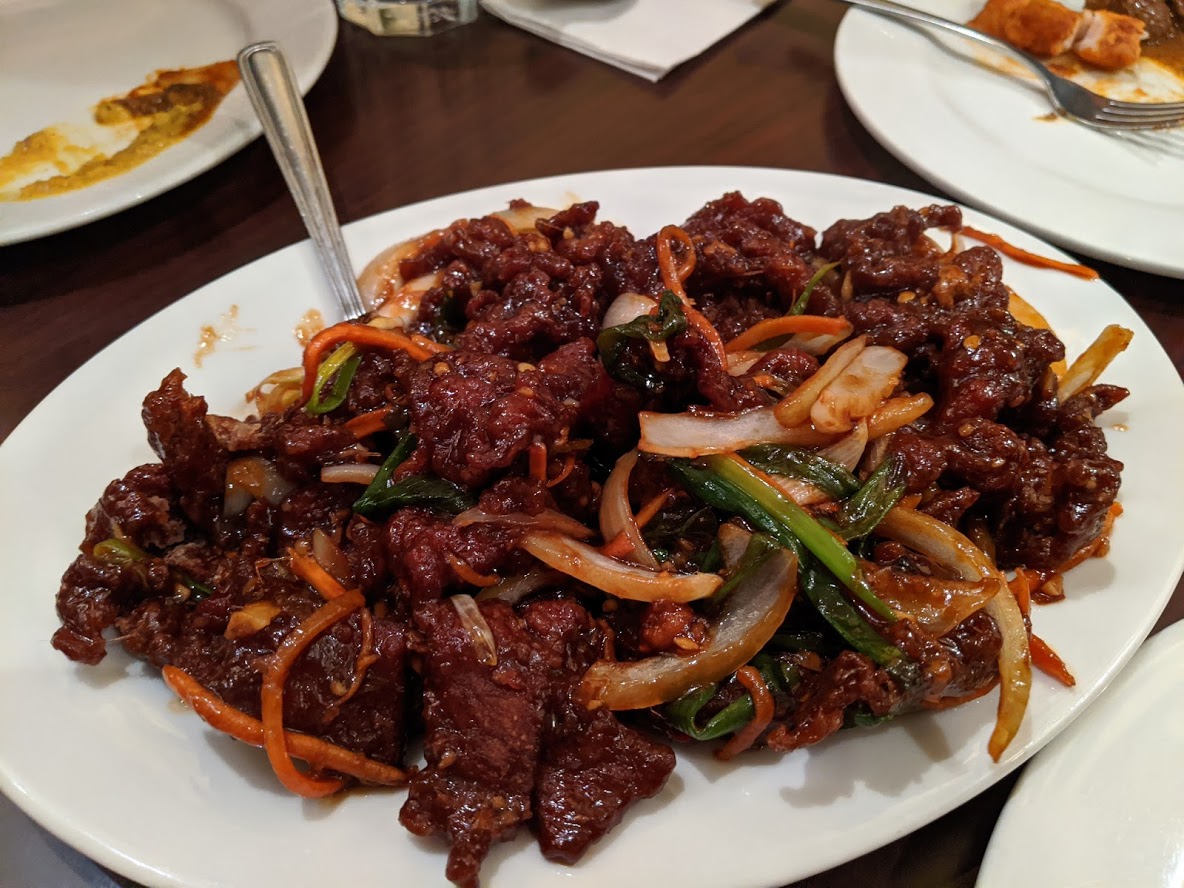 Ginger beef: This wasn't a Sri Lankan dish, but Zucchini loves his ginger beef and it is hard to find in other restaurants. As mentioned above, Kurumba also had Chinese and Thai dishes so this was one of the Chinese ones.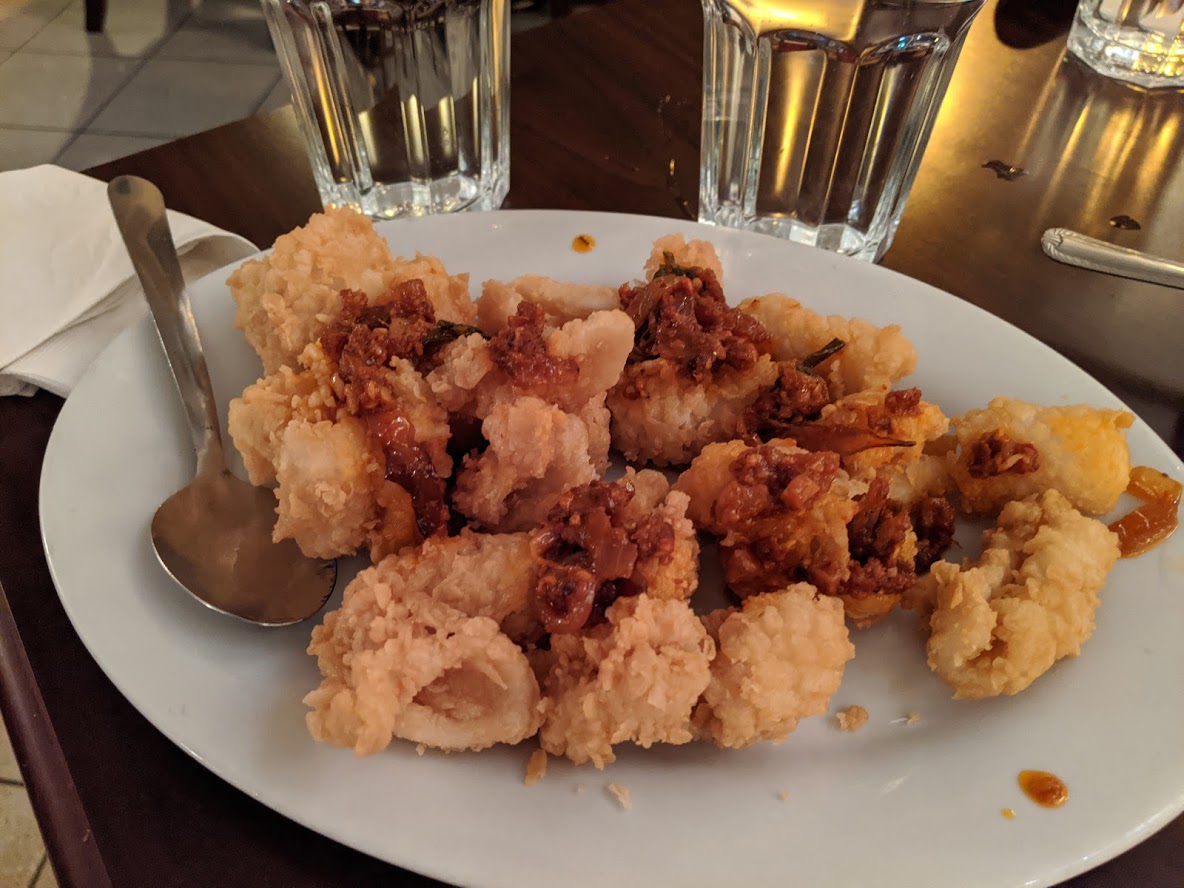 Sri Lankan hot buttered calamari: The calamari were a fresh and crunchy delight! The calamari batter itself was not spicy, but it was topped off with some chili sauce that gave it some heat. Even though it was called 'buttered' calamari, I didn't taste any butter.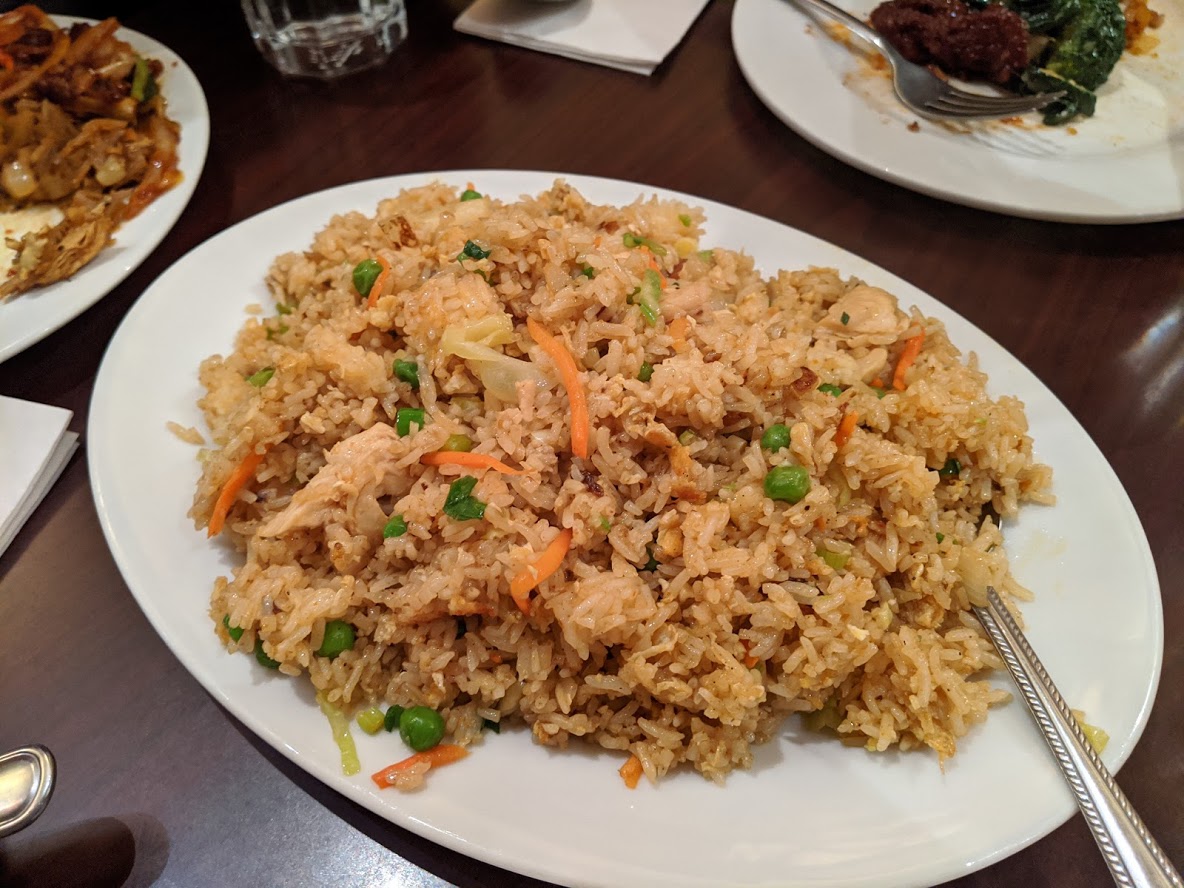 Sri Lankan fried rice: Last but not least, fried rice! The fried rice was tasty and not super oily. Compared to Chinese style fried rice, I would say this had more of a savoury taste to it.
It was a fun night discovering new foods that I normally wouldn't know to order myself! Thanks Lager for introducing us to the food of your country.
If you're looking for a new or different cuisine to try, I'd suggest going to Kurumba for Sri Lankan food!