This review is a long time coming, because I have been wanting to try this for a year ever since they opened last summer. For Smores' birthday, we finally decided to try it!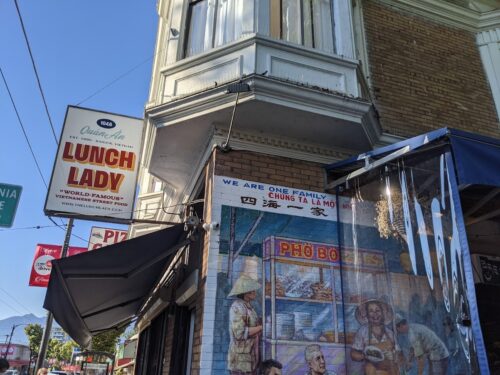 Lunch Lady is located on Commercial Drive, and it's one of those restaurants where you have to make a reservation to get in. It is inspired by the food carts in Vietnam, and apparently there is some sort of far away distinction with Anthony Bourdain. For the sake of this review, I looked it up and apparently the owner of this restaurant met a Vietnamese street food vendor in Saigon nicknamed the Lunch Lady. Apparently she was so inspired by the Lunch Lady that she opened this restaurant with influences from the Saigon place. Anthony Bourdain liked the food cart in Saigon, hence the somewhat association.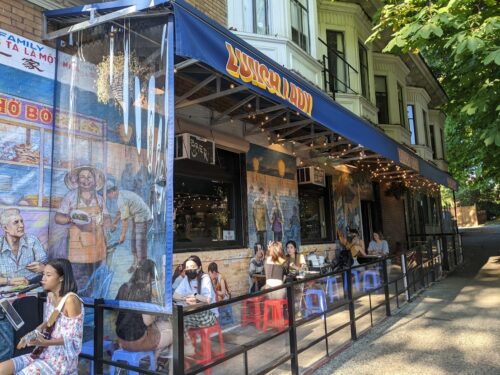 The Lunch Lady has got pretentious vibes written all over it. They try really hard to seem like "casual, hole in the wall" street food, but it drips of pretentiousness. For one, the prices are definitely not hole in the wall. Secondly, the vibe going in is supposedly casual, but most of the customers were very dressed up. It reminds me of the "no makeup, makeup trend" where girls try really hard to look effortlessly natural, when in reality it took them 1 hour to achieve the look. Thirdly, what kind of casual, hole in the wall place hires a live singer? Lol!
With that out of the way, Iet's get onto the food!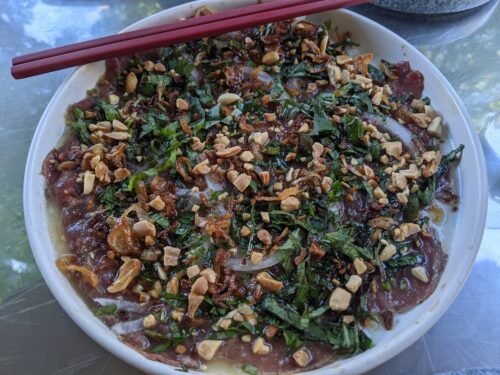 Beef carpaccio: The beef carpaccio came with picked onions, fresh herbs, peanuts, and lime vinaigrette. At first glance, the toppings look overwhelming and you can't even see the beef, but everything went together very well. The fresh herbs, peanuts, and lime vinaigrette complimented each other perfectly. It was a great start to the meal.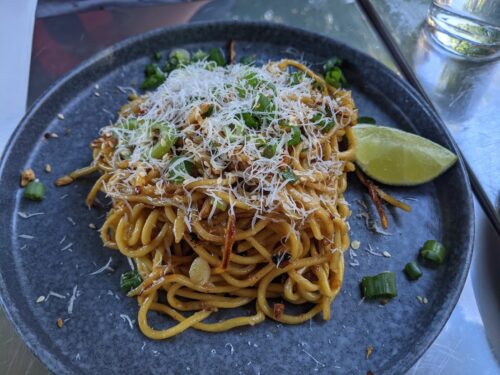 Garlic fried noodles: This is definitely more of a fusion than authentic dish. The garlic fried noodles came with garlic XO butter, and topped with parmesan cheese. I only had a few bites but it was delicious, and the 3 of us really enjoyed it. The noodles were very garlicky and the butter made it taste even better! It is quite an oily dish which is why I didn't have too much of it with my stomach problems.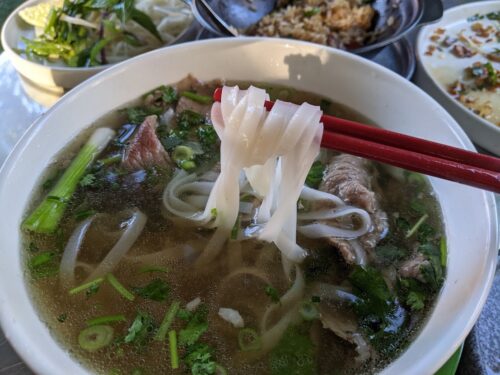 Beef noodle soup: With my stomach problems, I decided to stick with the pho. I also wanted to try a pho because if you mess up a pho dish, you are a crappy Vietnamese restaurant! It was a bit more pricey than your typical (actual) hole in the wall Vietnamese restaurants, and the taste was alright. The noodles were also wider and flatter than your standard pho, but I didn't mind it.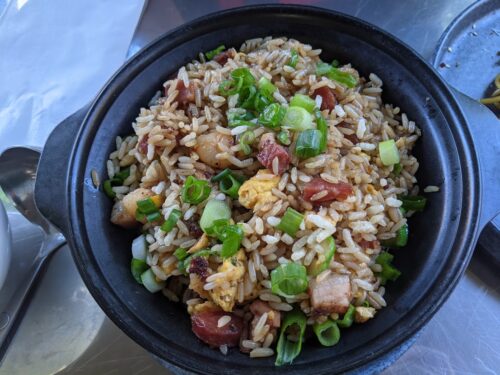 House special fried rice: This was the only disappointing dish of the evening! For starters, it was quite small. Secondly, it was really lackluster and something that you can easily cook at home. It was a very basic fried rice and nothing special about it.
In conclusion, the food at Lunch Lady was good but I was not a fan of the vibe, as explained in the intro. It seems like they want to be fancy, but at the same time, they want to be a "hole in the wall" and associated with the simple deliciousness of Vietnamese food carts. You can't really be both.
I haven't quite figured out if I want to return because I enjoyed the food, but it felt pretentious to me. It's a place you go if you want to be seen as cool and hip, but also without trying too hard because it is inspired by street food after all (with the prices of fancier places).