MILA is the newest addition to Vancouver's vegan food scene that opened a couple months ago in early September. After hearing about it, Avocado and I knew that we had to check it out! I predict that this place will be very popular for vegans and non-vegans alike. Or should I say plant-based because that is the new trendy term for vegan these days? ?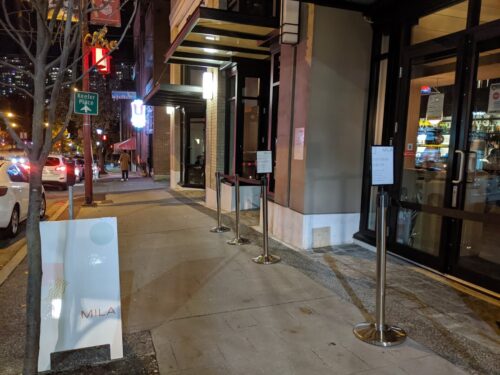 MILA is located in Chinatown. The restaurant was easy to miss because there weren't any signs except for a small one on their door. I recommend making a reservation because they are quite busy and have limited seating due to the pandemic. Despite it being busy inside, the tables were spaced out and we felt clean and safe in there.
While writing this review, I also found out that they are the sister restaurant to Virtuous Pie, a vegan pizza joint a few blocks away. Avocado and I also tried Virtuous Pie almost 3 years ago and we enjoyed it.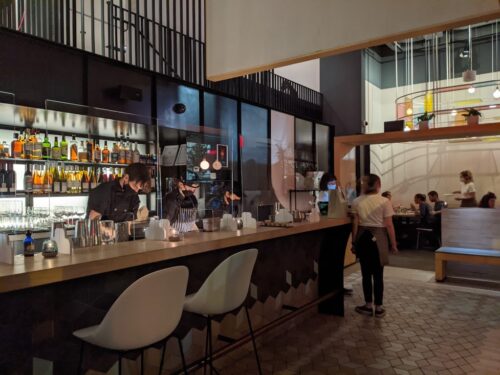 Walking in, we were greeted with loud music (not in an obnoxious way, they had some good lo-fi beats going on) and it was bumpin' in there for a Sunday evening. It was not what we were both expecting with the dark lighting, music and all. We both thought it'd be a quiet, low-key place. To quote Avocado, it felt like a vegan Cactus Club!
The atmosphere could have easily been seen as hipster, pretentious and snobby (like our experience at Heirloom a few years ago).
If I sense that a place is pretentious, I likely won't go back. However, that wasn't the case with MILA. The staff were very friendly and there were no pretentious, hipster vibes detected which was a relief.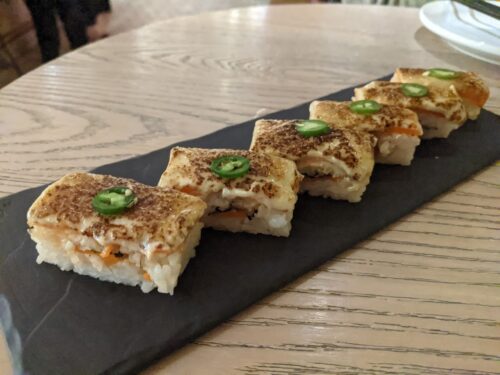 Aburi lox: This was one of the most popular items online, so we decided to give it a try. It ended up being our favourite of the evening! I wasn't sure how I'd feel with carrot being a replacement of salmon, but this roll was delicious for a non-vegan like myself.
Admittedly, the carrot did not replace the texture of real salmon because it lacked the fleshiness of salmon meat (why does that sound morbid?). However, what it didn't lack was taste. The aburi lox was an explosion of delicious flavour. The sauce on top was incredibly creamy and rich with a nice grilled flavour to it.
There was also more sauce in the middle with shiso leaf, which elevated the flavour even more. I didn't even mind that this was carrot, that was easily forgotten because of how delicious everything else was.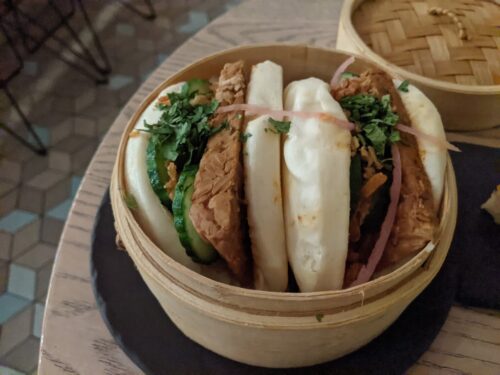 Bao buns: The bao buns came with hoisin tempeh, pickled onion + cucumber, sambal aioli, cilantro, and crispy shallots. The buns themselves were warm, thick and puffy. I found that some of the bun stuck to the wooden bowl though, so I'd recommend removing the lid and letting it cool down before eating.
The bao buns were not bad either and we both enjoyed it. The sambal aioli and fresh veggies gave the bao buns a lot of flavour, but not enough for me to forget that it was vegan (unlike the aburi lox).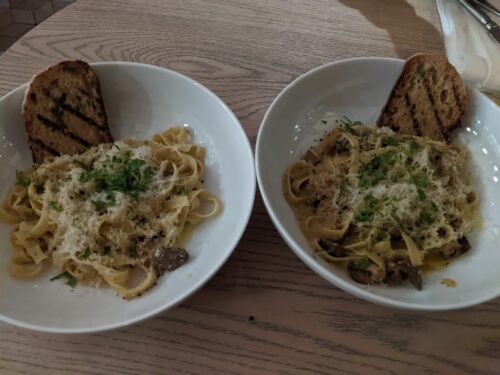 Mushroom and sausage tagliatelle: This dish was also highly recommended online, and I was super excited to try it! Avocado and I appreciated how they split the dish for us already when we told them that we'd be sharing everything.
The tagliatelle was cooked perfectly. The vegan sauce was made up of pistachio pesto cream. The flavours were great, and I also asked for some freshly cracked black pepper which elevated the dish more. My only complaint would be that they could have added more sauce because I didn't find it creamy or saucy enough for a pasta.
---
All in all, we left really satisfied with Mila. The ingredients were high quality, and we enjoyed all of the dishes. Service was also friendly and attentive too.
I would definitely recommend this place for vegans! If you're like Avocado and I who enjoy eating vegan food every so often, you'd probably enjoy it too.
If you're a die-hard meat lover who refuses to eat vegan food, I would not recommend it because you could still tell that some dishes are vegan.