Back in the summer, a few of my girlfriends and I went to Milestone's for their $40 girl's night special. We have all never had the girl's night special, but thought it was a really great deal and decided to check it out. This was at the downtown Milestone's on Robson Street.
The girl's night special is offered every Monday. It comes with four bellinis and your choice of four select appetizers for only $40, not all appies are valid for this deal. I was expecting the appetizers to be mini size, but turns out it was the full size. That itself makes the girl's night special already worth it! Oh, in case you are wondering, they also have a guy's night special where you can get beer instead of bellinis.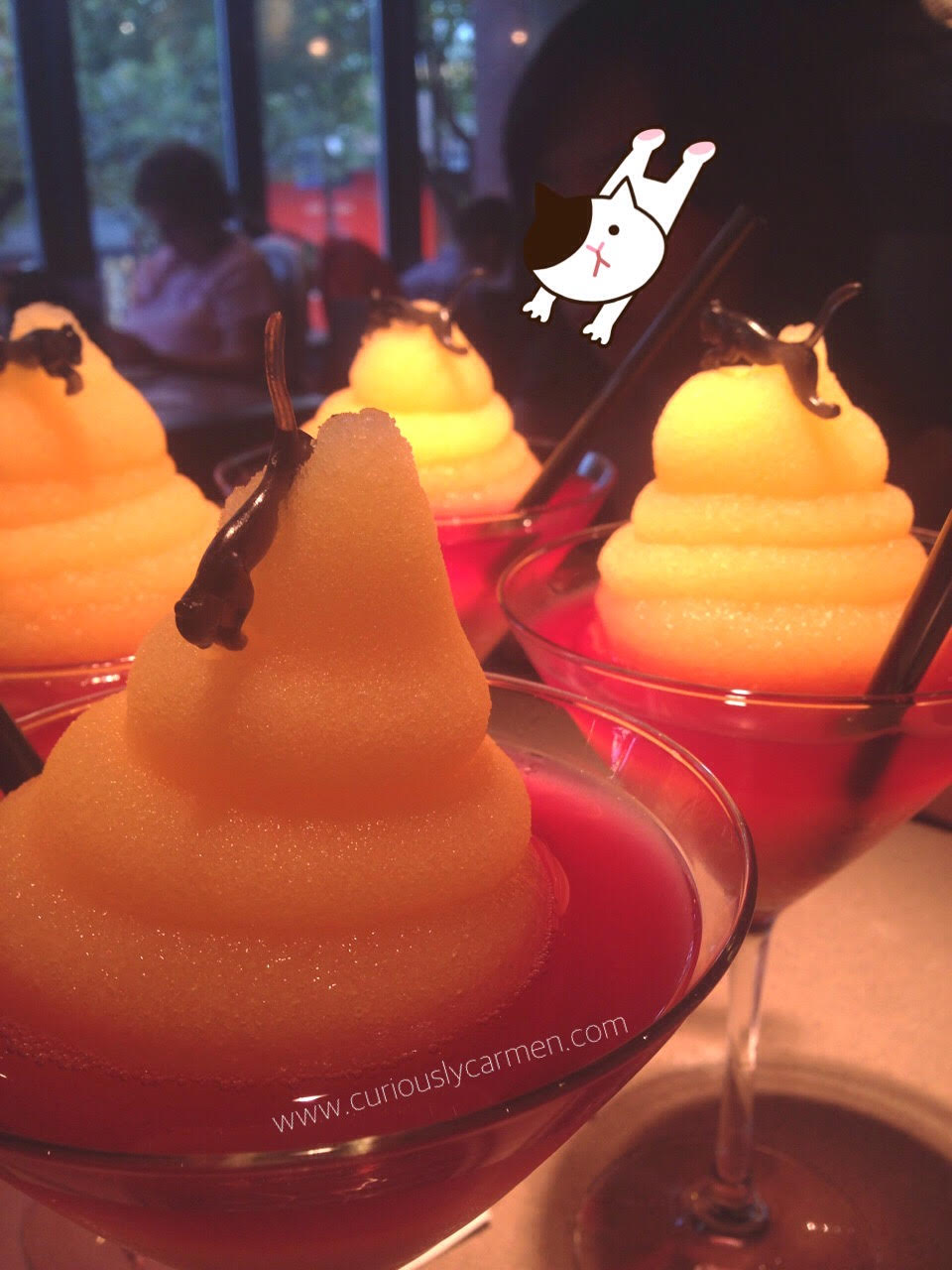 Our four bellinis – made with white rum, peach liqueur, sparking white wine, and sangria. Normally, these cost $7.50 each so you are definitely getting a good deal with the special.
You can never go wrong with this bellini, I've had it a few times before and the taste is always consistent, no matter which Milestone's I go to. It is very smooth, sweet, and easy to drink. The perfect drink for relaxing and talking with friends. I find it identical to the bellini at Cactus Club taste-wise, except Milestone's presentation is neater.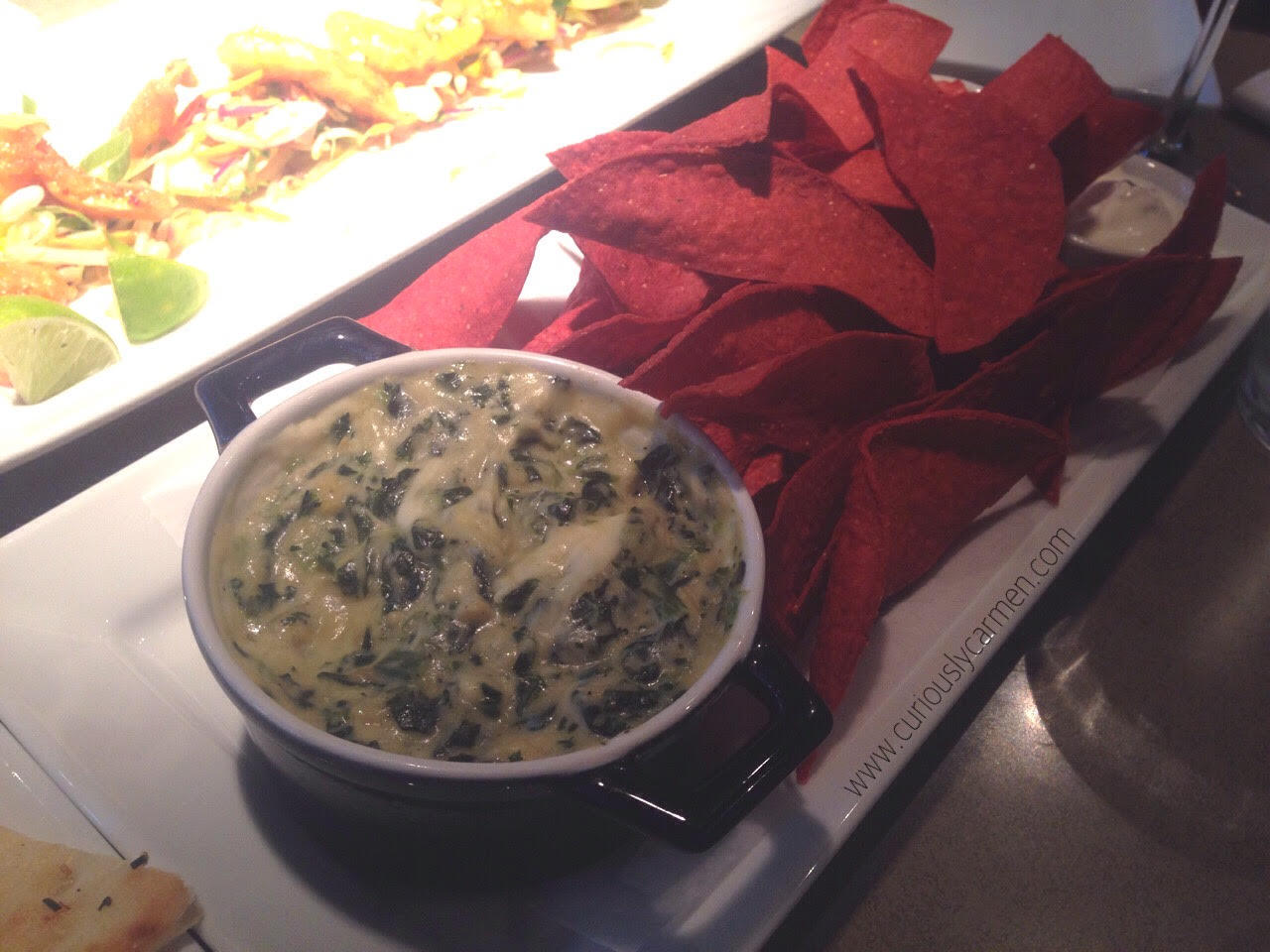 Hot spinach & artichoke dip: I had a friend recommend this to me when I told him I was at Milestone's, he said it was the best dish there and a must try.
Andddd oh man, did we love this dip. It was amazing. It was incredibly creamy and cheesy, and full of flavour. There was also a generous amount of spinach. Hands down, my favourite appetizer that night. I couldn't stop eating this!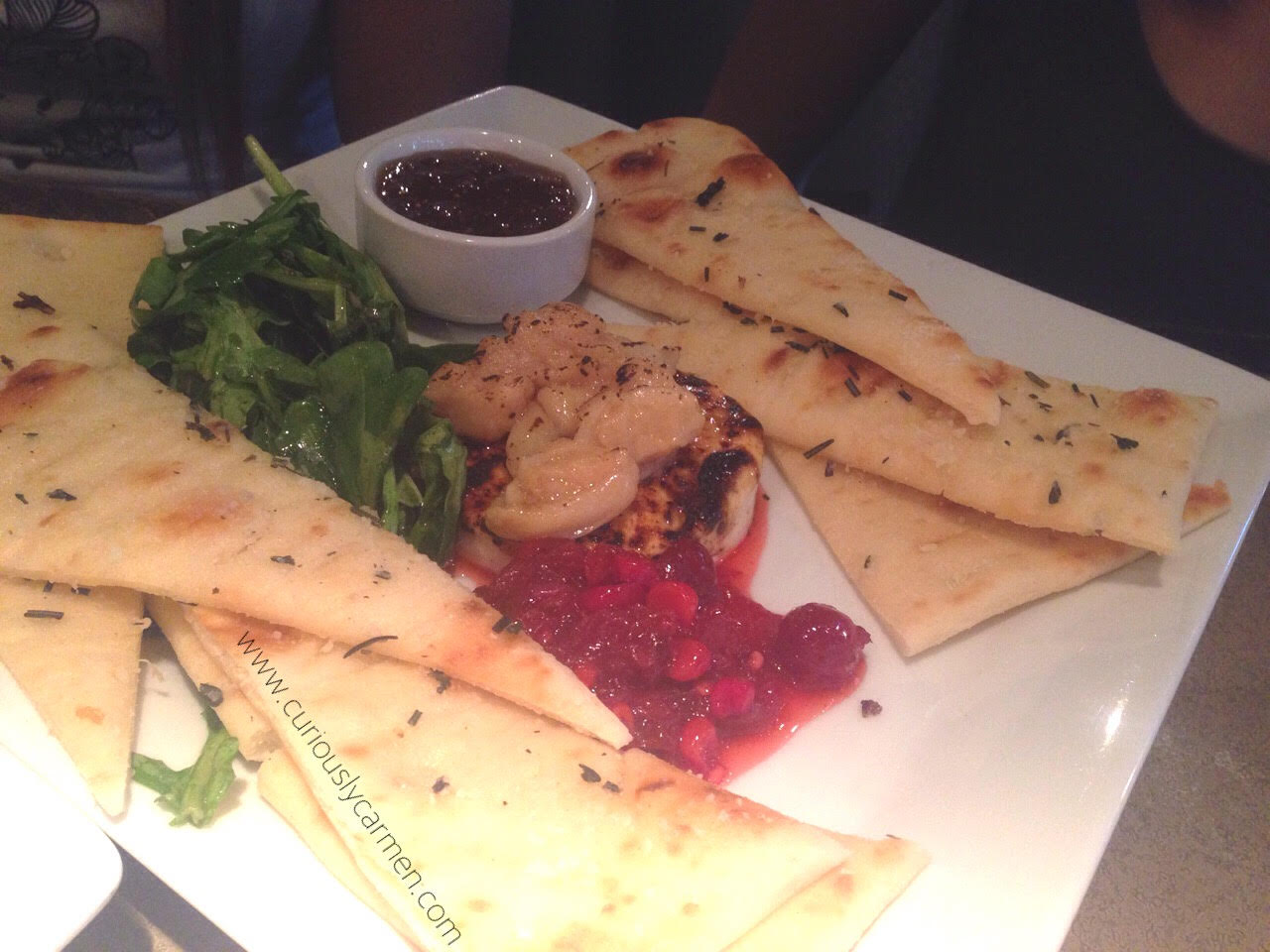 Baked goat cheese & roasted garlic: I had tried this at a previous visit to Milestone's, and remembered that it was pretty delicious so we ordered this as well.
The flatbread was really soft and warm, and was dusted with herbs – yum! As for the other toppings, everything went well together. The spiced cranberry relish jam was very sweet, which contrasted the savoury flatbread, goat cheese, and garlic. I am a big fan of arugula and it gave the dish a fresh crunch.
Sorry for the terrible lighting, the restaurant didn't have good lighting for photos as you can tell!

Piri piri dip: Here is a bit of a side story to give you context on why we were disappointed with the dish, bear with me! When we went back in July, the piri piri dip was actually called the piri piri guacamole. Since it was titled guacamole, we were expecting… well, guacamole. Smooth and creamy avocado deliciousness.
When double checking the menu for this post a few months later, I noticed that they had changed the name of the guacamole to a dip. My friend remembered that it was called guacamole as well, which is why we all wanted to have it – who doesn't love some guac?? She found an old menu online which called this the guacamole instead of dip.
What arrived was a questionable mound of mostly chick peas instead of the green and creamy guacamole we were expecting. I have nothing against chick peas and I actually love chick peas, but the description totally threw us off. In addition, we found the dip to be really dry, lacking in any flavour, and hard to eat. To make matters worse, we were expecting guacamole so it made an already not-so-good dish to an even worse dish.
I would definitely recommend avoiding this dish to save yourself the disappointment! I'm glad that they decided to rename this to a dip because it is definitely not the guacamole most people know about.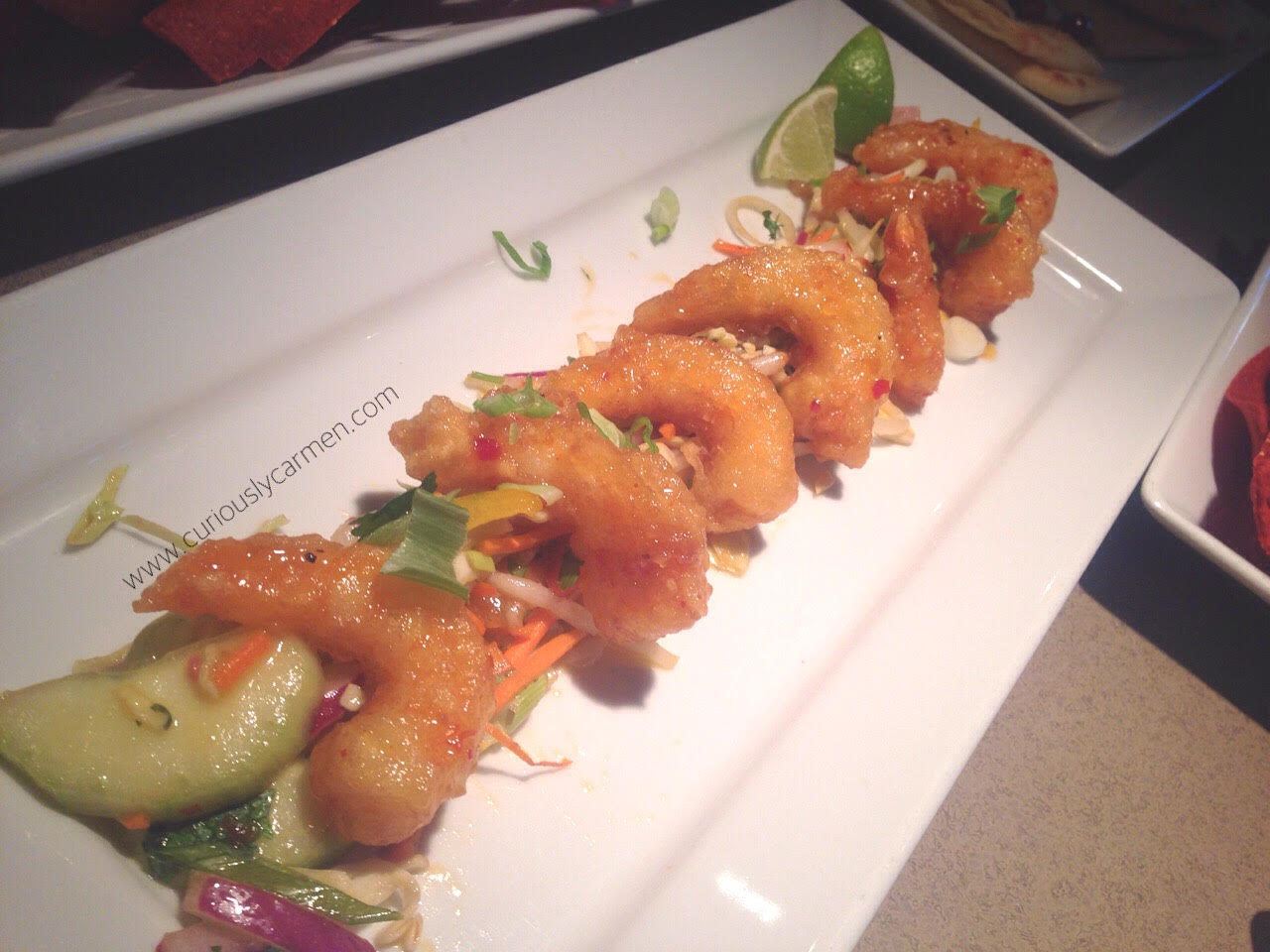 Mango chili shrimp: The shrimp was very fresh with a nice crispy batter and snap to it. It was slightly spicy due to the chili, but sweet due to the mango sauce. We all really enjoyed this dish but wish that it came with a few more pieces of shrimp.
Normally, this would cost $13.75, which doesn't seem like a great deal for 6 pieces of shrimp – although it is really delicious!
Overall, we had a great time here and enjoyed our food and drinks, except for the piri piri dip confusion. Since we came here for a late dinner, happy hour started half way through our meal and there were more deals being offered!
The $40 girl's night special is definitely a great value, and I would recommend trying it out. If the four of you were all hungry, it probably isn't enough food but it's a great snack after a small dinner. Or, you could just go with two people which would be filling enough for a dinner (you would just have 2 bellinis to yourself!). It's a good way to try the different dishes Milestone's has to offer, without paying full price.
Thanks for reading!
-Carmen