I had the sudden craving for kimbap one morning, but there aren't many places around me that have kimbap. I ended up forgetting about it but as I was looking on UberEats later in the day, I noticed a new place that I haven't seen before called Bobkim's Kimbob Korean Rice Roll. What a long name!
I haven't heard of this place before, and no results showed up when I did a Google search. Very weird… Then I looked up the address and Milssam Tacorea in Yaletown showed up. When I looked up the menu at Milssam Tacorea though, there was no mention of kimbap or Bobkim's so I was pretty confused at where this mysterious kitchen was coming from. I ended up calling Milssam to ask. Turns out, Bobkim's is sharing a kitchen with Milssam. Mystery solved, and I knew where my food was coming from!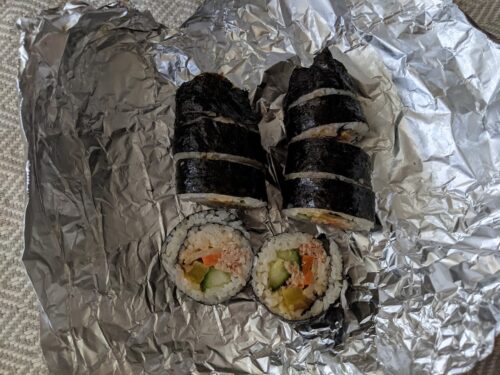 Tuna kimbap: My favourite kimbap is tuna, so of course we had to get this. The price was pretty reasonable as well. At the time of writing, this was $4.50 for 9 pieces.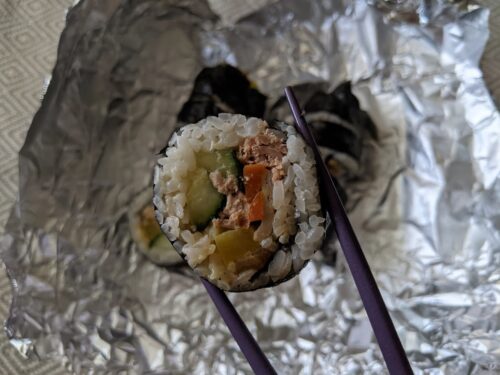 The tuna kimbap was alright. It did satisfy my kimbap craving though and the roll had a lot of fresh, crunchy vegetables inside. The tuna was also juicy and mixed with some mayo, so it wasn't dry.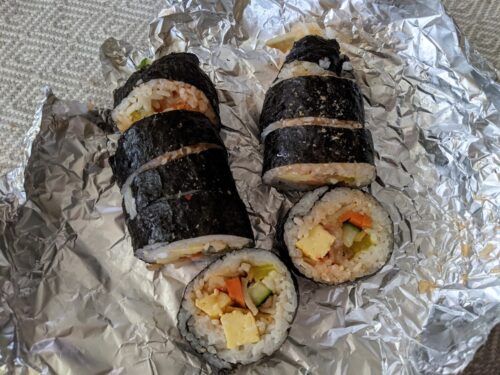 Kimchi kimbap: The kimchi kimbap was our least favourite. We found the kimchi to be on the watery side and not spicy. You can probably tell looking at the photo too. The kimchi was more vinegary and lacked spiciness.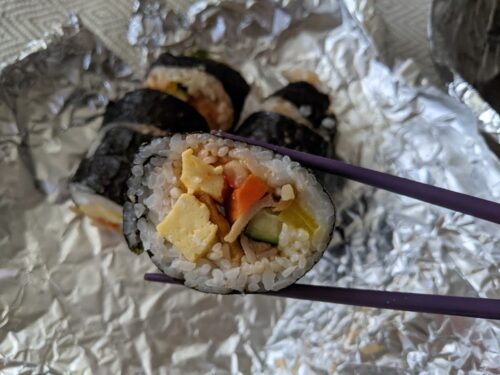 On the plus side, look how jam packed it was and how much egg was inside!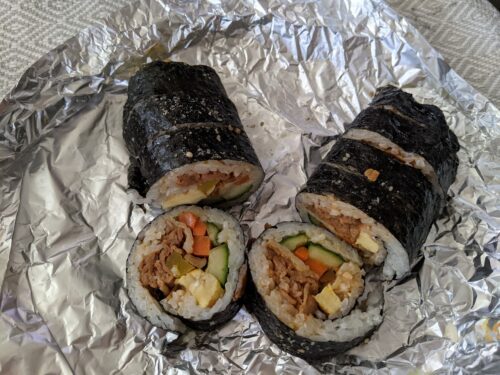 Pork kimbap: The pork kimbap was nothing special and pretty average as well.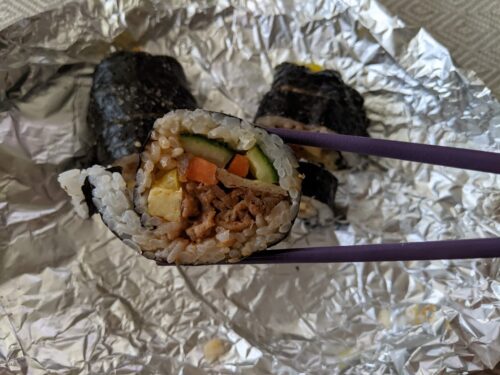 We appreciated the amount of fresh, crunchy vegetables inside but the pork flavour itself was meh. It could have used more seasoning.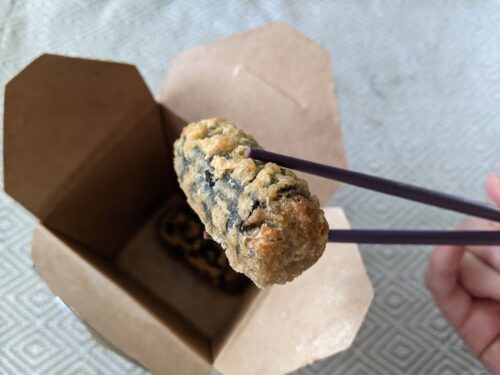 Fried gimmari seaweed roll: To meet the delivery minimum, we also added a fried seaweed roll which was something neither of us have tried before. It was a bite sized, deep fried roll with glass noodles and veggies inside (think of a deep fried japchae roll?).
In writing, gimmari sounds delicious, but I found that they used some sort of seasoning that made the roll taste a bit off. There was also a very heavy sesame oil taste.
---
Overall, we definitely have had better kimbap elsewhere. I also found myself pretty thirsty afterwards, so I suspect they added a lot of MSG in the rice because it did taste pretty salty. It's weird because we found the main items (like the kimchi and pork) to be bland, but other things like the rice and gimmari were overly seasoned and too salty.
On the plus side, the rolls were filled with fresh ingredients and they did not skimp out. Seeing that there aren't any Korean places around us that have kimbap, we may possibly order again but have our expectations lowered (or just go to Kim's Mart instead).