Another day in the pandemic, another delivery review. While looking on UberEats, the fiance and I saw that Nando's and UE was offering an unreal promotion. Nando's had a BOGO chicken combo promotion, and we were able to combine UberEat's 30% off discount as well so our total came to about $18 after fees, tip and tax!
Since then, it seems like UberEats doesn't allow you to combine discounts but we enjoyed it for that meal while it lasted!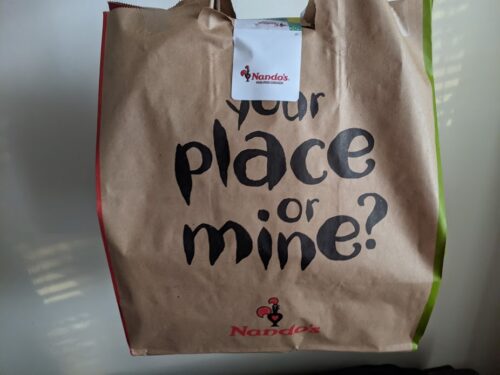 I've written reviews on the Nando's in Richmond's Garden City Plaza, and the location on Kingsway. The delivery order was placed for the Nando's in downtown on Davie and Howe Street.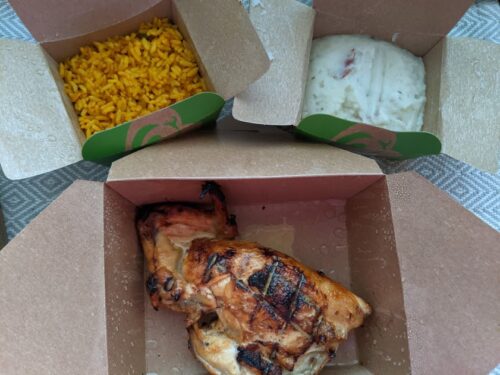 1/4 chicken with 2 sides: My go-to order whenever I have Nando's. The chicken was very juicy and flavourful. I ordered mine with a medium spice and it was perfect.
For the sides, I went with the garlic mashed potatoes and spiced rice. I absolutely love the garlic mashed potatoes, maybe even more than I like their chicken. They have one of the best mashed potatoes in town. They were buttery, creamy, and garlicky.
You also can't go wrong with the spiced rice either! The rice was light and fluffy and seasoned well. I mentioned this in my previous Nando's review, but incase you didn't read it, I recommend getting these 2 sides for delivery because they don't get soggy like fries or something deep fried.
1/2 chicken with 2 sides: The fiance ordered the same as me, and enjoyed it a lot as well. He loves the wedge fries, and decided to get an extra side of it. I'm not a huge fan of the wedge fries and prefer their garlic mashed potatoes or spiced rice.
The quality and taste at Nando's is consistent no matter which location you go to. They have delicious and reliable food that you can't go wrong with! On that note, I would also like to try Barcelo's one day, which I heard is very similar to Nando's.