Nando's is a reliable, delicious restaurant that the fiance and I go to from time to time. We probably have Nando's 2-3 times a year. Usually, we go to the Nando's at Garden City in Richmond which you can about read here.
This time, we ordered delivery from the Kingsway location by Metrotown. This is not the same location as the Nando's inside Metrotown food court. On a side note, we went to the Metro food court location a few years ago and the chicken was raw inside so we've been wary of that location since.
1/2 chicken with mashed potatoes: I ordered a 1/2 chicken with mashed potatoes. It comes with a chicken breast and thigh. The portion was huge and I was only able to finish half of it!
As usual, the chicken was juicy and delicious! I ordered the medium spice which gave the chicken a spicy kick. There was a nice char to it that added a delicious grilled flavour as well.
The mashed potatoes were smooth, buttery, and garlicky. There was also some herbs sprinkled inside and some potato skin which gave the mashed potatoes more texture. It was so creamy and delicious!
Just writing about this is making me hungry….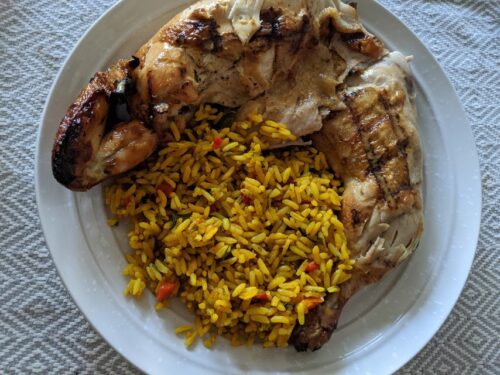 1/2 chicken w/ spiced rice: The fiance also ordered a 1/2 chicken, but with a spiced rice instead! The spiced rice was fragrant and delicious.
His 1/2 chicken was also very juicy and delicious with a spicy kick.
Nando's is always a great choice! The chicken is always delicious and juicy. We definitely ordered too much, but no regrets because we enjoyed it the next day.
In the future if I'm reading this, it'll probably be enough to order 1/2 chicken with sides! (I just read my old review and we shared a 1/2 chicken, so I have no idea why we ordered so much this time… whoops)