This review is a long time coming! I have been wanting to try Nightingale for maybe about 1.5 years or more now. We wanted to go last year for a couple special occasions, but COVID said no! Fast forward to now, we decided to settle with patio dining because who knows when restaurants will open again?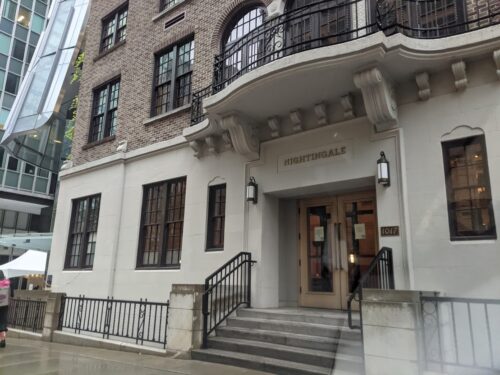 This is the entrance to the restaurant during normal times. The restaurant is located in downtown on West Hastings. Nightingale is the sister restaurant to Hawksworth, Nightingale is considered the "casual" equivalent but there is nothing casual about it to me (maybe the addition of the pizzas?? Or I'm just not fancy enough and think this would be considered fancy dining lol).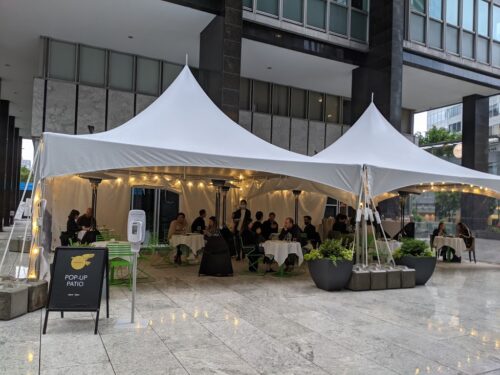 There was a storm that day so it was a pretty bad day to go, but we were determined to try it. Prior to going, I saw that the patio was open rain or shine, and had rain protection and heat lamps so we thought it would be fine. Rain will not stop us for a special occasion and since we've been wanting to come here for so long!
We didn't realize that the patio to Nightingale wasn't actually connected to the restaurant. Next to the restaurant, there is an office building, and then a courtyard. The patio was set up on the courtyard so servers had to walk past the office building to get there. We felt pretty bad for these servers going back and forth in the pouring rain and left a nice, big tip!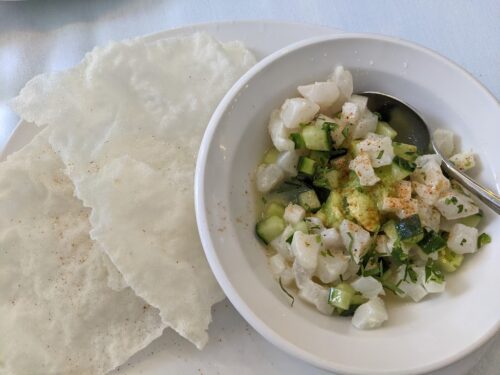 Ceviche: It's been awhile since I had ceviche, and it's not something we normally order but the fiance wanted to try it. At first glance, the ceviche looked different from what we were used to so I was a bit worried we wouldn't enjoy it. Turns out, it was absolutely delicious.
The ceviche came with halibut, jicama, avocado, and a side of crispy plantain chips. The ceviche tasted extremely fresh and had a lot of fresh halibut inside. There was a strong fresh lime flavour, which was refreshing. The crispy plantain chips were great too, and reminded me of those Chinese shrimp chips you get with duck except the plantain chips were thinner.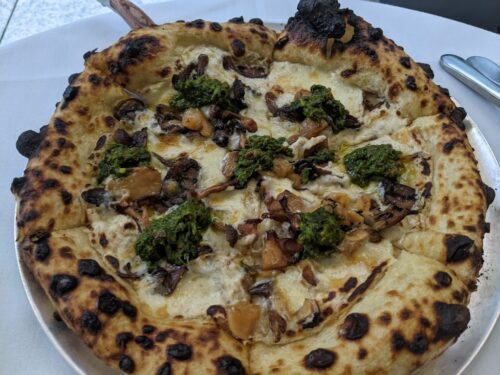 Pizza: The pizzas don't have a name, but we ordered the one with roasted mushroom, fontina, confit garlic, arugula pesto. They have a decent pizza selection for a restaurant that doesn't specialize in pizza.
The pizza dough and crust was delicious. Slightly chewy and lightly charred, it was my favourite part of the pizza. I wish the toppings were spread out more evenly instead of being dollops on the pizza, so that we could have all the toppings on each bite. There was a bit too much garlic for my liking but overall, the pizza was still really delicious.
Spaghetti: When I saw this on the menu before we went, I knew I had to try this! There wasn't a name for the spaghetti as well, but this was the one with manila clam, jalapeno, scallion, and white wine. The clams was what sold me, I love a good seafood pasta.
The spaghetti did not disappoint! It came with a simple garlic with some cheese (probably also some kind of dairy sauce in there too). Due to the clams, the sauce had a nice seafood flavour too. The fiance noted how generous they were with the clams, and he was right. The plate came with so many clams, and they were big, juicy and flavourful.
Despite the storm, we really enjoyed the food at Nightingale and it did not disappoint. Unfortunately, we couldn't sit in the dining room where the ambiance was better, but we wouldn't mind coming back here again.