South Surrey is an area that I rarely, or ever, have ventured out to! However, due to the pandemic, I haven't seen Latte for a long time so I thought I'd drive down to hang out and check out this area.
We had plans to get takeout from Emilio Finatti Pizzeria in White Rock and enjoy it at the beach, but the weather wasn't on our side that day so Latte suggested Pho Sunrise, where she goes frequently.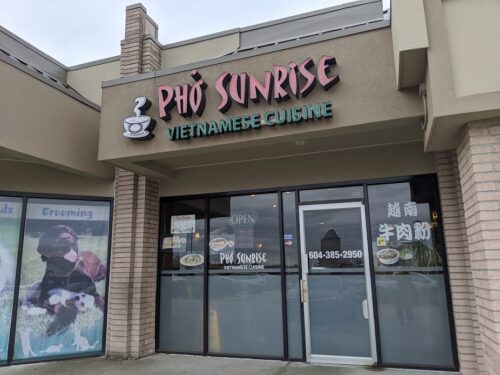 Pho Sunrise is a small Vietnamese restaurant located inside Peninsula Village. According to Latte, Pho Sunrise is a decent Vietnamese place for South Surrey, where there aren't that many Vietnamese options. I read some reviews online and that seemed to be the general consensus as well!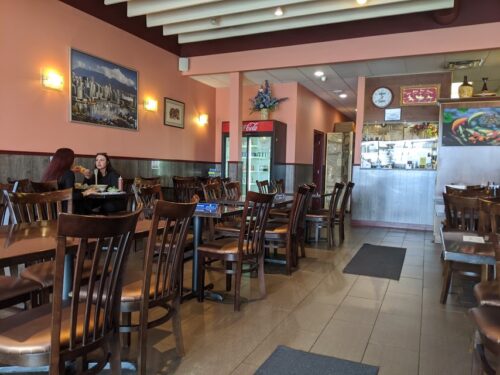 We came a bit after they opened, so it wasn't too busy yet. We noticed that the pace picked up a bit after 12pm. Half of the tables were closed off and there was sanitizer for us.
However, I did notice that the beansprouts were sitting on a shelf by the cashier and it was not covered. It wasn't a big deal to me because I normally order my beansprouts cooked, but just a heads up during the pandemic.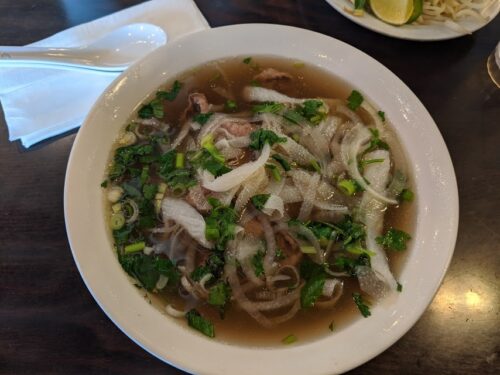 Pho w/ rare beef and tripe: I found the price to be slightly higher here than usual places, at $13 for a small (2020 prices). On that note, I wanted to share a Viet sub but we decided not to after we saw that it was $8 for a sub! Craziness.
For comparison, Obanhmi's, Saigon Bistro, and Basil Garden's subs are all about $4-$6! But I guess that's cheaper than DD Mau's $15 sub, LOL!
Anyways, the pho was delicious. The broth was well rounded, flavourful, and comforting. There were many pieces of rare beef and tripe inside.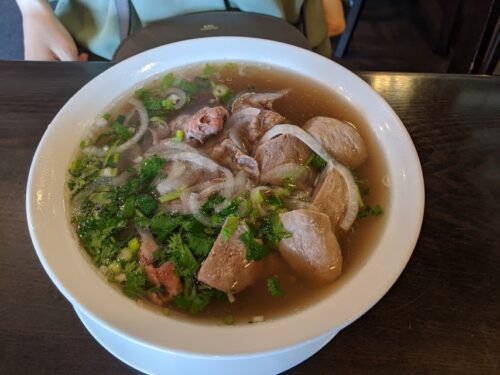 Pho w/ rare steak and beef balls: Latte went with her go-to, the rare steak and beef balls. She had no complaints about it either.
All in all, Pho Sunrise was pretty good and comparable to the Vietnamese restaurants in Vancouver. The prices were a bit higher though, I wonder if that's because they are one of the only Vietnamese places around here so they can up their prices. If I found myself in South Surrey, I wouldn't mind coming back here.