For the past month, I have been publishing mostly Indian and Korean reviews! I had yet another Indian review lined up but decided that I rather spread the posts out.
I didn't have any other restaurants to write about and haven't tried anything new recently (except for Indian restaurants), so I decided to look around UberEats to see what I could write about.
Railtown Cafe was offering a discount on UberEats so I decided to give it a try. Rarely do I order breakfast or brunch food, but the breakfast menu looked pretty good!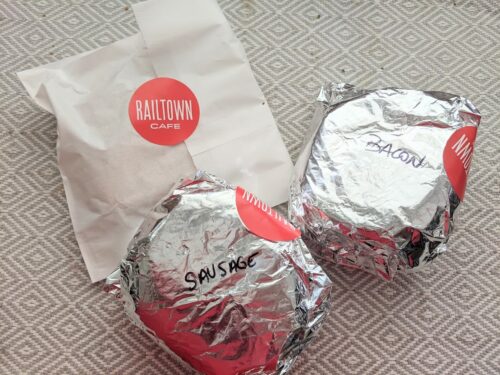 There are currently four Railway Cafe locations in Vancouver. The original location is in Gastown, and there are also two in downtown by Waterfront and on Howe Street, and lastly, one on Main Street by Olympic Village. My delivery order was placed from the Gastown location.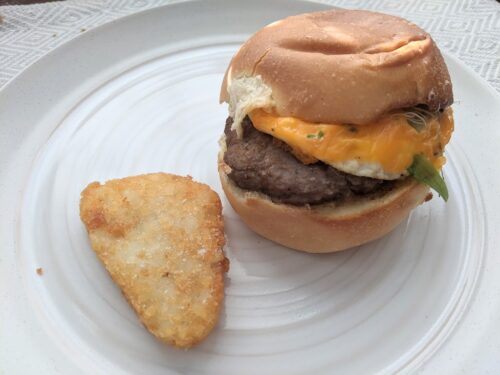 Sausage breakfast sandwich: Admittedly, I haven't had a gourmet sausage breakfast sandwich…. until now, that is! When I do have sausage breakfast sandwiches, they're usually ordered in a haste from Timmy's or McDonalds (not that there's anything wrong with that, I do love my fast food breakfast sandwiches). This was the first time I've had a fancier sausage breakfast sandwich.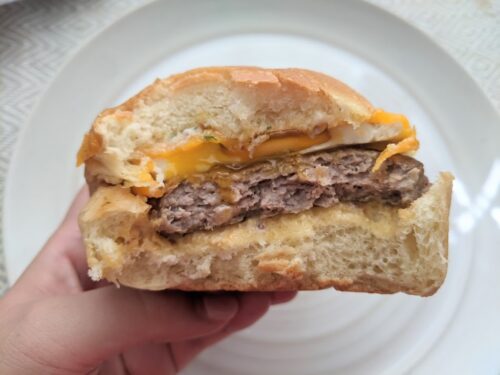 What a treat this was. Everything about this was delicious and I found myself savouring every bite. The bread was fresh, thick, soft and buttery – it reminded me of fluffy Japanese bread. The sausage patty was thicker than I imagined and the quality was great, there were also some herbs inside. In addition, there was a perfectly fried and gooey yolk egg, melted cheese, and some fresh, crunchy greens.
It was the best sausage breakfast sandwich I had so far and I would gladly order it again.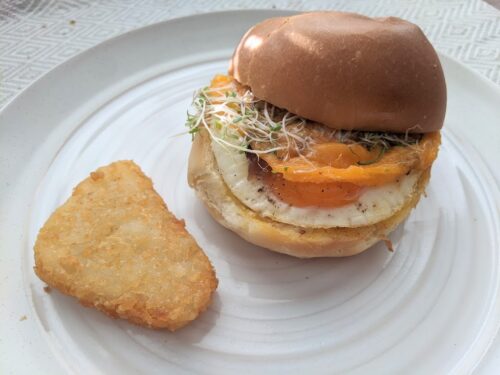 Bacon breakfast sandwich: For the fiance, I ordered the bacon breakfast sandwich but we ended up splitting both sandwiches in half so we could both try.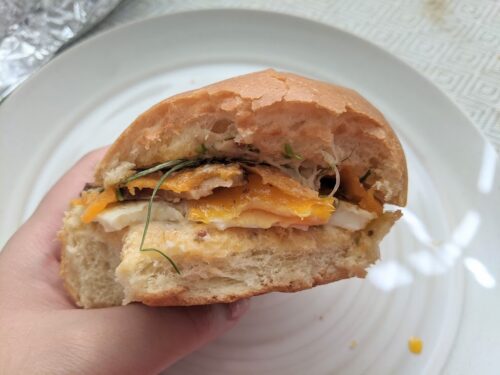 The bacon sandwich was delicious too, but the sausage sandwich was definitely better. The bacon was great quality and thickly cut. It also came with a fried egg but the yolk wasn't as runny, melted cheese, and fresh veggies too.
Hashbrowns: I also ordered a side of hashbrowns. The hashbrowns were crunchy and delicious, and more on the thick side. I noticed that they cracked some extra salt on top, which wasn't really needed as the hashbrowns were flavourful enough on their own.
---
All in all, Railtown Cafe's breakfast sandwiches were delicious and really great quality. I would gladly order from them again or stop by any of the cafes. My only complaint was that it was quite salty, but that's to be expected. It's definitely something you shouldn't eat daily because it's high in sodium (you know you're getting old when you start to watch your sodium levels for blood pressure), but would be a nice treat once in awhile.