Korean fried chicken is insanely popular right now! There have been a few places serving Korean fried chicken before, but seems like the popularity exploded after people watched Crash Landing On You and saw the same chain restaurant, k.bbq, in Burquitlam in the show. It was a bit ridiculous how many posts I saw on this place everyday! Product placement works y'all, as evidence by these people flocking to get their KFC.
Strangely enough, I have never been a huge fried chicken lover (except for chicken strips) but I had to see what the hype with Korean fried chicken was about.
The new Rib and Chicken Vancouver location opened up recently nearby so the fiance and I came here for dinner to check it out.
The original Rib and Chicken location is in Langley but they have since expanded to a few locations around the Lower Mainland. This Vancouver location replaced an old Italian restaurant who had seen better days. I remember always seeing it on Groupon so I'm not surprised they shuttered.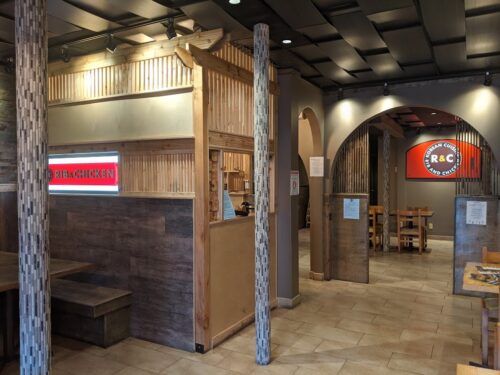 The layout is a bit strange, with a couple of closed off areas. There was a whole section in the back that we couldn't see as well. Since this place is fairly new, it was pretty quiet on the weekday evening that we came but I did notice a few delivery people.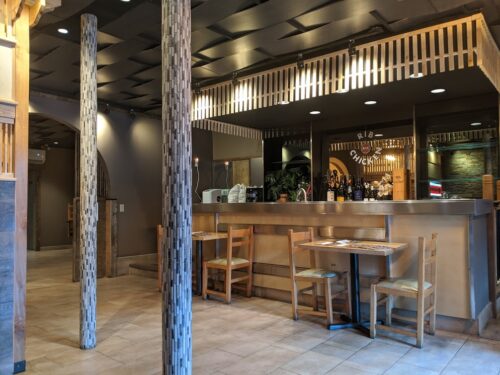 There was only 1 server that evening but she was really nice and attentive. Pandemic-wise (Lol @ the fact that I am including this in a review now), it felt safe as tables were distanced, server was wearing a mask, and there was only one other table.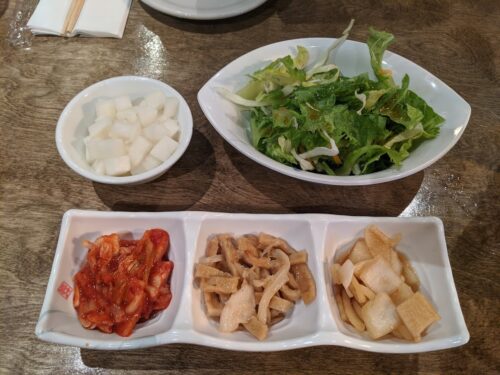 Banchan: The banchan here was pretty decent, no complaint about it.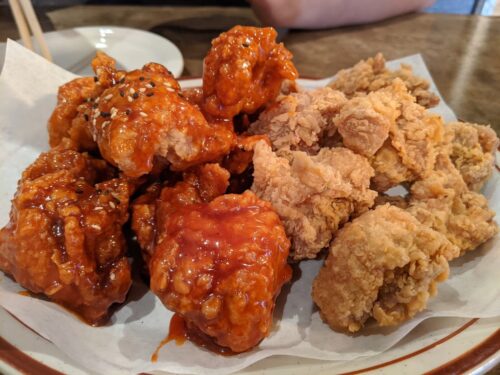 Mixed fried chicken: We ordered the small, which was more than enough for two people. There were a few different flavours to pick from, we chose the original, and sweet and spicy.
The chicken came out piping hot and fresh! It was delicious. The fried chicken was not oily at all which is evident of their skillful frying technique.
Both flavours were enjoyable but we both liked the original more. The sweet and spicy was a bit too saucy for our liking but it was still good nonetheless.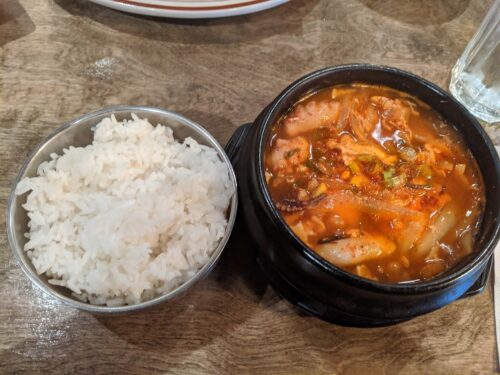 Tofu soup: I was actually really craving tofu soup that day which is why we came here. I ended up eating only a couple pieces of fried chicken and had the tofu soup instead!
The tofu soup packed a lot of spice in it that built. There was a generous portion of tofu and seafood inside.
My one complaint was that it was extremely salty! Coming from a savoury food and salty fish lover, I found it way too salty. I ended up asking for a cup of hot water to dilute the soup, which was more manageable.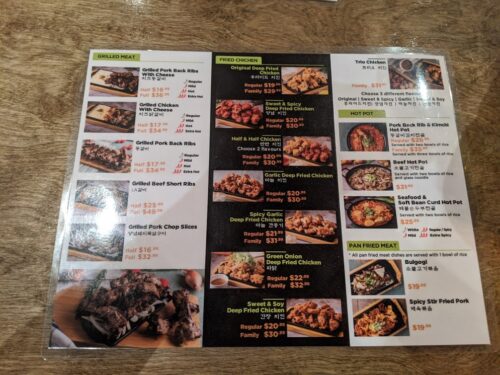 All in all, Rib and Chicken was satisfying and a great new Korean addition to this area. We normally go to Kook which is less than 2 minutes away from here, so they will have some competition (even though Kook is BBQ but they do serve some other same Korean dishes).
There is also Yook which is 5 minutes away. It's nice that we don't have to go far for good Korean fried chicken!